Wild West Shows are popular now, and were particularly popular in the days of the Old West!
The American Wild West captivated the early days of the United States populace. This created the desire for these shows! They traveled the country showcasing exciting entertainment. See The Historic Shows>
This form of traveling show has dwindled in its wide popularity. Think of when the movie industry began. Western Movies began taking the place of these live wild west shows. They were more easily accessed on a regular basis by many more people.
Diverse forms of entertainment became more and more available as time went on. Many throughout the world even became interested in Western Art. Shows and museums started featuring programs centering on this subject, often catering to a different population. All of this eventually led people's interests away from the wild west show types of pastimes.
These shows have now become a specialty form of amusement. You'll find Wild West shows at festivals, rodeos, historic events, and county or state fairs. Yet, they are a regular feature in old Western Towns – such as Tombstone Arizona.
Tombstone's Wild West shows are quite popular with visitors. A variety of them are staged in town. Here are the suggestions we have for you…
Tombstone's Wild West Shows
Pay & Enter
The O.K. Corral – A must-see when you're in town. Short entertainment skits go over the Earps vs. Cowboys Gunfight. On Allen Street, between 3rd & 4th. Learn Corral Details>
Gunfight Palace – Historical re-enactments. Watch Gunfighters in action! Stop in to their theater on Allen Street between 5th & 6th. Shows at 11 a.m., 12:30 p.m. & 2:30 p.m. Thursday through Sunday.
The Tombstone Cowboys – At the Old Tombstone Western Theme Park. Entrance fee covers the 30 minute Gunfights, which run regularly all day long. Billed as "World Famous Gunfights." Get to the Theme Park Entrance by going South to the end of 4th Street, then crossing over Toughnut Street.
The Saloon Theatre – Presents historical gunfights in their wild west shows at 109 South 3rd St. That's right next to Wyatt's Hotel.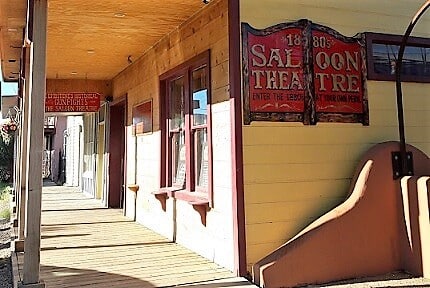 ---
Watch Along Allen Street – For FREE!
Second, Fourth & Fifth Sundays – Of the month. Starts about noon until 2:30 p.m. Gunfighter skits by the Tombstone Vigilantes. Approximately every 15 minutes.
First & Third Sundays – Of the month. At 2 p.m. by the O.K. Corral. Hangings and living history gunfights by The Wild Bunch.
Have your camera ready! Then we'd love it if you'd post your photos for all of our Website Visitors and For Us To See!
---
Other Wild Western Towns
Great American Wild West Show – Don & Sharon Endsley produce this traveling show production for arenas:
Springtown Texas – Wild West Festival mid-Sept. Sat. in the Town Square. FREE admission! Starts 10 a.m. with a parade. Lots of stuff for kids, tons of events, plenty of vendors! 
Hays Kansas – Wild West Festival, July 4th weekend. Great Old West town! Their Historical Walking Tour – Click Here>
Branson Missouri – Silver Dollar City Wild West Show, a seasonal treat! Hosted by trick roper, A.J. Silver – see sharp shooters, trick riders, hoop dancers & more! Call details on when it's happening: 1-800-475-9370.
Lagniappe Productions – Professional Western Entertainment company with Old West comedy, stunts, murder mysteries, Western saloon skits, and cowboy & cowgirl teams. Bring their Western sets & shows to you. Visit their Murder Mystery Dinner Theater in Grapevine, TX. Details call (817) 337-1882.
Fort Worth Texas – Pawnee Bill's Wild West Show. Reenactment of the original Wild West Hero! Watch trick roping, shooting & riding. Singing cowboys & wild west acts based on Pawnee Bill's historical performances. Shows at 2:30 & 4:30 p.m., still at this authentic old West Coliseum, 121 E. Exchange Ave.
---
Historic Wild West Shows
The Most Famous Shows
William Frederick Cody was born in Le Claire Iowa on February 26, 1846. He rode for the Pony Express at age 14, when his father died.
He would create the Wild West Show which began a new form of entertainment. This show, which still has the most renown, is Buffalo Bill's Wild West Show. His first production began in 1883 in Omaha, Nebraska.
He got his nick-name when hired by the railroad. They needed him to hunt bison. His good aim brought reliable meat supply to feed rail crews. His reputation spread. He started scouting for the army and leading hunters from the East.
A dime novel was published about him – which brought further notoriety. Then it became a play. Eventually, Buffalo Bill Cody played himself in it! That started him thinking…
Cody began his own theater production, which turned into his Wild West Show. His popularity became so great he was named the "Greatest Showman on Earth." Imitators arose – but he held domination in the field of Wild West Shows! He lived to be 70 years of age.
---
Tombstone's Historic Wild West Shows
The Birdcage Tombstone was a venue famous for its shows. The doors opened at Christmastime of 1881. The owners were Lottie and Billy Hutchinson. At first they presented family-type entertainment and Ladies' Nights. That was a financial flop, soon enough.
They switched to a different entertainment form. It now appealed to the Wild West crowd: the Cow-boys, Ranchers, Range-hands, Miners, Saloon & Brothel patrons. The Wild West Show acts the Birdcage featured were:
Female Hercules OR also known as: Lady With the Iron Jaw! Mille de Granville Knox (born Alma Hayes) performed strength acts. She lifted heavy things with her teeth and placed a cannon on her shoulders.
The Flying Nymph – A woman named Lizette who "flew" above the guests. She was actually attached to ropes that carried her across the room.
Mademoiselle Zazel – Called "The Human Cannonball." Her real name was Ella Richter. She was propelled from a cannon by springs, and zoomed about 60 feet across the room!
Cross-Dressing Acts – They featured impudent and shockingly flashy humor. Performed by men who wore flamboyant women's clothing.
The Human Fly – Very popular in 1889. Skimpily clothed women wore special shoes that held them to ceiling rigging. They roamed upside down above the crowd. But one time the rigging failed, the woman fell and died! 
The Happy Hottentots – They specialized in distorted dance motions. They zealously thrashed their legs around. They twisted their bodies beyond belief!1
Other Wild West Shows Traveling to Tombstone
Punch & Judy Show
Tombstone residents got a chance to enjoy the famous Punch & Judy puppet show. Kids and adults alike enjoyed the antics of these funny characters!
After finishing their act in town, they moved along to Bisbee. We can be sure they had a good crowd of people ready to take in their show there also.
See more about the History of This Show>
Bagg's Agitators
On May 6, 1886 a group of performers came to town. Led by a Mr. Bagg, he gathered them together as a "great, unapproachable, aggregation of living marvels." Two days before the show's start, publicity was drummed up by running curious information in the Tombstone Epitaph. The day of the appearance Mr. Bagg ran a large ad on page 3 of the Tombstone Daily Epitaph to advertise his show that evening at City Hall.
The price to enter was:
Reserved Seats – 25 cents
General Admission – 10 cents
Children Under 1 Years of Age – 5 cents
In his Tombstone Epitaph publicity he described/featured four of his acts, to be seen in his "Greatest Show on Earth." In his advertisement his subtitle was "Unprecedented Attractions at City Hall This Evening." The four acts were named:
The Baboon
The ASS – Asinus Americanus studendissimus
The Hay-Eating Man
The Grand Old Man
The Grand Old Man, if not even more of these acts, was likely involved in some type of political satire. It's difficult to research exactly what or who Mr. Bagg was making fun of. But if anyone has an idea, feel free to use our Contact Form to let us know. We'll add the info here if you can help us with the details and reference you found!!
Overall, for most of the people who came to the shows – they were looking for the entertainment factor! No television, movies, cell phones, computers, etc. in those days! 
After their Western traveling show in Tombstone, Bagg's Agitators moved on to other small towns in Cochise and Pima Counties. They were on their way to "Stone House, Contention, Pick 'em Up, Quijotoa, Galeyville, Dos Cabezas and other commercial centres."
Some of these towns are now known Ghost Towns. Others are difficult to determine where they were meant to have been. Here's what we know from our research and historical knowledge:
Stone House – A gated community in the Sahuarita area of Pima County has this name. It could be it's named after a historic village in that spot from the 1800s? But haven't found anything to really indicate that. West of Tucson the Yetman hiking trail takes you by the "Stone House" – it's a ruin c. 1930s, not a historic town.
Contention – A silver mining town during the 1880s, along the San Pedro River. The rail line went through the area and at one time had a station. Many folk traveled back and forth from there to Tombstone.
Pick 'em Up – A little spot along the Charleston Road, between Charleston and Tombstone. A few residents lived there by a bar called The First Chance Saloon. It's now private property. No remains of the former "town" (if you could call it that) exist. Read More>
Quijotoa – A silver mining town adjacent to Ben Nevis Mountain West of Tucson. It fully burnt to the ground on June 19, 1889. The only thing left today is a Historic Marker on Hwy. 86.
Galeyville – A silver mining boom town on the Eastern slopes of the Chiricahua Mountains during the late 1800s. It was located in the Southeastern corner of Arizona Territory. The Cowboys, well known around Tombstone, often hung out there. Particularly those who associated with Johnny Ringo and Curly Bill Brocius. Read More>
Dos Cabezas – A small mining community which thrived in the late 1800s. Located in the Dos Cabezas Mountains, south of Wilcox, right along AZ State Hwy. 186. Some of the historic buildings still remain. The area is now developing wineries.
---
Other American Traveling Shows
In the Old West, citizens were up for entertainment that entered their town. The idea really bloomed with the 1893 Chicago World's Fair. Buffalo Bill's show was there! Many others got on board, with their imagination and entrepreneurial spirit going.
When a traveling show came along, word got around. The "entrepreneur" would set up. They performed out of a wagon, or if a larger operation – out of a tent.
Posters were put up around town. Their "barkers" shouted marketing slogans at the corners and in front of the show entrance. Before you know it, people gathered, listening to the spiel! What types of shows were there?
Old Patent Medicine Show – A barker selling "cure-alls" for what ails you! Specializing in products to "help" your health – they were called "Medicine Shows." They also put on an entertaining performance!
P.T. Barnum's Great Traveling Museum, Menagerie, Caravan, and Hippodrome – The prime draw for his so called traveling circus, which he became involved in about 1875, was the "Freak Show." It gave attention to people with deformities and disabilities. Some say they were exploited. It also featured animals with the same problems.
Magic Lantern Shows – An early type of projector, which could show still images on a screen.
Puppet Shows – The traveling Punch & Judy show was the most famous and the most popular. Loved by children and adults! It originated in the 1600s in Italy. But very soon it was adopted by the English. Americans caught on with this crazily funny act, and began their own adapted versions in the 1700s.2
Vaudeville Shows – A variety of entertainment acts: singers, dancers, musicians, animal acts, comedians, acrobats, etc.
Burlesque Shows – A certain type of variety, with a bit of lewdness to it. Dancing girls, strip-tease acts, comedians with off-color jokes, and shocking novelty acts.
---
References
1 Agnew, J.(2011). Entertainment in the old west: Theater, music, circuses, medicine shows, prizefighting, and other popular amusements. Jefferson, NC: McFarland & Co. Inc.
2 McRobbie, L.R. (2013). Are Punch and Judy shows finally outdated? Retrieved 11/24/17 on www.smithsonianmag.com/arts-culture/are-punch-and-judy-shows-finally-outdated-10599519/
---