Tombstone hotels have been in existence just about as long as the town has had people! People began arriving after Ed Schieffelin founded the Mining District here.
Tombstone's first hotel was built in late 1879. It still stands today: the San Jose House. Tombstone hotels were constructed in the 1880s to provide for Tombstone's visitors. Many have become somewhat infamous from the Wild West history of the town – like the Grand Hotel, the Cosmopolitan, and Fly's Boarding house. Nelly Cashman was known for managing many Tombstone hotel locations.
But here we'll cover those Tombstone Hotels for your stays today, the historic hotels you can reminisce over when you visit, and other Tombstone area hotels for your needs.
Read Tombstone Hotels AZ History>
Right to Tombstone In-Town Hotels>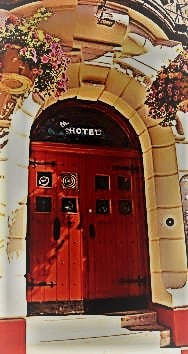 Easy List of Your
Best Tombstone Hotel Finds
Some are Right in the Thick of Things!
At Downtown's Edge…
Larian Motel – 410 East Fremont Street. (520) 457-2272
Popular stay. One block to Allen Street.
Top ratings!
Excellent choice, with newly remodeled rooms.
All ground floor rooms
Free WiFi
AC – Cable TV – Fridge in room – Microwave available
Email them at [email protected]
Or just Find Your Booking Now>
Don't forget!
Check our "Deal App" Here – we use this all the time for traveling! That's why we recommend it – and the more we've used it, the more we've saved. We think it's terrific. Give it a try… > > > > >
Allen Street Inn – 101 E Allen Street. 
Cozy, clean rooms: three inn rooms available
Great reviews
A short walk into town, right along famed Allen Street
Fridge & microwave
Book it here right now: While Available>
Tombstone Motel – 502 East Fremont Street. A specialty budget chain has purchased this property.
Budget & historic rooms, some with great views
One block easy walk to Allen Street. 
---
Some are Walking Distance to That
Town Too Tough to Die…
Sage Brush Inn – 227 North 4th Street. (520) 457-2311
Historic 1947 building in an area of wonderful valley views. About a 2 block walk to downtown Tombstone
Mountain View Efficiency – 590 South Skyline Circle. (856) 341-6515
We're including this here, even though they provide just 1 guest room. But it's Tombstone motel-like. 
It's about 1/2 mile from town, however – up the hill! A very nice place to stay (we did!).
Great city views! Carport for the vehicle. Reasonable rates. Up to 2 adults, plus 1 child if desired.
T. Miller's Mercantile Hotel – 530 East Allen Street.  (520) 457-2405
Right at the edge of town, on Allen Street – views of all the excitement! Sit on that balcony to get your own front row seat. All rooms upstairs.
Trail Rider's Inn – 13 North 7th Street. (520) 457-3573
Basic motel, small rooms with 2 Queen-size beds and Western decor. Park right outside your door. 3 block walk to town. Call to see what's up for a booking at this Tombstone hotel.
Tombstone San Jose House – 1 North 5th Street, corner of Fremont. (520) 990-5268 or [email protected]
Truly historic – the oldest Tombstone hotel! Three different rooms available. Just 1 block to Allen Street, right in the middle of town! A vintage experience.
Wyatt's Hotel – 109 South 3rd Street.
Half block South of Allen Street. All rooms upstairs. Three suites available include continental breakfast.
(520) 678-7281
Tombstone Boarding House Inn – 114 North 4th Street. (520) 457-8075
About a two block walk to town. Excellent ratings from reviewers.
---
A Tombstone Hotel – A Little Farther Out
NOTE: Some may feel these are walking distance to downtown Tombstone. And they probably are - ONE mile. But for about half the way, there aren't sidewalks, and it's along a busy highway. So be cautious if you decide to walk.
Landmark Lookout Lodge – As you enter Tombstone city limits on Hwy. 80 South, entrance on the Right. (520) 457-2223
Many amenities such as included cooked-to-order morning breakfast, seasonal pool, outdoor patio, free parking, trails, business center & free WiFi.
Tombstone Grand Hotel – 580 West Randolph Way, off Hwy. 80. (520) 457-9507 or (855) 90-GRAND – Email: [email protected]
Amenities designed to provide on-site entertainment such as evening activities, complementary newspaper, free WiFi, HD TV with over150 channels & free movies, outdoor fire pit and barbecue grill. Also rooms with views, heated pool & spa, and a complementary unique themed hot breakfast.
---
Consider More Tombstone AZ Hotel Options
There are other types of choices to be had for your Tombstone lodging in Arizona. Why not consider these?
Here's a Wonderful Ranch Stay>
Whoa! Want a Bordello?!!
Now what a Historic Earp Place This Is!
---
---
Are There Any Unpopular Tombstone Hotel Reviews?
Before living in Tombstone, we often came to town to visit for days at a time. Just like you're planning to do. We tried various hotels in Tombstone Arizona. Sometimes we still sample them. Check our website pages that list the hotels in town where we've stayed. That includes other Tombstone lodging like local Bed & Breakfasts and the really convenient Vacation Rentals.
We've given our opinion, reviews about how we liked them. Or the opinions of any of our relatives or friends who've stayed. See our Hotel – Tombstone Arizona – Reviews>
---
Why Get a Hotel For Tombstone
in a Nearby AZ Area?
As visitors, we never liked doing that. We wanted to be able to walk to our lodging.
But – if you look for a Tombstone hotel at the last minute during a Tombstone Event – you may be out of luck finding something in town. Or you may want to find something a little more budget-minded. Towns just a little drive away may have what you want. Take a look…
---
Hotels in Sierra Vista AZ
If you're looking for a budget Tombstone Arizona area hotel stay – there are lots of options here. It's a 25 to 35 minute drive on Charleston Road to get into Tombstone. Some close-in, direct drive choices are:
Knights Inn – (520) 459-5035. ~ 1551 East Fry Blvd. [When working on our Fixer-Upper home, our Tucson contractor stayed here & found it quite suitable & economical]
Sierra Vista Extended Stay Hotel – (520) 458-0540.  ~ 1850 East Wilcox Dr.
Comfort Inn & Suites – (520) 459-0515. ~ 3500 E Fry Blvd.
Days Inn – (520) 226-4907. ~ 3460 East Fry Blvd.
---
Benson Hotels
Benson to Tombstone is about a 35 minute drive straight off of Interstate 10. Take Hwy. 80 South to get to Tombstone. The Sahara is right along the way to Tombstone, on Hwy. 80. The other 2 choices are off the Interstate.
Sahara Motel – (520) 586-3611. ~ 1150 AZ Hwy. 80.
Quality Inn – (520) 586-3646. ~ 699 North Ocotillo Rd.
Get Your Room – CLICK HERE>
Days Inn – (520) 720-0055. ~ 621 West Commerce Dr.
---
Why the History of Hotels in Tombstone Arizona
Will Change Your Life!
Well – maybe not change your entire life! But it could enhance your visit to Tombstone Arizona! And knowing some Tombstone hotels, with their AZ history may surely give you appreciation for the town's story, when you walk the streets. Let's see how five hotels developed here, right at the start.
Which ones do you think you can find today?
---
The San Jose House
Samantha E. Fallon was an entrepreneurial woman from San Jose California. In 1879 she bought lots at the Northwest corner of Fremont and 5th Street. Near the end of the year construction of her 20 room hotel was complete.1 She hired local woman, Francis Jackson, a miner's sister, to manage it. Samantha stayed until March 1880 ensuring things started off well. Then went back to California.2 
Apparently she felt opportunities were abundant in town. She returned in August, opening a hat shop right down the street.2 She then split her time managing the two establishments.
You can still stay in this historic hotel in Tombstone Arizona today: San Jose House.
---
Mohave Hotel – Brown's Hotel
It's about a tie, whether this Tombstone hotel, eventually called Brown's, or the San Jose is the oldest hotel of historic Tombstone. The San Jose construction began first, as an adobe building in very early 1879. The hotel called the Mohave Hotel began as a wood frame and canvas building. Charles R. Brown completed its construction on the Northeast corner of 4th and Allen Street in April 1879.
Soon he began working on the more permanent structure: an adobe building. When completed, he hired an experienced couple to manage it: John and Leonie Holly. They'd managed the American Hotel in Phoenix.
Brown continued expanding the hotel.  Eventually it became among the largest of all hotels in Arizona Territory. So he changed its name to Brown's Hotel.2  While expanding he relocated the Lodging Areas to upper floors, renting out lower floors. A restaurant on one side, and Hafford's Wholesale Liquors on the other.3
---
Rural House
Henry G. Howe built this Tombstone hotel, completed in late 1879. He promoted it as first class lodging, with the best meals available. Located on Allen Street, close to 5th.2  Rutledge and Crowe took over from Howe around summertime, 1880. The Holly couple ran their kitchen. Then John Holly overdosed on Laudenum in January 1880. Mrs. Holly took over herself.
---
Russ House
Sol T. Anderson and Jacob Smith were experienced hoteliers who built this now historic Tombstone hotel. Located at the Southwest corner of Toughnut and 5th, it had a veranda on both streets. View of the mines from there!
Adobe construction, with a huge dining room and the latest modern stove in its kitchen. There was a reading room and a bar-room. And their lodging rooms had spring mattresses!2  
The walls of this memorable Tombstone hotel still stand. Most interior has been lost and/or reworked. But enough still there for the establishment to be on the National Register of Historic Places.
Through the years it's had reinventions. For a time Nellie Cashman was part-owner. Thus in more modern years it was called Nellie Cashman's, reinvented as a restaurant. Now it's totally been changed. The Russ House Building is now a restaurant called Las Margaritas. When sold to the most recent owner, I understand the right to the Nellie Cashman name didn't come with the sale (sigh!) That transformed the Whole Russ House Atmosphere.
---
Grand Hotel
Charles Brown and Sylvester B. Comstock partnered together. They obtained lots on 4th Street, swinging over to meet past the Southeast corner of Allen Street. On it they constructed their fine hotel of adobe brick. Along Allen Street, the lower window panes were designed with fine archways.
The grand opening was on September 9, 1880. The main entrance was on 4th. The Grand Hotel had two stories. It was truly a grand establishment.
The first floor had the main office, plus a bar and dining room
A kitchen was located in a rear separate building – they could feed 300 people at once
A wonderful stairway went upstairs to the lodging rooms
At the top of the stairway was an exquisite public parlor with opulent carpeting
Private rooms designed for singles and families, were decorated with the lush carpeting and deluxe furnishings
Today you can see the front archways along Allen Street, which once fronted the Grand on Allen Street. The other Grand Hotel today, has taken the name – but has nothing to do with this original. 
Some historical notables through the years:
Johnny Behan, a foe of Wyatt Earp, worked as a part-time bartender there
On October 14, 1880 a meeting of the local Masonic Association was held in their public parlor. It was to organize a Masonic Lodge hall plan.
October 26, 1881 – Frank McLaury and Billy Clanton arrive in Tombstone, come in to the hotel and see Doc Holliday there. They greet each other. Later that day they're all involved in the Shoot-out at the O.K. Corral.
The Cowboys of Tombstone Arizona often came to town. Specifically the Clantons and McLaurys normally stayed at the Grand.
May 16, 1882: the devastating Tombstone Fire destroyed most of the Grand
The Grand was not rebuilt, but instead Comstock built another structure for multiple businesses. He rented out portions, including a basement.2
---
Cosmopolitan Hotel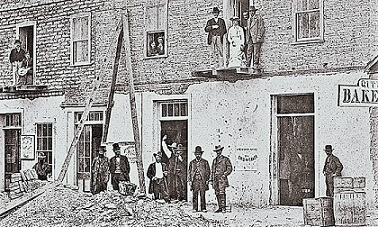 Carl Gustave Frederick Bilicke and his son Albert Clay came to Tombstone in autumn, 1879. With lots of furniture and plans for a Tombstone hotel.
At first it was a hotel tent on the North side of Allen Street, close to 4th. (Just to the West was Brown's Hotel.) With 50 beds, a bar and restaurant, plus a piano! They simultaneously worked on a permanent structure: two stories.
The New Lodging area of the finished hotel accommodated 25 upstairs. They also had a Ladies' Parlor, sitting rooms, a meeting/event room, and a store. The front veranda faced an orange grove, a delightful addition.2
When the Earps began facing troubles from Cochise County Cowboys they moved out of their homes. They felt they'd be safer temporarily living in a hotel. Virgil and Allie, Wyatt and Morgan all moved into rooms in the Cosmopolitan Hotel.
---
The Evolution of Other
Favored Historic Tombstone Hotels
As the Tombstone population grew, and the reputation of the town spread. More hostelry rooms and lodging were needed. Enterprising business people headed straight to town to find their best spots. 
Some other favored Tombstone hotels were…
Morton House – An early hostelry in town owned by Mrs. Morton, an elderly semi-invalid woman. A large wood frame building on the South side of Toughnut Street, between 2nd and 3rd. Mrs. Morton lived there, renting out rooms. It burned down on May 16, 1882, a fire spreading to other nearby structures.
The Occidental Hotel – Built by Joseph Pascholy (prior partner with Nellie Cashman, of the Russ House mentioned above) and Godfrey Tribolet (of Golden Eagle Brewery fame). It opened April 7, 1883. A great need after the 1882 Tombstone fire devastation. Located on Allen Street, at the Northeast corner of 4th. With adobe construction and 40 rooms. Encompassing a billiard room, card room and a deluxe restaurant. It burned down September 14, 1888. They didn't rebuild. See the Whole Story>
Fly's Boardinghouse – In July 1880, Camillus Fly and his wife Mollie completed a boarding house along Fremont Street. They made 12 rooms which attached to Camillus's photography studio.5 Mollie ran the hostelry. It nearly burned down in the 1882 fire, but just escaped with her hard protection work. Doc Holliday rented a room from her when in town. Big Nose Kate stayed there with him at times.
American Hotel – Opened around the Spring of 1882. The proprietors were the very busy, productive Nellie Cashman, with business partner Miss Cunningham. Located just West of the San Jose House on Fremont St.
Tourist Hotel – At the Southeast corner of Allen and 5th Street. This hotel in Tombstone Arizona dated from the 1880s.4 It was next to the Bucket of Blood Saloon2 (now currently the Longhorn).
Arcade Hotel – Owned by James Macia, of the Tombstone pioneering family, on 4th Street. It was severely damaged in a May 20, 1924 fire. After repairs and refurbishment by February 1936, it was renamed The Rose Tree Inn.
Sunnyside Hotel – Was at the Northeast corner of Toughnut and 5th Street, owned by Charles L. Cummings. He was a Tombstone business community mainstay from its beginnings. The hotel burned down on May 17, 1919.
The Palace Lodging House – Billing itself as the only hotel in town maintaining two floors of lodging rooms. On 5th Street, located between Allen and Toughnut Streets. The proprietor was Mrs. L. Young.
Arlington Hotel – By 1902's summertime, this was the only hotel open in Tombstone Arizona. There had been severe local economic depression for the past 7 years.
Hotel Nobles – From the refurbished Gird building at the corner of Fremont & 4th, Gene Nobles turned the second level into a hotel in August 1902.
---
Tombstone Hotel Corporation
With World War II ending, U.S. citizens had optimism that encouraged travel. Tombstone took part in that positive outlook, and began appraising their historic town. A coast to coast roadway nicknamed "The Broadway of America" – actually U.S. Hwy. 80, at that time ran directly through town. How exciting!
Restoration of local history was in the works! Tourists could come to town, making it a destination. Hotel rooms in Tombstone Arizona would be needed.
In 1946 a plan was presented to the city council. To refurbish the old court house, making it a Tombstone hotel. In February 1948 the Tombstone Hotel Corporation was formed to fulfill this. The facility was to have 60 rooms with a private bath. Work began. But funding for completion was never produced. Work was slow.  Probably a good thing. The city lease they held was revoked in 1952 for breach of contract.2
Instead work began for restoration as the Courthouse it had historically been.2 The rest is history!
---
References
1 Weekly Nugget (1879, October 28).
2 Bailey, L.R. (2004). Too Tough to Die The Rise, Fall, and Resurrection of a Silver Camp; 1878 to 1990. Tucson AZ: Westernlore Press.
3 Arizona Quarterly Illustrated (1880, October).
4 Pioneer Landmark After Fire (1942, May 28). Burned tires draw saddest sigh from Tombstone victim. Tucson AZ: Arizona Daily Star.
5 Arizona Women's Hall of Fame (2017) Mary "Mollie" E. Fly (1847-1925): Inducted in 1989. Retrieved from https://www.azwhf.org/inductions/inducted-women/mary-mollie-e-fly-1847-1925/