John Philip Clum: Some Tombstone Firsts!
Born in upstate NY Sept. 1, 1851. He eventually became a well-known resident of Tombstone.
He was its 1st voted Mayor & the 1st Editor of the iconic Tombstone Epitaph.
Also got involved in lots more in town. Let's see how John P. Clum got there – his story…
Educated Upbringing Serves Him Well

Childhood Prep School, then Military High Academy, then on to Rutgers University for religious studies. Inflammatory problems short-changed his intended graduation & outcome.

Finally recovering, he joined the U.S. Army Signal Corp. & studied meteorology. Assigned then to open a Weather Observation station in Santa Fe NM. Thus his move West in Nov. 1871.

Clum continued his religious interest there, joining Santa Fe's Presbyterian congregation. His focus was: becoming involved. He served as a delegate to the church General Assembly.
He stayed in New Mexico until he was recommended to an appointment as Apache Agent in Arizona. Assigned to San Carlos Reservation, arriving Aug. 8, 1874.
At the Reservation/Agency
John Clum used techniques not especially popular with the government. He learned Apache culture, trying to understand their motivations. So he organized an Apache Police Force to enforce reservation problem solving. He brought in self-government methods.
The reservation location is along the Gila River. A good consistently free-flowing Chihuahuan Desert waterway in that area. Water availability was an approach for Apaches to reinvent themselves. He taught them agriculture & farming. He also employed building laborers & began children's schools.
He received accolades from many for his Agent work. Most judged him as doing an excellent job. Especially as compared with his predecessor.
John lived on the reservation, but still traveled around. While there he studied law. He met Mary Ware, whom he asked to marry. Late November 1876, he went to Delaware for his wedding to Mollie (nickname). They lived together at San Carlos.
In the Spring of 1877, he had a contentious relationship with General Kautz. As U.S. Adjutant General of the Military Division of the Pacific & California, he made detrimental accusations toward Clum's San Carlos Apache policies. Disgruntled, John resigned by June. But their argumentation continued.
Law & Florence
John & Mollie moved to Florence, Arizona. About 75 miles Northwest of Tucson. He continued law studies with Judge H.B. Summers, passed the bar, practiced in Pinal District Court.

In 1878 they built a home there, 180 N. Granite St., still there today! John kept the offices of his newspaper there. Nov. 1877 he'd purchased the Arizona Citizen, moving it from Tucson. By Dec. he no longer practiced law, instead was solely a newspaper man.
But he found it better to return the Citizen to Tucson. He did so, moving there in late 1878. He changed the format to a daily. But by early Feb. 1880, he sold the Arizona Citizen. Still involved, he helped get Tucson's Republican Party off the ground. Then started running for offices. In April he moved his wife & son Woodworth to Tombstone.
John Clum intended to bring a newspaper to town. The 1st Weekly Tombstone Epitaph was issued May 1, 1880. The office was a canvas tent on Fremont, between 3rd & 4th. By July he added a Daily Epitaph. He'd just been appointed Postmaster.
On Dec. 11 Mollie delivered a baby girl, Bessie. But it took a toll, post-birth complications left John a widower on Dec. 18. His parents, living in Washington D.C., took in the kids. Left John to devote himself to work.
January 1881 Tombstone's 1st election chose John P. Clum as Mayor. Soon a solid building (photo above) took the place of the Epitaph's canvas office.
Continuing community involvement, Clum wasn't without controversy, including passing Ordinance 9. The Epitaph backed the Earps in the OK Corral Gunfight, but he suspended Virgil. John, + others, received life-threatening letters. Then on Dec. 14, 1881 Clum was on a Stagecoach when it was attacked.
Clum was away back East for the children. His infant daughter died. But he lost his post office position in June 1882. He remarried while in D.C. in Feb. 1883. In Feb. 1885 again he's Postmaster, but resigned (under pressure?) that autumn. In Feb. 1886 the Anti-Chinese League targeted him for boycott. By March he's the City Recorder.
Later that year, he's in San Bernardino California. He's done with Tombstone life!
Moving On: Max Activity!
Clum stays in San Bernardino awhile, working Real Estate & at a newspaper. But about 1890 went East for a Postal Service Federal position. Nov. 1897 he's appointed "Chief Clerk" of a division just under the Chief Inspector. In early 1893 he also began lecture touring, using stereoptic videos.
April 1898 he's sent to Skagway Alaska to establish the postal service there. He traveled throughout Alaska gold-rush towns.
In 1900 he's in Nome. Met up with friend Wyatt Earp there. Controversy met him again in June 1903. With gold mining interests, conflicts with his position arose.
Even so by early 1906 he's in Fairbanks as postmaster, & he's named as candidate for Alaska district governorship. Didn't happen. His friends called for him as nominee for territory Congressional Delegate. This happened!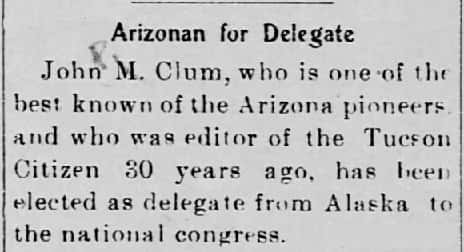 In 1909 John leaves Alaska. Next he's Postal Inspector in Denver. April 1911 he retires from Federal Service. Returning to lecture touring, with a California home base. Bisbee & Tombstone are May 1912 stops. That autumn his wife dies. There remained reports of him involved with newspapers still, as he continued his tours. Clum also authored pieces for journals.
Sentimental about Tombstone, John P. Clum was 1st to donate to Boothill's restoration. Summer 1929 Clum was on the Advisory Committee for the 1st Helldorado Celebration. He returned for it as Mayor. In 1930 he joined the Arizona Pioneer's Historical Society.
His last earth day was May 2, 1932 – dying at home at age 80. Didn't even cover ALL his roles & involvements here. He certainly led quite a life!
---
Historical places & events create curiosity for facts about people who roamed the Tombstone area & the Old West. What's the true story? And what happened to them – do we even know? Can we discover the authentic history?
And we enjoy sharing what we find with you.
We hope we'll see you in town sometime, seeing areas where they spent time – back in the 1800s.
Let us know if you'll be going to an upcoming event! Tell us how you liked any of them, or what you visited here! Just reply to this newsletter for easy input! (Let us know if we can use your comments – & how to credit you.)
---
---