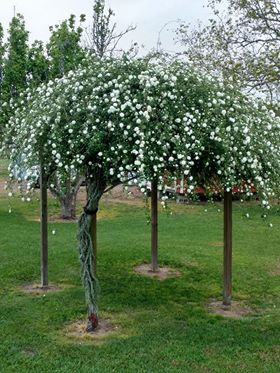 This is our rosebush that was a clipping of the Guinness Book of records rosebush that is in Tombstone Arizona. We got our clipping years ago while visiting Tombstone. The flowers smell so good!
We live in the country outside of Needville Texas. It's a wonderful town Southwest of Houston TX, about 45 miles away from the city. The weather froze here a couple times this past winter (2017 to 2018). But for the most part it's a hot and humid climate.
My wife showed it to some of her friends and they want a clipping! I told my wife that I had heard that they could be started in a potato.