A stagecoach inn was an important resting place along a stage route. Not only for the people riding in the stage, but for the drivers – and for the horses. Or sometimes even mules! These inns had food and rooms fit for some hours of rest. But they also had outbuildings and corrals so that a fresh change of animals were available. If the stagecoach required any repairs or maintenance, it could be handled. Especially done better once a meal was had!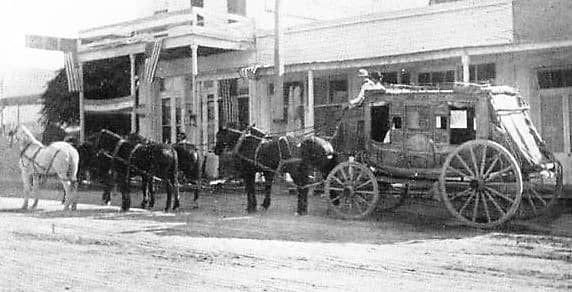 ---
Stagecoach Stops
A stagecoach inn's stop was usually called a Station. Two types of stations were along a route:5 
Swing Station – A small stop with just a basic shed type of building or a small barn, and a corral.
On hand were 30 to 50 horses.
The stop here was short, just enough time for its purpose: to change to a fresh team.
These were placed every 10 to 15 miles from each other.
Usually manned by a few stockmen who lived in a one-room sod or log shack.
Home Station – The larger stop where lodging and a meal was available for passengers. As well as a change of team and crew
Still not very comfortable, they were normally run by a family or husband and wife.
Often they were pretty dirty and ill-maintained.
1 to 4 room sod dwelling with muslin wall coverings, or a 1 to 4 room log/board cabin – either likely with dirt floors.
Placed about 50 miles from a previous Home Station. 
For the stagecoach, repair and maintenance needs available.
---
Stagecoach Inn Meals
Meal stops at a Stage Stop or a Stagecoach Inn were scheduled twice a day for most efficient stopping times. The first was breakfast, and later on for the larger dinner meal.
Breakfast may be beef jerky, some crackers, onions and bacon. The dinner meal might have pan fried meat, usually venison or antelope along with some bacon. Even mule meat may be served. (You can imagine where they sourced that from!) Usually they'd serve beans, bread or biscuits and tea as a side. These meals were not gourmet standard – by any means.1
HEAR IT STRAIGHT FROM THE WORDS OF AN 1880'S TRAVELER:

Phocion Way stopped at a stagecoach inn, having a dinner meal. In 1858 he took a stage to travel to Arizona from Cincinnati Ohio. Even at 31 years old, he had enough world experience to know his meal consisted of "bad beans and bad bacon poorly cooked."2
Meals were priced at about 25 cents.1 That's equal to about $7.85 in 2021 U.S. Dollars. That seems about normal today, for an average basic, decent roadside cafe breakfast. Sometimes a coach had a stage stop in a larger town. There may be access to better quality food. The meal would then cost as much as 35 to 50 cents.1 
Yet in other areas every meal at any stagecoach inn was one dollar (over $31 in today's dollars!) or even $1.503,4 (about $47)! That's the trouble, I guess, when you're a captive audience – so to speak.
---
Historic Stage Stops
Most stage stops throughout the U.S. have not survived. Yet a few have remained intact, and are excellent places to visit.
Some have ruins that can still be seen. Others have sites that are memorialized. Would you like to plan a trip to some of them? I know we love doing things like that – incorporating visits to wild west history of the past when we travel.
Let's see what and where some of these Stage Stops were and the possibilities for Stagecoach Inns are:
---
Stage Stops in Colorado
Virginia Dale Stage Station! – Can you HELP them out?
This Larimer County, Colorado stage station is a fantastic historic example of a stage stop. It was willed "to the community for their use, thus preserving for posterity a most historic building."5  
Learn more, visiting information and help in this Restoration Effort>
Gunnison County – The Johnson Stage Station.6,7 
Near Powderhorn on what was the Carr Ranch. Listed on August 28, 2017 with the National Register of Historic Places. Managed by the BLM to fund restoration of the buildings: the ranch cabin, saloon, guest house.
History education boards and trails to be set up for tourist visits. It's 2.2 miles south of County Road 64 from Hwy 149 intersection. Between Lake City and Gunnison.
In 1884 Charlie Johnson opened the station for mining traffic needs of the northern San Juan Mountains, Lake City and the Gunnison Basin to access railroads. He died in 1890 (buried on the property) and the Carr family took over the Stagecoach Inn.
The Carrs began ranching on the property, as well as managing the Stage transportation. From 1894 to 1897 Gunnison experienced a major gold-rush, making the stage stop its busiest. When that was over the stagecoach traffic was only local. It was entirely made into a working ranching business in 1890. A family cemetery is also located here.
For Your Stagecoach Inn History Trip
(AD: We use this travel booking app for our travels & love it!)
---
Stage Stops in Idaho
Marsh Valley Wells Fargo Station – North of Downey in Bannock County. A historical marker adjacent to a farmhouse names the historical spot where the Stage trail crossed Yago (Sage) Creek. William and Caroline Tillotson managed the stop from 1874 to 1878.
---
Stage Stops in Arizona
Dragoon Springs – Only ruins remain here, a sad reminder. Built by the springs it's named for, that put them in clear danger, as native peoples certainly viewed it an intrusion. Service began October of 1858, and only lasted for 40 runs. It's listed in the Historic National Register. Not far from the town of Dragoon. Final approach via dirt road, but Easy Enough Access>
Fort Bowie Butterfield Stage Stop – Take the trail to Fort Bowie in Chiricahua National Monument and you'll pass the ruins of this stage stop. You'll also see the ruins where a stagecoach inn once stood. The remnants of the Stagecoach trail can still be seen there. A beautiful hike through a very historic area. We went with a group of Tombstone local friends, and had a wonderful time on our ranger-led hike. You can go on your own or arrange for a ranger. Easiest access out of Willcox, AZ.
---
Stagecoach Stops in California
Stagecoach Stops in California
Tulare River Stage Station – In 1854 Peter Goodhue opened an inn on the Tule River. So westward bound pioneers could stop to refresh. When the Butterfield Overland Stage was routed through, it specifically became a Stagecoach Inn. Used as a Stage Stop from 1858 thru 1861. Find this historic spot in Porterville, at the Public Park. Corner of Main & Henderson.8
Vallecito Stage Station – Restored with area materials, also on the Butterfield Route. In Vallecito County Park, Julian. It began as an army depot before converting to mail route assistance.9  
Ely Stagecoach Inn & Mail Stop – Preserved by moving from its original spot, on Kelseyville-Lower Lake Road, it has a winding history. As a relay station for stagecoaches, it was also the early post office. In action from 1887 to 1889 in that capacity. Enjoyed by the public now as a country museum. Located at 9921 Soda Bay Rd. (Hwy. 281) in Kelseyville.10
---
Stagecoach Stop in Nevada
Cold Springs Station – It's also been called Rock Creek Station. Only the stone remnants remain at this Stagecoach Stop for the Overland Mail Route. From 1861 to 1869 it served passengers, as well as freighters. The ruins are 51 miles West of Austin, NV along U.S. Hwy. 50.11  Watch for the historic marker.
---
Historic Stagecoach Inns Today
Many buildings of history, that were stagecoach inns, have been transformed, revitalized and brought up to standards for use in today's world. But they still maintain their historic flavor, and often their stagecoach stop-like ambience – to a point!
We'll see where they're located. Maybe you'd even like to visit, or even possibly plan a stay. To have a bit of a step back into stagecoach history.
---
California Stagecoach Inns
Newbury Park – The Stagecoach Inn is at 51 Ventu Park Rd. It was originally The Grand Union Hotel. Listed in both the National and California of Historical Landmarks/Places. It's now a museum. Circa 1876 it was built to service the Coast Line Stage Company's passengers en route from Los Angeles to Santa Barbara. But it never happened as the stage route changed before they finished building!12  There are other Places to Stay now, in Newbury Park.
AREA HISTORY IN FILM
---
Texas Stagecoach Inns
Chappell Hill – The Stagecoach Inn of Chappell Hill located at Main & Chestnut St., served two Texas stagecoach routes: Smith & Jones and F.P. Sawyers. Providing overnight stays for travelers between Houston and Austin c. 1850. In recent years it was a bed & breakfast.13
Anderson – The Fanthorp Inn State Historic Site is a hotel c. 1834, but enlarged in 1850 for suitability as a hotel and shop. At that point, stagecoaches used it for a stopover, at 579 S. Main St. Free tours on the weekends.15
Salado – Now called the Stagecoach Inn. Built c.1860s, it historically was the Salado Inn and the Shady Villa. It was along the Chisholm Trail, and so provided convenient stopping off places for travelers. You can stay there today, and have a meal too. I'll vouch to say it's better than the 1800's food! See them at 416 S. Main St. Visit Salado Texas>
---
Utah Stagecoach Inns
Fairfield – Stagecoach Inn was a hotel nearby to the U.S. Army Post Camp Floyd. The post was built in anticipation of a Mormon rebellion, which never happened. But the population of this area grew to 7000 by 1860. The overland stage line and the pony express both stopped here. Also called the Carlson House. Now it's part of the Camp Floyd/Stagecoach Inn State Park Museum.14 Find it off Rt. 73, near Lehi.
---
More Stagecoach Inns for Accomodation
Liking that ambience of a stagecoach inn. Maybe you'll travel through one of these areas, and want a stay that includes those surroundings:
MONTANA – West Yellowstone: Stage Coach Inn at the West Entrance to Yellowstone National Park. This iconic choice has lots of amenities and includes a continental breakfast. Book Reservations Now – or call (800) 842-2882. Or see More Area Choices>
WYOMING – Dubois: Stagecoach Motor Inn, at 103 Ramshorn St., nearby access to Yellowstone. Fabulous rates, kitchenettes and all the needed amenities. Reserve Now or call first: (307) 455-2303 OR [email protected] for more details. Or see More Area Choices>
TEXAS –
Woodville: The Stagecoach Inn here has a rustic, yet modern feel at this popular stay. Complimentary breakfast. They're at 902 S. Magnolia (Hwy. 69 So.) For reservations, call them (409) 331-1100
Fredericksburg: This Stagecoach Inn is a Mountain Home rental property. Choose one of three rentals within. The Stage Stop for up to 4, the Teeny Tiny Texas House for 2, or the Joe Davis Suite for 2. Plus gorgeous outdoor areas and a huge deck. Nearby the Guadalupe River in the Hill Country. Rates are very reasonable. More details/info: (866) 427-8374 or (830) 997-5612
IDAHO – Salmon: Right along the scenic Salmon River, The Stagecoach Inn is also adjacent to the Bitterroot Mountains. Scenery galore! And great amenities – even an electric vehicle charging station. Find them at 201 River Front Dr. To Book It Now or call (208) 756-2919.
---
References
1 Sharp, J.W. (1996-2008). The stagecoach in 1860s: The passenger experience. Retrieved from desertusa.com/desert-activity/stagecoach-service.html
2 William A. Duffen, ed., "Overland via 'Jackass Mail' in 1858, The Diary of Phocion R. Way," in Arizona and the West, Vol. 2, No. 1 (Spring, 1960), 52.
3 Stagecoach Travel (2003) Dictionary of American history. Retrieved from encyclopedia.com/history/dictionaries-thesauruses-pictures-and-press-releases/stagecoach-travel
4 Schwantes, C. A. (1999) The steamboat and stagecoach era in Montana and the northern west. Bismark: State Historical Society of North Dakota.
5 Larson E. (1996-2001). The Concord coach. Retrieved from www.over-land.com/ccoach.html & horses.html
6 Francisco, E. & Twitty, E. (2017, March 22). National Register of Historic Places registration form: Historic name: Johnson Stage Station. United States Department of the Interior, National Park Service. Retrieved from historycolorado.org/sites/default/files/media/documents/2018/5gn6070.pdf
7 Historicorps (2019, Feb. 19). Johnson stage stop, CO 2019. HistoriCorps Workforce for Saving Places. Retrieved from historicorps.org/johnson-stage-stop-co/
8 calshpo (2021). Tulare. Office of historic preservation, California State Parks. Retrieved from ohp.parks.ca.gov/?page_id=21533
9 County of San Diego (2018). Vallecito County Park: A San Diego County camping park. County of San Diego Department of Parks and Recreation. Retrieved from sdparks.org/content/dam/sdparks/en/pdf/BrochuresMiscellaneous/2018_Vallecito_Brochure_FINAL.pdf
10 Lake County Historical Society (2011). History. Ely stage stop and country museum. Retrieved from elystagestop.com/history/
11 Wieprecht, W.E. (1971, April 27) Cold Spring Stations and/or historic: Rock Creek Stage Station. NATIONAL REGISTER OF HISTORIC PLACES INVENTORY – NOMINATION FORM. UNITED STATES DEPARTMENT OF THE INTERIOR NATIONAL PARK SERVICE. Retrieved from npgallery.nps.gov/NRHP/GetAsset/ NRHP/72000762_text
12  Sprankling, M. & Anderson, C. (2017) The Stagecoach Inn Museum and Historical Landmark. Conejo Valley Historical Society. Retrieved from stagecoachinnmuseum.com/stagecoach-inn-detail/
13 Ruffin, L. (1981, March). Stagecoach Inn: Country Quarters Restored. Texas Homes Magazine. Pp. 84, 93. 
14 Weilenmann, M.L. (1971, May 14). Stage Coach Inn and/or historic: Carson House. NATIONAL REGISTER OF HISTORIC PLACES INVENTORY – NOMINATION FORM. UNITED STATES DEPARTMENT OF THE INTERIOR NATIONAL PARK SERVICE. Retrieved from npgallery.nps.gov/NRHP/ GetAsset/NRHP/71000857_text
15 Allen, I.T. (1957) Saga of Anderson – The proud story of a historic Texas community. New York: Greenwich. Texas Historical Commission, National Register Files. Vertical Files, Dolph Briscoe Center for American History, University of Texas at Austin. Published by the Texas State Historical Association.
---