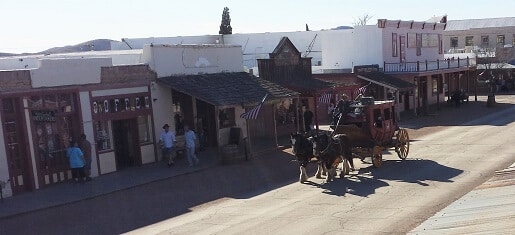 Tombstone Travel Tips are here for you. This Tombstone Arizona travel guide has the best info to help you have a gangbuster trip when you come to town! Like, what are the best Tombstone attractions, especially for your first Tombstone travel into town?
Even though we've lived here, having known this town well for years, we still put ourselves in your place. After all, we used to be visitors. There was a first time we traveled to Tombstone AZ! We've been visitors to other Old West towns, and know it's better to have some advance Travel Tips. So let's figure out:
What's the Best Time to Visit Tombstone Arizona?
What's a Must See in Tombstone AZ? See Top 8 Now>
What's the Best Time To Visit Tombstone?
Some people ask the question: what is the best time for traveling to Tombstone? It can depend on a variety of things. Let's throw some questions back at you! Put all these hints together to figure out your best answer!! Then you'll know what's best for making your own Tombstone travel to town!
Do you have young children?
ARRIVE EARLY / ON A WEEKEND – We suggest you arrive in Tombstone early in the day. Also plan your Tombstone travel for weekends or late in the week. The Reason?
Some attractions and shops are closed Mondays, a few on Tuesdays as well. That means less to choose from to keep young ones entertained.
Also remember our advice on getting to town early. In summer, it's cooler then. But whatever season, remember most things to do usually close around 5 p.m. You don't want to miss out because of timing.
We've seen that happen. People with kids walking around disappointed because places are closing up. Or already closed!
What About Heat? Control It!
You may have heard: Arizona, it's a DRY heat! That's true! It can make a big difference. Especially when you stay out of the sun. Keep in the shade when you can! And stay well hydrated. Just doing that in a dry heat, makes it much more tolerable!
What you might not realize though, is that elevation matters! Elevation makes a big difference here! Tombstone is just over 4,540 feet. Over 2,150 feet higher than Tucson. More than 3,450 feet higher than Phoenix.
The higher you travel in Arizona, the lower the temperatures are! Normally in summer, Tombstone's temperature is about 10 degrees lower than Tucson. It can be up to 18 degrees cooler than Phoenix! 
But still, remember this: June is the hottest month. Many not familiar with the Arizona desert don't realize that. People know summer begins in June. Thinking: warm weather must only be starting to build. And July or August for Tombstone travel must be the worst.
But not so! June has the highest average temperature. Because of other unique factors in this desert environment.
Overall, if possible for you, we recommend Autumn or Winter for Tombstone travel plans. When temperatures are mostly in the 70s and 60s. It's usually sunny. Maybe a short, refreshing winter rainstorm.

Realizing many people take summertime for vacations, though, because of school vacations, etc., we have another suggestion! An advantageous time for your travel to Tombstone Arizona is during the Monsoon Season.
The Monsoon Season mostly occupies July and August, often going into mid-September. Many days plentiful clouds help decrease temperatures. No constant sunshine = less heating up time!
As the day progresses, more and more clouds build. At some point likely to produce cooling thunderstorms. Arizona residents know it can cool down fast. Temperatures can drop 10 to 15 degrees within an hour!
Finally, one other idea is to plan your travel for Tombstone's Special Events. That's when there are often things going on later into the evening. The lower the sun goes, the less the sun heats the atmosphere. The day's heat dissipates pretty quickly. Especially with clear skies. The temperatures immediately drop with sundown. Often up to 10 to 15 degrees!
See more about Special Events next…
Do you love special events?
During most months in Tombstone Arizona, something special is happening! Helldorado is the biggest event of all, in October. But there are others, pretty regularly. We suggest you check our Events Page for what may interest you. Then you'll know which suits you and your family best for Tombstone Travel planning!
---
Adult Entertainment or Date Night?
Did you think about a Tombstone travel trip for a special date? Probably you can forget Mondays and maybe even Tuesdays! But you'll find karaoke on Wednesday through Sunday night somewhere in town. Check it Here>! Plus poker at Doc Holliday's on Tuesday night.
A great place to hear a band, and get in some dancing (best floor in town!) is at the Oriental Saloon. At the corner of 5th & Allen Streets. Usually on Friday nights. This is our favorite, since we love a great place to dance! If you go, it's a cash bar (they have an ATM inside). For their latest, best to check their Facebook Page.
Bands at Big Nose Kate's usually on Friday and Saturday in the winter. Four Deuces often has Saturday bands on their patio. Some Fridays they cut-back when it slows down toward summer, give any of them a call to check. The Crystal has intermittent Saturday night bands. They may have karaoke in wintertime on some Saturdays – FYI.
Restaurants all stay open into the evening. Serving food until 8 p.m. or so. Don't miss out on one local favorite, just outside the downtown area. Head East up Allen Street to the corner of Tenth: The Depot (great steaks, best Mexican food in town) and Ringo's Bar (best pizza in town). See more Tombstone AZ – Places To Eat>
---
prefer to avoid crowds?
Then summer (if you can do warmer weather!) is the better time for you to travel to Tombstone Arizona! Actually the temperature doesn't get over 100 degrees on too many days. As mentioned, June is the hottest month, and usually the slowest. So this may be for you, after all. Keep this info in mind…
The average daytime high in June is 94 degrees Fahrenheit. Lately more often we've seen it up to 97 on some non-Monsoon summer days. Just on occasion a "heat-wave" creeps in. Then it'll get to 101 or 103. Keep our prior advisory about "controlling the heat" in mind!
Of course, always remember that a week-day will be less busy than a week-end. And the earlier in the week, generally the less busy it is. As the week goes on, day by day, more and more people arrive, traveling to Tombstone. Until Saturday and Sunday is the busiest.
We hope this helped you figure out the best time to visit Tombstone! There's really no one best answer!!
It depends on you, your circumstances. Even that can change from month to month, or year to year. We think this information can help figure out the best time to plan your Tombstone travel for you or your family!
Hope to see you there! Be sure to say "Hello!"
If it still left you with questions, feel free To Ask>
---
What's A must see in tombstone aZ?
It's your first visit to Tombstone Arizona! Likely you'll wonder…
What should we see first? What are definites to do? Excellent questions!!
We want to help you with figuring that out! We've organized these Tombstone Travel Tips in Must-See ranking. From what to do first, then on down the line. Let's get started. Come on into town…
Find Parking Here along Fremont Street, as You Enter Town. There's a large parking lot to the left, watch for it soon after turning the bend. Or if you miss that, turn Right on Sixth Street. For more exact parking details – Click Here>
Before you begin your travels through town, you may want a map of downtown Tombstone. It can help you get oriented – which really isn't too difficult for this small town. We have one to access that's provided by the Tombstone AZ Visitor's Center. You can download it: Click Here>
Walk along Allen Street. Much of what you'll want to see is there. A parallel road, Toughnut Street, is one block South. Some Tombstone Travel planning recommendations are there also. Some that you really don't want to miss!
Hope you've watched the 1993 Tombstone Movie prior to visiting! It gives you a good intro and semi-accurate history of the town.
Here's Our Must See
Tombstone Travel to AZ List
Top 8 Must Do List in Tombstone Arizona
Take a Tombstone Tour
Number 1 Priority – Please first get an overview of town history, important events and people. That way you can choose the next sights that match your interests. Which tours to try?
Two Stagecoach companies are along Allen Street. Two Trolley Tours are at 4th & Toughnut. Or try a walking tour.
But every tour covers different aspects of the town's history and stories. Yet all cover essentials in their own way. There's not much overlap. So if you take another tour sometime, you'll still find it interesting!
Get more details on All Tombstone Tours
Courthouse
Number 2 – On Toughnut Street, Corner of 3rd. This historic building is a State Historic Park. Well worth the visit for the Tombstone lore within its walls. 
Tombstone was Cochise County's 1st county seat. That's why the courthouse. The cornerstone was set on August 11, 1882: a town original building. When the county seat moved to Bisbee, the courthouse fell to ruins. Empty and abandoned for awhile. One long-time local we spoke with said how he and his friends played inside when he was a youngster!
Now restored, including the courtyard gallows! Your kids may be fascinated by that!!
As a state park, there's a reasonable admission fee for 7 years and older (under 7 FREE!). Children from 7 to 13 years old – $2. For 14 years and older – $7.
Hours: 9 a.m. to 5 p.m. More Here>
Tombstone Mine Tour
Number 3 – Maybe it should be Number 1? Because the mine is why Tombstone came to be! Then it influenced the town in so many ways. It attracted many to arrive in the 1800s. Business people followed, providing services.
If Ed Schieffelin never discovered silver here, causing this mining boom, there wouldn't be a town here! Virgil Earp and his brothers would never have arrived. The Gunfight at the OK Corral would never have happened. And there never would have been movies: the Movie Tombstone, with all its great Movie Quotes, or the movie Wyatt Earp!
The Mine Tour is at the far South End of 5th Street. Their tour gets you a terrific overview of Tombstone's History, not only the mine and it's workings. They give you a summarized compilation of how it all fits together. They've always had terrific reviews. Can't recommend it enough!! See More>
Sights Along Allen Street
4th Recommendation – Just walking this historic street, there are fun and free Tombstone Arizona attractions to see! Yes – right along the street. Watch for different street performances and shows. If you're so inclined and like their entertainment, they'll always appreciate a tip. But just a hello, a smile and a kind word of appreciation will also go a long way! 
Our favorite has been "Johnny Bones" – who was a consistent Tombstone feature, appearing between 4th and 5th Streets. He designed his act to be typical of the Historic Entertainers found in the 1800s. On Mondays he was accompanied by musicians instead of his usual recorded audios. Now since retiring, you'll have to try getting a glimpse of him – maybe – on special occasions?!!
Other free street entertainment happens on weekends. Catch some gunfights, trials, even hangings (not real, of course. And they may try to get you involved – uh oh!!)! Other old West drama! Sometimes there are fashion shows and other exhibits. Occasionally Allen Street excitement continues into the evening hours. Especially when there's a Special Event. You never know when one's arranged on short notice, so always good to Check for the Latest.
The Birdcage Theatre
5th Tombstone Travel Must-See – Another of the buildings surviving from the 1800s. Take a look at the original bar, just step inside the front door. It's free to do that. They'll hope you'll take the tour for even more amazing, fantastic historic details.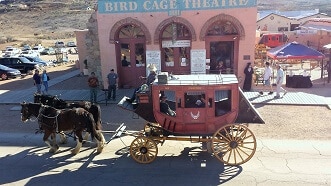 You'll see other fascinating historic items in the front lobby. And be quite amazed with the genuine antique items and historical momentos if you go to the inner haunts!
Speaking of haunts, they do evening Ghost Tours, as well. Are you interested? We've been on it twice! Pretty captivating. Some would even say: chilling. More info on that – Here>
Get to the Bird Cage Theatre at the Southwest corner of Allen and 6th Streets.
Boothill
#6 Of Must See In Tombstone AZ Attractions – It's a real city graveyard from the 1800s. If you take the City Trolley Tour, they'll bring you right over to it. With the option to get off there. Historically, you'll see why it's a Tombstone Must See! For that – Click Here>
See graves of those gunned down in the O.K. Corral Shootout. And graves of those Chinese who immigrated to town, meeting with much prejudice. Yet they persisted in their community: a few blocks Southwest of the Allen and 3rd Street corner. Finally some became respected in the community. There's also a Jewish section within.
Crystal Palace
Number 7 Suggestion – At some point you'll get hungry! You have lots of choices of Tombstone AZ Places To Eat. The Crystal Palace Saloon is a recommendation for fabulous staff and authentic history!
Even if you eat elsewhere, we propose just stopping in to the Crystal to consider its history. Look in the left-hand corner wall when you first walk in. There's vintage photographs there. Look at other historic features on the wall. See the beautiful deluxe bar, a replica of the original, which was unfortunately lost during prohibition! But much of the building is original. Find out More>
For more current and past Crystal Palace Details Go Here>!
O.K. Corral
#8 – Definite Must-Do in Tombstone AZ – The location where that infamous event happened: the Gunfight that placed Tombstone Arizona on the map! And actually made Wyatt Earp a name country-wide that he hadn't quite had before!
The kids will enjoy the show! It's relatively short, gauged to their attention span. It's only barely based on fact, more for entertainment purposes. More For Kids>
To see the accurate shoot-out description, go to the rear area of the O.K. Corral attraction. There are life-size figures in a fenced area. Push the button near these action figures. That's where the Gunfight at the O.K. Corral really did happen. Since, as you'll learn (if you didn't already know), it really didn't take place in/at the O.K. Corral! Read More>
---
Hope this helps you itemize your Must See list for your Tombstone travel to town! We know it will probably vary, though, for individual circumstances. We believe these are starter essentials. 
We'll look to see you in town, working on your Tombstone Must See list! We're confident you'll enjoy your Tombstone travel experience!!
Remember, there is much more for another Tombstone trip next time! So come on back…
---
Kids' Tombstone Attractions – To-Do List
Other Additions you may want to fit in, if you have young kids. These could replace another attraction, such as the Bird Cage or the Courthouse, which you could save for another time. Since those are the attractions that may lag a bit for the little ones.
To keep them entertained after lunch, when they start getting restless, we have a couple of suggestions that you could consider during your Tombstone travels:
Old Tombstone Western Town – Located on Toughnut Street, at the South end of Fourth. Just cross over and you'll see the entrance. They have gunfight shows, miniature golf, gold-panning, etc. The types of things that kids love. One entry fee covers it all. Stay as long as you like.
Tombstone City Park – At the Northwest corner of Allen and 3rd Streets. It's a wonderful little town park. A lot of room to let the kids run around. The whole area is fenced, so no worries about them easily running off into the street. Swings for them to play on. There are nice picnic tables and benches for just relaxing or having some beverages and snacks. A Gazebo there is fun, for when the kids like to put on their own show for you! Quite a few shade trees, plus rest rooms for your comfort.
---