Billy Claiborne was born in Yazoo County, Mississippi on Oct. 21, 1860. In the central Western part of the state. Nothing much is known about his youth & upbringing. But there are some who say he was a teen with a "chip on his shoulder" type of attitude. He turned up in Arizona around 1879, working on John Slaughter's ranch.
Commonly asked Billy "The Kid" Claiborne questions
He began working the mines in the 1880s. He worked the metals amalgamator in Charleston & drove a slag cart for Neptune Mining in Hereford AZ.
Billy Claiborne is known in history for a few things. One of them is his association with the Cochise County Cowboys.
He likely came in contact with the Clantons & McLaurys while working as a drover for Slaughter. Or even while mining in Charleston, where both families – but particularly the Clantons, spent time. Claiborne was known as a friend of Billy Clanton's.
Getting in trouble with the law
On Oct. 7, 1881 Billy was in a Charleston saloon when he shot & killed a James Hickey. They were both pretty well sloshed. It's said Hickey was a mean sort.
Hickey had already been mouthing off when he noticed Billy. It was reported Billy accused him of stalking. To stop or he'd shoot him.
Billy pulled out his pistol. Hickey turned & moved toward him. Billy squeezed the trigger, hitting Hickey below the left eye. He fell dead.
On Friday afternoon James Hickey was shot and killed in Charleston, Cachise county, by William Clayborn, "The Kid," in a drunken quarrel. Clayborn was arrested and taken to Tombstone
---
Billy's involvement in the shootout at the OK Corral
The jury in the Claiborne murder case, at Tombstone after being out seventy-two hours, come into court Saturday with a verdict of "Not Guilty."
Oct. 26, 1881 is an infamous Tombstone history day. Billy Claiborne was with Tom & Frank McLaury, Ike & Billy Clanton in the lot by the O.K. Corral as they discussed what happened all that morning. When the Earps & Doc Holliday arrived there, Billy exited quickly. Probably with his Hickey trial ahead, he didn't want any other trouble fomenting!
In November, it took 3 days of jury calls to get started with the trial. The 1st 2 days, half the jurors were no-shows. When they convened, they asked for conviction on 3rd degree murder. The judge refused & ruled a mistrial. A new trial was set for February 1882.
His trial finally happened in May, 1882. It took 72 hours of deliberation to find him not guilty.
Calling himself "Billy the Kid"
If copying someone is the sincerest form of flattery, Bill Claiborne sure flattered William Bonney – the original Kid.
After William "Billy the Kid" Bonney was killed in late 1881, Claiborne demanded that others call him "Billy the Kid". He reportedly killed one to three men who refused. Claiborne was a heavy drinker and hothead. He became friends with Ike and Billy Clanton, and with Tom and Frank McLaury.
Horse rustler? Not according to himself.
But "Billy the Kid" Claiborne was soon in hot water again. Pete Spence was missing some horses. The Epitaph reported Billy was the suspect. As the story unfolded the Epitaph printed a July 1st clarification that relieved "The Kid" of guilt.
Apparently Claiborne knew who the bandits were. Pete Spence also hung with the same Cowboy crowd as did Billy, after all. So The Kid set out after them, got Pete's stock back and was returning them.
Much injustice was done Billy Claiborne by the report circulated that he had ran off some stock belonging to Pete Spence. It now appears that he followed the Mexicans who stole the stock, from Tuesday morning until the following Thursday night, making over 250 miles in that length of time, but managed to secure the horses. The "Kid" naturally felt indignant that such a report should get abroad, especially as he was in a dead run after the thieves, and without food for three days.
The death of "Billy The Kid" Claiborne at the hand of "Buckskin Frank"
LESLIE'S LUCK
"Billy the Kid" Takes a Shot a "Buckskin Frank."
The Latter Promptly Replies, and the Former Quietly Turns His Toes Up to the Daisies.
Early Tues. Nov. 14, 1882 Buckskin Frank Leslie was at the Oriental Saloon. The Kid came in, right up to Frank, started all-around bad-mouthing, with vile language. Being very argumentative. Frank tried to calm him. When it didn't work – he escorted him outside, with Billy threatening him: "I'll get even on you."
Soon a guy came into the Oriental reporting to Frank, a guy was waiting outside for him. Then another told him Claiborne was on Allen St. with a rifle, asking for Frank. Frank went outside & saw Billy by a fruit stand.
Leslie said, "Billy don't shoot…"
But Billy fired, then did Frank. Billy was hit and said "Don't shoot again, I am killed."
Buckskin Frank was arrested by Officer Coyle. Before long Billy was dead. The Coroner's Jury, after taking witness testimony, ruled it a self-defense shooting.
Why was Billy Claiborne killed?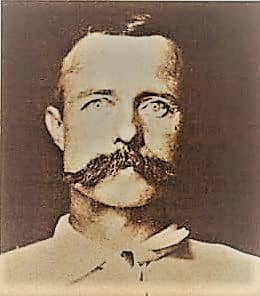 What was the motivation for Billy's assassination attempt of Buckskin Frank Leslie? There are testimonial hints & there are the theories that abound.
One Coroner's witness, Otto Johnson, said Billy told him just before the incident, "I don't allow any man to spit on me… and if he don't come out I will go in and make him fight. Johnson said Billy told him that man was Leslie.
Another witness, William Hush, quoted Billy straight out: "I am going to kill Frank Leslie." But no further explanation. When he tried to talk him out of it, Billy threatened him!
Oriental bartender E.H. Dean said Billy butted into Frank's conversation with friends, by making snide political remarks. Frank said he should go away, they weren't even talking politics. Billy said he wouldn't go away, then Frank carried him off by the collar. So Billy said that "he would allow no man to handle him in a manner of that kind."
Finally there's the theory of his last words! That it was revenge for his belief that Buckskin Frank Leslie was the one who killed Johnny Ringo. According to Dr. G.C. Willis, who gave this following testimony:
He was not wholly conscious. He said he was a murdering son of a b—- to shoot a man in the back. I was examining the back when he make that remark. I think he received the would in front.
Who played Billy Claiborne in the 1993 movie Tombstone?
So who is the Wyatt Earp you see flashing by in the movie credits of Tombstone?
Wyatt Earp, III, was born on October 2, 1962 in Stillwater, Oklahoma, USA as Glen Wyatt Earp. He is an actor known for Tombstone (1993), Sordid Lives: The Series (2008) and Angel Fire (1992).
Wyatt (he has his own home page) is an actual relative of the historical figure Wyatt Earp, although not a direct descendant since Earp had no children.
It's kind of funny that he gets to act out the part of Billy Claiborne against Kurt Russell, who plays Wyatt's distant relative and namesake Wyatt Earp in the movie. At least I got a kick out of it!
---