Our favorite Old West Steakhouse is right here in Tombstone AZ! You may like it, so we've got to recommend it to you. It's called The Depot Steakhouse. Read All About This Great Steakhouse>
You'll find Old West Steakhouse menu options here in historic Tombstone Arizona. Yes – the historic Wild West town that's "too tough to die!" So, if you like Old West Steakhouses, you're in the right place! We'll let you in on the opinions of the locals when it comes to having a good steak dinner. We think you can trust their opinion. Or at least take it into consideration! Review these other places for a great steak right here in town: Tombstone's Steak Options>
If You Want to Know Tombstone's Other Food Choices –
See what's offered at Tombstone Restaurants>
Get that great Western ambiance, plus really great steaks, accompaniments and more food picks. We've suggested ours at the link above. We've also gathered Other Great Old Western Steakhouses, wherever they may be!
---
Old West Steakhouses in Tombstone AZ
Depot Steakhouse – The best restaurant in town, over-all. Their steaks are fabulous! Never had a bad meal here, and often have great food! The service is exceptional. Their drink selection ranges from beer, wine and all kinds of spirits and cocktails. Take a look at all the railroad and other mementos on the walls! Some neat stuff. Their address is 60 South 10th Street, at the corner of East Allen Street. Head East on Allen Street from town. They have their own off-street parking. HOURS:
Wednesday, Thursday & Friday – 3:30 pm – 8:30 pm
Saturday – 3:00 – 9:30 pm
Sunday – 3:00 – 8:30 pm
Closed Monday & Tuesday
For any updates/changes always good to check their Facebook Page>
Crystal Palace Saloon – Don't miss this historic building! Open on this corner since rebuilding and reinvention after Tombstone's 1882 fire. From its beginnings as the Golden Eagle Brewery.  See the Crystal Palace History>
Kitchen opens every day at 11 am, until about 8 pm in the evening. Closed only Christmas & Thanksgiving. 436 East Allen Street, Northwest corner of 5th Street. 
Pooch friendly!
The essential Steak on the menu is an 8 oz. top sirloin. Additional simpler steak options are available. Ask for the menu to see their current selection.
There is a Lunch Menu & a Dinner Menu – the Lunch Menu is more extensive
The Longhorn Cafe – Opens at 8 am, until 9 pm every day. Closed Christmas & Thanksgiving. In the center of town. At 501 East Allen Street, the Southeast corner of 5th and Allen.
Western decor throughout, for its historic feel through the years! Originally it was the Bucket of Blood Saloon. With construction on the 2nd floor, Outlaw Cow-boys used the disarray there to hide, then shoot and maim Virgil Earp. This occurred December 28, 1881. Later the building was reinvented as the Owl Cafe and Hotel. 
Their menu has a New York Steak, Rib-eye and Prime Rib – regular or Cowboy sized! Also Angus steak, chicken fried style. Plus ground sirloin. The waitress will point out the specials board. 
Most visitors stop in, for its obvious location.  We've tried a variety of menu items at the Longhorn. Usually pretty good, on occasion can be off. None excellent by our standards. Many in town think they're A-OK! You'll see locals in there for dinner fairly consistently. Prices not bad, service is good. Beer and wine available.
Puny John's BBQ – A yummy barbecue place we've included because they sometimes offer Tri-Tip. That's the triangular piece at the bottom of a sirloin cut. Tombstoners regularly eat here. They have Western decor.
Puny John's is at 11 South 4th Street, between Fremont and Allen Streets.
For the latest details on their hours (they can be changeable!), it's best to check their Online Link.
If you really want to try it out – if they have the Tri-Tip the day you'd like to go, check for that, too.
Big Nose Kate's – I put this last – because the only steak here is the "Cowboy Cheese Steak." But it's a fun place to order a meal.
You get to watch the 1993 Tombstone Movie that's continuously running on the TV. The Old West decor is evident throughout. You can even get involved. Take a selfie in their Western dress-up gear. Or pretend you're getting hung by a cowboy posse! You're liable to catch their singer who's there some afternoons. 
Serving food throughout the day and evening. Another big cut of meat they do carry is brisket, served a few ways. 
They open every day at 10 a.m. The Saloon closes at midnight. But they are closed Thanksgiving & Christmas.Find them at 417 E. Allen Street, between 4th and 5th.
---
Find a Tombstone Restaurant
As Tombstone Arizona residents [our story here] for awhile, we've had our share of steak dinners in the Old West Steakhouses in this town. That's why we can recommend to you our favorite! And have given you some opinions, and the feedback we've received from people we know. But we'll show you the others, too!
Because when you're in town for the day, a long weekend, or a vacation, you'll surely want more restaurant information. You can choose which meal you'll want to have in Tombstone. Click your category to get all the Tombstone local choices:
---
More Old West Steakhouses
---
Arizona Old West Steakhouses
---
Tucson Area
Tucson – Pinnacle Peak Steakhouse, 6541 E Tanque Verde Road – in Trail Dust Town. We've eaten here often enough. Most every time it's been very good. They have a gimmick that if you come in with a tie – they'll come and make a production of cutting it off! The Old West theme is obvious throughout. Their signature steaks are named the "Cowboy" and "Cowgirl." They also have New York strip, rib-eye, filet and brisket. Plus a kids menu.
Tucson – El Corral, 2201 East River Road, about 2 blocks East of Campbell. Built in 1926, this adobe has undergone a few reinventions. It began as El Corral Cafe. It became a night club. It's now a premier restaurant known for its prime rib. Rib-eye, T-bone and filet mignon are other cuts on the menu. We loved it every time we've been there. So it's recommended.
Tucson – The Horseshoe Grill, 7713 E. Broadway Blvd., NW corner of Pantano. Has the Western atmosphere, but maybe not so old. What's great is they offer all the luscious cuts of steak, like a good T-bone and porterhouse. Plus filet mignon, a rib-eye, and sirloin. All mesquite grilled. They have a great kids' menu. Hours start at 4 p.m. weekdays, 11 a.m. Friday, Saturday, Sunday.
---
Phoenix Area Steakhouses
Phoenix – The Stockyards Restaurant, 5009 East Washington Street. True Old West history here when in 1947 this facility opened. It immediately became the spot for local cattle ranchers to grab a great steak. It was renovated in 2004, but still has that Old West steakhouse flavor. Shortly thereafter it was added to the City of Phoenix Historical Register. They specialize in aged steak cuts and prime rib. But be prepared to open your wallet for this fine dining. Most rate it excellent to very good.
Phoenix – Texaz Grill, 6003 N 16th Street, at Bethany Home Road. Opens at 11 a.m., closes 10 p.m. each day. Started by a Texas native, in the true Texas steak tradition. But it's so much more. They feature regular specials. Steaks are cut there from choice, aged beef. Reasonable prices – try a filet, rib-eye, N.Y. strip or prime rib. Lots of Southern influenced, unique choices on this super menu!
---
Old West Steakhouses in Other Arizona Towns
Prescott – Dry Gulch Steak House, 1630 Adams Avenue. Find reasonable prices at this Old West style steakhouse. All the cuts: filet, rib-eye, sirloin, New York strip, T-bone, porterhouse. Prime rib on the weekend. Steak salad, combinations with seafood and more!
Flagstaff – Black Bart's Steakhouse, 2760 E Butler Avenue, just off I-40. Unique Old West steakhouse. Entertainment provided intermittently by the service staff. Varied servers, bussers and hosts/hostesses go on stage presenting songs from Broadway plays. It's a great time, and the food is pretty good. We've been here almost every time we went to Flag – we enjoy it that much. Dinner only – opens at 5 p.m.
Mormon Lake – Mormon Lake Lodge Steakhouse, 1991 Mormon Lake Road, exit off I-17, south of Flagstaff. Call ahead to be sure they're open: (928) 354-2227. Seasonal, so they're closed during Winter, opens in Spring. This Old West styled steakhouse is part of a wilderness-type resort. Cabins, RV park available. Try to get there! It's a unique place – open pit mesquite-grilled steaks. Open since 1924, their saloon has entertainment on Friday & Saturday nights.
---
U.S. Old West Steakhouses
---
Steakhouses West of the Mississippi
Oklahoma City, OK – Cattlemen's Steakhouse, 1309 South Agnew Ave., corner of Exchange Ave. Highly rated, historic, quality restaurant. Try their lunch special that's a super value. Open at 6 a.m. every day. Been open since 1910 – the oldest continuously running eatery in OK.
Buffalo Gap, TX – Perini Ranch Steakhouse, 3002 FM 89. Tom Perini grew up in a ranching family. He took that knowledge to create a true Cowboy style Old West steakhouse. It's right on their ranch. Plus you can even stay there in a Guest House. Open everyday – reservations are advised: (325) 572-3339. Their steaks include rib-eye, and center cut strip or tenderloin. They have a kids menu. What an experience to dine here!
Tulsa, OK – Cattlemans Steakhouse, 3332 South 79th East Ave., inside the Embassy Suites by Hilton Tulsa I-44. Hand cut, aged beef selections. We dined here while in town for our granddaughter's wedding. Check the specials board at the entrance. Somewhat pricey, limited menu inside the Old West Steakhouse. Was OK (no pun intended!) if you're staying in one of the nearby hotels and don't feel like driving around for a nice dinner. The setting has Old Western character. Or choose to sit in the attached patio grill for more variety and budget minded selections. Bar options available.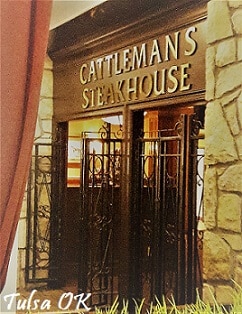 ---
Steakhouses East of the Mississippi
Myrtle Beach, SC – Chuck's Steak House, 9695 North Kings Highway. Opened in 1979, their steaks are certified Angus and butchered daily. They describe their decor as "rustic elegance." Enjoy your meal with waterfront views of the intracoastal waterway. 4 to 7 p.m. happy hour sounds like a plan!
Rocky Hill, CT – Chuck's Steak House, 2199 Silas Deane Highway. Another Chuck's! They have a bit of old-fashioned country charm. Not exactly Old West – but sometimes if you're back East, you gotta take it as you can! They feature sirloin, New York strip, prime rib and their own "Bistro Steak." 
---
Old West Steakhouse – International Style!
Avezzano Italy – Old Wild West Steakhouse were located at Via Roma 273, 67051. Seemed to be a unique idea, as one reviewer stated: "Great idea to open an Old Wild West in these parts but we have to work a bit '.. slow service, we had to repeatedly solicit orders and unprepared staff!" [Translated from Italian.] Most reviews weren't too complimentary for the same reasons. They had the Old West decor. Is it still there? We'd love to travel there to find out! Haven't been able to yet, though. Have You??
---
Where's Your Favorite?
Give us your own listing of an Old West Steakhouse that you love! Where is it? What was the steak that you loved? How was their decor that made you feel you were in the Old West? Tell us about that steakhouse!
New! Comments
Do you have a question? Do you have a comment? Type it into the box below. We'll respond soon!