First things first. There's no evidence what so ever that an actual book called "My Friend Doc Holliday" was written by Wyatt Earp. The main reason why people think there is, is due entirely to the seminal 1993 Hollywood movie "Tombstone".
In the final minutes of the film, Wyatt Earp (depicted by Kurt Russell) hands over a small booklet to Doc Holliday as he lays on his deathbed, coughing his lungs out in a sanitorium.
Questions that people ask on the subject: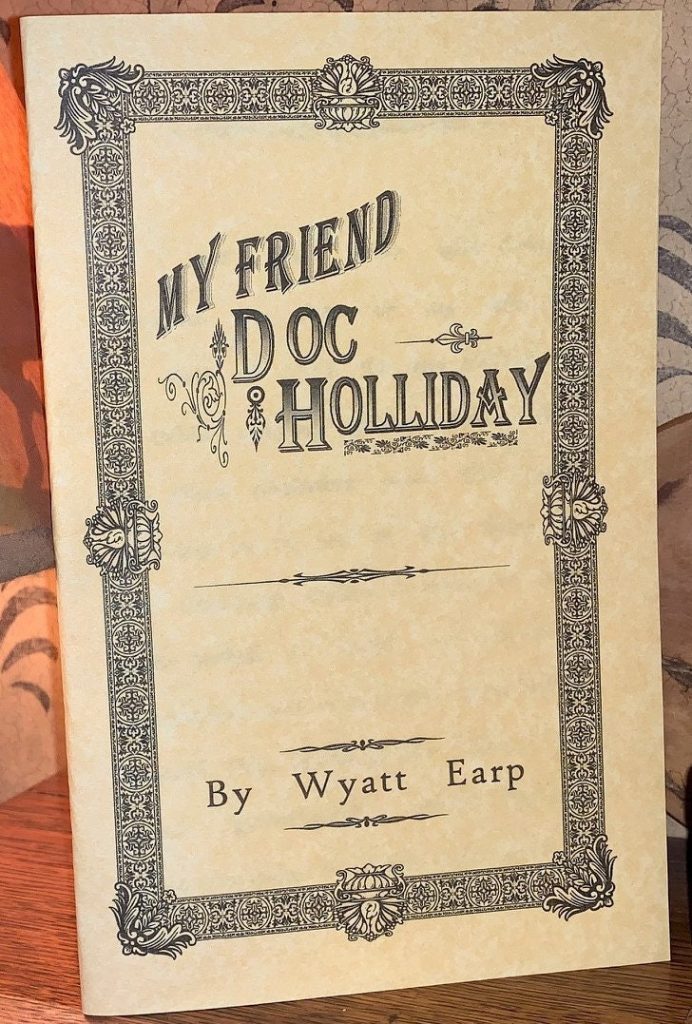 Here's what the book/booklet looks like in the film.
Movie prop auction
Since the "book" is fictional, naturally you can't actually read it. However, in 2018, a prop booklet made to look like the one used in the movie was auctioned off. Actor Val Kilmer autographed the book on the front, which for aficionados of the movie makes it more desirable.
As actor Val Kilmer signs the booklet, he adds "Doc" to the signature. A nice touch that most movie fans would love.
Here's how the piece of movie memorabilia was described by the auction house, Celebrity Authentics Auctions:
This vintage-looking, fictional collectable printed booklet has been personally hand-signed on the cover by Val Kilmer during his signing with Celebrity Authentics, even adding a 'Doc' inscription! Designed and created to duplicate the booklet as true to the image as possible as seen in the movie, from the different lettering styles used in the title, down to the border running along the edge of the front page. The inside text is a summarization of ideas from the movie itself, and from the numerous historical data about this great era, describing some of the widely known lifetime events in the lives of Wyatt and Doc, which brought them together and created a life-long friendship. To add to the Vintage look and feel, it is printed on ivory parchment paper. Then, adding to the feel of the Old West, it is bound with a leather tithe strap. The booklet is 10 pages and measures approximately 8½" x 5½", also stamped and embossed with a seal.
There appear to be "books" that purport to be written by Wyatt Earp about Doc Holliday by different authors. None seem to be in print, and even if they were I wouldn't recommend them. After all, they are produced mainly to satisfy a market that's borderline fraudulent in my opinion.
My Friend Doc Holliday By Wyatt Earp
As written by Jack Fiske.
This book has been sold on Amazon at one time, but is not currently in stock. You may find it second hand, but not at an affordable enough price to make it worth it.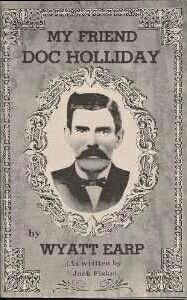 Is my friend Doc Holliday By Wyatt Earp a real book?
Nope, unfortunately not. Wyatt Earp did not write a book called "My Friend Doc Holliday". The only account that he at least partially co-wrote was an autobiography ghost-written in the 1920's by his and his wife's friend John Flood.
What did Wyatt Earp say about Doc Holliday?
Wyatt Earp said a lot of things about Doc Holliday, but at this remove it's hard to know for certain what is myth and what is reality. In his later years, in the 1920's in Hollywood,he is known to have said that Doc was his only true friend.
One quote that has been attributed to Wyatt Earp is:
"Although he sometimes drank three quarts of whiskey a day, he was the most skillful gambler, and the nerviest, fastest, deadliest man with a six-gun I ever saw."
What was Doc Holliday's famous saying?
---