Johnny Ringo was well known in Tombstone Arizona. His name still reverberates in town today. Who was this man of infamy in the old Wild West? What you might be wondering about right now …
Early Years
Born May 3, 1850 and given the name John Peters Ringo, a first child. The town of his birth now called Greensfork Indiana, but was first named Washington. But it's not the same town of Washington in Indiana today. His parents were Martin and Mary. John Ringo's middle name was his mother's maiden name "Peters." His ancestry on his father's side is from the Netherlands.1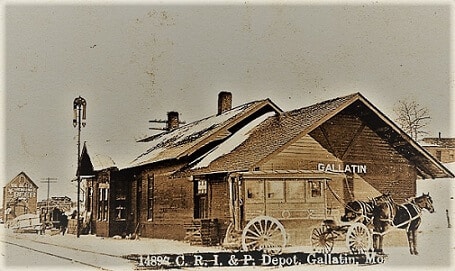 Four years later, a brother named Martin was born. When John was six years old, the family moved to Gallatin Missouri. Johnny began school there. A sister, Fanny Fern, came in 1857. Then in 1860 another sister was born, Mary Enna. A final child was born to his parents in 1862, a girl named Mattie Bell.2 
---
Influencing Ringo's Future?
Johnny Ringo was the in-law cousin to Coleman Younger (of James Gang fame), through his aunt Augusta Peters.5 We wonder if that relationship influenced him at all.
Troubles resulting from post civil war issues caused his father to push Westward in 1864.1 While trekking to San Jose California, they went through Wyoming. A terrible accident happened there, near the Platte River.8
As John's father, Martin, climbed down from their wagon, his gun accidentally went off. It blew buckshot up into his eye and through his brain. He was dead! The family had to bury him alongside the trail.4 His gravesite is about 2.7 miles West of State Hwy 95, on U.S. 20 near present-day Glenrock, Wyoming. A marker is on the spot.
A family friend said their father had a solemn air about him.18 John witnessed this terrible, gruesome death. Between both facts: his father's austere demeanor and violent accidental finish – could this have influenced Johnny's own end?
---
If you take the Tombstone movie at face value, one of the most celebrated wild west quotes of all time is related to Johnny Ringo. As Doc Holliday says to Johnny Ringo after shooting him in a duel:
"You're no daisy! You're no daisy at all. Poor soul, you were just too high strung."
Another good one is when Doc Holliday says to Johnny:
"Why Johnny Ringo, you look like somebody just walked over your grave."
Was Ringo Educated Much?
Some say John Ringo's education was above average. Maybe a degree? For instance writings by his Tombstone friend, Billy Breckenridge. He wrote: "Ringo was a mysterious man. He had a college education, but was reserved and morose. He drank heavily as if to drown his troubles; he was a perfect gentleman when sober, but inclined to be quarrelsome when drinking. He was a good shot and afraid of nothing…"13 Despite such stories – his schooling probably ended when they left Missouri, or shortly thereafter.3 He likely liked reading, which gave the impression of a good education. But for college documentation, or much education, there really isn't any.
In the movie Tombstone, Ringo gets into a heated exchange with Doc Holliday – conducted entirely in Latin! Although this makes for a compelling scene in the movie, there's not much to speak for such an event occurring in real life. Read more about the Tombstone latin conversation here.
When the family got to San Jose, the widow took her family to her sister's. To her brother-in-law's ranch, he was Thomas Coleman "Cole" Younger. The Uncle of the more well-known, youthful namesake who went to prison for robbery and murder. John helped out on the ranch while living there.1
---
Texas Times
Around age 23, John Ringo headed for Texas, planning to try ranching there. In Llano County, he became friends with rancher Moses Baird. An area conflict called the Mason County war (aka the Hoodoo War) was heating up in 1873. Involving strong disagreements between German immigrants and local ranchers. Johnny Ringo got into the conflict, getting arrested in late 1875 for murder.4 
He'd become friends with ex-Texas Ranger Scott Cooley. Cooley took the law into his own hands, after his adoptive father's assassination.6 He felt the Germans promoted unaccountability for this murder.
Ranchers were outraged at Ringo's arrest. Planning to break him from jail, they discovered the authorities had moved him to Austin. While in prison there Johnny met the outlaw John Wesley Hardin.1 Probably another influential era in his life.
It's said about this time, his family heard of his exploits and disowned him. After two years'  imprisonment, the charges were dismissed. When released, he was elected Llano County-Loyal Valley Constable! But after a year he moved along.4
---
Ringo Moves On to Arizona
Seems Ringo may have started heavily drinking around now, aware of his sisters' disapproval of his actions. In late 1879, Johnny Ringo is in Arizona. He makes a disturbance in Safford. Released when he posted bond, and later scheduled to go before the Grand Jury in March 1880.
Instead of appearing, he wrote to Sheriff Charles Shibbel, excusing his planned no-show. Saying: "I write to let you know why I can not appear–I got shot through the foot and it is impossible for me to travel for awhile." He also asked him to advise the District Attorney. He requested they send any required paperwork, and he asked his bond be continued. Seeming  worried for future area plans, apparently wanting to remain in Southern Arizona.3
But the DA wasn't sympathetic. The court revoked his bond. The next thing we know, Johnny Ringo is in New Mexico dealing mining property sales. By July 1880 he's back in Arizona, working with the Clantons. He was with Ike and a few other Cowboys on a cattle drive.7 He lived in San Simon, in Southeast Arizona. Often he hung out in Galeyville, and there associated with Curly Bill Brocius.
---
Ringo, the Election Official
By October 1880, were his Arizona legal problems resolved? He had a position as a Judge for the San Simon Precinct election. His friend, Ike Clanton, was an Inspector.
The tally totaled only one for Republican Bob Paul for Pima County Sheriff. While the total for Democratic candidate Charles Shibell was 103! These results in the San Simon/Cienega Precinct were suspect. After evaluation, were thrown out. Causing an election reversal, making Bob Paul the winner.8 Hmmm!!
The early part of 1881 Ringo traveled to Texas. He had an incident there, falsely accusing three guys of stealing money from him. As a result Austin's infamous gun-slinging Marshal, Ben Thompson, arrested him, since Ringo wasn't cooperative. He ended up being fined.7
Next he was in Missouri. But by early July 1881, he was back in Arizona – in Tombstone. In early October he went to Galeyville, playing poker. He wasn't winning, and he wasn't happy. Ringo quit the game, when other players wouldn't loan him money to continue.3 
After thinking it over – he returned. Pointed his gun at the players – leaving with the cash there on the table.8 Deputy Sheriff Billy Breckenridge hauled in Ringo on charges. No witnesses came forth, so the court case was postponed.3
---
Family & Cowboys
John Ringo again left the area.8 He went to California to visit his sisters in October 1881. Trying to get back into the family's good graces? But with their strong religious beliefs, it was a hard sell. It didn't seem to work.3 But, he was in San Jose, California when the Gunfight at the O.K. Corral took place – not in Tombstone.
On January 21, 1882, Johnny Ringo was back in town. It's certain he heard from the Cowboy faction, including Ike Clanton, about October's Shootout.  And from their stand-point he knew the Earps and Doc Holliday were to blame.
On December 28, 1881, Virgil Earp was badly injured that night, shot on Allen Street. His brother, Wyatt Earp, not known for timidity – included Johnny Ringo as one of the assailants. But no evidence was produced. Wyatt sold himself to U.S. Marshal Crawley P. Dake to take Virgil's place as Deputy U.S. Marshal.
---
Doc's No Friend of Ringo!
In mid January 1882, Johnny Ringo was outside the Grand Hotel. He noticed Wyatt across the street, about to enter Hatch's Saloon. Approaching Wyatt he said he wanted to patch up their feud by arranging a shoot-out with Doc Holliday. Whoever loses should leave town, and that should end it. Wyatt refused the offer.19
The January 22nd Nugget reported Ringo was on Allen Street, in front of the Occidental Saloon. Who else was there that morning? Doc Holliday! The newspaper pointed out the bad blood between the two. Describing the action: "words were exchanged and both parties stepped back, placing their hands on their weapons with the intention of drawing and using them."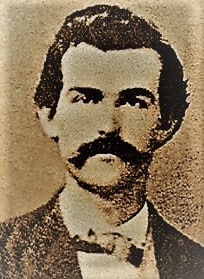 Fortunately Chief of Police Flynn was near and placed both parties under arrest. They were taken to Judge Wallace's court and fined $32 each for carrying deadly weapons."9
Could this have been the day when Doc Holliday said "I'm your huckleberry" to Ringo? Hard to tell at this remove.
While in court, Judge William H. Stilwell noted that John Ringo had outstanding charges. Remember his poker take robbery in Galeyville?! He was arrested and jailed over the weekend.10 His lawyer posted bond. Sheriff John Behan allowed his release, before the court approved it – he always favored the Cowboys.
While in jail, Ringo'd heard of Wyatt's plan to arrest the Clantons and friends, who were in Charleston. Ringo headed straight there. James Earp saw Ringo riding away – believing he was escaping! On January 23, 1882, James swore an affidavit: "the purpose and intent of said Ringo is to intercept one Wyatt S. Earp a marshal intrusted [sic] with the execution of warrants… and . . . believes that the purpose of said Ringo is to obstruct the execution of said warrants."3
Movie Fans
In the movie Tombstone (1993), Ringo is portrayed by Michael Biehn.
Ringo the Accused – But No Witnesses
On January 28, 1882 John Ringo returned to Tombstone to face his Galeyville charges. Bond was arranged. On the February court date, again no conviction witnesses appeared.3
Then on March 18th Wyatt Earp's younger brother Morgan was murdered. Ringo was among the accused. But court testimony by Pete Spence's wife blamed her husband, plus Frank Stilwell, "Indian Charlie" Cruz and someone named Fries.5
As Wyatt was U.S. Deputy Marshal, he got warrants. With them in hand, he formed a Vendetta Posse to get those responsible for shooting Virgil and murdering Morgan. The Earp contingent, and Doc Holliday were in Tucson, sending Morgan's body to California for burial. While there, Wyatt encountered Frank Stilwell trying to shoot them down.3 Instead, Wyatt shot Stilwell dead that night, on March 20, 1882.
Posse After Posse
Pima County Sheriff Paul issued warrants for Wyatt and his posse for Stilwell's murder. Paul telegraphed John Behan to take them in custody. Wyatt blew him off. Behan didn't give up. He gathered a posse to go after Wyatt's posse. Wyatt continued searching for more Cowboys involved in his brothers' attacks.11
Johnny Ringo was with Behan's posse. Tombstone diarist George Parsons commented on Behan's chances of capturing Wyatt: "they will never do it. The cow-boy element is backing him strongly – John Ringo being one of the party – there is a prospect of bad times."3
In April, Ringo was in the Tombstone area, according to newspaper reports. Ringo's trial for the Galeyville robbery was rescheduled for May 1882. In mid-May again no witnesses came forth. The judge finally dismissed the charges. He was free to go with nothing more pending against him.3
Johnny Ringo was last known in Tombstone on July 12, 1882. He left right after that, going through the South Pass of the Dragoons. He stopped there for a meal at Dial's Ranch. Then he moved on to Galeyville. All the while people he met up with said he was drinking a lot. Plus they said he talked morbidly about feeling death would be soon. He thought his end would be near, from somebody else's hand. After that, apparently he went to the Morse Canyon area.12
---
Johnny Ringo Discovered
On Thursday afternoon, July 13th, two women walked along Turkey Creek Rd. Mrs. Young and Mrs. Smith stated they saw a man at the bottom of a tree. He seemed to be sleeping, so they passed on by. That afternoon, residents of the nearby Smith house heard a single gunshot.12
The next afternoon John Yoast came down the road. He also noted this sleeping man in the tree. He kept moving his horse team along. But Yoast's dog ran over to the man, sniffing and making odd yelps. So Yoast got down to see what the problem was. He found the man was dead!
He also was surprised to see he knew the man – it was Johnny Ringo. He reported it right away. Quite swiftly twelve other local folk were on the scene to give report to the Sheriff and Coroner.12
The Sheriff and Coroner sized up the condition of Ringo's body, plus the evidence at the scene. They figured he was dead about 24 hours when found. He was described as "in a clump of oak trees" – "in a sitting posture, facing West, the head inclined to the right…. a bullet hole at the top of the head on the left…" From the forehead up through hair, a part appeared cut out – like a small area "scalped."12
His clothing was described. Then an odd thing about his feet was noted. He had on socks. On his feet were undershirt strips, wrapped around as if for protection. It looked like he probably walked a short distance this way. His rifle rested near him on the tree, but his gun was in right his hand. Another odd thing: his cartridge belt was strapped on upside down.12
The possessions found on him were turned over to teamster Frederick Ward for care-taking. They were:
Colt's 45 – 222 Revolver: with 5 cartridges 
Winchester 45 Model 1876 Octagon barrel rifle No. 21,896: with 11 cartridges
Cartridge belt with 9 rifle cartridges & cartridge belt with 2 revolver cartridges
American Watch Company silver pocket watch & chain
Cash: $2.60 [equals about $65 in 2018]
6 revolver cartridges in a pocket
5 shirt studs
Small pocket knife
Comb
Block of matches
Small bit of tobacco
Part of a letter addressed to John Ringo from Tucson Attorneys Hereford & Zabriskie
They stated his body was buried near the site where he was found.12
Immediate guessing discussions began from local witnesses of the area. They figured Johnny Ringo found his horse gone. He started looking for the animal, walking around so much his feet hurt. So he took off his boots! Then needing to protect his feet, he made those home-made "booties" with his undershirt.
[Sounds likely, doesn't it??]
They believed he was depressed because of all these circumstances – one thing after another. So that's when he decided to end it all.12
The Coroner officially ruled it a suicide death on July 13, 1882. Ringo's horse was found wandering the Turkey Creek area about two weeks after his death. Ringo's boots were hung saddle-side, as was safety-tradition when taking them off.3
But ever since, there's been a lasting controversy on the Coroner's ruling. A few other theories have been put forth – some about as plausible as his suicide circumstances.
---
Alternate Theories on Johnny Ringo's Death
Ringo Killed by "Buckskin" Frank Leslie
The Autumn after Ringo died, Cowboy Billy Claiborne argued with Buckskin Frank Leslie. Billy was complaining to friends that he was angry with Frank for killing Johnny Ringo. It seems maybe Claiborne had some inside information on the situation.
Eyewitnesses with descendants in Cochise County today, reported seeing both Leslie and Claiborne in the area of Turkey Creek around July 13, 1882. In fact, a story through generations was that the pair rode to Galeyville searching for Ringo. They came upon this ancestor and asked if he'd seen Johnny Ringo. Later he discovered Ringo was dead and already buried.14
Leslie, Claiborne and Ringo were all aligned with the Cochise County Cowboy Faction. So they'd essentially been friends. The motivation for their intention to go after Ringo, and then for Leslie to kill him was never determined.
Billy Claiborne did go after Buckskin Frank. Frank was bartender at the Oriental Saloon (Northeast corner of Allen and 5th). Billy went inside the Oriental and confronted him. He left, coming back with a rifle – calling Frank out. But Buckskin Frank was fast, and Billy Claiborne got it instead. Leslie testified he shot at Billy's breast.15
The possible indication of a motive is what Billy said on his deathbed, and that would be stretching it. Dr. G.C. Willis stated Billy said "he was a murdering son of a b—- to shoot a man in the back. I was examining the back when he made that remark. I think he received the wound in front."15 Was he speaking of Frank being a shooter of the man he was avenging? Or was he confused on his deathbed, and speaking of Frank shooting him now?
Sometime later Buckskin Frank was sent to Yuma Territorial Prison. While there, supposedly he admitted to a guard that he killed Johnny Ringo. He said it was self-defense.14 It's never been verified. The evidence is way too cold to even try to make it a "Cold Case" – really! This may be the most plausible of the theories?
---
Ringo Killed by Wyatt Earp
When Wyatt Earp was getting older, he began reminiscing about his "Wild West" life. His wife Josephine influenced his story – making sure it was told in a heroic, solid manner. In the 1920s they both spoke with authors who could write Wyatt's biography, with eventual sales in mind.
One account given was that Wyatt killed Johnny Ringo. He claimed this occurred when on his Vendetta Posse, as they completed their tracking and were about to leave Arizona. Later on, he drew a diagram for these authors to make the tale seem more valid.13
The problem is that the Posse crossed the border into New Mexico in March 1882.13 They left because they were wanted men, via warrants in Arizona. When they crossed the Arizona border, it was four months before Ringo was found dead.
It seems unlikely they'd stay – or return, with the risk of arrest. They moved on to Colorado after NM. And then Wyatt went to California. He didn't return to Arizona for many, many years. Only when summoned to appear in court to testify in a case related to a neighbor he knew when he lived in Tombstone.
Most old Western history authorities don't believe Wyatt Earp had anything to do with killing Johnny Ringo. There are too many discrepancies, and Wyatt contradicted himself a number of times. In his later years Wyatt embellished his life's activities. It was encouraged by his common-law wife, Josie, for sure. A few historians, however, do support his version. 
---
Ringo Killed by Johnny-Behind-the-Deuce
His real name was Michael O'Rourke (newspapers cut off the "O"). He went by his nickname: "Johnny Behind the Deuce" as he was a gambler. On January 15, 1881 he was in a Charleston hotel bar eating, having a few beers. Johnny-Behind-the-Deuce said he was insulted by P. Schneider, a popular Charleston mining engineer.16
O'Rourke was first brought to Tombstone, to Vogan's Saloon, then on to jail in Tucson. The newspaper account says a mob followed to Tombstone – for Vigilante Justice. The prisoner was protected by Constable McKelvey, Marshal Sippy and local Tombstone officers.13 Certainly including Virgil Earp.
Other likely prisoner protectors would have been Wyatt Earp, at some point – deputized by his brother. That's supported by Tombstone diarist George Parsons.17 He's certainly not the main hero, as some sources try to credit him. Some talkers say the vigilante mob was led by Johnny Ringo, or even get Ike Clanton involved. There's no evidence anywhere in documentation to back this up. The mob consisted of miners who liked Mr. Schneider.
Considering the fact O'Rourke felt he acted in self-defense, and fearing for his life – he didn't take any chances with local law. He escaped from jail on April 18th. The Tombstone Epitaph reported May 13, 1881: "'Johnny-Behind-the-Deuce' was seen three days ago, we are informed, in the Dragoon Mountains. He was well mounted and equipped, and was on the eve of departure for Texas."17 He made his exit of Arizona, and never seen there again!
Killed by Doc Holliday
This version intertwines with Wyatt Earp's. Glenn Boyer is a Cochise County resident, retired U.S. Air force Lieutenant Colonel, novelist and editor, and Wyatt Earp self-proclaimed historian. He wrote a chronicle of what Josephine Earp said to him about Johnny Ringo's killing.
Doc Holliday was with Wyatt for the Vendetta Posse ride. This version says when they went to track Ringo, Doc was there. But instead of Wyatt, Doc Holliday made the fatal shot. But the same timeline problem arises as with the Wyatt version. Some say a group made their way back to Arizona from Colorado in July. That could have included Wyatt, as well as Holliday. With the warrants for their arrest, this still would be an unlikely chance for them to take. Most historians, for a wide variety of reasons, disagree with this possibility.
It was portrayed in the 1993 Movie: Tombstone. It made for a great tale. But from all valid evidence, it does seem to us here – as far-fetched. Yes, we'd made our own evaluation. What do you think?? We'd like your input – Click Here
---
Johnny Ringo's Gravesit
Ringo's grave was prepared right after his body was discovered. He was buried a short distance from the oak tree where he was found. On the flat stone in the bottom of the tree's "crotch" which spread out from its base.
Please follow their instructions when you visit. How do you get to Ringo's Gravesite? Here's a helpful map, courtesy of Google:
Johnny Ringo Gravesite Directions Map
Everything is posted. It's kind of them to allow these visits, as it is on their private property. I remember in years past, how it was even difficult to locate the site – because of that.
Now, because of the owners' hospitality, and cordiality, you can visit it. While being mindful of the considerations. Please follow along, as you see how we respectfully visited Johnny Ringo's grave.
Hours of the Site: 8 am to 6 pm
It's private non-maintained land – watch your step
Don't litter!
No smoking!
Any pets must always be leashed
No picnics
Not a suitable hiking area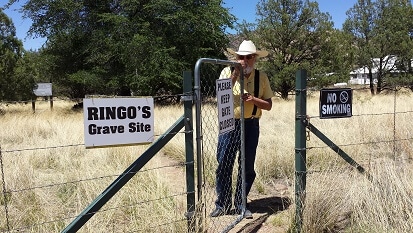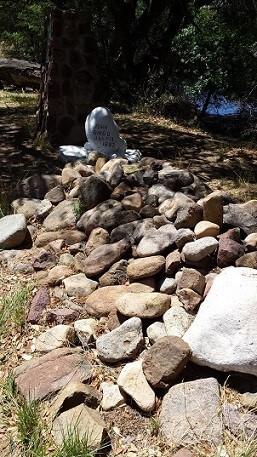 ---
Who Killed Johnny Ringo?
What Do You Think?
Which Version Do You Think is True?
Or Do You Have Your OWN Theory?
Tell Us Here – Sound Off…
New! Comments
Do you have a question? Do you have a comment? Type it into the box below. We'll respond soon!
---
References
1 Paul, L. (2005, December). Johnny Ringo. Retrieved from www.thehighchaparral.com/historic6.htm
2 Geni (2018, May 23). John Peters "Johnny" Ringo. Retrieved from www.geni.com/people/John-Ringo/366337246580011841
3 Gressinger, J. (2010-2018). Who Killed Johnny Ringo? Retrieved from southernarizonaguide.com/death-johnny-ringo/
4 The Wild West (1999-2018). Wild West Outlaws and Lawmen: John Ringo. Retrieved from www.thewildwest.org/cowboys/wildwestoutlawsandlawmen/186-wildwestoutlawjohnringo
5 McNeal, S.J. (2013, June 18). Who Shot Johnny Ringo? Retrieved from sweetheartsofthewest.blogspot.com/2013/06/who-shot-johnny-ringo.html
6 Caldwell, C. R. (2011). A day's ride from here: Mountain Home, Texas. Volume 1. Charleston, SC: The History Press. ISBN 978-1-60949-393-6.
7 Gatto, S. (n.d.). Johnny Ringo history page. Retrieved from www.johnnyringo.com/
8 Dyke, S. (2017, Aug. 23). Meandering the mesquite: Johnny Ringo: The myth meets the truth. Green Valley News. Retrieved from www.gvnews.com/get_out/meandering-the-mesquite-johnny-ringo-the-myth-meets-the-truth/article_f57261fc-84fd-11e7-88d1-b3deace369b0.html
9 Arizona Weekly Citizen (1882, Jan. 22). Almost a tragedy. As reported by the Tombstone Nugget. Retrieved from www.newspapers.com
10 Roberts, Gary L. (2007). Doc Holliday: The Life and Legend. New York, NY: Wiley, J. p. 544. ISBN 978-0-470-12822-0.
11 Brand, P. (2007, March). Wyatt Earp's vendetta posse. Wild West. Retrieved from www.historynet.com/wyatt-earp
12 Tombstone Weekly Epitaph (1882, July 22). Death of John Ringo: His body found in Morse's Canyon, probably suicide. Retrieved from www.newspapers.com
13 Bell, B.B. (2005, Aug. 1). The mysterious death of John Ringo: John Ringo vs. himself? True West. Retrieved from truewestmagazine.com/the-mysterious-death-of-john-ringo/
14 Stockmar, S. (2016, April 27). Who killed Johnny Ringo? Herald/Review Media. Retrieved from www.myheraldreview.com/news/who-killed-johnny-ringo/article_0419b66c-0cd0-11e6-8094-63edd32e8c67.html
15 Tombstone Weekly Epitaph (1882, Nov. 18). Leslie's luck: "Billie the Kid" takes a shot at "Buckskin Frank." Retrieved from www.newspapers.com
16 Arizona Weekly Citizen (1881, Jan. 15). Another murder: Mike Rourke shoots and instantly kills P. Schneider, chief engineer of the Tombstone Mill – Rourke narrowly escapes lynching – two conflicting reports. Retrieved from www.newspapers.com
17 Bell, B.B. (2005, March 1). Gunfight at the Stilwell corral: Johnny-Behind-the-Deuce vs. Phillip Schneider. Retrieved from truewestmagazine.com/gunfight-at-the-stilwell-corral/
18 Earp, W. & Others (1998, 2013). Wyatt Earp Speaks. Edited by Stephens, J.R. Cambria, CA: Fern Canyon Press.
---