Tombstone AZ weather is handy to have for your planning needs. We have it here right now! Plus added details to help with your expectations. See what we mean:
Click here for your detailed Tombstone Arizona weather – including a forecast.
Weather patterns in Tombstone Arizona are typical of the American Southwestern Deserts. There just isn't that much rain! And even less snow!
The weather in Tombstone is the result of a micro-climate of the Chihuahuan Desert. It is semi-arid = quite dry. The rain patterns are that of the desert. Typical weather systems and rainy seasons occur on a yearly basis.
The Monsoon Season is the time when Tombstone AZ weather is dramatic! We experience amazing thunderstorms. Rain can come down in a deluge. And it doesn't always last that long. Then you'll watch for gorgeous rainbows – they often appear, even doubling! The Monsoon Season is something many in Tombstone await, because we're looking forward to it.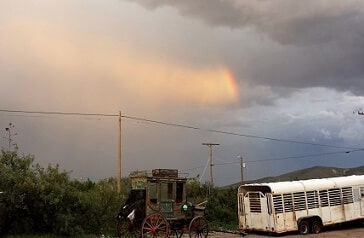 Consider Tombstone AZ weather when you do your vacation planning. When you are coming into town for some of the sparky Tombstone Events, it is certainly helpful to know what to expect from the weather in Tombstone Arizona.
April into June is about the driest time of year. Usually little to no rain. But you're heading into some of the hotter days of the year. The spring often has annoying windy days. A local radio DJ often refers to it as "stinkin' wind." Autumn and winter really can be your ideal times for weather, in general. Although we say – anytime of the year has its ideal weather. Just wait for a better time of day, or a little while later, or tomorrow! Or plan a day accordingly, for the weather's effects.
Other areas near-by Tombstone, such as the Huachuca Mountains and the Chiricahua Mountains, have a different semi-desert biome. They have an environmental characteristic unique to the location. In particular, it's related to elevation.
There is a typical winter "rainy" season. Winter storms come in from the Pacific. When reaching Arizona, we get rain. In the highest elevations, like the Huachuca Mountains, snow falls.
On occasion, snow can even reach the desert floor. Typically January, February & March get the most storms. See the photo below, compliments of Brian Joe Jones. A memorable and rare occasion, because that was December 5th!  
Keep in mind, all this precipitation only totals just over 16 inches in the Tombstone area. That's the Cochise County Yearly average!
So… safe to say, not much worry about spoiling any outdoor plans. But enough to generally keep desert plants happy.
---
Tombstone AZ Weather Forecast
---
Weather & the Sun
When the time is right, you can see absolutely gorgeous sunrises and sunsets when you're in Tombstone. I believe the deserts of Arizona have the best sunsets in the world. I know we haven't seen all the world's sunsets! But in Tombstone, the sunsets (and sunrises) must rival for the top spot… for sure!
Add variable storm clouds amidst the sunset – that adds another glowing, thrilling atmosphere to it…
There's a boating or naval saying:
Red sky at morning – Sailor take warning.
Red sky at night – Sailors' delight!
It's said to predict oncoming rain storms! Does that apply here in the Arizona desert? Not necessarily so!
When we see these gorgeous shades of red in the morning sunrise, it's not a predictor for Tombstone AZ weather! It's the clear, clean, fresh air that causes these great photo-ops.
Are you skeptical about that? Check it a bit more: here's The Scientific Explanation>
You can be confident when you see these wonderful views… Don't necessarily worry about the weather interrupting your plans! Instead, review the whole Weather Report! Then make your plans.
---
The Monsoon Season in Tombstone
Clouds begin building, usually in the Southern areas. Turning darker, encroaching closer! If they arrive, the storms may be powerful! You'll witness fiery lightning bolts and vibrating thunder all around. Rain cascading in torrents at times!
Who can love this? Many Arizonans do. Loving a chance to observe, but doing it while beneath a sheltered roof. These cloudburst can be hair-raising!
They might be intermittent through the day. This makes for nice cooling temps after the storm. As much as 15, even 20 degrees lower!
During Monsoon Season, there won't be storms every day in Tombstone Arizona. What there is year-round is enough to support the natural flora: the Chihuahuan Desert plants that live here.
Some areas of Arizona tend to get more rain during the Monsoon Season than do other areas. 
Tombstone AZ Weather Precautions
Weigh up some practical advice if it's Monsoon Season. Just be Aware! Is the Tombstone AZ weather report predicting thunderstorms? Maybe this is a day to plan an indoor activity. At least don't plan to be out in the wilderness! 
If a thunderstorm does come in, remember there are basic essentials for lightning safety. It's good to know precautions ahead of time. Another preventive measure is being aware of flash floods. That includes not driving into "washes" that cross over roadways. Have a look at what can happen:
Tombstone AZ is in the desert, of course, so remember desert weather conditions. Particularly in the summer. People have died from the heat, and not bringing enough water with them. You definitely need adequate hydration – remember this "dry heat."
---
The Beauty of AZ Weather Patterns
Tombstone AZ weather is not something to disregard. Just use your knowledge of it intelligently.
Whatever the Tombstone AZ weather forecast tells you, it will still be a great day to plan your activities. You just cannot go wrong with a trip to Tombstone AZ! We even have some suggestions on how to plan your Tombstone trip, while keeping Tombstone AZ weather in mind. Get our Trip Planning Tips> which will help with that.
Remember to try some surrounding area, like a nearby Ghost Town. It all comes down to the consideration of weather being quite cooperative, when you have knowledge of it. Most of us in Arizona love and appreciate our weather patterns, our very special seasons. Especially our Monsoon.
---