We've lined up Tombstone RV camping parks right in town for your convenience. We can clue you in to all the choices here. We want to help so you won't miss out on the best pick for your own preferences. You can skip right to the area you prefer to try. Here's the Menu:
By the way, are you all ready for your Tombstone RV trip? We have a great checklist that helps you to make sure you don't forget anything!
We ourselves have stayed in quite a few of these local Tombstone RV parks. That's because we always were regular Tombstone visitors before moving into town. We've owned a variety of RVs – from mini motor homes to Class C, also travel trailers. Then we gave it all up for a little while. Recently, we got back to it again – going way back to the basics. We got ourselves a nice little Teardrop style RV camper. Have you taken a look at them yet? They've become sort of the latest rage!
Right here for you, though, we give you our personal input on local Tombstone RV spots, our own reviews. Yes, we let you know the ones we've personally tried, and what we experienced.
Even if we haven't been to them all, we do drive by them. We observe their lay-out all the time. We get an idea of how crowded they get, and how fast they fill up. We talk to people who bring their rigs there.
Some do not advertise well, or much, or even not at all! We can give you tips on those! All to get you the best selection, insider info, and help for making your choice. Plus see those a little farther out that may suit your taste, especially at busy times when local options are filled.
---
Tombstone RV Parks
Walking Distance To Town
Wells Fargo RV Park – 215 E. Fremont Street, (520) 457-3966
The most convenient Tombstone RV park to town. The entrance is right off Hwy. 80, just after you pass 2nd Street
It may be the most popular RV park in Tombstone. 
They probably have the most amenities of in-town parks overall
Full hookups, pull through sites, rest-rooms with showers, areas for tents with electric & water, free WiFi, laundry, camp supply store.
You can email them for detailed rate & reservation info: 
[email protected] – (or call their number above)
We've stayed here in a pull-through site near the corner of Allen & 2nd Streets. It was fine and the rate was reasonable. The site was a little tight, but not the worst of those in town for sure. Really, most Tombstone RV sites in town are a little tight.
---
Stampede RV Park – 201 W. Allen Street, (520) 457-3738 or (866) 409-4778
As you come into town via Hwy. 80, you'll see their signs to follow. This Tombstone RV park is on the West side of downtown.
They have pull through sites, but kind of tight! (See more below.) They also have a Tenting Area with no utilities
They are pet-friendly, have an area for long-term RVs, restroom/showers & laundry rooms. 
A small restaurant is on-site.
Rates are per/day, increased for holiday weekends, discounts for a week's stay. Also there's military, AAA or Good Sam discount
OUR REVIEW: We stayed here for a few nights in Autumn 2015. They've had some equipment in there & may have made some improvements. But we haven't brought an RV in here, so can't say for sure.
If they have WiFi, when we were there we found it really weak. 
Our small Class C just fit into their pull-thru. No room on either side for anything. You can just about reach out & touch your neighbor! 
Sites around the edge are much roomier, but are back-in. We would've backed in, but I guess they were reserved, since he wouldn't let us have one. But no-one came on them while we were there!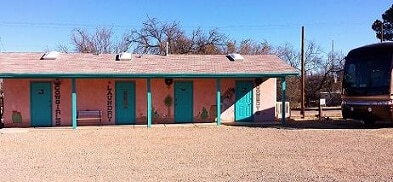 ---
Tombstone Dry Camping RV Park – 365 South 3rd Street, down the hill from the Tombstone Historic Courthouse. From Toughnut & 3rd, continue South down 3rd. You'll see the entrance off to the left.
Dry camping, no facilities – so self-contained vehicles handle it best
Rates: $10 for 24 hours
Open lot with cones marking Tombstone RV spaces
You should be a resourceful person to camp here. Able to not need any conveniences or amenities. Many RVers can do it for a short time, I'd think. 
Car camping rate also: $3 for 24 hours. Bring everything you need, because this will be difficult for more than just overnight for car camping & not having an RV with conveniences. BUT:
FYI – nearest public restrooms are at the City Park, corner of Allen & 3rd, one and one-half blocks North.
Be sure to get supplies like water at local convenience stores. Check Here>
---
Tombstone RV Parks – Short Drive Into Town
Tombstone RV Park & Campground – 1475 AZ Hwy 80, (520) 457-3829
As you drive toward town from Benson/St. David, it's on the right, just inside Tombstone city limits
Nice larger pull-thru sites, tenting also available, as are cabins
Picnic tables, grills, fire-rings, laundry, rest-rooms, showers, heated pool, playground, rec hall. Free WiFi. 
Ideal for families.
Rental horse corral & stalls available for equestrians
Store with propane, ice & more
Full hookups qualify for Good Sam, AAA, AARP or retired/active duty Military discount. 
Rates vary according to site, persons, etc. Begin per/day for 2 (age 16+) & 7th day free with a week stay.
Also have dry sites & water/electric sites, which are less per day (no discounts)
This Tombstone RV Park has a shuttle into downtown, it's not walking distance (about 1-1/2 mi.) – nice to provide this convenience!
OUR REVIEW: We stayed here many years ago. Can't even remember exactly when, or even if it was under the same ownership.
At that time it was a fine place to stay. They didn't have a shuttle at that time, so that's a nice added convenience now. We would've used it, since I know we drove into town from there. We definitely didn't walk the busy Hwy. 80.
Tombstone Territories RV Resort – 2111 East AZ Hwy 82, Toll-Free: (877) 316-6714
Large pull-thru full hook-up RV sites with great views, 10 miles to Tombstone. 
Rec Room, kitchen, table tennis, shuffleboard, billiards, darts, exchange library, WiFi hot spot, enclosed heated pool, hot tub & exercise area
Hiking, riding & biking trails, also dog park + dog-walk trails
Standard Sites: $33 daily, Premium Sites: $38 daily – Good Sam, AAA, military & 1st-timers: 10% discount.
Email or call for more rate details, including Passport America deal (longer terms, electric adds, etc.) at [email protected]
---
State Parks – For Tombstone RV Convenience
Several beautiful spots are nearby to Tombstone Arizona to camp your RV. We'll cover them here – from closest Tombstone access, to farthest. Reservations are needed –  call the Arizona State Parks Reservations Desk (877) MY-PARKS, between 8am & 5pm, Arizona time.
Kartchner Caverns State Park – 2980 AZ State Hwy. 90, Benson, AZ 85602 – Exit #302 from Interstate 10.
Within the Caverns park. No park entrance fee with campsite reservations. If you wish to do the Cave tour, purchase those tickets when there. Entrance gate closes at 10 pm, but Campground Hosts have access card keys for after-hours entrance, if requested by campers. It's about 1/2 hour drive to Tombstone after parking your RV here. Exiting the park, turn right onto 90 South. At the first traffic light (Hwy. 82 East), turn left. Follow it to the end, it exit onto Hwy. 80, make a right and Tombstone is straight ahead!
46 total sites – three have disabled designation (one is pull-through)
All sites have water and electric hookups
Back-in sites power post: 110 volt AC with 30 amp & 20 amp
12 Pull-through sites power post:  220 volt 50 amp AC and 110 volt 30 amp AC & 20 amp GFI 
Shower/restroom with bottled water vending machines and dishwashing sinks
Dump station facilities
14-day stay limit
---
Patagonia Lake State Park – 400 Patagonia Lake Rd, Nogales, AZ 85621 – Accessed from Interstate 19 South. Or the scenic Route: take Hwy. 83 South, off Interstate 10 exit 281. At Sonoita, the crossroads stop sign, make a right until you arrive at the park entrance on the right.
This beautiful park has a beach, picnic area with ramadas, tables & grills, a creek bird-watching trail, boat ramps, and a marina. It's virtually in the foothills of the Santa Rita Mountains. You can view the peaks around Mt. Wrightson from the park, particularly Mt. Hopkins – the observatory. You'll love this park for water skiing, fishing, of course the camping, but also picnicking, and hiking. To get to Tombstone, simply exit the park & make a left onto Hwy. 82. Follow it to the end, make a right & there is Tombstone AZ! About an hour's drive.
105 sites with 20/30 amp & 50 amp electric hook-up 
All sites have a picnic table & fire ring/grill, one area has sites with ramadas
Additionally there are 12 boat-in (only accessible by boat) campsites with picnic table, fire-ring
---
Roper Lake State Park – Access it from Interstate 10, Exit 352. State Hwy. 191 North about 28 miles, entrance on the right.
Because of the lake, this park has fishing, as well as a swimming area. Hiking trails up the mesa are superior! Too bad the hot springs is now defunct – dried up. So the natural spa they created from it is just a remnant from the past.
Another section, Dankworth Ponds just South, has fishing & a nice kids' playground. Plus the hot springs there is still in action. But no spa! Picnic tables available.
Directions to Tombstone: exit the park left, taking 191 South. Get onto I-10 West, exiting at #306. Follow AZ80 East, taking you right there.
Two Roper Lake campground choices with sites that fit up to 45 ft. RV rigs. Each has a bathroom with showers. Details:
Hacienda Campground has 20 pull-through & back-in sites
Water & 20/30 amp electric hook-ups
Fire rings & picnic tables
Cottonwood Campground has 25 back-in sites
Water & 20/30/50 amp electric hook-ups
Shade ramada, picnic table & fire ring
---
Benson Area RV
Apache Mobile RV Park – 79 N. Apache Trail, just off Hwy. 80, St. David, AZ. (520) 720-4634
An RV park about a 25 minute drive to Tombstone for 55+ year-olds
Full hook-ups & pull-through sites
Pet-friendly, free Wifi, laundry, showers, propane-fill on-site
Office facilities with fax & copy services
Nightly, weekly & monthly rates available
Check their Facebook Page
Email: [email protected]
Butterfield RV Resort – 251 South Ocotillo Ave., Benson. Turn off Hwy. 80, just behind "Safeway." (520) 586-4400
Only self-contained RVs no more than 15 years old – older exceptions pre-approval with photo
All sites have 20/30/50 amp electric, plus cable TV, Wi-Fi, water & sewer. Pull-thru & back-in sites.
Rates based on 2, many amenities available – even an observatory
Standard daily rate. But many "deals" available: weekly, monthly, annual, etc. Save with Good Sam, AAA, Passport America, Enjoy America, Military & AOR/ACN.
Family & leashed pet friendly
---
Bisbee & McNeal RV Parks
Queen Mine RV Park – 473 N Dart Rd., Bisbee, AZ. (520) 432-5006
25 Full hook-up Spaces with WiFi right across from historic Old-Town Bisbee, walking distance.
Hill top park with awesome views, clean bathrooms, showers, laundry, pets welcome.
About 1/2 hour easy, straight drive to Tombstone along Hwy. 80.
U.S. Check or Cash preferred, 5% extra fee for credit cards, rates based on 2 people.
$35 nightly, $210 weekly, inquire for monthly rates
Additional person $3 nightly
Double Adobe Campground & Shotgun Sports – 5057 W. Double Adobe Road, McNeal, AZ. (800) 694-4242
108 Full hook-up spaces, pets welcome, horse boarding accommodations
Here's a rural option for Tombstone Camping: Tent camping here on a no-hook-up grassy area ($16 night for 2). RV rentals also available!
Wifi, laundry, game room, showers, propane available, DVD borrow, book exchange. Sporting clays, trap shooting & skeet shooting available
Rates: $30 to $40 daily (discounts available), $150.00 to $165.00 plus electric weekly. Call or email for longer term rates
33 miles from this RV park to Tombstone, about a 40 minute drive.
For any further details call or email: [email protected]
---
---