Do you love the smell of roses? Lots of people do! These roses in Tombstone have something really special going for them. They are in the Guinness Book of World Records. How could that be?
We passed up the Rose Tree Inn for a long time when we first began visiting Tombstone! The Rose Tree Museum and the largest rosebush in the world just did not fit as our idea of what kind of Tour to See in historic, wild west Tombstone Arizona!!
Once we moved to town, we thought "maybe we should take a look and see what this place is about!" Especially since we want to help all our website visitors and our Newsletter Subscribers, plus Tombstone Arizona visitors to town, to appreciate every unique feature of this historic area that we love.
Maybe like us, you've put off stopping in here also? Maybe you're wondering why you should go in here. There's so much to see in historic Tombstone – the Birdcage, unique Self-Tours, Stuff To Investigate. So what is it about the Rose Tree Inn and Museum that should peak your interest?
First – The Guinness Book of World Records lists it as the Largest Rose Tree in the World
Second – It has a romantic history – the rose itself, as well as the adobe home that houses the museum
Third – If you love roses, this rose bush will amaze you. It blooms every April, and there's a festival devoted to it at that time! See More Here>
Fourth – You can even arrange a stay in one of the historic rooms.
---
Rose Tree Inn History
Mining Days
The original Rose Tree Inn building is as old as the town of Tombstone. It was built by the Vizina Mining Company. The size then was smaller than presently. There have been many add-ons from the original. It first served as their office and boarding house. Mrs. Amelia Adamson was hired as charge of the boarding home. One of the first residents was the Vizina's mining engineer, Henry Gee and his wife Mary.
The Vizina mine claim was filed on August 8, 1878 by James M. Vizina and Benjamin Cook. It was nearby the Rose Tree Inn, adjacent to the Tough Nut mine.
The Vizina mine was adequate at first, but then began to dwindle in its ore yield. Cook and Vizina leased out most of the production from 1884 on. The office/boarding building was no longer needed and was sold.
Reinvention as a Hotel
That's when the Rose Tree Inn actually became an Inn – first as the Cochise Hotel. Situated relatively close to the Court House, just 1 block away. Many guests came to town for legal or court dealings.
By 1900 other new owners of this small hotel came into the picture. They changed the name to the Arcade. They worried about the strong Arizona sun's effects on the adobe walls. They solved it by covering the outer walls with decorative tin. In 1919, the Macia family purchased the hotel.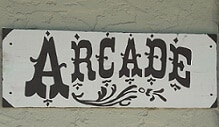 These tin outer walls perhaps were some protection to an event on May 20, 1924. A fire started between 4th & 5th Streets, along Allen Street. That early morning it quickly spread, destroying many businesses in that block. Through great efforts of the fire department, though, some were saved. The Arcade hotel's walls were seared by the flames – but the building was saved!
The Macia family eventually renamed the Arcade as the Rose Tree Inn – as the Lady Banksia Rose was already growing on the grounds.
---
The Rose of the Rose Tree Inn
Amelia Adamson took care of the Vizina Mine's boarding house, which is now the Rose Tree Museum. Henry and Mary Gee were among the first guests. They took up residence there while their own home was being built.
Mary and Amelia became good friends. Mary was a Scottish immigrant, who only just moved to Tombstone upon her recent marriage to Henry. 
When the young couple's own Tombstone home was finally ready, Mary received a home-warming gift from relations in her homeland. She opened the delivery box to find rootings of Landy Banksia roses arriving from Scotland.
She gifted one of these to her friend Amelia. Together they planted it in the yard behind the boarding house. The rose took well there, and it began to grow quite well. Today we can see its results!
---
The Robertson Family
The story started with the marriage of two original Tombstone pioneering families: the Robertsons and the Macias.
S. Cris Robertson was a Colorado man who wanted to make some money in the silver mines. He found his betrothed, and married his wife in Leadville CO on October 19, 1880. He and his new spouse Alice moved to Tombstone AZ. They arrived on December 24, 1880. Together they had 5 children. The first was Ethel, born in August 1881.
When Ethel was just 14 years old, her mother Alice passed away. Ethel had to take on a lot of responsibility for her younger brothers and sisters. Then four years later her father was killed. She suddenly had to become the head of the family.
To earn a living she was able to get a job with the Cochise County Court House. Her resume gave her an advantage because she had excellent penmanship. An advantage for the legal necessities of the job in that era. She and her sister were the first women employed by the County Court House.
The Macia Family
James "Bert" Macia
James Herbert Macia (pronounced May – See) was born in Massachusetts on February 21, 1872. He was often called Bert, as his nickname. His family relocated to Kansas and Colorado. His father, a miner, died in a mining accident when they went to New Mexico.
James followed in his father's mining footsteps. He went to Bisbee Arizona to work the mines at 17 years of age. From there he went to other Arizona mines in Oatman and Prescott. His specialty was as a "shaftman" which is why he then moved to Tombstone AZ in 1901. A crew was needed there to dig the Boom shaft.
He stayed on in Tombstone. He found regular employment there. He also met Ethel Robertson. They were married on February 4, 1904. They had 3 children: a son named for him, and 2 daughters, Iris and Jeanne.
Working with the Tombstone Consolidated Mining Company, he began there as a mining engineer. James Herbert Macia Sr. had an eventful career with the Tombstone Consolidated Mining company. He did well, rising to superintendent, staying in that position until the company went into bankruptcy on August 9, 1911.
After that he was employed by other Tombstone mining interests including the Solstice Mining & Milling Company. He did lease work on the Ingersoll Mine from the Hearst-Haggin Estate in 1929. With his success from the lease, Bert invested in mining properties.
He later invested in a local health facility. J.H. Macia Sr. was a steadfast Tombstone citizen until he passed away in 1951.
Ethel Robertson Macia bought the Rose Tree Inn in 1919, at that time called the Arcade. Visitors were noting how well that rosebush in the yard was doing! Even R. Ripley of the Believe It Or Not column wrote about it after a visit. He labeled it as the "World's Largest Rose Tree" – and began a tradition!
The word spread. Other news articles began appearing. With all this notoriety, in 1935 Ethel changed the hotel's name to the Rose Tree Inn.
Ethel helped the Rose Tree in its development. She assisted it by creating the trellis which supports it, as it has grown over the years. She also enjoyed speaking with visitors and telling its story.
As an early resident of Tombstone, Ethel was a member of the Arizona Pioneer Society, becoming its Vice President for quite a few years. She was always an active, vital person. She was interested in the welfare of everyone, especially those not so fortunate, and served on the Board of Arizona Children's Home.
She was very interested in history, and its preservation. She was a member of the Tombstone Women's Club, serving as two term President, on the Board of Directors, plus as the State Federation's historian. She helped organize Tombstone's 1929 Helldorado, the first, and was on the subsequent Board of Directors. She was a charter member of the Tombstone Restoration Committee, influential in many decisions. In 1897 she attended the University of Arizona.
She was a well respected, influential member of Tombstone. She was actively involved in the community right up until her passing at 82 years old, in August of 1964. Having lived a productive life, she was certainly missed by family and friends.
The tinned over adobe building is a wonderful tribute to the pioneering Macia family. The museum it's become shows us that. And now it is also an homage to the rose bush that has become a unique and famous rose tree.
It's called the Lady Banksia Rose – R. banksiae alba-elena. It was brought to the UK from China around 1807 for the Royal Horticultural Show. In the show, it was named for wife of botanist Sir Joseph Banks, the Lady Sarah Banks. It blooms white flowers just as Spring is approaching through almost Spring's end.
The Tombstone Rose Tree, Lady Banksia is still growing more each year. It has millions of white rose blooms by April. That's a great time to visit, when the Festival Takes Place!
---
Rose Tree Museum
You can visit this historical place, where the Lady Banksia Rose grows. Where the Macia family extended hospitality to many guests at the Rose Tree Inn.
Here are helpful details:
Fourth Street, at the Corner of Toughnut Street, Tombstone AZ – 1 block South of Allen Street, 2 blocks South of Fremont St. (Rt. 80)
Open from 9 am to 5 pm every day except Thanksgiving & Christmas
They have a Trip Advisor Certificate of Excellence
The Rose Tree blooming season is February 15 through May 15
They ask a $5 donation
While visiting there, you can even purchase a cutting to grow a Lady Banksia yourself – See one of our Reader's Example>
For any other details call them at (520) 457-3326
Stay at the Rose Tree Inn
Wouldn't you love the opportunity to stay in this historic inn? Now you can. Suites are available for a hotel of history to stay in Tombstone. It's right in town, so a short walk to everything. Plus you have your own private amenities of the Rose Tree Inn itself!
Your own personal door out to Tombstone's boardwalk
A private patio door to the Rose Tree location, so you can relax at will under this famous, historic planting!
Two Suites are available, each with the same comforts:
King-size bed
Refrigerator & ice-maker
WiFi
Private bathroom with shower
Sitting area & desk
Contact them for further inquiries or to book: [email protected] OR call (520) 457-3326. If you're already in town, please ask at the museum desk for last minute availability!
---
References
1 Bailey, L.R. (2004). Too tough to die: The rise, fall and resurrection of a silver camp; 1878 to 1990. Tucson AZ: Westernlore Press.
2 Rose Tree Inn. (2016-2017). Robertson – Macia family. World's largest rose tree. White lady banksia rose. Retrieved from tombstonerosetree.com/robertson-macia-family/ Also suites stay from tombstonerosetree.com/rose-tree-suites/
---