Tombstone Arizona history is a fascinating time-line. It involves adventure seekers, soldiers, pioneers, cowboys, mining and the Wild West. It includes Native Americans struggling for their land and survival. Also stories of immigrants with their struggles.
And so Much More!
Let's Begin Tombstone Arizona Wild West History In 1857…
Tombstone Arizona's Silver Rush
Frederick Brunckow was the first mining man in the Tombstone area. He dug a silver mining shaft Southwest of today's Tombstone town. But it met a bad end.Brunckow and most of his team were killed.1 Read the Brunckow Mine History.
---
Apache Raids in Arizona
In 1800s Arizona history, the area surrounding Tombstone was well-known for Apache worries. Brunckow's silver strike was notable in mining circles. But few risked going into the area. Apache bands raided soldier troops, travelers, some other tribes and settlements.
Few did mining exploration. They'd find mineral evidence, then back off because of Apache fears. Some met their death.
This anxiety continued on settlers' minds for some time. Yet they eventually came to Tombstone. The settlement itself provided some protection. 
---
Who Founded Tombstone Arizona?
Ed Schieffelin
Tombstone Arizona took a more well-known historic turn when this man arrived at nearby Camp Huachuca. Ed Schieffelin shadowed a military crew tracking raiding Apaches.
Ed had previous mining experience. He aimed to eyeball rock conditions for minerals. He enjoyed the military protection, yet felt they corralled his freedom to search the area.1
How Tombstone Arizona Got Its Name
About July 1877, Schieffelin started his own treks through these Chihuahuan Desert hills. That's when a soldier supposedly said:
when you're searching the desert for mining spots –
you won't find silver or gold, but instead…
"…you'll find your Tombstone!"
He remembered that! But still went on his own, finding silver-promoting geology about 12 miles East of the Brunckow mine. On August 1, 1877 he filed his first claim for his "Tombstone" mine. Then two more called Graveyard No. 1 and Graveyard No. 2.1
How about Schieffelin's sense of humor?
Find these Tombstone Arizona history via Claims on the Mining Map!
Ed needed help working his mines. He enlisted his brother Albert. Together they recruited Richard Gird.1All three were instrumental in getting Tombstone started.
Tombstone Arizona Mining History
The Schieffelins and Gird created assay offices at the old Brunckow Mine. After February 1878 they had success. Their first mines were the Ground Hog, Owl Nest, Lucky Cuss, and Tough Nut! A "contentious" deal brought them the Contention mine.
They helped write Tombstone Mining District's bylaws. They recorded the District in April 1878.
Word spread about Tombstone's Mining District and the silver strikes. From 1879 to 1882, Tombstone attracted experienced mining men. Suppliers and caterers of miner's needs followed. Town expansion began quickly!
Click For Tombstone's Mining History Story>
---
Tombstone Arizona History
A Town Arises
Tombstone AZ Water Supply
Tombstone Arizona is high desert: Chihuahuan Desert. Water tends to be scarce. For 1879 miners in town, your immediate need is access to water!
A few natural springs were around. Trouble is, some men had taken "ownership" of them. They began charging inflated prices for drinking water. Miners nicknamed one place "Gouge-Eye." But its official name was Watervale.1
D.S. Chamberlain had two wells near town. He offered cart water to miners for a better deal. His wells were unreliable, especially in dry times of the year.1
Alpheus Lewis was a character in Tombstone Arizona history. He filed the Richmond townsite claim in early 1879, southwest of today's town. Lewis purchased a nearby spring, planning to pump water from it, but it never happened.1
The Girard Gold and Silver Mining Company had its own water supply. The talk of the town, started on February 11, 1882! It became a source for the Tombstone Water Company.
---
The Real Story of the Tombstone Town-site
Historically, miners looking for work generally settled on the West side: Gird Camp, or called Upper Town. (Today locals still refer to town as "Uptown.") New folks often used a tent or lean-to. But some built adobe houses right off.
The first merchant, John B. Allen, opened a store and boarding-house. In a wood-framed/tent-like structure. Other businesses sprung up. Restaurants were necessities; a butcher shop opened.
---
When Was Tombstone AZ Founded?
Mining brothers Samuel and Charles Calhoun bought 320 acres called "Goose Flats." This land was easy-going for pulling wagons up to their Mountain Maid claim. A friend of Richard Gird, Thomas J. Bidwell arranged 80% of the rights to Goose Flats in March 1879. The Calhouns agreed contingent on a town-site survey for a community.
James S. Clark and Charles Cook, were partners in San Francisco real estate. Interested in mining and investment. That brought them to Tombstone Arizona in March 1879. Historical timing! 
The Tombstone Townsite Company and Clark, Palmer & Company had a goal: Tombstone's town as a financial project. They hired a surveyor, establishing a grid street pattern. They named the main business road Allen Street, after Tombstone Territory's first merchant.
Then filed the Townsite claim in the U.S. Land Office. Official April 22, 1879, at the Pima County Recorder's Office, as New Tombstone. Nearby Richmond vied for the local Post Office, but instead awarded to "New Tombstone". Autumn brought Justice of the Peace co-appointments: Michael Gray & Thomas J. Bidwell. 
Why Call It Tombstone Arizona?
Town leaders petitioned for town incorporation. They considered changing the name. But kept it Tombstone, since many business references were already associated that way.
Pima County granted the petition. Then interim elections were held November 24, 1879:
William A. Harwood, lumber sales, was mayor
Fred White, timberman & carpenter, was town marshal
Plus four city councilmen chosen
The first municipal election results on January 6, 1880:
Mayor – Alder Randell
Councilmen:
S. B. Comstock
Harry B. Jones
Andrew Cadwell
P.W. Smith
Michael Gray
Town Marshal – Fred White
With a government in place, local laws, taxes and business licenses could be achieved. Some notable firsts:2
Ordinance Number 9 – Unlawful for any person not an officer of the law to have or carry in the Village of Tombstone any fire-arms, knife or other dangerous weapons…
Ordinance Number 10 – Unlawful to open, maintain or become an inmate of, or a visitor to… any house of ill fame in the following described district of the City of Tombstone, viz.: Commencing at the point of intersection…and thence running in a southerly direction to and parallel with the center line of Sixth Street to the center line of Tough Nut… 

Thus, by default, it historically outlined where the "red light" district was allowed: East of 6th St. & South of Fremont St!
Tombstone Businesses Back Then
The new 1880s decade had Tombstone booming. Now a real city, more residents every day. Multiple enterprises fulfilled needs. Within town you'd find:6
Assorted General Mercantile Shops
Two furniture stores, two tin/stove suppliers
Three foot-wear shops, a clothing store
Seven grocery stores with local produce
Five butcher shops
Four establishments for treats: Two bakeries, an ice cream shop and a candy producer
Nine restaurants, including ethnic varieties
Ten tobacconists
Two barber shops, one with bath facilities
Two pharmacies
Two banks: The Pima County Bank in the Pioneer Store. Safford, Hudson & Company in the Vizina & Cook Building
Five corrals, including the infamous O.K. Corral
Details on Tombstone Arizona History at the OK Corral>
Plentiful businesses were around town. Some supplied mining needs. Others catered to employees' off-hours desires. Still others met requirements of ranchers in surrounding Tombstone Territory, when in town.
Lodging was always needed. Ranchers, Cow-boys and distant miners bought supplies, arranged cattle deals, accomplished banking and other errands. Often ending the day with a meal, some Gambling, saloon visits, and perhaps a visit to the Red Light District.
Other travelers passed through, or visited, needing a place to stay:1
The San Jose House was the first hostelry in town. Still there today, on the Northwest corner of Fremont & 5th Streets.
The Mohave Hotel followed closely after. Owner, Charles R. Brown later changed the name to Brown's Hotel.
The Rural House, built near the end of 1879, had an excellent restaurant. On Allen Street, near 5th.
The Russ House opened about a year later. Historic walls still stand on the Northwest corner of Fifth & Toughnut.
The Grand Hotel's Allen St. frontage still exists, at Big Nose Kate's. Called "the most elegant" hotel in the state. (Not the same Grand in Tombstone today.) 
The Cosmopolitan Hotel was on the North side of Allen Street, East of 4th. First a tent, later a quality hotel.
Read More on Tombstone's Historic Hotels>
---
Saloons in Tombstone's History
In Tombstone's history, Saloons Were Popular. Miners needed release after their grueling day's work. Ranging from grubby little counters to deluxe establishments. Some provided rooms for general meetings, get-togethers, even church services (before chapel construction).
The earliest documented appeared in 1879:
Mt. Hood Saloon opened between 4th & 5th streets, early 1879.
Later that year the Bank Exchange Saloon and Doling's Saloon were in business.
Another historic corner was the Northwest side of 5th & Allen, where the Golden Eagle Brewery opened July 1880. Bernhardt Wehrfritz partnered with three Tribolet brothers here. 
Kelly's Wine House opened on Fremont St., near 4th, May 1880. He opened another called Kelly's Wine Rooms two months later. Larger, with a nice reading room.
The Oriental Saloon was deluxe for its day. The historic building still there. A vintage bar stands inside, today! Have a drink where Doc Holliday, Bat Masterson and Wyatt Earp played Faro! On the Northeast corner of 5th & Allen.
By the end of 1880 about 33 saloons operated in town, give or take a few!
---
Entertainment & Civic Organizing
Because of mining's draw, most of the town's population were men. Many fairly young, usually single, and full of anxious energy in their off-hours. Plus the "perpetual bachelors" needing to express their manhood. All looking to vent these energies.
In Tombstone Arizona history, women and children had more difficulty finding diversions. With effort, they found some.
For instance, reading local and hometown newspapers1
The Nugget – 1st paper in town. Founded by Artemus E. Fay. His news experience from Pennsylvania's Daily Courier, and then Tucson's Arizona Star. A weekly, promoting Democrat's viewpoint.
The Epitaph – 2nd primary Tombstone journal. John P. Clum started it, first issue on May 1, 1880. His prior newspaper experience via Tucson's Citizen. Plus varied career and worldly experience. Opposing the Nugget, with the Republican's stance.
Clara Spalding Brown moved from San Diego to Tombstone with her husband. He had silver mining interests. She regularly corresponded to the San Diego Daily Union. Her published letters give invaluable detail of women's life in Tombstone Arizona history. Her July 7, 1880 letter explained:4
"The ladies of Tombstone are not so liberally provided with entertainment, and find little enjoyment aside from a stroll about town after sunset..."

Read More Clara Spalding Brown -

Click Here>
There were venues for leisure and civic promotion. Some available to women. Some catered to married couples. Others provided for meeting suitable people for possible courtships.
---
Tombstone Arizona Churches: Historical Roots
CATHOLICS – Families in town wanted to express their religious preferences. People felt this brought civilization to their community. They wanted to attend services with their families, as they'd done before coming to this "Wild West" town.
Practicing their Catholic faith was important to many Irish people in town. The Mexican population felt the same. The Bishop in Tucson sent a traveling priest to Tombstone by 1879.  When in town, he arranged to say Mass in various homes or vacant rooms in saloons or halls.1
Nellie Cashman helped start a building fund for a church. Sacred Heart Catholic Church has undergone some renovations through Tombstone's history. It's still a historic building that can be visited today.
METHODISTS1,3 – J.P. McIntyre came to Tombstone in early 1880 and gathered a congregation. He began a Sunday school, incorporated the Tombstone Methodist Church, and formed the board of trustees.
On July 3, 1881 Pastor McIntyre was officially appointed as Tombstone's Methodist minister. He'd worked hard to start the congregation, including raising funds to build a chapel.
PRESBYTERIANS1,3 – In mid 1880 James Woods came to town by request of the Board of Home Missions. He was a minister, with mining experience in California. So a logical choice to start a congregation in Tombstone. Upon arrival he invited people to a service.
A month later he spread the word he'd be forming an official congregation. Then started building a church. This historical building still stands today, on 4th Street, north of Fremont. Completed by the end of 1880, at which time he moved on.
---
Schools in Tombstone Arizona History
With families, come children. Schools are needed. Tombstone parents were concerned for their children's education.
The first school opened in February 1880. It was tiny, with a dirt floor. The kids were crammed in. Only a tiny blackboard on the wall. The teacher, irritated at the circumstances, quit after just two months.
In June 1880 another school opened in a room at 6th and Fremont Streets. 25 kids started. More and more came, until 91 were crammed into a room barely fitting them.
Finally the Territorial Superintendent of Public Schools approved forming a school district. Funds came to build a proper school on a donated 4th Street lot. Finished at the beginning of 1881. But money ran out, so none for desks or other needs.
It had 2 school rooms. Wood planks sufficed as seats and desks. Only 80 pupils were generally in attendance.
The Territorial Superintendent's brother noticed. He donated his own money, purchasing desks and school books. It primed the school board to give more support. Attendance increased, until the school abounded with over 130 students. Two local halls were rented as school rooms.
By autumn 1882, five teachers taught kids from six to eighteen. Another schoolhouse was built in 1883. A two story wooden structure on 7th Street – between Fremont and Allen.1 In looking over Tombstone's history, that area is still school property today (but the main old school is for sale!).
---
Tombstone's Ethnic Populations
In the 1800s European Immigrants went Westward in America. Many to Tombstone Arizona. The Irish were a good percentage of Tombstone's population. Some recent immigrants, others second generation. Most others in Tombstone were from Germany, Scandinavia, and Great Britain.
Jews immigrated to escape religious persecution in Eastern Europe. Some went West for opportunity. Some Jewish immigrants settled in Tombstone. 
The Mexican population was already in Tombstone, Arizona Territory. It had been part of Mexico, in the State of Sonora. It was ceded to Arizona with the Gadsden Purchase.
The Chinese population lived in part of town locals named "Hop Town." Initially recruited to the U.S. for railroad work. Many came of their own accord for varied work opportunities.1
CLICK To Read More Detail On Westward Immigration
---
Tombstone Arizona 1881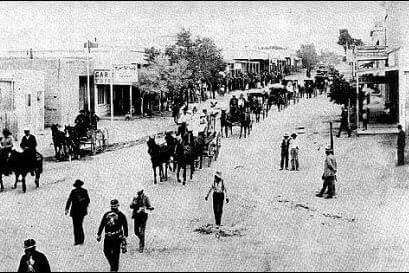 Entering 1881, Tombstone had over 4,000 people living in town. (Under half that today!) The mines produced well, people had cash, merchants did a good business, homes were being built! A mining boom-town: that word spread throughout the country.
Therefore, local leaders promoted creation of a new county. On February 21, 1881 Arizona Territory governing body authorized a charter creating Cochise County. From the Eastern section of Pima County.
Tombstone: County Seat Appointment
They named Tombstone the County Seat.1 Officials and financing were needed. Governor John C. Fremont began the process:1
John Behan appointed County Sheriff
Ordinance Number 4: City Business Licenses with (mostly) quarterly fees supporting county expenses. Examples:
Livery Stables: $15
Lumberyards: $25
Restaurants: $30
Ordinance Number 4: Alcohol Dealer Business Taxes: License of $250. Applicable to wholesale distribution, a graded scale for gross sales. Similar tax for lodging houses.
Ordinance 4 also taxed Houses of Prostitution. Monthly fees applied.
It seemed all was going well. People continued flowing into town.
---
Tombstone Fire Danger!
Tombstone Arizona history recounts multiple fires. Consider accelerating circumstances:
Building materials in early Tombstone were those easily accessed. 
Many people threw together wood frame and canvas wall structures. 
Water needed hauling from springs by wagon. 
Effective fire-fighting systems nonexistent. 
People crowded together. 
Casual use of dangerous flammable materials like candles and oil lamps.
Weather and climate:
Dry/low humidity heat. 
Little/no spring-time rain and wind-promoting weather fronts. 
Tombstone Arizona suffered two horrifying fires in their history. Plus other fires that affected the town and its people.
Throughout the old West, people flowed into other towns like Tombstone. Similar conditions promoted chances for dreadful fires. And they did occur. 
CLICK FOR HISTORICAL TOMBSTONE FIRES & MORE>
After each fire devastation, Tombstone rebuilt. The people were determined to keep this little town alive!
---
Tombstone AZ Historic Courthouse
With Tombstone's appointment as County Seat of the new Cochise County, the Board of Supervisors wanted a proper county courthouse. They decided to build at the Southwest corner of Toughnut & 3rd Streets.
They advertised for sealed bids, receiving seven. They chose the second highest: $27,456! Tombstone Undertaker, Andrew J. Ritter, received the contract. A friend of County Supervisor Milton Joyce (Oriental Saloon owner), who strongly pushed building the Courthouse.
Architect Frank Walker drew the Courthouse plans. The cornerstone was ceremoniously placed on August 11, 1882. And completed January 1883, over budget at $43,000!
No longer used as a courthouse. [For one thing, Tombstone is no longer the County Seat.] Tour this historic Tombstone building today! Now it's Tombstone Courthouse State Historic Park.
Old Tombstone City Hall
In October 1882 bids opened to build a City Hall and jail, on the site of the burnt out Recorder's Office. Also designed by Frank Walker, budgeted for $10,000.
Today see it when entering town. An unmistakable, imposing brick building. Serving as the local Marshal's Office. Look for it on the South side of Fremont Street.
---
The Cowboys in Tombstone
With the 1800s silver mining population draw, stockmen came to Tombstone establishing ranches.
Ranchers wanted wranglers with cattle experience. Not all coming here were out for good, honest work. Some were more interested in rustling cattle, rather than investing in raising them. Newspapers applied the term "cow-boys" to them.
That included those who regularly came to Tombstone, for supplies and entertainment. You may have heard of the most notorious names: Johnny Ringo, Curly Bill, Ike Clanton, the McLaury Brothers.
Read About
---
Serious Economic Troubles
Tombstone has a shallow, fairly strong water table. This was realized when mine shafts began flooding. This problem's solution was water pumps. In Tombstone Arizona's history by mid 1885, they were operating in town. This fix struck optimism in town!
But in Spring 1886 a vast fire shut down the Grand Central, affecting the shaft and pump. Then the markets interfered with city economics. Silver's value plummeted. Half the camp miners were let go by summer's end, 1886.
Mining Strike & Bank Failure
Mine management began decreasing worker pay from $4/day to $3/day. The Miners' Union went on strike.1
On May 10, 1884, the Hudson Bank in Tucson shut down. Tombstone's branch in the Vizina & Cook Building shut, when the teller went to Tucson to make inquiries. Meanwhile, striking miners gathered at the door anxious to access their accounts. Scuttlebutt began: The clerk ran off with their money!
The sheriff stepped in, preventing violence. But miners did lose funds because Hudson Bank failed. Not from teller embezzlement! The miners' strike persisted. Finally on September 1, 1884 the miners accepted the $3 daily pay, ending the strike.
Resurgence?
In May 1887, the Grand Central Mining Company formed. Their goal was repairing and reopening the Grand Central Mine.
A Mother Nature set-back happened May 3, 1887. Centered in Sonora, Mexico, an earthquake majorly affected Tombstone and surrounding areas. The shaking lasted about 30 seconds. Tombstone repaired quickly. Things looked up for the town. Business vacancies were few, and housing was full.
But in 1890, silver pricing plummeted again. Then a near-fatal blow hit at the end of Christmas day 1891. Shortly after midnight, the night sky flared around the Contention Mine. The mine hoist was on fire, and spreading. Fire companies responded. Citizens tried helping. The one available water pipe was frozen. The fire eventually burned out. The entire mine was demolished.
Contention management stopped all mining efforts. Of two major Tombstone mines, local employers: one was teetering along, the other now totally gone. Independent miners, with their own claims, got by.
Silver's price rendered the town just enough for support. But most businesses had gone. With this economic situation, only two newspapers now survived: The Epitaph and the Prospector. 
In 1890, Tombstone's population dwindled to 1,800 – close to today's! With few businesses and limited customers, city tax support declined.
In December 1893 The Bank of Tombstone closed. They transferred assets to the other local bank, The Tombstone Bank. The town's commercial prospects looked more dire each year. Only 649 people remained in Tombstone by 1900!
---
How Does Tombstone Survive?
Responsible city representatives determined to keep the town alive. We're still here, after all! So something worked.
Move on to see what happened in Tombstone Arizona History in the 1900s: getting our reputation as the "Town Too Tough to Die"
CLICK FOR MORE TOMBSTONE AZ HISTORY>
---
Tombstone Arizona History References
1 Bailey, L.R. (2004). Tombstone, Arizona: "Too tough to die" The rise, fall, and resurrection of a silver camp; 1878 to 1990. Tucson, AZ: Westernlore Press.  A prime general resource for all unmarked data.
2 Daily Nugget (1880, Dec. 2) Tombstone, Arizona.
3 Parsons, G.W. (1996). A tenderfoot in Tombstone. The private journal of George Whitwell Parsons: The turbulent years, 1880-82. Ed. L.R. Bailey. Tucson, AZ: Westernlore Press.
4 Bailey, L.R. editor (1998). Tombstone from a woman's point of view: The correspondence of Clara Spalding Brown July 7, 1880 to November 14, 1882. Tucson AZ: Westernlore Press.
8 Ragsdale Jr., J.W. (2010). Values in transition: The Chiricahua Apache from 1886-1914. University of Oklahoma College of Law Digital Commons: American Indian Law Review. Retrieved from digitalcommons.law.ou.edu/cgi/viewcontent.cgi?article=1095&context=ailr
Newspaper clippings thanks to our subscription at https://www.newspapers.com/
---