Old West saloons were about the first places in town to open. Businesses in new settlements catered to immediate needs. After hard workdays, or for newcomers, the saloon was a meeting place. A place to relax.
Do you wonder what saloons were like in the Old West? There are differences from today (and we're really glad about that!). But one thing similar is that they sometimes offered their customers Food Selections.3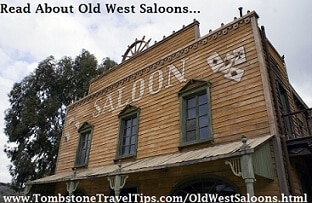 Customers were nearly all men. Women either weren't allowed, or "proper ladies" didn't care to enter most of them
Women didn't have many entertainment options in Tombstone Arizona. Clara Spalding Brown wrote "The ladies of Tombstone are not so liberally provided with entertainment, and find little enjoyment aside from a stroll about town after sunset…"1 Sometimes they'd go into more respectable, lavish establishments for sponsored special events. But only if properly escorted. For instance, there were Dancing Functions and masquerade balls.3
The typical old west saloon didn't have bar stools as they do today. In old photos you'll see customers stood at the bar. 
Chairs and tables, if available, were often in the back. 
When a Gambling Area was included (fairly regularly), a section was set aside for that. With card tables and chairs. It was legal with a license.3
When old west saloons offered Games of Chance, most popular were Faro and Keno. Roulette and poker were in the more exclusive places.4
---
Old West Saloons of Tombstone AZ
Like many Old West Towns – Tombstone was founded from its silver Mining Operations. Adventurers came to make a living, maybe uncover great wealth. For entertainment, quick eats and relaxation saloons and brothels followed mining towns quickly. The earliest Tombstone old west saloons were set up in canvas tents! Like Mt. Hood Saloon, Bank Exchange Saloon and Doling's Saloon.3
By mid 1880, Tombstone had all typical major conveniences of that era. Including 18 saloons.4 By year's end, over 33, plus four breweries and six wholesale liquor stores.3 Some employed what's termed Saloon Girls. These women usually weren't the same as "soiled doves." Yet weren't looked on as "proper women" of society. Hired for entertaining, serving drinks, keeping company, dancing with men in the somewhat more reputable old west saloons.
The Most Historical Tombstone AZ Old West Saloon 
Began as the Golden Eagle Brewery
Opening July 1880 on Allen & Fifth by Bernhardt Wehrfritz and the Tribolet brothers. After the May 1882 fire it was rebuilt as the Crystal Palace. 
Still In Business Today>
The Crystal Palace Saloon is about the most authentic old West saloon in town: now an eating and drinking establishment. Still on that same Historic Corner of Allen and 5th Streets.
These other old western saloon establishments were in town:4
A small bar opened May 1880 on Fremont Street. Owner, Julius Kelly expanded, reopening August 6th as Kelly's Wine Rooms.3
The Oriental Saloon was among the most famous. At the corner of Allen & 5th. Opened by Milton Joyce in the Vizina & Cook building July 21, 1880.3 Re-Created in town today!
The Grand Hotel Saloon, on the first floor of the deluxe Grand Hotel. Opened its doors September 9, 1880.
The Bird Cage Theatre was built to offer Fabulous Variety Theater after the 1881 fire. The owner created a magnificent establishment at 6th & Allen. Offered entertainment, with Saloon Dance-Hall Girls on the floor.4 Included the typical Belly-Up Saloon Bar drinks, Gambling Rooms, plud a bordello!2
The Alhambra Saloon on Allen, midway between 4th & 5th Streets. Known as the finest in town, or even the West, except for San Francisco.
The Cosmopolitan Hotel Saloon, completed July 1880. A fine building for its time. Even had an orange tree garden lining the front.
From the Arizona Quarterly Illustrated of July 1880
---
Less Opulent Tombstone Bars and Saloons
D.P. Walsh's Cock Pit Saloon offered cock-fights. Place your wagers!
The Arcade Saloon on Allen, between 5th & 6th Streets
The E. Fontana Dance Hall was at Fremont & 6th
Tivoli Gardens was on Allen Street, between 4th & 5th
The Occidental Saloon was popular. On the North side of Allen, midway between 4th and 5th
Hafford's Saloon, found at the NE corner of Allen and 4th Streets
Campbell & Hatch's was a Billiard Parlor & Saloon. On the North side of Allen, between 4th and 5th. Notorious because Morgan Earp was shot and killed there
Vogan's Saloon – With his partner Flynn. Over time their Sampling Room also had a Bowling Alley, Shooting Gallery. At the SW corner of Allen & 5th.
Other options were Thomas Corrigan's Saloon and Billy Owen's Saloon.
Which of these Old West Saloons do you think would've been your favorite?
Why not Try A Stay in town – and imagine you're figuring that out?
---
Tombstone's Saloon Food & Drinks
Some old west saloons in Tombstone served food along with drinks, especially lunch choices. Sample Rooms sold drinks by the glass, rather than only a full bottle. Some saloons even had a shooting gallery and/or a bowling alley.4
The Alhambra had a lunch counter. Drink choices: English ale, porter, excellent Scotch, Tom & Jerries.3
Golden Eagle Brewery's lunch counter served three bottles of Lager for $1. After they did well, a 3-gal. keg went for $3.4 Later, after some reorganization they offered beer in scooners [sic] for 12-1/2 cents, bottles for 25 cents each, but three bottles for 50 cents.3
Arcade Saloon, for two-bits (=25 cents) purchase blackberry wine or other drinks, or a cigar.3
Oriental Saloon drink selections: hot spiced rum, Tom & Jerries.3
Post 1881 Fire Grand Reopening offered one-bit drinks.
Grand Hotel Saloon/Wine Parlors offered a menu of cocktails, wine, ale, beer and straight liquor. Plus cigars.3
Kelly's Wine Rooms & House had drinks for one-bit (=12-1/2 cents; today= $3.32)3
Miley's Wine House3
Bottle of Wine: 50 cents, half bottle = half price. Grape brandy always on special.
Lunch sandwich: 25 cents for Swiss, Limburger or American Cheese with Holland herring or sardines
Pony Saloon offerings: Hard liquor in "pony glasses" for 10 cents; pure product choices: rye, double-stamped Bourbon, gin, Russet cider.3
Specials After 1881 Tombstone Fire3 
Club Saloon had a lunch counter. It all reopened quickly, celebrating with drinks at 12-1/2 cents
Vogan's Saloon opened four days later, advertising two-bit drinks
Bonanza Saloon, always free lunch! Plus drinks at 12-1/2 cents.3
Tivoli Saloon advertised Boca Beer, a lager, made from Truckee River water.3
XLN Saloon for 12-1/2 cents purchase a cigar, or drinks such as Gold Leaf whiskey or Thistle-dew.3
---
Other Well-Known Old West Saloons
Throughout the Old West, certain Saloons gained fame and reputation. Gunfighters, notorious lawmen, and famous outlaws drew headlines relating to events in these establishments. Some no longer exist, but their renown lingers! Others can still be visited today.
The Long Branch Saloon
In Dodge City, Kansas, first built in 1874. Lasting until a fire in 1885.
Chalkley Beeson purchased it in 1878, along with partner William Harris. Harris designated the name – The Long Branch – after the town where he was from: Long Branch, New Jersey. [Incidentally, that's the town where Husband Bill was born (in a hospital long since defunct, crazily called Hazard Hospital!).] 
A regular popular feature on the television show, Gunsmoke. In reality, many well-known, historic people frequented the bar and gambling tables. Men like Wyatt Earp, Doc Holliday, Luke Short and Bat Masterson. Chalkley Beeson sold out his interest to Luke Short in 1883.
Many like to visit Dodge City today, reminiscing of the old west saloons in town, like the Long Branch.
Don't Get OUT of Dodge – Get to it!!
---
---
White Elephant Saloon
This Old West Saloon was in Fort Worth Texas. Opened early 1884, in deluxe style. A Leap Year Grand Opening. Gave cause for invitations to local ladies!
The gambling room was upstairs. Those plying their luck included Wyatt Earp, Luke Short, Bat Masterson and Charles Coe.
On Main Street, between Third and Fourth. No longer though. Fire destroyed it in the 1890s. Walk to the Morris Building and reminisce: that's where it once stood.
A more modern rebuild, and relocated in 1896: three blocks South on Main Street. Walk to the Winfree Building, between Ashton Hotel and Kress Buildings, where it was. Didn't last, though. Closing with financial issues.
There's a White Elephant Saloon in a different Fort Worth location today. A modern remake, no relation to the historic Old West saloon. White Elephant Details>
---
Orient Saloon
In Bisbee Arizona, a mining town Southeast of Tombstone AZ. The saloons predominated in Brewery Gulch. Its remnants, and other historic saloons remain today. Visit to recall those old times!!
One old west saloon of the era was the Orient Saloon. Among the 50 from those wild west saloon days. Its raucous status attracted many gamblers such as Dutch Kid, Charlie Bassett and Smiley Lewis. Wild times, for sure!
---
Express St. James
In Cimarron, New Mexico, this hotel/saloon attracted action. Many famous old West lawmen, gamblers and desperadoes spent time there. Buffalo Bill Cody and Black Jack Ketchum stopped in.
Built in 1872 by Abraham Lincoln's personal chef. Today it's part of Cimarron's Historic District, on the National Register of Historic Places. Stay and have a drink at the bar. Look for all the bullet holes from Wild West gun-fighting days when you come by!
At 617 South Collison Avenue in Cimarron. Call them at (575) 376-2664
We Recommend This (Use this APP on All our Travels!) to Find Stays Near This Historic Area…
---
More Old West Saloons
You can "visit" many more Old West Saloons throughout Western states.
Some have been restored. 
Some you have to use your imagination: Reminisce when seeing the sites they occupied
Others have been reworked, updated. Yet still retaining some "Old West Saloon" look. They provide their histories with photographs and relics. In their decor, with Old West ambiance!
---
Still Here Today…
WYOMING
The Occidental Hotel & Saloon – In Buffalo, at 10 N. Main St. Popular and sometimes wild, old west saloon. Bullet hole testimonials still there! Butch Cassidy & the Sundance Kid were guests. Calamity Jane and Buffalo Bill Cody were customers. The original 1880 bar-room was basic, but finely refurbished in 1908.
CALIFORNIA
Buckhorn Saloon – North Fork, Sierra Nevada Foothills. Near Yosemite's South entrance. Around since late 1800s. Started by Les Smith, at least 8 more owners through the years. Now refurbished and renewed. Nice menu too. Location of this old west saloon: 32992 Road 222. Details: (559) 877-8700
TEXAS
Buckhorn Saloon – San Antonio, first opened 1881 on Dela Rosa St. Moved five times since, the last time just down from original. Has the first back-bar and its historic trappings. At 318 E. Houston Street.
COLORADO
The Buckhorn Exchange – Denver, 1000 Osage Street, corner of 10th. Been there since opening November 17, 1893. Ton of history in its walls! No disappointment in the menu. Go upstairs: find the original 1857, German-made back-bar in the Victorian Lounge.
The Board of the Trade – Now it's The Silver Dollar Saloon in Leadville. Opening in 1879, at 315 Harrison Ave., West side of the road. The bar was shipped by covered wagon from St. Louis MO. Upstairs gambling rooms offered Faro and chuck-a-luck. During prohibition they endured! How?
Stills outside town for liquor supply
Trap doors under the bar hid evidence
Private booths for customers
NEW MEXICO
The Buckhorn Saloon – In the small historic village of Pinos Altos, just north of Silver City. 32 Main Street. The main bar's origins to 1865. Original adobe walls still exist. Other newer features added on, like an expanded dining room. The bar and back bar by Brunswick-Balke-Calander Company were shipped by wagon. This Old West Saloon has plenty of atmosphere. Serving food and drinks!
NEVADA
Genoa Bar & Saloon – Genoa, beautiful spot at the base of the Eastern Sierra Nevada, 10 miles South of Carson City. Visit 2282 Main Street. Call (775) 782-3870. Built in 1853, as "Livingston's Exchange." In 1884 Frank Fettic bought it. Then: "Fettic's Exchange." Many more owners since. Well known, attracting Mark Twain, Ulysses S. Grant, "Teddy" Roosevelt, Clark Gable, Cliff Robertson, Raquel Welch (left her bra behind!), Willie Nelson, Charlie Daniels, Merle Haggard, Waylon Jennings & Johnny Cash. Movie set for: "The Shootist" with John Wayne, "Till the River Runs Dry" with Ann-Margaret, "Honky Tonk Man" with Clint Eastwood. 
Santa Fe Club Saloon – In Goldfield, old mining town where Wyatt Earp & brother Virgil lived in the early 1900s. This combo saloon/motel opened in 1905. Drive off Hwy. 95, on N. 5th Ave. Be warned, turns into a dirt road! It has "off-the-wall" Old West charm, but modern comforts & cold drinks. Basic beer selection, though. They do have the hard stuff. South of Tonopah.
Overland Saloon – In Fallon, about 60 miles East of Reno. In a historic hotel near downtown. Circa 1908. Local politician, 2nd owner, George Sherman, made it successful. Called the finest stay in town. New owner recently refurbished the rooms. There's a Basque dining room and the saloon. Still have the old-style juke box!
Old Globe Saloon – Carson City, 407 N. Curry St. 1/2 hour South of Reno & one hour West of Fallon. Oldest western saloon in town, but in some ways doesn't reflect that. Attracts crowd of local regulars. Some history remnants on the walls. It's been there since 1875, so I'd think it would somehow reflect that a little more. What do you think?
J.T. Basque Bar & Dining Room – Wonderful, unique, historic place. 15 miles South of Carson City to Gardnerville. Hans Nelson moved this 1896 building from Virginia City NV! Beginning as a dining, saloon & hotel establishment. In 1955 the Jaunsaras & Trounday families purchased the business. The name became "J.T." The owners' initials, a French Basque operation. In 1960 the Lekumberry family bought The J.T., keeping the name. The whole building was restored, with historic Basque pioneer tradition
---
Re-Invented…
TEXAS
Jersey Lilly Saloon – From the 1890s, named after English singer Lillian Langtry. Judge Roy Bean was a man of dubious law accountability. Set himself up as the law West of the Pecos in his saloon and courthouse. Proclaiming himself Justice of the Peace. In naming his saloon, it was forever established in history and folklore. Today it's a Texas State Hwy. 90 rest-stop. Not far from the Rio Grande and the international border.
NEVADA
Indian Maggie's – 46 miles NE of Tonopah. From 1867 to about 1901 the building housed local newspaper: Belmont Courier. It now a part of Belmont Ghost Town>
Union Hotel Saloon – In Dayton, about 15 miles East of Carson City. This old west saloon was a popular late 1800s & early 1900s hostelry. Among the state's oldest buildings. Uninhabited for awhile, purchased June 2016 by newlyweds. They planned transforming it into their home, but needed a permit converting it from hotel to home. Had a 2-story outhouse, saloon and eight small rooms. They remodeled. Most rooms were only 8×8 ft. Some were transformed or merged. The saloon became their living room. Now private property, it's their home.
---
Long Gone…
COLORADO
Holy Moses Saloon – In Creede, a silver mining boom town near the source of the upper Rio Grande. Bob Ford, Bat Masterson and Soapy Smith owned saloons in town. Despite the name Holy Moses, their brothel housed soiled doves named the Mormon Queen, Poker Lulu Swain and Timberline. No need for a front door: it was open 24/7!
NEW MEXICO
Buffalo Bar – In Silver City NM. Building and facade still there. But no hope of it ever reopening. The liquor license was sold to CVS! The building's front had safety issues, and the iconic neon sign was removed. On Facebook they proudly claimed as a dive bar/lounge! Motto was" The Oldest, The Baddest, The Best." It seemed popular in its day!
NEVADA
Micca House Korral Bar – Building still standing, on the National Register of Historic Places. 40 miles North of Winnemucca. Built in the 1880s. Besides a saloon, it had a department store, post office, and a government office. Something like a Mall back then. At times had the town's courthouse/jail, a doctor's office, barber shop, dress shop, saddle shop, warehouse, brewery, chop house (Old West Steak House Restaurant), butcher shop, bakery, and a hotel. The bar's been closed for ages! Currently privately owned.
---
References
1 Bailey, L.R. (1998) Tombstone from a woman's point of view: The correspondence of Clara Spalding Brown July 7, 1880 to November 14, 1882. Compiled and edited by Bailey. Letter to San Diego Union Letter, July 7, 1880. Tucson AZ: Westernlore Press.
2 Tombstone Birdcage (2004-2020). Birdcage Theatre. Retrieved from tombstonebirdcage.com/
3 Underhill, L.E. (2012) Tombstone Arizona saloons 1879 – 1882. Gilbert AZ: Roan Horse Press.
4 Bailey, L.R. (2004). Too tough to die: The rise, fall and resurrection of a silver camp; 1878 to 1990. Tucson AZ: Westernlore Press.
---