Old West gunfighters refer to people (mostly men!) who were quite handy using their firearms during the nineteenth century when settling the American West. They were not necessarily outlaws, although many were.
Some were law officers, or at least were at some point in their life. Some were known for being lawmen, yet sometimes acted a little "fishy" – going outside the law to accomplish their aims! Sometimes delivering vigilante justice. Others were on the wrong side of the law, always! Even, it seems, since childhood.
We know of those well-known, infamous you could say, because of a particular old west gunfight! Like the one here in Tombstone, Arizona – the well known: Gunfight at the O.K. Corral. Let's first look at that one, and the old West Gunfighters there.
Gunfight at the O.K. Corral
The Gunfight at the O.K. Corral is the famous draw putting Tombstone on the map. Especially since tourism became popular with the advent of automobile travel. The town historically began capitalizing on its sightseeing potential. Many citizens rely on tourism for their jobs/income.
The very first attraction was Boot Hill. It's still there and a popular place to visit today!
We have to say, about the most well-liked attractions in town are the gunfights. People have an interest in knowing about the Firearms Used in the Wild West. And of all the gunfights, the Must-See is the Gunfight at the O.K. Corral.
It's good to know the True History of that old West gunfight. How it developed, why it happened. For it really is a true story!
O.K. Corral Preview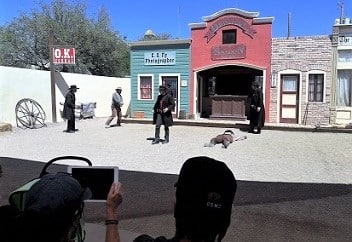 While at the O.K. Corral Attraction, visitors gather on shaded viewing bleachers. They watch actors portray old west gunfighters who took part in that Gunfight.
The scene isn't at the actual spot. They use fake "store-front" type buildings. It's a short, entertaining skit to give you an idea of what occurred that pivotal day! It's also devised to keep the little ones entertained, as well. 
---
True Old West Gunfighter Action
See these semi-movable, life-size figures of:
The McLaurys: Tom & Frank
The Clantons: Ike & Billy
The Earp brothers: 
and Morgan Earp
They're placed in their location at the start of this Old West gunfight. A narration is set in motion by pushing a button. The figures move (to a degree, they don't fall) along with it, showing who fired when.
This is where the gunfight did occur. In this vacant lot. It's adjacent to photographer C.S. Fly's Studio. It's behind the actual O.K. Corral.
---
Old West Gunfighters Make a Sensation!
These old west gunfighters made news all across the country. Even world-wide! Think about when you've played "The Telephone Game" (probably in school!). You know how stories are changed! As you see, this news report (as well as many other reports) had errors!
WHAT'S YOUR OPINION?
Have you seen movies about the Gunfight at the O.K. Corral? Have you read about this gunfight? Do you think the Earps were in the right here? Or do you think the McLaurys and Clantons were wronged? Do you think it was just one of those things, with a bad eventuality?

Please Have Your Say Here! See our Old West Gunfighter O.K. Corral Shoot-out Page, and tell us what YOU think!! Thanks so much for participating!!
More Old West Gunfighters
Other gunslingers in the old West were known to come through Tombstone Arizona at one point or another. Who were they?
William "Curly Bill" Brocius – One of The Cow-boys in 1880s Cochise County who regularly tangled with the Earps and other Tombstone lawmen
Johnny Ringo – Troubled since his teens, involved in Texas land war before coming to the Tombstone area. His Whole Story is something!
Billy Claiborne – Known as a miner, drover and cattleman. A regular associate of the Cochise County Cow-Boys, he fled the scene just before the O.K. Corral Gunfight began.
Billy Clanton – Cattle wrangler on a ranch outside Tombstone. Cow-boy killed at the O.K. Corral Shootout. 
Ike Clanton – Prime instigator for Tombstone's notorious gunfight. This Cow-boy was often into it with Doc Holliday.
Charles "Pony" Diehl – Another Cochise County Cow-boy. Wyatt Earp believed he was involved in attacking his brother Virgil.
Warren Earp – Youngest Earp brother, also the most troublesome. Gave his parents lots of grief while growing up.
Bartholemew William Barclay "Bat" Masterson – What a storied life! A U.S. Army scout, lawman, professional gambler, even a journalist toward the end. He worked with Wyatt Earp when they were in Dodge City.
Michael "Johnny Behind the Deuce" O'Rourke – A professional gambler who killed a man in Charleston Arizona. Claimed self-defense.
Charlie Spencer Storms – Professional gambler. Known throughout the old West also as a gunfighter. Fatally shot by Luke Short.
"Buckskin" Frank Leslie – Man of many faces: U.S. Army scout, gambler, rancher, miner. Worked as an Oriental Saloon bartender. Known around Tombstone as a quick-draw old West gunfighter. Some believe he was a con-man.
Frank Stilwell – Associated with the Cow-boys. Deputized by Sheriff John Behan, served four months. Worked mining, saloons, wholesale liquors, a stage line, and a livery stable. Wyatt Earp killed him.
Sherman McMaster – Most known in Tombstone as Wyatt's friend, helping his Vendetta Ride. A lawman for a time. But hung with the Cowboys! Known also as Sherm McMasters.
Luke Short – For a time had an interest in the Oriental Saloon. He shot Charlie Storms there when serving as Faro look-out.
Texas Jack Vermillion – Primarily known in Tombstone for his part in Wyatt's Vendetta ride.
Burt (Albert) Alvord – Deputized in 1886 by Cochise County Sheriff Texas John Slaughter. By the end of the century he turned to crime, robbing trains.
John Horton "Texas John" Slaughter – Cochise County rancher, who served two terms as County Sheriff.
David "Dave" Rudabaugh – Sometimes known as "Dirty Dave." While in Tombstone, associated with the Clantons and the Cow-boys.
William "Russian Bill" Tattenbaum – He claimed descent from Russian nobility. Associated with the Cow-boys. Kinda looked like a "dandy!"
Jack Taylor – Led a gang conducting train robberies in Cochise County.
---
Women Were Old West Gunfighters
Martha Jane "Calamity Jane" Cannary – Born in Missouri, oldest of six children. Her parents died when she was a teen. She took charge of her younger siblings. She earned money dishwashing, cooking, waitressing, nursing. She worked as a dance-hall girl & driving ox teams. When necessary she worked as a prostitute at Three-Mile Hog Ranch in Fort Laramie, Wyoming. She claimed she scouted for Fort Russell. She was around the military fort when Native American campaign conflicts were ongoing. She also claimed a post commander christened her "Calamity Jane" when she saved him from falling off a horse. However she got it, it was hers by mid-1876. That's when she joined Charlie Utter's wagon train to Deadwood, meeting Wild Bill Hickok. She had two daughters. It's unverified that one was fathered by Hickok. A heavy drinker through her life, but also known for helping people.
"Queen" Ann Bassett – Growing up on ranches in Colorado & Utah, learned riding, roping & guns. Her father's customers for supplies & horses included outlaws, like Butch Cassidy. Well-educated, but loved ranching. Became romantically involved with Cassidy in her teens, and friendly with Cassidy's Wild Bunch. Nicknamed from her outspoken efforts against cattlemen's associations.
Pearl Hart – Born in Canada, (nee Taylor) good family life & educated. In her teens she met Mr. Hart & they eloped. He wasn't the dream she thought, being abusive. She left, but tried working out her marriage a few times. Including an 1893 World's Fair trip, giving her a look at Buffalo Bill Cody's Wild West Show. Becoming fascinated with cowboys, ended up in Arizona, funding herself various ways. In desperation, she robbed a stage with a male accomplice. They were captured. Next lodging: Yuma Territorial Prison. Afterwards, slim details. But she caused a sensation as a woman stage robber!
Laura "Della Rose" Bullion – Obscure origins, but apparently she's part German & Native American. Was with Butch Cassidy's Wild Bunch. Her boyfriend was the "Tall Texan" Ben Kilpatrick. Served time for involvement in the Great Northern Train Robbery.
Myra Maybelle Shirley Reed "Belle" Starr – Born & grew up in Missouri, well educated. While young, met the Younger & James families. Moved to Texas in 1864, after a Civil War Union attack. She married one of Quantrill's Raiders, Jim Reed in post war 1866. Belle dressed stylishly, rode side-saddle all glamoured up & was a great shot with her twin pistols. Had two children by Reed. When he was killed, she moved on, married Sam Starr, a Cherokee who took her to his family in Indian Territory. They fenced for rustlers, horse-thieves & bootleggers. Plus provided them hide-outs. Finally Bass Reeves caught them. After serving time, they took up old habits. Belle escaped conviction, but Sam was killed in an old west gunfight by an officer. She married a Starr relative to stay on Indian land. When nearly 41, she was ambushed & killed, never discovered by whom.
---
Other Notable Old West Gunfighters
When thinking of gunslingers of the Wild West, some names ring a bell right off! Others you may have heard of. The name sounds familiar, but you don't quite know their story. Well, let's find out! Those well known, and not so…
David Lawrence  "Billy Wilson" Anderson – Started out a Texas ranching cowboy. Rode with Billy the Kid after getting in trouble, accused of counterfeiting. Arrested & served time, then escaped. Returned to TX & his birth name. Had a family & a ranch. President Cleveland pardoned him in 1896. He became a Customs Agent & then a County Sheriff.
Jesse James – Middle child, raised in Western Missouri. During the Civil War, he aided Confederate support fighting groups. Jesse was shot, injured twice during these conflicts. At his Uncle's place recovering, he fell in love with 1st cousin, Zerelda Mimms. Jesse & brother Frank held much post Civil-War bitterness. When beginning their bank, train & stage robbing gang activities, their raiding purpose avenged crimes of the war. Joining up with kindred spirits: Cole Younger & his brothers, they forged the James-Younger gang. Becoming infamous, instigating an Entertainment Legacy that began at that time! The Pinkerton Detective Agency aimed to catch them. But an inside job got him. Read Jesse's Story>
Alexander Franklin "Frank" James – First child, older brother of Jesse James. A good student, he planned being a teacher. Was 18 when the Civil War began, he joined the Confederates. Taking sick, he surrendered to the Union. They let him go home. He joined Quantrill's Raiders for the 1863 Lawrence Massacre. Afterwards he's involved in some gunfights. Then he joined brother Jesse, robbing banks & trains from 1868 to 1876 that included murders. After Jesse was killed, he surrendered to authorities. But accountability never quite reached him.
Sam Bass – An orphan raised by an aunt & uncle in Indiana. On his own at age 18. Going to Denton, Texas, working on a Sheriff's farm & drove coaches. He saved money, bought a race horse, began a gambler's life. A bad gold mine investment left him broke. He turned to robbery. With the "Black Hill Bandits" he robbed stages, then trains. Forming his own gang, robbing trains & banks in Texas. Rangers came after them, called the "Sam Bass War." Finally had a show-down in Round-rock TX, where he's buried. Read More>
Charles E. "Charlie" Bassett – About 25 years old he appeared in Dodge City, Kansas. Opened the Long Branch Saloon. In 1873 got elected first Ford County Sheriff, then re-elected twice. Unable by law to run again, he next became City Marshal. That's when he chose Wyatt Earp as Assistant. He interacted with quite a few old west gunfighters during his lawman days.
William "Tulsa Jack" Blake – A cowboy in Kansas & Oklahoma, eventually joining up with Doolin's Wild Bunch gang. They specialized in bank and train robberies in Western Oklahoma.
Charles Earl "Black Bart" Boles – England born, growing up in New York State. At 20 years old traveled West for the Gold Rush. Five years later, was married, living in Illinois. Fathered four kids, one after another. He fought for the Union, was injured & returned home. He prospected for Montana & Idaho gold in the late 1860s. There a problem with Wells Fargo occurred. He vowed revenge, took up the nickname & began robbing their Stagecoaches. His M.O. was leaving poems behind! Finally caught, he went to San Quentin. 
Seth Bullock – Born in Canada, ran away at 16, to his sister's in Montana. He became County Sheriff there, killing one man with that job. Soon after moved to Deadwood, Dakota Territory. Soon was appointed Sheriff. Became an entrepreneur, met the president & was quite successful.
Ned "NeDe WaDe" Christie – Born in Oklahoma, was an executive council in the Cherokee Nation senate. He advised Chief Dennis Bushyhead. Was falsely accused of killing a U.S. Marshal. He asked for bail to prove his innocence, but was denied. Resisting arrest, went on the run. The law wanted him dead or alive. He hid out for almost 5 years. Killed by a posse in 1892. Then posthumously exonerated of this crime in 1918. An eyewitness came forward!
Scott Cooley – Taken in, raised by Texas rancher Tim Williamson. Became a respected Texas Ranger. Deputy Sheriff John Worley arrested his adoptive father on false charges of cattle rustling. Enoute to jail, German immigrant cattlemen killed Williamson. That enraged Cooley. Beginning the Hoodoo War. Cooley blamed the Sheriff, but waited for the law. Dissatisfied with results, he & other friends, like Johnny Ringo, took the law into their own hands. 
Timothy Isaiah "Longhair Jim" or "Big Jim" Courtright – Born in Illinois, he practiced with guns while growing up. Lying about his age, enlisted with the Union during the Civil War. Afterwards he moved to Fort Worth, TX in 1876. He became the city's first elected Marshal. Gained a tough reputation, with gunfights. Then to New Mexico, appointed Marshal. There add a few more shootings to his list. His end came in a gunfight with Luke Short.
George Sutherland "Flat-Nose" Currie – Born in Canada, moved to Nebraska in his youth. Beginning his outlaw deeds with rustling, he moved onto robbery with a gang. Stealing as needed, getting in gunfights to survive. He robbed the Union Pacific Overland Flyer with Cassidy's Wild Bunch. His end came during a Utah rustling job by bullets from Sheriff Tyler.
William Marion "Bill" Dalton – As an adult, started in the California legislature. Then turned to crime, with desire for infamy. With his brother Grat, he went on a three-year spree of bank, stagecoach & train robbery around Oklahoma, Texas, Arkansas & Kansas. In 1892 his brother was killed. He joined up with The Wild Bunch. Then in Oklahoma he killed Deputy US Marshal Shadley. Bill was cornered & killed by a posse in Pooleville OK in 1894.
John Wesley Hardin – Born into a Texas preacher's family, he was a problematic child. In 1868, his first murders were four freed slaves. Next a soldier, a gambler, a pimp & two men in a posse coming after him. Finally arrested in 1871 at age 17. He escaped during transport, killing four lawmen in the process. Hardin hooked up with cousins to escape Texas. Then still got involved in gunfights & a few more killings. After that still more involvement with old west gunfighters. Even including shooting a man (although unintentionally) for snoring! Reputation as the fastest draw of all old west gunfighters. Finally captured by Texas Rangers, tried for murder of Deputy Sheriff Charles Webb & sentenced to 25 years. Controversy & gun-play followed him til the end!
Charles Wilson "Charley" Ford – Joined the Jesse James gang. Charley was the brother of Robert Ford, who killed Jesse. He was in on Jesse's murder plot. Charley's death was by suicide.
Patrick Floyd Jarvis "Pat" Garrett – Born & raised in the South, his family suffered heavily from the Civil War. He left the area at age 18 & was in Fort Griffin Texas in 1876. By 1880 was in New Mexico, where fame found him. He became Lincoln County Sheriff. Then also U.S. Deputy Marshal. His focus was bringing Billy the Kid to justice. He shot him dead July 14, 1881. Some portrayed him as an assassin for that. Afterwards he was a Texas Ranger. Then back to NM, appointed Dona Ana County Sheriff. He remained a controversial NM figure.
Bass Reeves – Born an Arkansas slave for state legislator William Steele Reeves. That family moved to Texas when Bass was eight. Later he was with the son, George Reeves. Bass left that family, running North to Indian Territory, living with the Cherokee, Creek & Seminole tribes. He learned all their languages. In 1865, when the 13th Amendment abolished slavery, he returned to Arkansas a freedman. There he married, began farming, eventually had 11 children. U.S. Marshal James Fagan hired Bass as U.S. Deputy Marshal for Western Arkansas, including Indian Territory, since he spoke the languages. He also served in Eastern Texas & Muskogee Oklahoma. During his 32 years in law he made over 3000 arrests, engaging 14 old west gunfighters. Just before retirement he served two years on the Muskogee Police Department.
James Butler "Wild Bill" Hickok – His talents encompassed many occupations: drover, wagon master, soldier, spy, scout, lawman, gunfighter, gambler, showman, actor & embellisher of his own life! He did a lot, but did a lot to make it even more exciting. Raised in Illinois, with youthful life filled with local freedom & adventure. Went West after fighting, thinking wrongly he'd killed another youth. He wasn't immune to gunfights, either as Marshal or gambler. And that's how his life ended, shot while in a card game.
Harvey Alexander "Kid Curry" Logan – Grew up learning cowboy life, into adolescence. By early 20s was into conflicts with a Montana mine operator. Charged with assault, he felt he wouldn't get a fair trial. He left the area, taking up with Black Jack Ketchum. Montana sent Pinkerton detectives after him. Then he had a falling out with Black Jack. So with his brother he joined the circus! Then they worked a Colorado ranch. Next they gathered other guys, formed a gang, & began robbing banks & post offices. In 1899 Kid Curry rode with Cassidy's Wild Bunch. With them he was involved in many gunfights with the law. His ending is still disputed.
Harry Alonzo "Sundance Kid" Longabaugh – With Butch Cassidy, in his Wild Bunch gang. Born in Pennsylvania, the "baby" of the family. Went West in his teens. At 20, stole a gun in Sundance Wyoming: first crime, he served prison time. He started calling himself the Sundance Kid. After that he worked ranches. When he join up with Cassidy, he wasn't really a gunfighter, though he participated in the shoot-out at the Hole-in-the-Wall hideout. That's where he met his love: Etta Place. He also teamed with Kid Cody to rob banks. To escape continuous law pressure, he & Etta left for Argentina in 1901. Apparently he never returned to the U.S. It's said he crossed into Bolivia & probably died there.
Thomas E. "Black Jack" Ketchum – Born in Texas, he went to New Mexico by 1890. Worked as a cowboy, then became involved in robbing trains & stagecoaches. He joined the Wild Bunch, Hole in the Wall Gang. He also did his own jobs, including his last. Shot by the train conductor, found & arrested the next day. Sentenced to death by hanging. Ending up in decapitation! 
Ben "Tall Texan" Kilpatrick – Born in Texas, started adulthood as a cowboy. He became friendly with some outlaws, then joined Cassidy's Wild Bunch gang. Was imprisoned at one point. When released, he continued his criminal life. He attempted a train robbery, but the Wells Fargo messenger defended the valuables by attacking the Tall Texan with a mallet. It caused fatal brain damage.
Thomas Coleman "Cole" Younger – Born in Missouri, the middle child of 14. His father supported the Union when the Civil War began. But when a Kansas Union soldier killed his father, Cole sought vengeance. He joined Quantrill's Raider's on their Lawrence KS Massacre, killing about 200 citizens, looting & burning the town. He claimed he left them then, joined the regular Confederate Army. Went to California to recruit & came back to Missouri at war's end. At that point Union Radicals were ruling Missouri, enacting harsh restrictions on former Confederates, creating anger & division. Cole recruited his brothers & took up with a former Quantrill man's gang to target Union owned businesses. The leader was killed. Jesse James & his brothers joined with Cole & his brothers. They continued robbing banks & stagecoaches in Missouri & Kentucky, as the James-Younger gang. The Pinkerton National Detective Agency were after them. These old west gunfighters engaged law enforcement along the way. At various points they were killed, until only Cole & his brothers Jim & Bob were left. Plus Frank James. The Youngers pleaded guilty. They all received a life sentence.
---