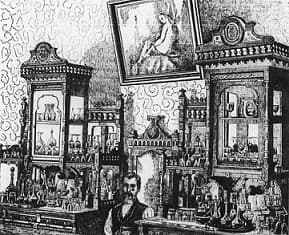 As Portrayed in Arizona Quarterly Illustrated
July 1880, Vol. 1 – No. 1 – Page 16


The Editors of This Quarterly Were Well Impressed!

The illustration in their first issue took up half the page. Sourced from "a photograph by Fly, of Tombstone." Yes, it was impressive. Of Tombstone's 18 saloons at that time, three were considered deluxe. This was one. The other two were Kelly's Wine Rooms, and the Oriental.

The owner & creator of The Alhambra Saloon was Thomas H. Corrigan. Born in Ireland, he immigrated moving to New York State. Came West & began mining. He made money & went into the bar business.

The Quarterly stated "it certainly has no equal, for style and elegance, outside of San Francisco." Located on the North side of Allen St., between 4th & 5th.


Even the "Best" Have Problems!

Corrigan made sure to get the best alcohol available. He imported top brands of whiskey, wines, & brandy. Even served in posh French & Italian glassware. Had on hand cigar imports, too.

The front was the bar area. Toward the back was the club rooms for gambling. All told, everything the sporting man of the time needed. Cowboy Stockmen coming into Tombstone also stopped in. Curly Bill was there first with several others, the night that partying ended with him shooting Marshal Fred White.

So all the sumptuousness of the establishment didn't avoid this incident with a patron known as "Red Mike."

And that wasn't all! The Epitaph reported the story, which the Tucson papers picked up – a knife fight over a gambling game. Between dealer Willis Lawrence & a player, nicknamed "Whistler."
Lawrence Vs. Newman – After some words & name-calling, gambler Henry Newman (Whistler) got a face smack by dealer Lawrence. That's when Newman pulled the knife, & slashed Lawrence's head.
Then he stabbed him in the gut so forcefully, "bowels were protruding" & then another to his right chest. Several more slashes on his arms were done, before he ran off.
Lawrence was taken for medical care, expected to recover. Deputy Sheriff found Whistler in an opium den. He was arrested & jailed.
The Sporting Life
Gambling was a popular pastime in the back area of the Alhambra. Many have heard about the high stakes poker game that was famously held at the Bird Cage Theatre. But did you ever hear about the one at the Alhambra in Tombstone?
In the Spring of 1881, at that time it was the biggest stakes poker that Tombstone had yet seen. Player Dick Clark would one day run the Crystal Palace Saloon. John Tyler was a well-known gambler. If you remember, his character was in the Tombstone Movie.
To get an idea of the 1881 stakes – a $10 chip in 2020 value, is $252. The $2.50 ante is approximately $63 in today's value.
Under Heading: TOMBSTONE ITEMS
Subheading: [Condensed from the Epitaph]
Next: Conflagration Devastation!
The construction materials, & lack of a city water system in Tombstone made for some dangerous fire-breeding circumstances in those early years. A few fires broke out, but didn't endanger the Alhambra. That changed in May 1882.
The fire began not far from the Alhambra's location. Just a little farther West down the block on Allen Street. Then it began spreading Eastward. There was no stopping it along the Allen Street block between 4th & 5th Streets. It ravaged much of the town.
Coverage of the fire wasn't only local. It was throughout the country.
Right Back to Getting Back
You know the motto: the Town Too Tough to Die! Well, it began way back then. The Alhambra Saloon started right in to rebuilding. Adjusting & getting the job done.
Realizing that maybe so much wood construction wasn't a good idea. The use of adobe as building material was a better idea. That took hold.
Corrigan Loses Interest
As Tombstone rebuilt, the city was getting a new Courthouse. By August, they celebrated. Despite the Epitaph commending Thomas Corrigan's fast work on rebuilding, they couldn't help but point out his missing the Courthouse Cornerstone celebration:
In the mid 1880s, Thomas Corrigan ditched his saloon interests & left Tombstone. He moved to Sonora Mexico, got married there & again began mining. At the Trinidad Mine. Then for a seemingly inexplicable reason, he was killed by Smith Gray on Nov. 6, 1889.
From a Nashville Newspaper
Why is it Reported There? Maybe he was there awhile on his trek out West, from NY to Tombstone?
The Epitaph reported that a drunken Gray (American, known in Tombstone) had been mouthing off he was gonna kill Corrigan. Then set out to do it, saw him & shot him in the back. Everyone who knew Tom was enraged, as he was well liked by local townspeople & fellow miners.
---
Historical places & events create curiosity for facts about people who roamed the Tombstone area & the Old West. What's the true story? Can we discover the authentic history?
And we enjoy sharing what we find with you.
We hope we'll see you in town sometime, (eventually in the future!) seeing areas where they spent time – back in the 1800s.
Let us know if you'll be going to an upcoming event! Tell us how you liked any of them, or what you visited here! Just reply to this newsletter for easy input! (Let us know if we can use your comments – & how to credit you.)
---
---