Tombstone restaurants are scattered throughout town. Most are somewhere along Allen Street, within the "downtown" area. A few more are on Allen Street, but a little farther out. Others are downtown, but not right on Allen Street. 
With these choices of restaurants in Tombstone, you may wonder where to grab lunch. Or go out to dinner. Even enjoy a terrific Steak Meal>.  Or if you're staying over, you'll certainly need to know where you can get breakfast. Well, here you are – choose whatever you need…
We can help you out! Since living and having a business in Tombstone, we've checked out most restaurants here. We have our opinion, our recommendations. We know how local friends feel about assorted places to eat. We'll clue you into what they say. 
We organized by category/meal time. Even a section for Snacks/Event-Eats. Also what's Your Feedback on any Tombstone restaurants? We hope you've received good service and delicious food. But we want your honest review. Compliments too! If you critique anyone – please give suggestions for improvement!
As long as this pandemic is going on - temporary changes may be implemented & some restaurant menus may be more limited. Please be patient and keep that in mind. They all appreciate your support.
---
Local List of Tombstone Restaurants
---
Get Lunch in Tombstone Arizona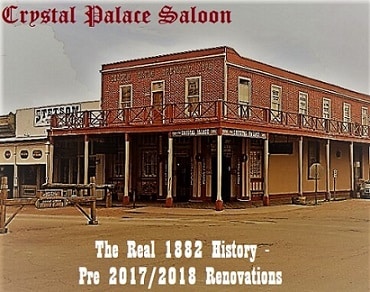 Most Tombstone restaurants are open at lunch-time. But some are only open certain days of the week. We'll go over the details for you…
Crystal Palace Saloon – Allen Street, Northwest corner of 5th St. More Details> Serving the typical burgers, fish & chips, sandwiches, kids' menu, etc. Starting at 11am. They have pizza, and daily specials. They make cute little milk-shakes for kids. Very good wait staff. Sometimes they get really busy. If you come in then it may take a few minutes to greet you. If regular patron, Bob, is there at his corner seat at the bar – he may very well help you out, voluntarily! He might even give you a little history detail. We've eaten here often enough, it's our regular place to meet up with friends. Not our favorite restaurant, but pretty good for lunch. We like gathering in this Historic Site>
---
Johnny Ringo's Saloon – 520-457-3404 for take-out orders. A little off the main beat of town, but well worth it for their pizza: available every day. Many say the best pizza in town! Our place for pizza night with friends. Open every day for lunch about 11:30 a.m. Drive East on Allen Street to 10th Street and turn left. It's right behind the Depot Steakhouse.
Depot Steakhouse – Same owner as Ringo's above. This is the best restaurant in town. Their steaks are fabulous! Never had a bad meal here, and often have great food! Their Mexican food is the best. Especially the chile relleno, taco salad and their combo meals. Address: 60 South 10th Street, corner of E. Allen Street. Head East on Allen from town. Lots of parking.  See Their Contact Info>
---
The O.K. Cafe – Call for take-out:  (520) 457-3980. Also mentioned in the Breakfast Menu. Open until 2pm weekdays, until 4pm Saturday & Sunday. At 220 E Allen Street. Ask about daily specials. They prepare with better ingredients like olive & canola oil. No MSG. They use natural spices and flavorings in recipes. Menu items feature the usual burgers, steaks, soups, etc. They carry Tombstone Sarsaparilla!
---
Big Nose Kate's – A fun touristy place to eat. There's cool stuff to draw you in. Take a Western style photo to bring home. They have gear to wear: cowboy hats, wild rags, etc. You can get hung! Watch the Movie Tombstone – always playing on TV, while having your meal. Many weekdays there's entertainment by Raleigh. The food isn't bad. I love their salads. Their history is skewed, as there never was a saloon called Big Nose Kate's. And "The Swamper"?? Hmmm. The building was the historic Grand Hotel, but it burnt down in the May 1882 Historic Fire. Only the front arches survived, and the bar from the basement saloon. Open every day at 10 a.m. 520-457-3107
---
The Longhorn Cafe – Mentioned in the Breakfast Menu too. Open daily til 9 p.m. The wait staff usually mentions specials. So ask, if they don't. Their food can be hit and miss. We've had dinner here often enough, but not lunch. I believe it's the same menu. The food is sometimes quite good, sometimes not very. Usually in between. I wouldn't ever say it's an excellent Tombstone restaurant. Our friends mostly agree. Some rate it a little higher than we do. Prices are average, service is good. They serve alcohol. Right in the center of town, corner of 5th & Allen. 520-457-3405
---
Puny John's BBQ – Something a little different! And it's good, we've eaten here quite a few times. Can recommend it. Between Fremont and Allen Streets, at 11 South 4th. Ribs, chicken, brisket, pulled pork. Six kinds of barbecue sauce. Plates, sandwiches, sides, soft drinks, beer & wine. And more! NOTE: For current details, best to call (520) 457-2396 or check Their Puny Website.
---
Mario's Bakery Cafe – [NEW OWNERSHIP] Apparently, they've purchased the rights to the name. Nothing much has changed from the outside, and the inside seems about the same, along with the menu. We personally haven't tried it, yet. Check their board for types of hot sandwiches, paninis and pizza. Centering on Italian style! As a bakery, they have daily specialized delights! Closed Tuesdays. Opens 11 a.m. There's indoor seating, and some outside on the patio next door. Easy to find on the South side of Allen St., between 5th & 6th. More specifics: (520) 266-9101.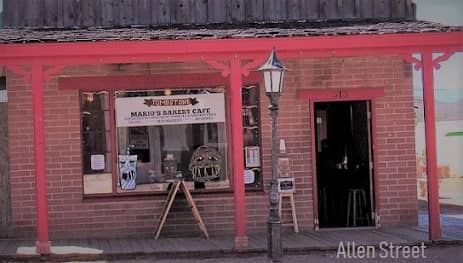 ---
Cafe Margarita – [RESTAURANT NOW CLOSED] – Another disaster? This historic corner is being turned into an apartment house. We'll see how they handle that. At 151 S. 5th Street, corner of Toughnut. Yes, the lot, and the building to an extent, Is Historic>
Vogan's Alley Bistro – Newest Tombstone restaurant option. In that recently reopened, new ownership, after shut a long time. We haven't personally been in yet. But friends/others we know have mixed reviews. Service up/down depending. Food pretty good, but not the value. They have a bar. 12 String Guitarist Johnny Bencomo plays Thurs. & Fri., 11am – 5pm. Sat. 11-? People say he's excellent!
It's also got lots of history, been right there since 1881 – the prisoner, Johnny Behind the Deuce was held there – for one thing! They recently started breakfast (Check it>)
Tombstone Mercantile Ice Cream Shop – [CURRENTLY CLOSED] A cool little place taking you back: Reminds you of the old-timey drug store "soda fountains" of the 50s. Besides ice cream (which is the only thing we've had – yummy!), they have simple menu items. Hot dogs, soup, sandwiches, soft drinks. Reasonable prices. Sit at the vintage bar transported from 1913 Warren (Bisbee). On Allen Street, near 6th.
---
Grandma Fudpuckers – 525 E. Allen Street. Open 10:30 a.m. to 7 p.m., but sometimes closes at around 5 p.m. Nice that this one's open a little later than most. They have ice cream and fudge for your sweet tooth. But now they're carrying an assortment of lunch items (or an early/light dinner). We've only had their sweets! (Oh no!) So can't say how their food is – would like to hear your Review! And here are some more of Grandma's menu items:
---
Ethan's Coffee Corner – If you'd like a little sweet treat at lunch-time with a caffeine pick-me-up! Here you go! It's right inside that great Tombstone Antique Mall on Fremont Street. See more details under the Breakfast Section.
---
Stay for Dinner in Tombstone Arizona
Johnny Ringo's Saloon – Call 520-457-3404 for ordering info. Want pizza for dinner? They've been known as having the best in town! Locals been saying this for years!! See further details in the Lunch Area. Open every day of the week til about 10 p.m. A little further out, on 10th Street, between Allen & Fremont Streets. But well worth it! That's why we say it's a locals favorite.
The Depot – Same with their attached restaurant, a local's known spot for dinner. More info, including their hours, under "Lunch." Platters, salads, burgers, great Mexican food, seafood, fabulous steaks! At the corner of Allen & 10th Streets.
---
Crystal Palace Saloon – More details in the Lunch suggestions.  They stay open every day except Christmas & Thanksgiving. The dinner menu is currently not as expansive as the lunch menu. The kitchen serves until 8 p.m. 436 East Allen Street, corner 5th.
---
Puny John's BBQ – A great barbecue place. Take a look at their specials board! See more details when you scroll to or click our Lunch Column. Highly recommended, locals eat here on a regular basis also. 11 South 4th Street.
---
Big Nose Kate's Saloon – 417 E. Allen Street. Serving dinner every day but Thanksgiving & Christmas. A nice variable menu, usually pretty good. We've eaten meals here often enough. See More Details under the Lunch Heading. The Saloon is open until midnight.
---
The Longhorn Cafe – Open every day (except Thanksgiving & Christmas) until 9 p.m. A good variety in their menu, plus specials. We've sampled a number of items. Sometimes they're pretty good, on occasion not very good. Many in town think they're A-OK! You'll see locals in there for dinner fairly consistently. More details under "Lunch." 501 East Allen Street.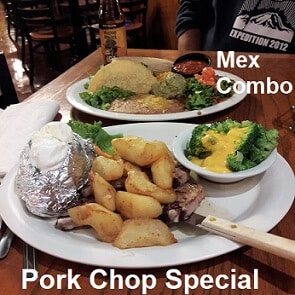 ---
Cafe Margarita – [NOW CLOSED] – 131 South 5th Street. See why: the info details are under Lunch.
---
Doc Holliday's Saloon – Not particularly suitable for kids. Not exactly a Tombstone restaurant in the traditional sense. It's mainly a bar. They have some simple food items: hot dogs, pizza, starter-type items, snacks, etc.  It's also a stop when all else is closed, they're open late. They open at 9 a.m.
---
Breakfast in Tombstone Suggestions
The O.K. Cafe – Northwest corner of Allen and 3rd Streets. For take-out:  (520) 457-3980. The principle Tombstone breakfast restaurant where many locals meet in the morning. Reasonable prices for good food. Much better than just OK!! Nice that they have extra napkins right on the table. Varied selection on the yummy breakfast menu. If we go out for breakfast, we often go here. Same with our friends, who are there almost every early morning (not us! I'm too grumpy that early!!). They also serve lunch 'til 2 pm weekdays. Open til 4 pm Saturday & Sunday. 
---
The Longhorn – In the middle of town, Southeast corner of 5th and Allen Streets. They have all the typical breakfast menu items a Tombstone restaurant should have. Most visitors end up here. Generally good, but can be quirky. We've had breakfast here when family members come to town. Our son likes their breakfast. But Bill's pancakes seem to disintegrate on the fork! Hours: 8am to 9pm everyday. Actually open for every meal of the day, everyday of the week!
---
Vogan's Alley Bistro – Newest Tombstone restaurant, plus newest breakfast choice. Limited menu options, but one reviewer said it was OK. Go for bacon/eggs, pancakes, French toast, coffee, juice. Allen St., just West of 5th. Also open for Lunch>
Ethan's Coffee Corner – Inside the Tombstone Antique Mall, at 720 E. Fremont St. Need a late breakfast wake-up, with your coffee or tea? This is the place! Wonderful pastries, plus fresh baked breads. And of course that morning need: all kinds of excellent coffees & teas. Plus hot chocolate, mocha and much more. Open at 10 a.m. We've stopped in here and loved it! Also trying it a little later? We have it listed on our Lunch Line-Up!
---
Coffee Plus – A small coffee shop type of Tombstone restaurant, with pastry options. They're on 4th Street, just down from Allen Street, next to the U-Scream ice cream shop. Heard they open at 8am – we haven't tried it yet. Also heard their service isn't that hospitable when you finally do get them open. Huh!? Anyone Else tried them??
---
Stampede Breakfast Restaurant – They just renamed themselves and now have small adverts on the street. A very small breakfast only Tombstone restaurant. It's behind the Stampede RV Park. Around the block at 18 Toughnut Street, just West of Sumner. I heard it's pretty good, from somebody (can't remember who??). Trouble is, it's so small, it's hard to get a spot. We went in there on that recommendation. But it was packed, so we went elsewhere. If you ever get in – let us know how it was!!
---
Snacks, Treats & Specials
Thought we'd add this section even though they're not quite Tombstone restaurants! But it could be this is what you need or want!
Miscellaneous Options – No – these aren't Tombstone restaurants. But you can always pick up coffee cakes or doughnuts, plus coffee, even maybe tea at local convenience stores. Check out their locations Here>
---
U Scream 4 Ice Cream – On the East side of 4th Street, just around the corner from Allen Street. On warm summer days, they sure have a line! People screaming for ice cream!! They also have Italian ice and other snacks and soft drinks. Had their ice cream a time or two. Can highly recommend it. Many flavors to choose from.
---
---
Your Reviews of Tombstone Restaurants
Give us your thoughts about the Tombstone restaurants you've visited! Did you have any great meals? Where? Any terrific service? Tell us about it. Or [sigh 🙁 ] were you unhappy somehow. We would like a polite overview of that, too. Shooting for improvement!!
Click For Great Tips on writing your own review of any Tombstone restaurants in town.
New! Comments
Do you have a question? Do you have a comment? Type it into the box below. We'll respond soon!