What things to do in Tombstone Arizona will peak your interest most? Everyone comes here for many different reasons. We wonder what yours are! But whatever they are, we're setting out to cover every possibility for spending time in town. We'll help direct you through the streets, to see what is essential, to see what is fun, to get to the necessities! Come on in.
For the Day – Or Stay Awhile
Tombstone Arizona is a terrific little back-roads America, out of the way town. Not only that, it's an authentic old west history town – with some of the real Wild West history to envision, as well.
If you plan a day-trip outing to town, you can organize things to do in Tombstone for your ideal interests. We can help you with that – as we know Tombstone well, having been visitors for years, and then residents.
If you want to extend your time, to Stay Longer, we do recommend that! You'll find some fabulous places to settle down for the night. Some are Even Historic!
Let's begin going through the streets of this old Wild West Arizona living history town. We'll help you find some fun, some interesting, and some unforgettable things to do in Tombstone. So Park Your Car, or first go get settled into Your Lodging. Then start touring those Tombstone Arizona streets.
The Main Action
You probably arrived into town on Historic Highway 80. When into Tombstone proper, it's named Fremont Street. Back in the 1880s it was more a part of the main commercial district than now. Currently, the center of town is the corner of Allen Street and 5th Street.
If you're in town for only a single day – famed Allen Street is the area you can't miss. Perusing the spots along Allen, picking out attractions and stops you should see. (We do have our own Tombstone recommended Top 8 Here>) But your first day should start on this corner. It will get you oriented to town. Even so, be prepared ahead of time – get your own free Tombstone City street map. See it, then print it out:
All along our tour of town we'll point out things to do in Tombstone. We'll highlight title headings & points with the following key:
Essential – Highlighted in green, we recommend seeing this! Missing this would be losing part of the essential historic Tombstone Arizona. What this town is all about.
Additional – Blue highlight. Good to see, if you have time. It adds to your trip.
Optional – Yellow highlight. According to taste. Might be for you or it may not. It may add something, if you have time for it.
Needed Comfort – Light red highlight. Something to help you through the day. You might choose one, or you may get by without it.
Things to Do in Tombstone
On Allen Street
Start on the Southwest corner. On the corners you'll note directional signs, arrows that point the way to specific town attractions. Then start to head West, down Allen Street, on the South side. But first, in front of you now:
Cochise Trading Co. – One of Tombstone's gift shops. Some souvenirs. Jewelry is one of the many items, plus greeting cards and other upscale gifts.
Vogan's Alley – Newly reopened. Was a burger/beer "greasy spoon" joint back in the 1990s, early 2000s. Why to take a look, is the historic nature. Vogan's as a business, here since the 1880s. An early saloon with a bowling alley. Johnny Behind the Deuce was held here, awaiting transport to Tucson for trial. Just have a look. Or stop in, to the  restaurant/bar.
Note the doggy water bowls along the boardwalk. Tombstone is a dog-friendly town! Right here's a chance to get A Stagecoach Tour > – highly recommended for a town overview.
Western Edge of Tombstone Trains – Specializing in all things model trains. Plus souvenirs, many unique. Looking for something different? This may be the place.
J.L. Silver Company – Many different types of souvenirs. Plus silver jewelry & the imitation silver plated type for budget-minded. The front face of the building was a lone part of the surviving historic Grand Hotel, which burned down in the 1882 Tombstone fire.
Big Nose Kate's Saloon – Fun place to grab a meal. This restaurant/bar sits on the main location of the Grand Hotel, destroyed in the 1882 fire. The Remaining Front is all that's left of the original building. A gift shop is in the basement and the Tombstone Movie is always playing on their TV.
Madame Mustache Gift Shop – Wide assortment of gifts and trinkets. Plus get your photo in Old West Attire, as a souvenir.
Arlene's Gallery – Selling upscale jewelry and gifts, but reasonably priced items, also. I've purchased a few pieces here, all very nice. Billed as more of a gallery selection.
Original Red Dirt Shirts – A T-Shirt shop with shirts dyed from red dirt concoctions made of volcanic byproducts from Hawaii and the Southwest U.S.
Smoke Signals – Pretty much what you'd think. Use these products? It may attract you: cigars, pipe, accessories like Zippos, etc.
Tombstone Old West Books – Corner end of the block. Lots of books as described in its title. Anything you could want about local history. Some gift items, leather, etc.
Cross the street, head back on the North side of Allen street to look for more things to do in Tombstone.
This historic corner, is where the Cosmopolitan Hotel once stood. Long gone! Let's take a look at this side of Allen Street.
Arlene's Southwest Trading – Billed as the place for Arlene's Native American style items. Their theme is offering "the unexpected in Tombstone" – more unique items than elsewhere in town: their promo.
Shady Lady's Closet – Women's clothing store features latest in fashion, including one-of-a-kind items. Plus Western wear and vintage-style.
You'll pass fencing enclosing a vacant lot – lots of Historic Spirits likely roam behind that fence!
Cabal Cellars Wine Tasting Room – Five wine varietals from their Wilcox vineyard. For Adults – wanna tasting?
Bronco Trading – Western wear shop. All you would expect, pretty good prices overall.
Red Buffalo Trading Co. – Western wear, souvenirs, lots of discounts, stuff for kids, unique items, greeting cards. We often find what we're looking for here. Good prices, much variety. Helpful, friendly staff. Don't miss the history – 1880's Campbell & Hatch Saloon: Where Morgan Earp was Killed.
Ike Clanton's Haunted Hotel – 15 minute walk-thru narrated tour. Go room by room seeing "fun-house" special effects & historic Western relics. We've never yet been – why we say it's optional. Probably the location of the Occidental Saloon which burned in 1882.
Spur Western Wear – Local chain of Western wear.
Stetson – Specializing in the famous Western "cowboy" hats. Many styles, reasonable prices. Other accessories.
Crystal Palace Saloon – Lots of History Here. The first saloon established in town as the Golden Eagle Brewery. Name changed & became upgraded after the 1882 fire. Have a drink at the re-created bar, or stop in for a meal. Or just to view The History.
Continue North Side: Walk East – 5th to 6th St. Block
Crossing onto the Northeast Historic corner of 5th & Allen. Imagine back to 1880 when the Vizina & Cook Building was first constructed on this corner. This prime corner location held Milton Joyce's Oriental Saloon. Next on Allen was C. Glover's Furnishings, then L. Meyer Dry Goods. North on 5th, was Tombstone's first bank: Safford, Hudson & Co. For things to do in Tombstone, let's walk East on Allen.
Wyatt Earp's Oriental Saloon & Theatre – RJ has brought this building back to its Historical Roots. With a fun production of Wild West Shows on Every Day – Family Friendly. On the bar side, have a few Adult Refreshments. Bands & dancing evenings. Oriental themed gift shop, too. We've had many a fun day and/or evening at this Authentic Old West Saloon>
Silver Hills Trading Co./Ladies n' Lace – Pioneer family owners provide variety of unique goods since 1982.
Vintage Cowgirls of Tombstone – Highly recommend this shop for terrific prices & selection of Western clothing and vintage period clothes. To dress with the local in-crowd, try this place. You're sure to find something just right! Half my in-town wardrobe is from here!
Barred Window Building – An original early bank building of Tombstone.
Lilly's Tombstone Memories – Get one of a kind as well as hand-crafted gifts and keepsakes here. Plus souvenirs, southwestern candies, toys, steampunk items; plus knives & guns! And more. Friendly people to boot. On warm days, find your in-town nifty Bottled Water Here!
Lady L's Creations – They specialize in Old Timey Photos – dressing you up in period costumes & getting your souvenir picture taken. Can you leave town without one??
Tombstone Harley Davidson – Locally influenced Harley merchandise, T-shirts, and other collectibles. Into this? Don't miss it.
Gunfight Palace – Three shows indoors. Re-enacting Tombstone area historical gunfights. Open every day except for Tuesdays and Wednesdays.
T-Miller's Ice Cream Parlor – Ready for a treat, or something to eat? Here's a good stop. We love their ice cream – just like an old time malt shop counter! They even have doggie cones, if your furry friend is along. Lots of lunch/early dinner choices, too.
T-Miller's Mercantile – Variety store: books, souvenirs, sundry items, western wear and vintage apparel. We've purchased from here often enough – reasonable prices if they have what we're looking for. Friendly, helpful staff. If you decide to stay over, they have Rooms Available upstairs. Check with them!
South Side: Walk West – 6th to 5th St. Block
Start walking back into town by crossing Allen Street and right there, one the things to do in Tombstone is filled with infamy! Do you recognize it?
The Bird Cage Theatre – You can enter the lobby to get a preview of what's inside. Should you go further? We certainly recommend it! Full of Authentic History.
Grandma Fudpuckers – Treats & Eats. Ice cream & fudge – all good. Plus an assortment of lighter food choices. A patio outside to sit for comfort.
South West Power Wear – His new location, did you see him before on 4th?  But what you'll see here is crafting leatherwork. He'll do it, or help you do your own! Unique! Or get into Native American flutes. Stop by to see him.
Nora's Place – Here's a combination! She's in the building that was Watt & Tarbell's – the 1800's undertaker. If you go inside, you'll find a gift shop. But what's unique is: sign up for her Paranormal Investigation, at night in parts of the same building. Highly rated, though we haven't yet done it ourselves.
Doc Holliday's Saloon – Good grog selection, limited food menu, friendly atmosphere. Historic area – Wells Fargo Location, old wall still can be seen at the rear. Adults.
Mario's Bakery Cafe – "Fresh, simple fare with Italian flair." We've eaten here fairly often. Love some of their sandwiches, haven't yet had their pizza, but hear it's really good. Delish baked items! Inside seating & outdoor tables on the side patio. Friendly service.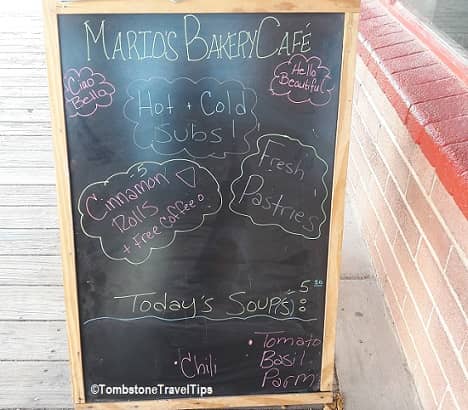 Branding Iron – Western wear store, lots of variety and selection. We've purchased here occasionally because they had exactly what we were looking for. Price wasn't bad, too. Even steampunk items.
Longhorn Restaurant – Open all day long from about 7:30 am – serving every meal. They carry alcohol beverages, too. Specials each day. Wide variety on their menu. We've eaten here quite a bit, many locals do. They're a decent choice. The corner is historic, see The Plaque. Way back the location of the Bucket of Blood Saloon!
---
More Things to Do in Tombstone
Now you've walked the essential two blocks of town! But isn't something missing?? What's the most famous historical event that happened here? Yes – the OK Corral Shootout!
To get there, cross over 5th Street, keep heading West past the Crystal Palace, past Big Nose Kates until getting to the corner of Southwest corner of 4th & Allen Streets. Now we're close! We'll cover both sides of Allen Street for things to do in Tombstone.
The building is the Tombstone Visitor Center. Very historic, besides helping with your visit to town. The location was the town's first store and it's first bank.
Tombstone Art Gallery – Right next door on Allen, the attached business. Many local artisans, quilters and artists display and sell their creations.
Old Time Photos – Across the street, corner of 4th. Another choice to get that pic in period clothes. It's got to be a must-do in Tombstone AZ – you think? The building was also the historic Can Can Restaurant.
Silver Strike Wine Tasting Lounge – We've tried it. Love their natural wines, good if you have allergies! Adults, of course!
Superstition Sue Gift Shop – Specializing in jewelry and watches
Outlaw T's Books & More – Great prices on T-shirts (wide variety of Tombstone related Tees), books and assorted other souvenirs. We've purchased several research books right here, supporting our local shop.
O.K. Corral/Historama – Approach the Historama: film about the gunfight, and town history. But go on by to the O.K. Corral entry – for details on the package for both. Get the info inside – And Here>
Was the Tombstone Mustachery – Across from the O.K. Corral. Has been closed – we'll see what's up, as they still have an online store from a website. The building itself is the site of the historical Arlington Hotel.
Tombstone City Park – Next to the O.K. Corral. Nice stopping point. Public rest rooms, picnic tables, swings for kids, a beautiful gazebo. Occasional events are held here.
---
What Else Can we Do in Tombstone AZ?
We've covered Allen Street – the main "drag" so to speak. But find even more things to do in Tombstone. Particularly if you're here for more than one day. Or if you'll plan to return again. One day is never enough!
Allen Street, from 3rd to 6th, is protected from modern day traffic. Taking us back to 1800s by not allowing vehicles on the street. It's transformed into the dirt road it was back when walking, horseback and stagecoach were main forms of transportation. There's still more along Allen to see, when heading West:
Four Deuces Saloon – on the Southwest corner of 3rd St. The building originally was on Fremont & was apparently the Home of Addie Borland.
O.K. Cafe – Breakfast (delish) and lunch/early dinner restaurant on the Northwest corner of 3rd St.
Historic Home – China Mary's, just West of Four Deuces. Has been reinvented a few times as shops. What next?
The cross streets of 6th, 5th, 4th and 3rd do allow modern vehicles. With attractions you can investigate. And some businesses. Our recommendations:
Rose Tree Museum on 4th
Schieffelin Hall – Catch up to anything going on there. Or take a photo, get a close-up look for the history of this 1880s original building. Corner of 5th at Fremont.
Puny John's Barbecue – Different eats in town. We've gone here several times. Pretty good. Wide menu. On 4th.
Tombstone Epitaph – You get to this with the O.K. Corral Entry. But you don't have to. It's free entry. Historical museum on 5th St., North of the Crystal Palace. It's not the 1800s original building – which was on Fremont where the big parking lot is now.
Other areas to consider are the two streets that parallel Allen Street:
Toughnut is to the South. That area has some activities that will really add to your trip.
The Good Enough Mine Tour, and the associated Mine Tour Trolley
The Tombstone Courthouse State Historic Park
See the Allen English House at the corner of 3rd
Tombstone Brewing Company
The Gunfighter Hall of Fame
Old Tombstone Western Theme Park
Fremont is to the North – it's also a historic U.S Highway: U.S. Route 80.
Are you into Antiques? Corner of 8th, the Tombstone Antique Mall has so much variety from all their consignments – it's truly amazing!
As you enter or exit town, Boothill is on the East side of the highway.
A flower shop is on the corner of 1st, the home, the building itself is Historic.
People like the Wyatt Earp House/statue, corner of 1st. But when you read the sign out front, be Very Suspicious!
Tombstone Oil & Vinegar Co. – A specialty store featuring premium, infused balsamic vinegars. Plus flavor infused olive oils. On the North side of Fremont St. (Hwy. 80), just after the curve as you enter town.
The Southwest corner of 1st is now Virgil's B&B. Interesting, because that's the location where Virgil Earp & Allie lived.
San Jose House, corner of 5th, is the oldest still operating Lodging in Tombstone.
What else can we specifically suggest for things to do in Tombstone?
We highly recommend Taking a Tour. At least one to get an overview of the town's history. Several to choose from, all are good. Each one covers different aspects in different ways. So there's little overlap.
There's another variety – How about taking in the Ghostly History>
---