Stagecoaches were the prime means of transportation in the old west. These coaches were 4-wheeled vehicles. They were designed to be used for many purposes. And they were.
Even today people have an interest in them. Why might you be interested?
History of Stagecoaches
The stagecoaches of the frontier and the Wild West of American history are quite an interest and a tradition. Yet the origins were actually in the "Old World" – in England.
Stagecoaches were first mentioned as early as the 1200s. And the first regular Stagecoach Route in Great Britain is documented in the early 1600s.1 As soon as multiple settlements were established in the "New World" – transportation of people and goods between them were needed. Stagecoaches were the vehicle recognized for their practical utility.
Routes between villages were created. Roads were built. First they were very basic and rugged. But more stagecoach traffic traveled them, and they extended farther and farther. The need for improvement was essential. Crews were hired for road improvement on the Eastern roads. That's where stages traveled first and most often.
As expansion moved West, Stagecoach Routes were formed to supply the needs in those areas. The government in Washington became involved by offering contracts to move the mail. First steamships had contracts to get the mail West, which took quite a deal of time. Then entrepreneur George Chorpenning entered into an overland contract in 1854, using horse and mule transport. Before long he began using wagons also.9
In mid 1857 a stagecoach company now secured a contract: the California Stage Company owned by James Birch. He met some logistics difficulties. But the operation ended after Birch drowned in a ship-wreck later that year.9
 With previous mail delivery experiences lacking, Congress authorized a specific contract. The Butterfield Overland Stage was subsequently given the main government contract for hauling the mail through the West.8,9
---
Stagecoach Construction
Stagecoach axles were first made of wood. Iron covered areas of rough wear. Wheels and the spokes were also made of wood. The stagecoach brand Concord made their coach wheels to be of particularly  high quality. They were constructed of well-dried and seasoned white oak, which didn't warp or crack.5 The outer edge rim was lined with steel, a reinforcement as it rolled on the ground.
The larger the wheel, the easier it is for the horse or mule to pull the stagecoach. But the front wheels of coaches are always smaller than the back wheels. That's to make it logistically possibly for ease in turning.4
Steel springs formed the suspension. They made quite a bumpy, bouncy, unstable and uncomfortable ride. Concord stagecoaches had a suspension system of leather straps. Its true purpose was to ease the work burden on horses. A side benefit was a rocking motion for passengers,5 which made their ride more comfortable.
A few types of braking systems were used. Concord created a foot pedal for the driver that activated a wooden block. This block pressed the rim of the wheel that slowed the coach. All stress points had iron reinforcement.4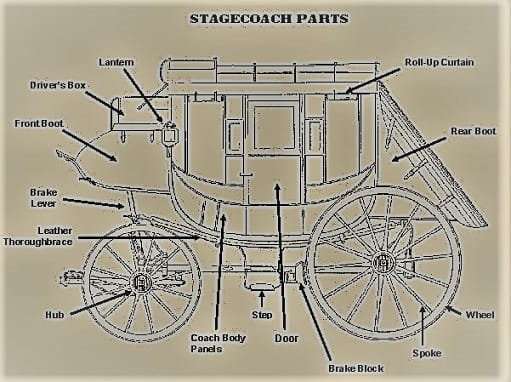 Building a Stagecoach
It is Some Process! But what an end product!!
---
Types of Coaches
A variety of stagecoaches were available. For instance, when ordering/building they considered:
What type of terrain would be traveled?
What type of usual or unusual weather would be encountered?
What was the main purpose of the coach? 
What (who?) would it be hauling?
Would there be any possible dangers because of their hauls? So a need for quick speed/maneuverability? 
How far was it expected to regularly travel?2
Common Stagecoaches Constructed
The builders constructed these coaches accordingly. Among the many choices that became available were:
Conestoga Wagon – The long haul truck of that time (1750s to 1840s), it carried up to 5 tons of freight. Its sturdiness came from the bowed under-shape.3,4
Prairie Schooner – Adapted from the Conestoga for pioneering families traveling Westward. Lighter, it got over the higher, more rugged Western terrain.4
Farm Wagon – A very basic but strong transport in rural areas. Useful for farming families in every area of life.
Covered Wagon – Repurposed farm wagon when a farm family went West for a new life. An affordable method of 1880s migration. A frame was made over the top of the wagon. They covered it with heavy cotton canvas-like material.4
Ambulance Wagon – Used by the Army for transport of up to 4 wounded or sick troops on cots. Open sides had canvas covers for bad weather.4
Spring Wagon – 2 removable seats made it versatile. Used for business, delivering goods, or a farmer's family or field work.4
Phaeton – Originated in 1700s France. A light-weight 4-wheel, one-horse coach. With wide, open entry sides set in front of the single seat. Room for only 2, the driver and a passenger. It had a top, a convertible on some. A few varieties were an Easy Entry (liked by women), a Crane Necked style, and a High Perch liked by sporty guys. By the 1800s it caught on with the wealthy set in America.6
Chuck Wagon – In 1866 Texas cattle rancher C. Goodnight made this coach from a used Army wagon. His aim was to supply his cowboys on the range. It was a roving kitchen, with room for tools and bedrolls.4
Yellowstone Stagecoach – Sightseeing tours in Yellowstone Park first opened in 1872. People traveled there to see amazing things they'd heard about. The park figured out a way to let visitors see what they had to offer. They did this by Using Stagecoach Tours>
Buckboards – Popular for work or family since it was adaptable. No suspension, except for springs under the seat. The boards of the wagon, though, were flexible. They gave it a springy feel as it rode along.4
---
The Horses Pulling a Stage
Horses were changed out at each Stagecoach Stop, which were a minimum of 10 miles apart. But normally not more than 15 miles from the last stop.7,8
That meant a horse would pull the stagecoach for about a two or three hour shift.
The horse team required 4 horses by government contract.8Sometimes there was a 6-horse team, and sometimes the team consisted of mules.
Team size depended on terrain, length of route and/or expected weather.
Mules are much more sure-footed, can handle heavy loads better, and have more stamina. But they're more intelligent than horses. So they have a cranky reputation, since they'll try to make their own decisions! They were the preferred team if the route was particularly rough.
Teams were referenced by the number of members used.5
2-Up – 2 horses or mules pulling the stage
4-Up – 4 horses or mules were needed (minimum for the government contract) for the route
6-Up – 6 horse team, or mule team was to pull the stagecoach
Teams pulling a stagecoach had their roles. Each horse or mule was especially trained and suited to their position in the team. They know it, are used to it, and that's what they actually wanted to do.5  They're really set in their ways!
The two in the front led the team. So they're called the Leaders. 
They were the smallest pair of animals.
The two closest to the coach are called the Wheelers. They're the biggest, strongest of the set. 
They can pull most of the weight, that of the stage. They also primarily help steer or maneuver the stagecoach.
If it's a 6-Up, then the middle pair are called the Swing Team. 
If they're in the team, they'll be the next biggest pair. They help with the steering. The way they do that is to start the pivoting moves when the stagecoach goes around a corner.
Imagine you're the driver looking out at your team. You would refer to the left side of the horses or mules as the Near. You'd refer to the right side as the Off.
---
---
More Stagecoach Stuff
Kids' Coloring Page
Kids love to play with little toy stagecoaches. Children act out scenarios with little figures. Their cowboys and cowgirls, little plastic horses, play the parts of the Old West. Interacting with the Native People they meet, as they drive along the trails in their pretend world!
Do you remember doing that as a child? We sure do! We played with our miniature wagons of all sorts –  the stagecoaches. We watched all those Westerns, those Saturday morning TV features. The television Westerns of the 1950s like Tombstone Territory, Broken Arrow, Wyatt Earp, the Lone Ranger, the Rifleman, Roy Rogers, Sky King, Fury – they were some of our favorites.
You know, some of us loved to get out our big box of Crayola Crayons to color in our coloring books! Kids still do. In fact, so do lots of adults now. There are even adult specialty coloring books!! It's a fabulous activity for parents and grandparents to get together with the young ones – and do some coloring together.
Here's a Free Kid's Coloring Page! Get it – have it for your kids to color in their own stagecoach. Get a conversation going with them. Talk about the parts of the coach. How they were actually painted in the Old West. Maybe even take them on a trip to a museum where they have vintage stagecoaches to learn about. Or even take a ride on! When you vacation in an old west town, for instance, like Tombstone Arizona!
So now – get your Free Stagecoach Coloring Page to Download & Print Out:
---
Vintage Stagecoach Photos & Films
See even more historic stagecoach photos from the old West. A terrific vintage gallery: Click Here>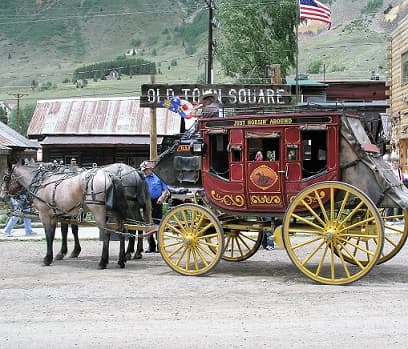 ---
Stagecoach Festivals
Because of the Western connotation, the word Stagecoach or a related word comes in to play with festivals associated with Western style music, Western themed life, or Western history.
Let's see some of them:
Stagecoach Country Music Festival – A yearly event in Southern California, in Indio for 3 days. It's held outdoors, and big names are featured from the country music world. For instance – 53 acts over the three days. Just about anyone you can think of in Country Music has appeared here. It began in 2007, and the attendance has risen each year – until it has sold out in recent years. Camping provisions are provided on-site. Vendors are included inside the festival & other entertainment is available, such as a dance hall. The best priced pass is as high as $1399 for standing right in front of the stage. The lowest is general admission at $349. Of course, there's parking charges, a shuttle, & other expenses that will come up while there. When tickets go on sale just after the beginning of the year, you can opt for a payment plan.
Wild West Days – Every autumn at the historic Mahaffie Stagecoach Stop & Farm in Olathe, KS. Lots of fun for the whole family, with stagecoach rides, a chuckwagon cook-off, cowboy encampments, 1860s living history demos & more. Only $5 entry for ages 5 & older. Get There>
Chuck Wagon Festival – Takes place in Oklahoma City on a Saturday & Sunday annually in May. It's sponsored by the National Cowboy & Western Heritage Museum in that same city. Get your tickets there: $15 each, kids 12 & under Free!
Western Legends Roundup – In Kanab Utah. A unique festival, it centers on those old Westerns! Kanab was a place where many were filmed (more than 200!). Over 3 days in August, schmooze with some old stars, go on a wagon-train ride & see the old film sets.
Llano Chuck Wagon Cook-Off – Very popular Hill Country area, Llano TX, 4-day event. Tickets sell very fast! $20. Has awards like "Best Chuck Wagon Event" in 2015 from the American Chuck Wagon Association & readers' choice for "Best Chuck Wagon Cook-Off" in 2014. Focuses on authentic chuck wagons from the Old West & their cooking techniques. You get to sample the results! Look for dates in the Spring, with ticket sales beginning in March. Llano River Chuck Wagon Cook-off is a 501(c)(3) organization, so you know these efforts will go toward good causes.
---
---
References
1 Gascoigne, B. (From 2001, ongoing). History of transport and travel. HistoryWorld.  Retrieved from www.historyworld.net/wrldhis/PlainTextHistories.asp?ParagraphID=kwq#1973
2 Helmich, M.A. (2008). State styles – Not all were coaches! California Department of Parks and Recreation. Retrieved from www.parks.ca.gov/?page_id=25449
3 GEO*Trailblazer1 (2008). Mile marker M to B 82 – U.S. Historic Survey Stones and Monuments. Retrieved from waymarking.com/waymarks/WM3A0A
4 Nelson, A. (2012). FAQs & wagon history. Retrieved from hansenwheel.com/resources/faqs-wagon-history#frontwheelssmaller
5 Larson E. (1996-2001). The Concord coach. Retrieved from www.over-land.com/ccoach.html & horses.html
6 Grace, M. (2011-2018). Know your phaeton from your curricle. Retrieved from randombitsoffascination.com/portfolio/know-your-phaeton-from-your-curricle/
7 Wells Fargo (2018). Stagecoach era. Retrieved from wellsfargohistory.com/since1852/stagecoach-history7.html & resources/stagecoach_brochure.pdf
8 King, H. (1857, April 20). Report of the Postmaster General: Contract with J. Butterfield and Co. P. 1-4. Congressional Series of United States Public Documents, Senate, 35th Congress, 2d Session, Ex. Doc., No. 48, Volume 984, page 151. Retrieved from Google Books.
9 United Postal Service Historian (2010, Aug.) Overland mail to California in the 1850s. USPS. Retrieved from about.usps.com/who-we-are/postal-history/overland-mail.htm#08
---