Westerns – those films, that movie genre has been around since moving pictures began! Books have been written that analyze the historical authenticity behind the films. Not only that, but the reasoning behind a film's accuracy.
Westerns are often seen as based on historical facts.  But truly – producers, writers and directors were loose with facts to benefit production. They also changed up things to excite audiences. Some films were based on the era alone. They involved Old West life, wild west drama and situations.
Just like Westerns involving Tombstone Arizona! What do you think about them?
One analysis of the subject stated "The Western's narrative structure and motifs are seen to derive less from any real world than from the economic and artistic imperatives of Hollywood, each finding its plausibility and terms of reference in the audience's previous experience of the genre."1 A historically demonstrated truth, since old time traveling Wild West Shows began dying out, and Western movies were coming into fashion. Westerns connected more with the public than did some of the scallywag types traveling in covered wagons with potions and stories.
Famous Western Actors
In the early days of Westerns, real Cowboys were often used in films. Los Angeles was more a "cow town" than a metropolitan area then. The Santa Fe railway ended there, cowboys delivered livestock to cattle cars. From surrounding Valley ranches they'd go into town for recreation.
Movie director Raoul Walsh had been a young cowboy. Was on a cattle drive in South Texas in his late teens.2 One of his first movie-set jobs was rounding up cowboys for work on Westerns. He'd find them in LA rail yards and saloons. He'd get them to their horses, showing them to San Fernando Valley locations.3
---
Some actors are best known for their roles in Westerns4:
John Wayne – The ultimate, iconic, American Western cowboy. He lived on a ranch for a time as a youth. His "Duke" nickname came from his dog when a teen. His first movie set job was a summer gig, a prop guy. Director John Ford took a liking to him. Ford began giving him small Western roles. That's when he took the name "John Wayne" instead of Marion Mitchell Morrison. Finally Ford cast him in Stagecoach in 1939 – his career skyrocketed. 
Clint Eastwood – Grew up in California & Washington State. Clint was a poor student and indecisive for career choices. Finally trying acting, getting small parts in 1950s B movies. Secured a decisive role playing Rowdy Yates on TV's 1959 Western, Rawhide. Then in the early 60s, in spaghetti Westerns. Ultimately broke into U.S. versions in the late 60s. He's had blockbusters and awards. He also started directing.
Robert Duvall – Getting his start on the stage, he was successful in switching to films. In 1989 the TV mini-series Lonesome Dove  attached his name to Westerns. Since he's been in memorable works such as Open Range. Prior works were quite varied. 
Gary Cooper – Gary first started acting in school. Growing up, he regularly worked around his Dad's Montana ranch. He's best known for the role Will Kane in 1952's Western High Noon.
Sam Elliott – Stage acting was his start. In 1969 he broke into Westerns: a card-player in Butch Cassidy and the Sundance Kid. From there, more roles, including Virgil Earp in the 1993 Movie Tombstone .
James Arness – Appeared in school plays, had no career dreams. Was injured during WWII, he thought of going into radio. He did. But Hollywood attracted him. He went West, studied acting. Got some parts, but mainly was a San Onofre surfer "beach bum." One role attracted fan mail, getting his attention. So he got serious. His turning point was 1955: when recommended for Matt Dillon in TV's Gunsmoke. An iconic, long-running series, leading to film roles later.
Tom Mix – Born in Pennsylvania in 1880. Moving West, he actually became Dewey OK sheriff and marshal in 1904. Two years after, he began appearing in Wild West Shows. That got him employed as equine handler for Selig Pictures. That transformed into acting. Then writing and directing. In 1917 he switched to Fox Films. Probably the greatest silent era cowboy star. He became good friends with Wyatt Earp. In 1940, at 60 years old, he died in a car accident in Florence Arizona.
William S. Hart – Born in Upstate NY, he studied acting and began his career on stage. He developed an interest in the old West. By 1914 he got into films, authentic Westerns. When he met Wyatt Earp, they became good friends. He was a pall bearer at Earp's funeral.9
Terry Ike Clanton – Fourth generation cousin of Ike Clanton, the descendant you could call the instigator of the O.K. Corral Gunfight. Terry produced 1993 audio-books on that: Wyatt Earp Murdered My Cousin & OK Corral Gunfight Symposium. Besides acting, he's a Cowboy Poet, and a Fast-Draw. Among others, he played Bob Weaver in the 2015 film Hardin.5 He claims finding Ike Clanton's remains in Northern Arizona. He requested their reburial in Tombstone's Boothill, but was refused.6 There's other evidence about Ike Clanton's Gravesite.
Audie Murphy – A WWII hero from Texas, James Cagney mentored him in Hollywood after the war. He struggled, as he wasn't a natural talent. His Texas accent got him into Westerns. He was successful as a rancher and song-writer. His end came sadly and early, short of his 47th birthday, in a plane crash.
Wesley Studi – A Cherokee native, born in Nofire Hollow, Oklahoma in 1947. His preschool language was only Cherokee, learning English in school. He served in the military with OK National Guard, then the Army in Vietnam. After the war, he got into Native American activism. Involved in acting at Tulsa Community College, earned roles with the American Indian Theater Company. He's won awards and played Native Americans in films like The Last of the Mohicans, Dances With Wolves, Geronimo: An American Legend, and many more. He promotes his native language, and lives near Santa Fe NM, with his wife. They're in a band: Firecat of Discord.
Rex Allen – Born in Wilcox Arizona, this native son was the Singing Cowboy. He began in vaudeville, on radio and in rodeo. Republic Pictures signed him. Rex became the "Arizona Cowboy." In 1958 he starred in the television western Frontier Doctor. He also did many Disney program narrations.7 He died in Tucson in a weird accident. Nearing 79 years old, his nurse-aid backed a car over him in his driveway! Cremated, his ashes were scattered in Railroad Park in Wilcox.8
Woody Strode – Born in Los Angeles in 1914 as Woodrow Wilson Woolwine Strode. An African American, with a Native American grandmother and grandfather. A star athlete at UCLA. Aged 27 he joined the Army Air Corp in WWII. He married Hawaiian Princess Luukialuana Kalaeloa. His first role was 1941's film Sundown. Post-war he played pro-football. In the 1950s his acting career became serious. John Ford had noticed him. He played Josh in 1954's The Gambler From Natchez. Then 32 more Westerns through 1994, and many other films. He died the end of that year.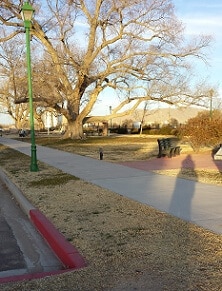 ---
Vintage Westerns
These vintage films were made quite some time ago. Still these Wild West Films are popular with many. They reflected the production's era. The mores and beliefs of the time. Not historically accurate, but taking their themes from history.
Silent Western Films
The "Silent Era" of motion pictures encompasses 1894 to 1929. Inventors played a role in early development of motion photography. Thomas Edison was one. Two brothers from France produced the true first motion picture film: Louis and Auguste Lumière.10
The most fruitful part of the Silent Picture Era was about 1910 to 1929. Films then had the highest quality. Using visually artistic angles, and the best developed plots.10 Catch some of the best Western movie productions of that time:11
The year 1903 brought the very first of the Wild West Movies. A silent film called The Great Train Robbery. And an instant success with the public! Edwin S. Porter directed. The star was Broncho Billy Anderson with three different roles. Its plot took only 12 minutes to completion!
The Heart of Texas Ryan was Tom Mix's original silent Western movie. This 1917 film ran 50 minutes. Featuring cowboys and love rivalry. Then reissued in 1923 as Single Shot Parker.
The Covered Wagon, a Paramount Pictures release directed by James Cruze. A little over one and a half hours. Based on a novel about families going from Kansas to Oregon. This 1923 release, was epic for its time, budgeted at $782,000. A top grossing U.S. silent film.
The Iron Horse, John Ford's first Western, from 1924. Filmed in Northern Nevada, it's the transcontinental railroad saga. A tremendous cast! Reflecting history: immigrant railroad workers, Native American conflicts, the U.S. Cavalry.
The Tumbleweeds 1925 silent film covered the Oklahoma land rush. William S. Hart was set on making this film, showing the authentic Wild West! He starred and invested in it, keeping artistic control. Hart didn't make any money, and fought the studios on logistics. He did a 1938 re-release, and spoke an introduction. This Western was much more appreciated now!
---
Classic "Talkies" – 1930 to 1989
In August 1926 Warner Brothers released the first "talking" film – Don Juan.
The next year The Jazz Singer was released. It's considered by The American Film Institute in the ranks of "The Best American Films of All Times." A whole new era began! 
Watch a clip:
Scripts weren't voiced. Records played to coordinate with films, this Process Called Vitaphone.
In 1926 Fox Films purchased the newest invention. This technique embedded sound in the film itself. It was named Movietone. In 1927, the romantic drama Sunrise, was first to use this method.
One couple made films in and around Arizona, documenting the Western environment and experience.12  It incorporated the Movietone technique. 
In mid 1929, the last totally silent Western film was released: The Winged Horseman. No copies remain, as far as anyone knows. Here's a trivia piece about this film:
Winged Horseman Trivia
A stunt woman's death happened during production. While filming, her parachute failed to open. Leta Belle Wichart dropped 3000 feet as her husband watched. 
Movietone was now the only way to go. Theaters adjusted, adding sound systems or suffer business failure.
At first studios didn't easily use this sound technique. Microphones picked up extraneous sounds. Studios used creative, but uncomfortable methods to overcome it. Finally new inventions eliminated the problems.
Which popular blockbuster Westerns used sound to captivate audiences who loved the Wild West?!
---
Barnburner Talking Westerns
In Old Arizona – Opened in 1929's holiday season, by American Studios. Mostly filmed in the Southwest. Based on O. Henry's: Cisco Kid. A commercial success, audiences loved the on-site action with sound!
Stagecoach – John Ford's 1939 film giving John Wayne his big film break. Follows the journey of nine people traveling a Stagecoach through the Wild West. Their encounter with Geronimo and his warriors.
The Ox-Bow Incident – Based on a 1940 novel, a true 1943 classic film. Preserved in the U.S. National Film Registry. Stars Henry Fonda, Harry Morgan and Anthony Quinn. Moral issues are a posse hanging possible innocents, rushing to justice, etc. 
Red River – From 1948, starring John Wayne and Montgomery Clift. Based on a Saturday Evening Post serial Western called Blazing Guns on the Chisholm Trail. Many known actors included Walter Brennan, Harry Carey, John Ireland and Harry Carey Jr. Tracing a cattle drive on the Chisholm Trail.
Winchester '73 – James Stewart stars in this 1950 movie. A search for a stolen rifle, starting in Dodge City, Kansas.
High Noon – Gary Cooper, Lloyd Bridges and Grace Kelly in this 1952 production. A bit different than standard Westerns, with some humorous quips. There's a standard plot of villain seeking revenge on hero.
Shane – From 1953. With Alan Ladd, Jean Arthur, Van Heflin and Jack Palance. Based on Schaefer's 1949 novel. A cowboy comes to range-land where homesteaders and cattlemen are at odds. A homesteader's son befriends this cowboy. The interactions are examined.
The Searchers – A 1956 John Wayne feature. Rancher versus Indians, who've kidnapped the star's relatives. Details his search for them, while battling war traumas.
The Unforgiven – A 1960 film, ahead of its time. John Huston directed.  All-star cast: Burt Lancaster, Audrey Hepburn, Audie Murphy, Charles Bickford and Lillian Gish. Deals with racism. Particularly related to Native Americans during Western settlement.
The Man Who Shot Liberty Valence – All-star cast directed by John Ford, out in 1962. John Wayne and James Stewart are the main characters. Told in flashbacks. Other names: Lee Marvin, Andy Devine, Vera Miles and John Carradine.
Vintage Westerns Featuring Tombstone Arizona
Law and Order – From 1932, probably the first film based on Tombstone AZ's infamous gunfight. Starring John Huston as "Frame St. Johnson." But watching it, you know he's Wyatt Earp. His brother seems a compilation of both Virgil and Morgan, but named Luther. A "Doc" looking character is called Deadwood. Cast also features Harry Carey and Andy Devine. There's little factual in this Western, but it's amusing to watch. Only facts are: 

Town name: Tombstone
Name "Johnny Behind the Deuce"
Name "OK Corral" 

Gunfight at the O.K. Corral – From 1957 with Burt Lancaster as Wyatt Earp and Kirk Douglas as Doc Holliday. Based on fact from Dodge City Days until the gunfight, but veers off truth quite a bit. Had mostly good reviews. Worth viewing!
Doc – In this 1971 Western, Doc Holliday, played by Stacy Keach, is featured. Teaming with Wyatt (Harris Yulin) to battle the Clantons & McLaurys at the OK Corral. Ebert said thumbs-up.
Frontier Marshal – This 1939 Western is based on Lake's Biography, Wyatt Earp: Frontier Marshal. So not a lot of fact here, including names. Randolph Scott as Wyatt.
Hour of the Gun – From 1967, filmed just West of Tombstone. Starts with the OK Corral Gunfight, through Earp's Vendetta Ride. James Garner is Wyatt, Jason Robards plays Doc Holliday. Roger Ebert gave it 3-1/2 stars out of 4!
My Darling Clementine – Released in 1946. John Ford's version of the Gunfight at the O.K. Corral.  Stars Henry Fonda as Wyatt Earp and Walter Brennan as Old Man Clanton.
---
"Modern" Western Favorites – 1990 Onward
Unforgiven – A 1992 Clint Eastwood blockbuster. Retired lawman turned farmer decides to take up law again. Won Best Picture Academy Award. Now in the National Film Registry. Has anti-violence leaning.
The Last Outlaw – 1993 HBO movie. Two Confederate civil war veterans join forces robbing banks. They turn on each other when disagreeing over a robbery gone wrong.
Tombstone – 1993 story of the Earps in Tombstone surrounding the O.K. Corral Gunfight events. The Movie Tombstone is loosely based on fact. A very entertaining story, especially from Val Kilmer's Doc Holliday portrayal. Kurt Russell plays Wyatt Earp. Also starring Sam Elliott, Bill Paxton, Powers Boothe, Michael Biehn, and Dana Delany. Robert Mitchum narrates. Discover Tombstone's Movie Cast>
Wyatt Earp – Released in 1994 as a biographical film, mostly fact-based. Telling the story of Wyatt from youth until senior years with Josie. Little focus of Tombstone AZ years: that's just one life story. Kevin Costner is Wyatt.
Outlaw Justice – This CBS 1998 TV movie features country music stars. Willie Nelson and Kris Kristofferson are main characters: gunfighters in their senior years. They're gathering up former gang cowboys for vengeance. Others involved are Waylon Jennings and Travis Tritt. Reissued in 1999 as The Long Kill.
Wild Wild West – 1999 steampunk influenced story. Two gunslingers hired to protect the president from an evil inventor. Based on a 1965 to 1969 television program. The movie stars Will Smith and Kevin Kline.
Open Range – This 2003 financial and critical success, directed by Kevin Costner. He also has a leading role. Robert Duval also leads as a range cattle boss. He's hired to bring a herd from Montana to market. Problems arise with a violent land baron.
3:10 to Yuma – Released in 2007, remaking the 1957 movie and Leonard short story. Starring Russell Crowe and Christian Bale. A struggling rancher volunteers for a well-paying job: ensuring a convicted desperado gets on the train to Yuma Prison.
True Grit – Remake of John Wayne's 1969 classic. This 2010 movie stars Jeff Bridges as the Marshal hired by an adolescent girl. Follows their interactions, adventures and misadventures.
Hell on Wheels – A 2011 to 2016 mini-series on AMC. Deserves mention for the history it covers. A wonderful, exciting overview of cross-country building of the American railroad system. American West subjects included the Civil War aftermath, the ire of Native Americans, problems and treatment of freed slaves, Irish immigrants in the West, and the Asian influx.
Jane Got a Gun – Natalie Portman stars as a woman taking charge in this 2015 movie. She finds herself the target of a cowboy gang. She asks her ex-fiancé's help. A sticky situation, since she's married someone else.
---
Independent Western Films
Return to Tombstone – Independent 1994 film. Hugh O'Brien reprised his TV's Wyatt Earp. With some colorized TV show footage. Some scenes filmed in the Town of Tombstone AZ
Vermijo – Directed and produced by Paul Vernon, written by Ben Bridges. The title names a fictional Southern AZ border town where the story takes place. It's the 1870s when the Lockhart brothers arrive. Were they there to help the town-folk? Hmmm – Read More>
---
More on Westerns…
Wild West Films are a genre that lives on. People still love to watch the vintage movies. People even watch bad, old B-level films. Folks compare, figuring out which is the worst!
Studios and independents continue making Westerns. People love them: modern ones, the classics, the campy versions!
Think of Tombstone Arizona: that's where we've lived and have our business. A place where we see history in action every day.
How many films have been made that base their plot on that notorious Gunfight at the O.K. Corral?
If not that, then at least on the town of Tombstone itself! Here are a few more…
What Tombstone Westerns or
OK Corral Gunfight Westerns Can You Name?
Thinking of more?
We got it started. But what do you think? Get thinking of Westerns set in Tombstone Arizona. Or involving that famous shootout: The Gunfight at the O.K. Corral. Whether movies, short films, or televisions shows – the series, or an episode.
What is it? 
Did you like it? 
How close to reality do you think it was?
We want to hear what you found, and what you think. Thanks for your participation!
New! Comments
Do you have a question? Do you have a comment? Type it into the box below. We'll respond soon!
---
References
1 Buscombe, E. (1988). The BFI companion to the Western.  New York: Simon and Schusterpublishing/atheneum.
2 Moss, M.A. (2011). Raoul Walsh: The true adventures of Hollywood's legendary director. Lexington KY: The University Press of Kentucky.
3 Jameson, F. (1983). "Postmodernism and Consumer Society" in The anti-aesthetic: Essays on postmodern culture, p. 117 Port Townsend, WA: Bay Press.
4 Tanselartun (2015, September 22). "The Greatest Western Movie Stars of All Time" in IMDb. Retrieved December 6, 2017 from http://www.imdb.com/list/ls056161415/
5 IMDb (nd). "Terry Ike Clanton – Biography." Retrieved December 6, 2017 from http://www.imdb.com/name/nm2816141/bio?ref_=nm_ov_bio_sm
6 Bonner, L. (2003, January 1). "Everybody Hates Me" in True West. Retrieved December 6, 2017 from  https://truewestmagazine.com/everybody-hates-me/
7 IMDb (nd) "Rex Allen – Biography." Retrieved December 7, 2017 from http://www.imdb.com/name/nm0020942/bio?ref_=nm_ov_bio_sm
8 LaFleur, M. (1999, December 18). "Allen's death a tragic accident, police say." Retrieved May 10, 2015 from tucsoncitizen.com
9 IMDb (nd) "William S. Hart – Biography." Retrieved December 7, 2017 from http://www.imdb.com/name/nm0366586/bio?ref_=nm_ov_bio_sm
10 Lewis, J. (2008). American film: A history. New York: W. W. Norton & Company. ISBN 978-0-393-97922-0.
11 Gardner, Dr. J. (2017, September 7). "Best Silent Westerns." Retrieved December 7, 2017 from http://www.imdb.com/list/ls053914484/
12 University of Arizona Libraries (nd). Celluloid Pueblo: Western Ways Films and the Invention of the Postwar Southwest, from https://vimeo.com/uazlibraries. Retrieved December 9, 2017 from vimeo.com/201175788
---