TOMBSTONE EVENTS are scheduled regularly throughout most of the year. Events in Tombstone attract people from far & wide. Visitors love these special festivals. Locals delight in interacting with all our guests, while they're here! We welcome you to Tombstone AZ upcoming events! 
Making your plans to get to a Tombstone Upcoming Event during a specific time? See that Month's Events Right Now! Just go ahead and Click it…
FEBRUARY  –  MARCH  –  APRIL  –  MAY
JUNE  –  JULY  –  AUGUST  –  SEPTEMBER  –  OCTOBER
---
More Tombstone Events Planning
Weekly & Daily Planned Events – See Them Now>
Concerts – When Planned, Check Here>
Holiday Events – See Them Now>
Christmas Season Events – Click Here to Celebrate>
---
More Tombstone Events
Go ahead and plan a trip around one of these special Tombstone AZ upcoming events. Come into the Town of Tombstone, orient yourself, and join an event that's going on! We welcome you!
We suggest staying in town for Tombstone events. Then, for instance, less worry about finding parking. You'll also feel like part of the whole "Old West" community here!
Check for deals on the days you're planning for! (Just put your choices in to the stay calendar.)
We use this Booking.com app all the time when we travel – highly recommend it! We've stayed in some of these lodgings – for our experiences on that Click Here>
---
Tombstone Events 
Annual Traditions / Celebrations
February
Tombstone Quilt Show – This month-long Tombstone event, ongoing all February. Fine Western style quilts by local crafters. All activities at the Tombstone Art Gallery, 383 Allen Street – right next to the Visitor Center. Open daily: 9:30 a.m. to 4:30 p.m.
Do You Quilt – Or Make Your Own Period Clothing for a Tombstone Visit?
Here's an Idea!
---
Vigilante Days – 3rd weekend in February: Saturday & Sunday. On the streets of Tombstone, most events on Allen Street. From 10 am to 4 pm each day. You'll enjoy historical Wild West reenactments, entertainment & "hangings" (pretend!). Hosted by the nonprofit Tombstone Vigilantes. One mock hanging is an honored chosen visitor, who gets a plaque at the end of the procedure! Watch for the Tombstone Vigilettes! There's a raffle, a chili cook-off & more! All proceeds for the Vigilante's 501c3 organization go to charitable functions.
2022 Vigilante Days: To Be Announced
---
March
Wild West Days – Mid-month, it's a tribute to those in the Armed Forces. The Tombstone event is sponsored by The Wild West Detachment, Marine Corps League. Entertainment along Allen Street all day on Saturday. Parade begins 11 am, starting at 6th & Allen, heading West to the American Legion. Wear your Green to celebrate for St. Patrick's Day!
2022 Wild West Days: Postponed (seeing about reschedule later in the year)
---
Veterans Fundraising Event – Sponsored annually by the Combat Veterans Motorcycle Association Chapter 32-4. From 9 am to 5 pm at the American Legion, 225 E. Allen Street. $20 per person entry includes your lunch. Public welcome. Live music, food, drinks, vendors, Poker Run, gun & other raffles, plus much more. All proceeds to help veterans in need. Have fun while supporting a worthy cause. For any further details visit their FB Events Page>
2022 Vets for Vets Event: TBA
---
Tombstone St. Patrick's Day – Celebrate by wearing your green & your 3-leaf shamrocks! Did you know the Irish had a large part in settling Tombstone?! Join the St. Paddy's Day party at the Crystal Palace. Get a great Corn Beef & Cabbage Dinner at The Depot/Johnny Ringo's Saloon. Doc Holliday's also celebrates the tradition.
2022 St. Patrick's Day – Thursday, March 17: Local Traditional Meals May be Served, Check With Restaurants>
---
April
Rose Tree Parade & Festival – Friday Evening, Saturday & Sunday at the beginning of April. Celebrate the blooming & history of the largest rose bush in the world! At 6 pm Friday, you're invited to see the Rose Queen crowned, with her court, under the Rose Tree. Other events include the Pet Parade, High Tea, Tombstone Pioneer families, Mariachi music & Folklorico dancing, auctions & raffles. View the Rose Tree Parade, starting at 11 am along Allen St. See the Pet Parade on Sunday, 11 am. Plus so much more. It's a jam-packed weekend!!
2022 Rose Tree Parade & Festival: TBA
---
Schieffelin Days, sponsored by the Goodenough Mine Tour, Lilly's Tombstone Memories, & Burro Buddies. It's the Re-institution of Founders' Day!Lots of really fun Tombstone events are planned! Take a look:
2022 Schieffelin Days: April 2 & 3
For kids – Donkey Noodle Race (keepsake included)
For adults – Rock Drilling Contest, Pooper Scooper Contest
For everyone – Rock Mucking Competition (teams of 2, free entry for kids under age 11), Mini Donkey Races (free entry for kids under age 11), Pie Eating Contest
And of course the main event is the Desert Donkey Dash (3, 6, and 13 miles). Wow! So much to do – you'll never be bored!! For all updates/info, be sure to check Facebook's Schieffelin Days>
---
Four Deuces Saloon Beers n' Balls – It's the Rocky Mountain Oyster Festival. From 9 am to 9 pm. Unique food treats for the daring! Provided by local cooks. Who's your favorite?? Regular food options available, too. Join in for this annual Tombstone event. You'll have a rip roaring time! It's happenin' at the saloon & right in front along fenced off 3rd Street. No cover, but 21/+ must have a wrist-band to authorize your alcohol purchase. Entertainment/dancing throughout the day. Located at Allen & 3rd.
2022 Beers 'n' Balls: April 9 – April 10
---
May
Bikers for Boots – Annual Event sponsored for American Legion Riders Post 24 Tombstone Charities. Public Welcome. Proceeds go to Warrior Healing Center. For any further info email [email protected] about their 3 days of activities.
2022 Bikers for Boots: TBA
---
Wyatt Earp Days – Sponsored by the Tombstone Lions Club. Last weekend in May, over Memorial Day. Honors one of the famous, historic lawmen of Tombstone: Wyatt Earp. The events runs from 10 am to 4 pm on Allen Street. You'll enjoy gunfights, mock hangings & Old West historic skits. Check out the chili cook-off on Sunday. Visit the Lions Club booth. Purchase T-shirts and/or tickets for their raffle to win a Replica Revolver. The Lions Club net proceeds are donated to Youth Groups' programs. For any more details, call Bill at (520) 457-3511. In an Old West interest group & would like to participate – call Entertainment Chairman, Pat Kelly at (520) 457-8012.
2022 Wyatt Earp Days: May 28 @ 10:00 am – May 29 @ 4:00 pm
---
June
Buffalo Soldier Days – Last weekend of June. Annual salute to the Buffalo Soldiers. This historical U.S. Army troop was first organized as the U.S. 10th Cavalry Regiment, out of Leavenworth KS on Sept. 21, 1866. Their nickname originated with the Native Americans. It came to apply to all African American regiments formed in 1866, after the civil war. In addition it applied to the 9th Cavalry Regiment, 24th Infantry Regiment & 25th Infantry Regiment. In this Tombstone event, educational & reenactment Buffalo Soldier groups come to town to participate. Activities are held throughout the weekend on Allen Street.
2022 Buffalo Soldier Days: July 28
---
July
Independence Day Celebration – Held on the 4th of July! Check the details, get further information by Clicking over to Here: Tombstone Holidays Section.
---
August
Doc Holli-Days – A tribute to Doc Holliday, well-known historical 1880s local in Tombstone AZ! A yearly festival that will feature events along Allen Street. Watch for possible celebrities, historians & dignitaries to be invited!
2022 Doc Holli-Days in Tombstone: August 12 – 14
---
September
Showdown in Tombstone – Over Labor Day Weekend. Gunfight groups from around the country participate. Sponsored by the Tombstone Vigilantes, they're invited to stage historic gunfight reenactments along Allen Street. Other fun includes skits, parade, a "hanging tree" & more! Get your authentic Vigilante T-Shirt! A raffle of a single 44 caliber pistol & display case is drawn on Monday.
Further details email Sue: [email protected]
2022 Showdown in Tombstone: Sat. to Mon., Sept. 3, 4 & 5
---
October – Get in on This Tombstone Action Month!
---
Tombstone Wine Celebration – Usually held an early weekend. On Saturday & Sunday. Sponsored by Tombstone Forward. Purchase a ticket/wristband with age 21/+ ID proof. A great value, which often includes:
Commemorative wine glass
Five wine sampling tickets from assorted Cochise county wineries taking part
Live entertainment
Optional added purchases: More wine tasting ticket, food stands. Held in Tombstone City Park – corner Allen & 3rd St.
2022 Wine Celebration – October 1 & 2
---
The Tombstone Native American Festival – This annual festival is held at the Tombstone City Park, corner of Allen and 3rd Street. Don't pass it up!
2022 Tombstone Native American Festival: TBA
---
Wyatt Earp's Vendetta Ride – Mid October. A historic horseback trail ride & tour. It traces Wyatt's vengeance posse against the Cowboys in Cochise County. He felt they were responsible for killing his brother Warren & maiming his brother Virgil. Sponsored by Great American Adventures, a unique organized group ride! Phone (505) 286-4585 if interested in more particulars.
---
Helldorado – The 3rd weekend in Oct., beginning on Friday. About the biggest Western celebration day of the year – & the most historic in Tombstone (since 1929)! Along Allen Street there's regular gunfight & historic reenactments, skits & entertainment. About 30 different Old West groups participate. Beard & mustache contest on Saturday. Parade on Sunday begins at 11 am, followed by the Cowboy Walk-Down. An 1851, 36 caliber Revolver is raffled near the end of the event. Get your tickets! Drawing held about 4 pm Sunday. We've always tried for this one – but no luck yet!
2022 Helldorado: Friday, Saturday & Sunday – Oct. 21, 22 & 23
---
TTR – The yearly rendezvous is a WWHA event conducted every year in town. Focused on Tombstone's history, it's something we attend each year. We find it so valuable for research purposes, for it's critical thinking focus – their aim to seek out accuracy in history. You can attend without being WWHA members. The cost is very reasonable. The days consist of panel discussions, presentations, skits, a walking tour, trial reenactments and/or panels, a dinner & much more!
This year's theme: Battleground Apacheria
2022 Tombstone Territory Rendezvous: TBA
---
Day of the Dead Celebration – Sponsored by Tombstone Forward, a 501(c)3 organization. In Downtown Tombstone Arizona, from 11am to 4:30pm. Haven't heard anymore than this.
2022 Day of the Dead: TBA
---
2022 Halloween Trunk or Treat: TBA
HALLOWEEN TRUNK 'R TREAT – The yearly special Tombstone Halloween Event for safe kids fun! Starting at 6pm, until 10pm. Sponsored by the City of Tombstone Fire Department.
Kids visit vehicle "trunks" or adjacent tables decorated for Halloween to get their safe treats.
Location in town – between 3rd and 4th St. on Allen St.
Plus this Year: It's the 1st Annual Fire Fright Night in the City Park!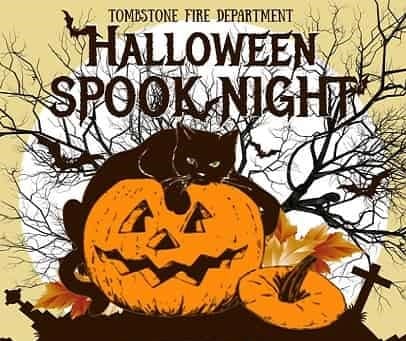 ---
Tombstone Events:
Regularly Scheduled
Afternoon Entertainment
Big Nose Kate's – Raleigh Jay plays from Noon to 4:30 pm, Monday through Thursday
Crystal Palace – Intermittent afternoons until 4 or 5 pm. 
Four Deuces – Some Saturdays, Noon to 4 pm
Karaoke
Crystal Palace – OH HOLD – Every Friday. Many Saturdays in the Summer, sometimes not when bands alternate. 7 pm with Big Rig Karaoke. Since the Pandemic start, the Crystal (unfortunately) hasn't restarted them – you can see Big Rig Thursdays at the American Legion.
Doc Holliday's – Wednesday through Sunday evenings.
Wyatt Earp's Oriental Saloon – Wednesdays, Thursdays & Fridays: 7 p.m. with Jim Wilson's CC Karaoke. Check Their FB Page for Updates/ Full Details>
Johnny Ringo's – 10th St., turn North just off of Allen. Every Sunday evening.
Big Nose Kate's – Thursdays at 7 pm. American Legion – Thursdays at 6 pm with Big Rig Karaoke.
Full Details – CLICK HERE>
Bands/ Evening Music/ Concerts
Crystal Palace – Except summer, some Saturday evenings at 7 or 8 pm. One of the best night-out, as well as historical, saloons in town!
Big Nose Kate's – Saturdays at 8 pm
Oriental Saloon – Check out the absolutely best dance floor in town! Come on over to where Wyatt Earp and Doc Holliday played and dealt Faro. They feature terrific bands Saturday nights. Put on your 2-steppin' boots and come on over. For updates See the Oriental Saloon FB Page>
Four Deuces – Many Saturdays, 6 – 10 pm, on their back patio.
John Anderson – Dec. 11, 2021: In concert at Old Tombstone Western Theme Park. 2pm. Seat prices start at $40. Meet & Greet available. Check with venue at Toughnut & 4th, or purchase at etix online.
Poker
Doc Holliday's Saloon – Every Tuesday evening, 7 p.m. Free Texas Hold 'Em. For more details call (520) 457-2247.
---
Tombstone Events – Holidays
Tombstone St. Patrick's Day Parade
St. Patrick's Day Parties:
Crystal Palace Saloon – All Day
Corn Beef 'n' Cabbage Special at The Depot Steakhouse/Johnny Ringo's Saloon – Corner of Allen & 10th Streets
Sponsored by the Tombstone Marine Corp League Detachment:
The parade is in conjunction with the Salute to the Troops Parade during Wild West Days – Read More>
You're encouraged to wear your Green to this Tombstone Event – and watch along Allen Street, between the corner of 6th going West to the corner of 2nd.
Tombstone Easter Parade & Festivities
Details have yet to be released – will there be any type of Easter Parade in Tombstone? We'll  update if we find out anything. Meanwhile, you are always encouraged to come to town and show off you're period attire Easter finery that Sunday. And are always welcome to visit in period attire anytime!
Easter is on Sunday, April 17, 2022
---
Tombstone 4th of July
THE WHOLE WEEKEND! Starting Saturday, July 3:
Arizona Rangers Parade on Historic Allen Street
Starts at 12 Noon at 311 E. Allen
Presented by Tombstone Forward, 501c3 organization
Sponsors: C-A-L Ranch Store Sierra Vista, Butterfield Stage Stop, City of Tombstone, Larian Motel, Wyatt Earp's Oriental Saloon
FIREWORKS: Medigovich Field, Mountain View Road North Of Hwy 80, Tombstone, AZ
7:30pm
All-American Blast Celebration sponsored by Tombstone Vigilettes
Locations: 5th Street, from Fremont to Allen Street / Allen Street / Tombstone City Park
10 a.m. until 3 p.m.
Fun includes Classic Cars display, magic show, parade, cotton candy & other treats. Much more!
BE PREPARED FOR THE FUN:
Halloween in Tombstone
Halloween in 2021 – Friday, October 31st!
Tombstone Trunk or Treat – Watch for Details listed under October's Events. But likely: 5:30 to 9:30 p.m. at Allen & 4th Street. Themed cars with their trunks filled with treats for the kids at this Halloween Tombstone event. You can participate by sponsoring a "trunk" or a table. Or you can come along with your child to let them participate in the fun. Booths, games, food & fun for a safe trick or treating evening – kindly hosted by the Tombstone Fire Department.
Thanksgiving Day in Tombstone
No Tombstone events are scheduled for this day, but the day after is a popular day for visitors
All Tombstone businesses are closed
Only Johnny Ringo's and the American Legion are open for the afternoon & early evening
HOLIDAY IDEAS:
Christmas in Tombstone Events
For Updated Christmas Events in Tombstone and Surrounding Areas, Our Facebook Events Page will also have all of those recently updated details. [Plus any upcoming events.]
Tree Lighting Ceremony – November 26, 2021 – at 6 pm.
The official Tombstone Christmas Tree is placed/now lit up in the Middle of downtown Tombstone, on Allen Street, near the corner of 5th.
Decorated Businesses Contest – Fri. & Sat.: December 3 & 4, 2021 – Judging at 6 pm
Holiday Tour of Homes: 2021 – To Be Announced
Organized by Tombstone Forward, a 501c3 organization
Day-long tour of historic area homes on an early Dec. Saturday
Inside photos not permitted, outside okay
Ages 13 & older, no food inside
For more details – Waiting to SEE IF???
Christmas Light Parade: Saturday, Dec. 11, 2021
Along Allen Street in early December
Starting at 6 pm, at the corner of 6th Street, heading West to the corner of 3rd Street, where the vision of the Courthouse Luminaries will be in view!
Lighting of Historic Courthouse Luminaries: 2021 – To Be Announced
Usually follows the Christmas Light Parade
The Tombstone Courthouse Historic Park sponsors this Luminaria lighting beginning at dusk, 6:30 to 8:30 p.m.
Afterwards cookies & hot chocolate are served inside
The lighting is based on historic events
See the State Park – Courthouse Events page for more details
Call the courthouse to make any further inquiries: (520) 457-3311 or State Parks: (877) MY-PARKS
Tombstone Christmas Ball: Saturday, December 11, 2021
Doors open 6pm, for dancing fun until 11 pm
Organized by T. Miller Mercantile (can purchase tickets there) for ages 16 & older
Reasonable ticket prices: $10 single, $15 couple
Held at the Historic Schieffelin Hall, Fremont Street – period dress welcome (but optional)!
Proceeds to the American Legion Ladies Auxiliary Children's Christmas Fund
More updates/details: find them @TombstoneChristmasBall on Facebook
Santa in the Park:
In the Tombstone City Park at 3rd & Allen Streets
Santa arrives to visit with children.
Saturday, December 18, 2021 – 5:30 pm
Christmas Day:
No Tombstone events are scheduled this day – but the whole holiday week is popular with visitors
All Tombstone businesses are closed
Only the Four Deuces and Johnny Ringo's are open for the afternoon & early evening
---
Tombstone Events are always ongoing. Tons of things to see & do in our town Attractions! Be sure to check our Main Menu for great ideas. Right Here>
Parking in Tombstone is easy! We have tips for you: Click Here>
---