Want to visit an Old West Saloon?
They're part of American history. In any new settlement the saloon was where you relaxed and saw friends. It was a release after working hard all day.
These bars of the Old West had customers who were primarily men. Pioneer women didn't usually feel welcome, or even at ease if they were well brought up! 
Today women can certainly go into any stylized Old West bar of their choice! And I'm quite glad! In particular, we like to go into the Crystal Palace on Allen & 5th Streets in Tombstone. That's a bar with some authentic history from the Old West!
Even when we travel, we love checking out historic or even modern Old West Bars. When we do, we review them here!
If you know one you love – or if you own or manage one, please let us know about it. We'd like to come visit it at some time, to check it out! You can let us know all the details – send us a message about this favorite old west bar by Clicking Here>
---
Try an Old West Bar in Tombstone AZ
Crystal Palace Saloon – The Golden Eagle Brewery opened in July 1880. On Allen & 5th Streets. After it burned down in the May 1882 fire, it was rebuilt. Renamed as the Crystal Palace Saloon. As mentioned, you can go to this Old West Bar today!
Discover Today's Crystal Palace>
Johnny Ringo's Saloon – There's a ton of Old West bar memorabilia in this outside of town (but not far!), locals hang-out. And there's plenty of room for visitors! It was downtown (or uptown as locals say), in the past. Moved to the NE corner of Allen & 10th some years ago. Welcoming owners, Steve & Addie, have a large bar, TVs, jukebox, lots of tables, provide you snacks here and there. Super fabulous bartenders too! Also they make a great pizza!! Steak House attached for dinner if you prefer. Sunday evening Karaoke attracts lots of singers! This has been our neighborhood bar. We like to have a "pizza night" here, with friends. Say hi if you see us! Come on in for happy hour… 
Doc Holliday's Saloon – Pretty popular, as it stays open later than any other. Something going on about every night! Monday: Open Mike (what's your talent?). Tuesday's Texas Hold-Em. Wednesday through Sunday is their very popular Karaoke. The site certainly has been here since the 1800s – there's an original Wells Fargo wall inside. It has the feel of an Old West honky-tonk! Drink prices reasonable, snacky type food available. Always amusing quotes as you pass the entrance. On the South side of Allen, between 5th & 6th.
Big Nose Kate's – A popular tourist spot. This Old West Bar sits where the Grand Hotel was, before burning down in the terrible 1882 Tombstone fire. Look at the archways on the storefronts along Allen St. fronting Big Nose Kate's today. They were originally part of the Grand Hotel Building. The downstairs gift shop has a historic aura: it was a basement bar in the 1800s. Plenty to see inside, just looking around! Today as Big Nose Kate's – it's a bar/restaurant, and family suitable. They serve food, regular entertainment, and lots to look at. Take a selfie: in provided Old West duds! Or getting hung in the hangman's noose! Or inside the coffin – just like was taken of Tom & Frank McLaury! On the South side of Allen, between 4th & 5th.
Four Deuces Saloon – With old West bar feel. Originally a house, was moved from Fremont Street. Reported to be where "Addie" Borland lived when witnessing the O.K. Corral Gunfight. It's in the original "Chinatown" (see the proclamation on the front bench) – called Hop Town. Have cash – they don't take plastic. There's a bar-top ATM – sometimes touchy to operate. Lots of locals regularly in here. The bar itself is small. But a large patio area with much more seating outside. Usually there's entertainment on Saturdays. Normally they don't serve food – only for Special Events. Prices quite reasonable. A very friendly establishment – strike up a conversation here! Caution: don't touch the bell!! Ring it and you're buying drinks for the bar! We've been treated by visitors a time or two. Thank you!! On 3rd St., at the Southwest corner of Allen.
Cerveza's Cantina – An outdoor, yet out-of-the-weather little Old West bar, on the way into Old Tombstone Wild West Theme Park. Sitting there on a bar-stool, you'll feel like you're in the Wild West! If you grab a refreshment here, you can bring it into the Park with you! Tap and bottle beers, wine and margaritas. Plus soft drinks for the kids – including Tombstone Sarsaparilla. Off Toughnut St., at the South end of 4th St.
Crazy Annie's Saloon – Right next to Crazy Annie's Bordello! Really – that's actually a Bed & Breakfast!! This saloon is on the NW corner of Allen & 10th Street. It's a popular locals spot, with Old West Bar charm. Beer and wine liquor license.
Tombstone Brewing Company – On the South side of Toughnut St., between 2nd & 3rd. Newest in town, the only brewery. They reinvented this building with an Old West Bar feel. They make craft beers and ales on site. Inside seating and an outdoor patio. No food inside, but often there's a food truck outside on weekends.
Silver Strike Winery Tasting – Southern Arizona is becoming a top wine-growing/winery area. Try a tasting – they develop wines with unique natural methods. And they're pretty good. I know if you suffer from migraines or allergies – they're definitely the best option for wine drinkers. North side of Allen, between 3rd & 4th.
---
Other Old West Bars
Throughout America you can find Historic Bars. Buildings renovated over the years. Some changed a little, some changed a lot. Famous old-time lawmen, some outlaws and lots of rowdy cowboys had a drink or two (probably more!) at these places. And – visit them today!!
In other bars you reminisce about the Old West. They have Wild West style. You look around and feel like you're in an Old West Saloon! You feel like you've gone back in time!!
Let's see where they're all located…
Other Arizona Old West Bars
Bisbee
In Arizona, about a half hour drive Southeast of Tombstone. Bisbee was a copper mining town. Its growth and history more or less paralleled Tombstone's. People often visited and moved back and forth between the two towns.
Bars were concentrated in an area called Brewery Gulch. Some old time saloons still remain today. Brewery Gulch (aka Brewery Ave.) is the street name. At the Eastern end of "Old Town" – North off Main St.
Tucson
The Cowpony – Is that a weird hybrid animal?! No, just a working horse that knows how to herd cattle. But this "dive bar" is a fun place. On Tanque Verde Rd., just down from some of the other Old West Bar favorites – they feature regular entertainment for such a small venue.
Tongue in cheek, they advertise themselves as "world famous" and "internationally known" – and they claim a great dance floor! We were there, and didn't quite find it, though… 😉
Close to 5 stars on Google, down to 3 on Yelp. If you realize what you're getting there – a dive – well, you can appreciate it for what it is!
---
Nevada Historical Flavor Bars
Pioche
A great little prototypical old mining town, built on the hill-side. Lots of history here! We visited, because we read about that Old West history. And while there, saw the historic bars and buildings that still exist. Everyone we met was so hospital. We had a wonderful time while in town. Beautiful, scenic areas nearby, as well. So recommend a visit to anyone!
Alamo Club – Downtown at 28 Main. First built in the 1860s. Formerly Wells Fargo Freight Office/Stage Stop, and the Pioche Bank. In 1901 it became a saloon: The Alamo Club Bar, but it had the nickname – The Bucket of Blood Saloon.
Legends say Doc Holliday and Butch Cassidy came by for a drink. But Doc died in 1887, so not true! Cassidy was in Nevada in 1900, still out West during 1901 – so that legend may be barely possible, but still really doubtful. He fled the U.S. early in 1901, to Argentina. On the run, ending up in Bolivia, where he died in 1908.
The bar was also a brothel until 1950 (ring the secret bell to enter), when Lincoln County outlawed them. Ownership changed in 2004, and the name became the Bank Club instead of the Alamo. The change disappointed many locals, who still referred to it as "The Alamo Club."
The bank vault can still be seen inside. Another new owner recently took over. Now it's the Alamo Club again! We visited in the summer of 2018. They were gracious, showing us the bank vault in a room used for storage.
The Nevada Club – 59 Main. The current building dates back to the early 1900s. The site is the original mining Assay Office, which burnt down.
The Overland Hotel & Saloon – 62 Main Street.  The area was surrounded by miner's houses in the late 1800s. In the early 1900s the Nevada Club property was owned by a Chinese family. The Overland was first built as a boarding house with a bar. Pioche had a terrible fire in 1947, and the Overland burned down. By next year it was rebuilt, looking as it does today. Many restorations and remodels have taken place since then. It has a wonderful, huge dance hall.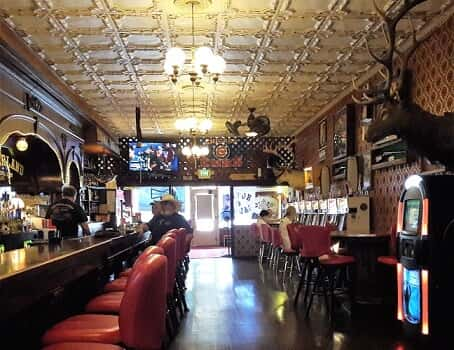 ---
McGill
The McGill Club – The original building was a Union Hall, established in 1907. At one time there was a soda fountain in the front of the club. Swinging doors led to the the saloon in the back.
On the main drag through town, you can't miss it. No kitchen, but occasional entertainment Saturday night.
We stopped by, hoping for an early afternoon refreshment. But it was too early. They open at 2pm. We didn't want to wait, as we still had a ways to go for our stop at Pioche.
---
Ely
Liberty Club – In the old days, sometimes called the Ely Mercantile. It was bigger then. The back half burned out sometime between 1908 and the 1920's. It wasn't rebuilt. Look hard, they say, you might see pieces of scorched wood in the back walls.
Upstairs held a brothel. Then it closed. Instead the rooms went to drinking guys down on their luck with no place to stay. A barber shop was once where the booths are now – it had been closed off from the bar.1  
---
Fernley
The Silver Spur Saloon – Friendly people and bar staff, attracting lots of locals. Juke box and pool tables. Homey, comfortable feel, with a wood stove for those chilly Nevada nights! Lots of atmosphere. Have cash, since I hear they don't take plastic. They do have an ATM inside. No food service, but you can bring in your own. Location: 45 W. Main St. For updates, call (775) 575-0995.
---
Kingston
Lucky Spur Saloon – A great Western style bar in this tiny town. 30 miles Southeast of Austin NV. Called the "Best bar in the middle of nowhere!" At 306 Kingston Canyon Rd. Phone (775) 964-2000. What's nice also is it's smoke free. New owner is working on getting more and more options. Open every day at 2 pm, but Sundays at 9 am.
---
Manhattan
Manhattan Bar – About 7000 ft. elevation, 50 miles North of Tonopah. Not many people live in town. Mostly retired, you'll see them gather here. Locals from ranches stop in. In 1927 the building was hauled from Silver Peak and brought to where it's now. A tale you'll hear sitting on their bar-stool, about One-eyed Fern:
She ran the place, living there until she died in 1978. 
A bar patron saw Fern washing her underwear in the bar sink! 
Exactly where the bar glasses were washed!! 
Everyone just bought bottled beer after that. If you stopped in back then – think you would've too?
---
Montello
Cowboy Bar & Cafe – On Front St.  Phone (775) 776-2466.
4 out of 5 star reviews for this local-flavor place. Has Western appeal edge to it. Friendly people and staff, slot machines, pool tables. People note the good food. And you'd have to travel a lot farther for more options! The town is small, population a bit over 250. Not too far off from the Utah state line on Nevada Hwy. 233, which goes North off I-80. 
---
Texas Old West Bars
Dallas/Fort Worth
The White Elephant Saloon, reminiscent of the 1884 historic saloon. Wyatt Earp, Luke Short & Bat Masterson all gambled in the original back in the day! Fire took it down about a decade after its grand opening.
See this new Fort Worth location: the time-honored Fort Worth stockyards. An up to date remake of the first White Elephant, but with Old West saloon aura. Get even More Bar Details>
---
Austin/San Antonia/Hill Country
Buckhorn Saloon in San Antonio, just down the street from the original 1881 saloon. The back-bar and other mementos still there. Worth a visit: 318 E. Houston Street.
---
New Mexico Old West Bars
Northeast New Mexico
St. James Hotel & Saloon, Cimarron, New Mexico, a regular stop on the Santa Fe Trail. The Earp brothers, Jesse James and Annie Oakley all slept there. Not together!
Origins from 1872, it's on the National Register. Located in the Cimarron Historic District. This Old West bar still shows bullet holes from 1880's gunfights.
The lobby and rooms restored & refreshed from 2009+ renovations. Bar and restaurant updated and expanded. The old West saloon charm and history still maintained!
Southwest New Mexico
The Buckhorn Saloon – Drive North from Silver City to rural Pinos Altos. A short drive. Turn left to 32 Main Street. Its 1865 origin is found in the adobe walls. Vintage bar & bar back still there. With updating and expansions, still remains feeling like an Old West Saloon. Even an Opera House attached!
---
Colorado Old West Bars
South Central CO
The Silver Dollar Saloon opened in 1879 as The Board of the Trade, in Leadville. 315 Harrison Avenue. Worth a look, with its old West bar and considerable history, in and out. Doc Holliday was a regular for a while!
Previously the Irish owner included lots of Irish heritage along with the old West saloon environment. After all many Irish Immigrants settled the old West, so there's validation for including that! Now we're Irish and certainly appreciate that. Recently it's been upgraded to get back to its Old West Bar & Saloon roots – from its true historical aspect. Worth one visit, for sure!
---
Denver Area
The Buckhorn Exchange at 1000 Osage Street, corner of 10th. Very historic, this Saloon's at the same spot since opening November 17, 1893. See the walls for a vast history lesson! The original 1857 back-bar from the old West era is upstairs in the Victorian Lounge.
---
Wyoming Old West Bars
The Occidental Hotel & Saloon – 10 N. Main St. in Buffalo. A great 1880 era Old West Saloon. Authentic bullet holes survive from wild gun battles! Calamity Jane and Buffalo Bill Cody had occasion to stop in. Renovated in 1908. Still retains that old West authenticity. A must-see bar!
---
California Wild West Saloons
Sierra Nevada Area
Buckhorn Saloon – Fabulous stop near the South entrance to Yosemite. At North Fork, Sierra Nevada Foothills, 32992 Road 222. This watering hole opened in the late 1800s. Been remodeled/updated, but still has old West character. Phone (559) 877-8700.
---
References
1 Estrada, G. (2015, November 6). Century old Liberty Club bar holds forgotten history. The Ely Times. Retrieved from www.elynews.com/2015/11/06/century-old-liberty-club-bar-holds-forgotten-history/
---