Movies with Jesse James would become an inevitable Hollywood attraction for their films and television. He was a real life character. Born on September 5, 18471 in what today is Kearney, Missouri.2
He had a short, but you could say, wild life. That's what attracted Hollywood to doing movies with Jesse James as the story feature!
But the interest in his life Started Even Earlier.
Get more of his Real Life Details:
Who Shot Jesse James?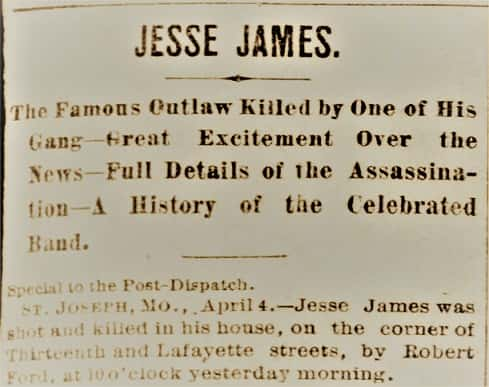 In 1881 Missouri Governor Crittendon offered a reward for the capturing of Jesse James and his brother Frank. Robert Ford went to the governor with a plan. He wanted that reward, and worked with Crittendon for backing it.4
This plan, the way it happened, is something that made this story infamous. Quite a few movies with Jesse James cover that subject. Accurately? Well, that's debatable!
Hollywood-Like Status in 1880s
Why Jesse James Lived On!
It wasn't only movies with Jesse James that kept his legacy in the public eye over the years. Jesse's mother Zerelda promoted her son's memory. It was out of love, surely. But maybe there was financial benefit, too.
The Jesse James Story Begins
Living in Infamy
Bob Ford telegraphed the Governor to tell him that he and his brother Charley killed Jesse James, as they'd plotted. Forward that reward money!
Instead, the brothers were charged with First Degree Murder. It was fast! Within days, they'd been to court, pleaded guilty, were sentenced to be hung. But then the Governor immediately gave them a full pardon! That outcome was suspect to many!1,2,3
The Fords left Missouri after their release. They soon were capitalizing on their notoriety. They featured their plot in their own traveling Wild West Show. But personal drama followed. Bob's brother Charley, had tuberculosis. Addicted to morphine, he committed suicide in May 1884.5
After his brother's death, Bob moved to Creede CO, opening a Saloon there. On June 8, 1892 Edward O'Kelley entered Bob's Saloon. Ed blew Bob away with a shotgun.5
O'Kelly entered prison with a life sentence. But the Colorado governor received a petition with 7,000 signatures requesting his release. He was pardoned on October 2, 1902.5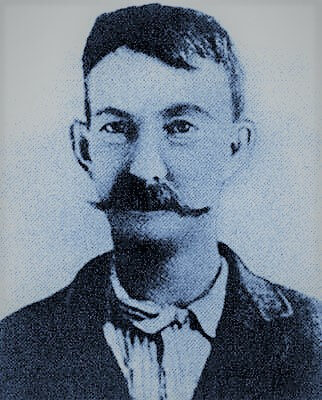 ---
Sightings of Jesse James!
Almost right after Ford's slaying of Jesse James, people insisted they'd seen Jesse. Rumors circulated that Bob Ford helped Jesse fake his death to avoid lawful punishment. That Bob really murdered someone else!
Continuously refuted by evidence, including identification of Jesse James's body at the time of death. Then in 1995 his body was exhumed for DNA examination. That proved he was dead and gone, buried in the family plot. Without a doubt!6
Even a man named J. Frank Dalton claimed he was the outlaw Jesse James. As a widower he roamed Independence County Oklahoma in his one-man Traveling Show. First he claimed to be famous lawman John Franklin Dalton. He was outed as not the real deal. Then, at 100 years of age, he made the assertion that he was Jesse James. He proved the point with body confirmations: seven bullet scars, missing fingertip, etc. He found support, including then owner of Meramac Caverns in Missouri.7 
At age 103, he died. His death certificate states his name as Jesse James, as does his gravestone in Granbury Cemetery, Texas.
---
Jesse James in Dime Novels
Before movies with Jesse James came on the scene, there were Dime Novels. These were early entertainment featuring Wild West stories. Mostly popular between 1860 and 1915, before moving pictures came along.8 Many actually did cost 10 cents. Jesse James was a popular theme:
---
Movies With Jesse James
A 20th Century Hollywood Heritage
Jesse James is a name that continues to live in history. As an outlaw to some, as a daring hero to others, as a romantic robin-hood type figure to still others. Many plays have been written documenting his story. Many not quite accurately depicted.
A slew of movies with Jesse James, as well. Hollywood really got into his story. So producers were making all kinds of films with Jesse James as the featured character. From as early as the 1920s!
Let's see:
Jesse James as the Outlaw – 1921. A silent movie with Jesse James. Black & white. Based on the facts in his life. Jess James Jr. played the starring role of his uncle. Yes, he's Jesse's nephew: Frank's son.
Jesse James – 1927. Fred Thompson is Jesse James, James Pierce is Frank James. It involves Jesse in a love story with a woman from the North, while romanticizing some facts from his life. 
Days of Jesse James – 1939. Don "Red" Barry takes the role of Jesse. Harry Worth has the role of Frank. Bank administrators organized a robbery to frame the James Gang for the crime. The singing Cowboys investigated to save the James name! Starring Roy Roger and Gabby Hayes.
Jesse James – 1939. In technicolor. Tyrone Power played Jesse, Henry Fonda was brother Frank. It plays widely with the accuracy of their story. Focus is interactions with railroads, rather than banks. But has them robbing passengers, instead of seeking mail rewards. Quite a few good scenes and lines.
Bad Men of Missouri – 1941. Black & white movie with Jesse James, but centering on the Younger Brother escapades after the Civil War. The James brothers were together with them, even as the James gang. Alan Baxter plays Jesse James.
Jesse James at Bay – 1941. Black & white movie with Jesse James in Robin Hood character. He's robbing trains to help Missouri settlers buy land back from railroad robber-barons. Roy Rogers plays Jesse. Gabby Hayes stars as the Sheriff.
Badman's Territory – 1946. In black & white, the James Gang is on the run. Arriving outside of American Territory, thus outside the law. A Sheriff rides in to help his brother who's there. He finds there's a discussion to vote for annexation into Oklahoma Territory. Randolph Scott plays the Sheriff, Lawrence Tierney is Jesse James, Tom Tyler is brother Frank. Gabby Hayes also stars as the Coyote Kid.
Jesse James Rides Again – 1947. Black & white. James brothers on the run, arrive in town aiding ranchers whose land has oil. An outlaw gang is forcing them from their land. Clayton Moore (Lone Ranger fame) plays Jesse.
Adventures of Frank and Jesse James – 1948. Black & white feature. As fugitives, Jesse & Frank help a gold mine owner to source funds to repay their victims. The mine owner is murdered, so they go after those outlaws. Clayton Moore is Jesse, Steve Darrell is Frank James.
I Shot Jesse James – 1949. Black & white flick with a different angle. Bob Ford's story of killing Jesse – and why. John Ireland plays Bob Ford, Reed Hadley is Jesse James.
The James Brothers of Missouri – 1949, another of the black & white movies with Jesse James of this era. Jesse & Frank help a prior gang member defend against a business rival's bullying. When their friend is subsequently murdered, they assist his daughter.
Kansas Raiders – 1950. Audie Murphy plays Jesse in this color film following Jesse's time with Quantrill's Raiders.
The Return of Jesse James – 1950. Black & white. Jesse is dead, but his doppelganger (John Ireland) is mistaken for him and decides to pull off a bank robbery. Brother Frank isn't pleased. Reed Hadley plays Frank James.
The Great Missouri Raid – 1951. In color, Macdonald Carey is Jesse and Wendell Corey stars as Frank James. The James Brothers team with the Youngers after the Civil War to survive the hard times by taking revenge.
Best of the Badmen – 1951. The title summarizes this color fiction film. Post Civil War Union Major Jeff Clanton brings some Quantrill's Raiders, like Jesse & Frank James and the Youngers to justice. It backfires when Clanton is charged with murder, so he joins with former raiders. Character names are the likes of Curley Ringo and Doc Butcher.
The Great Jesse James Raid – 1953. Color. Jesse returns to outlaw life, even while his wife Zee objects. The plan is a gold raid in Creed Colorado. Willard Parker is Jesse.
Jesse James vs. The Daltons – 1954. Color. Not even close to history. A possible son of Jesse James (Brett King) searching for that truth, looks to team up with the Dalton gang. Meanwhile he's rescuing a woman (Barbara Lawrence) about to be lynched in this Kansas town. 
Jesse James' Women – 1954. A fantasy, for sure, in color. Jesse shows his wily ways with females to get his outlawing accomplished in Mississippi.
The True Story of Jesse James – 1957, in color, with Robert Wagner as Jesse, Jeffrey Hunter as his brother Frank, & Hope Lange as his wife Zee. Covering the last 18 years of Jesse's life. So is it a true to life bio? No, not really. Lots of liberties taken with the facts.
Hell's Crossroads – 1957. Black & white movie with Jesse James. But this take centers on a convict who is offered release with the condition he must find and bring in Jesse James. Henry Brandon is Jesse.
Bitter Heritage – 1958. Black & white TV movie. Jesse James Jr. returns to his father's home town. Despite difficulties, he encounters love (Elizabeth Montgomery) there. Franchot Tone is Frank James, James Drury is Jesse Jr.
Alias Jesse James – 1959. Color film starring Bob Hope. Comedic story line about a bungling insurance guy (Hope) who sells Jesse James a high-value life policy. Wendell Corey is Jesse.
Young Jesse James – 1960. It follows Jesse's life from the time his father is strung up by Union troops. Jesse joins up with Quantrill. He meets up with Cole Younger and Belle Starr. And marries Zee. But nothing in the plot is by accurate historical facts.
Jesse James Meets Frankenstein's Daughter – 1966. In color, billed as a Horror/Sci-Fi, as well as a Western – seriously! John Lupton, as Jesse James, is on the run. He comes upon a castle in Mexico. It turns out to be Dr. Frankenstein's grandchildren's residence. Uh-Oh! 
A Time for Dying – 1969. In color, Jesse is a side story to the marriage of this unworldly country lad. Judge Roy Bean weds him to a saloon girl. As they start on the honeymoon, they encounter Jesse James. Audie Murphy plays Jesse.
The Great Northfield Minnesota Raid – 1972. Color. The story of the James & Younger Gangs getting together for a Northfield bank robbery. Things go totally wrong. Based on a true story. Robert Duvall is Jesse James, John Pearce is Frank. Cliff Robertson is Cole Younger.
The Long Riders – 1980. This color film begins post civil war when Jesse and Frank get together with the Youngers to form a gang. Their aim is to rob banks in retribution of wrongs during the war. James Keach is Jesse James, Stacey Keach is brother Frank. David Carradine is Cole Younger, Keith Carradine is Jim Younger, Robert Carradine is Bob Younger. Brothers playing brothers!
The Last Days of Frank and Jesse James – 1986 color TV movie with Jesse James. Views the calming down years of the James brothers, up to their deaths. Starring numerous country music icons, such as Kris Kristofferson as Jesse James, Johnny Cash as Frank, and June Carter Cash as Mother James. Much historical accuracy.
Frank and Jesse – 1995 color film. The James brothers' story after the civil war, beginning their outlaw career, along with the Younger brothers. Their revenge toward the railroad investors targets banks, trains and stagecoaches. Rob Lowe is Jesse, Bill Paxton is Frank, country singer Randy Travis is Cole Younger. 
Purgatory – 1999. Color Made-For Television movie. The setting is the town "Refuge" where we see Old West outlaws acting "saintly." Jesse James is among them. In this fantasy, they're all in Purgatory, trying to earn their way into heaven. J.D. Souther is Jesse, Sam Shepherd is Wild Bill Hickock, Randy Quaid is Doc Holliday, Donnie Wahlberg is Billy the Kid.
Besides movies with Jesse James, he's been the subject of television programs. I remember when our kids were little watching a Brady Bunch program! A plot involved little Bobby caught up with the image and reputation of Jesse James. His parents had to prove to him that Jesse was a bad guy!
Even video games have included Jesse James, some featuring him as the leading character.
He is a figure who will continue to live on in history, particularly in movies with Jesse James. Those who have their name associated with his will live on through history as well!
---
References
1 Settle Jr., W.A. (1977). Jesse James was his name. Lincoln, NB: University of Nebraska Press.
2 Yeatman, T.P. (2000). Frank and Jesse James: The story behind the legend. Nashville, TN: Cumberland House.
3 Stiles, T.J. (2002). Jesse James: The last rebel of the Civil War. New York: First Vintage Books.
4 King, S. (2007, Sept. 17). One more shot at the legend of Jesse James. Los Angeles Times. Retrieved from articles.latimes.com/2007/sep/17/entertainment/et-weekmovie17
5 Ries, J. (1994). Ed O'Kelley: The man who murdered Jesse James's murderer. Patches Publications.
6 Stone, A. C., Starrs, J. E. & Stoneking, M. (2001). Mitochondrial DNA analysis of the presumptive remains of Jesse James. Journal of Forensic Sciences. 46,1, pp.173–6. PMID 11210907.
7 Dill, L.B. (1949). Is Jesse James still alive? Evidence supports story that Jesse James is alive. Herald-Journal of Spartanburg. South Carolina, p. 3. 
8 Pope, A.M. (2011, June 6). American Dime Novels 1860-1915. Historical Association. Retrieved from history.org.uk/student/resource/ 4512/american-dime-novels-1860-1915
---