The Shootout at the OK Corral in Tombstone 1881, was an event that put this town on the map! At that time in history, Tombstone Arizona was a thriving, active town.
Want some quick, inside details on that famous Wild West gun battle? It's known as the Gunfight at the O.K. Corral. We invite you to enjoy the history, as the locals here do!
Tombstone's initial attraction was silver mining. At that time in the Wild West, when this now quite well-known shootout took place, the town's population was quite a bit over 2000. The Census of 1880 recorded 2000 residents (didn't really count everyone, though) – and it was growing daily.
Let's take a step back into Tombstone Arizona's history to see what was happening. Put yourself in 1881, to evaluate this Shootout at the OK Corral!
Tombstone Town's Establishment
Ed Schieffelin has credit for Tombstone's founding and naming, about 1877. Its morose name became official on April 5, 1878. Only some miners lived there.
Two years later many more had moved to Tombstone, seeking their fortune. Soon to be infamous players in that wild west shootout were already in Tombstone Territory:
Five Earp brothers, and their women, were residents.
Doc Holliday came to Tombstone in late 1880
John Behan was a Tombstone Deputy and County Sheriff.
Johnny Ringo was already living in the area
Frank & Tom McLaury were ranching in the San Pedro River Valley area
Curly Bill Brocius was around since 1878
Newman Hayes "Old Man" Clanton lived with his extended family in an adobe house south of Charleston. 
Old Man Clanton's family there in Lewis Springs: Ike, Billy, Phineas, plus his two daughters with their husbands. 
In early 1879 Ike Clanton opened a boarding house and restaurant in nearby Millville.
Well-known photographer, Camillus S. Fly, with his wife Mollie, began a Gallery/Photography business in December 1879.
Background of
Tombstone's Shootout at the OK Corral
Historical elements added to Tombstone's 1881 events. This understanding helps us get a better realization for why Tombstone's 1881 OK Corral shootout lived on.
Those seeking dishonest gain were attracted to the area, for easy pickings. How so?
Mining "left-overs" were somewhat easily snatched & sold
Trade excursions out of Mexico were targeted for their goods
Cattle roaming the open range through SE Arizona & Northern Mexico attracted stockmen (cow-boys) who lived on the edge of lawlessness
The civil war's aftermath left bitter after-effects in the hearts of many, who headed West
Town of Tombstone is Official
Tombstone began by filing a townsite claim in the two specific areas where miners had settled near claims being worked. These areas were called "Upper Town" and "Goose Flats." The Tombstone Townsite Company recorded with Pima County on April 22, 1879. Lots were sold, a post-office opened, a justice-of-the-peace appointed and an interim mayor & councilmen were elected.1 At that time none of these first time city officials anticipated this shootout at the OK Corral would be an event that kept the town renowned through history!
Those living in town generally aligned with one of the two political parties – somewhat like today! Either the Republicans or the Democrats. Including the two local newspapers! The Tombstone Epitaph's editorials presented the Republican viewpoint. Tombstone's first newspaper, the Nugget, held the Democrat's outlook.1
The Earps Arrive
Fred White became Tombstone's Marshal. Virgil Earp was appointed Deputy for the Southeastern area of Arizona Territory. He came with his wife to Tombstone beginning in December 1879.
Some months later, all the Earp brothers were there. They began earning their living with mining claims, bartending, gambling, and law enforcement. Wyatt Earp was named a local Deputy on July 27, 1880. But political complications led to his holding the post for just 6 months.
John H. Behan was selected as Deputy, replacing Wyatt, causing underlying conflict between the two. Behan also was a bartender, gambler, horse racer, and was seen accompanied by many local women.
Guns & Problems
The Tombstone Common Council had passed an April 1880 Ordinance to prevent violent incidents in town. It stated concealed fire-arms, knives or any weapon couldn't be carried within village limits without a Mayor's permit.1 But enforcement was difficult.
The early hours of October 28, 1880, some unruly stockmen including Curly Bill Brocius, had been drinking all night. These guys were often referred to as Southeastern Arizona Cow-boys. They walked down the middle of Allen Street, started firing gun-shots into the air.2
Town Marshal Fred White was nearby and approached the group. He said "this won't go boys." He stated his credentials, confronting Curly Bill. Marshal White said "give that up" and grabbed the gun barrel. Then the gun lurched and went off. White was shot in the gut.3
Nearby, Wyatt Earp ran up, using his pistol head-slam technique: buffaloed Curly Bill. Brocius and the others were arrested on the weapons charge. Fred White died later that day. But first he relieved Curly Bill of guilt, stating the shooting was accidental.
The Council recruited Virgil Earp as interim Marshal. He ran for the permanent position, but was defeated by the more popular Ben Sippy. Local people were very upset about the Marshal White incident.
Let's Look at Tombstone 1881
A City Charter was issued in 1881, with a regular police department for law enforcement. The gun ordinance was reworded. Now preventing any weapon carrying, concealed or otherwise, without a permit for good reason.1
For enforcement, it still was vague. Your weapon was allowed while arriving to your lodging, and also on your way out of town. From reports thereafter, this change didn't have much effect on gun-play in town.
Other Reports of Wild West Shootouts
---
Wyatt & a Cow-boy Secret Pact
In 1881 increasing stage robberies concerned law enforcement. Area stockmen, the Cow-boys – including the Clantons – were suspected of being involved.
Behan organized posses to track the culprits. The Earps joined in. In mid 1881, Marshal Sippy took a leave of absence, but never returned. Virgil Earp was asked to take the job. But still continued with his Deputy U.S. Marshal position.
Wyatt Earp still had his eye on a prominent lawman position. Tombstone was now County Seat of newly created Cochise County. Wyatt wanted to run for County Sheriff in 1882. He thought of an angle to bring him publicity and popularity: He'd bring the stage robbers to justice.
He worked the idea of informants. Wyatt spoke with Cow-boy Ike Clanton. Would Ike secretly give him info that could get him the stage robbers? He'd then confidentially give him the reward money. All Wyatt wanted was the notoriety of the catch.
Ike agreed, and they devised a plan. It didn't work out in the end, as the stage-robbing culprits were already dead.
Cow-boys Party in Town
Ike then became wary of Wyatt. He felt Wyatt now had no reason to keep their deal quiet. Ike became paranoid about the situation.
On October 25, 1881, Ike Clanton and Frank McLaury drove their wagon into Tombstone. They went to the butcher shop, then concluded their errands. Now on to entertainment: saloons and some gambling. The remaining day, into the evening, and after midnight into the early hours!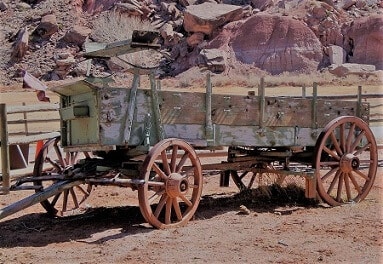 Ike wound up at the Occidental Lunch Room about 1 a.m. on October 26. There he found Doc Holliday and Morgan Earp. Neither were typically – nor now – friendly toward him, and both also were under alcohol's influence.
Most ratings cite its objectivity. It includes info other accounts lack. Recommended for your OK Corral collection:
Ike's Ire
Doc and Ike had a mean-spirited exchange. Doc threatened Ike, telling him to go arm himself – since he wasn't heeled. Ike returned, gun at his side, but sitting down to play poker with Tom McLaury, Virgil Earp, John Behan and another unnamed guy.
The game broke up about 6 a.m. Ike left complaining to Virgil about Doc: "The damned son-of-a-bitch has got to fight." Virgil tried calming him. Said he was going to get some sleep and didn't want him causing trouble.4
Ike began roaming town, still armed, complaining of his treatment by Doc Holliday and the Earps. He claimed readiness for a fight. Word spread quickly through town about his antics.
Virgil awakened, returning to town, hearing of Ike's actions. He called on brothers Morgan and Wyatt for assistance. They located Ike on Fourth Street, between Allen and Fremont. Coming up behind him, Virgil clunked him on the side of his head with his gun. He took Ike's pistol from him and brought him to the courthouse.
Before Judge Wallace, his head oozing blood, Ike was fined a total of $27.50. All the while he was cursing out the Earps under his breath. Then he left.
---
He Ain't Heavy, He's My Brother
That same morning, Cow-boys Billy Clanton and Frank McLaury, brothers of Ike and Tom, got to town. Arriving at the Grand Hotel, they pleasantly interacted with Doc Holliday!
They heard about Ike's court encounter, and went to find him. Locating him with Frank at Spangenberg's Gun Shop on Fourth, they all made purchases. Frank's horse was secured up on the sidewalk – another law violation. Wyatt came along and moved Frank's horse off into the street. The sets of brothers came out and there was an ugly word exchange, but no action.
It appeared the Clantons and McLaurys were preparing to leave town. So even though now armed, they weren't arrested. They left the shop, walked through Dunbar's Stable over to the O.K. Corral. 
About mid-afternoon they'd encountered another Cow-boy. Billy Claiborne was a friend of Billy Clanton. They all gathered just West of the O.K. Corral in a vacant lot, talking about what happened that morning. They started to prepare their horses to ride out.
Suspect Intentions?
Virgil, Wyatt and Morgan Earp, along with Doc Holliday, walked West along Fremont Street. Virgil's intent was to ensure these Cow-boys were indeed leaving town or else. In his own words, "to take away their arms, intimidate them, and again show them who was boss."5
John Behan intercepted the Earps, trying to stop their advance. They passed him by, entering this vacant lot off Fremont Street. The location is just west of C.S. Fly's boarding house and photo gallery. Virgil approached the Cow-boys. Billy Claiborne made a quick exit. Virgil said "Boys, throw up your hands. I want your guns." Another quip was heard, (many attribute it to Wyatt) "You sons-of-a-bitches, you have been looking for a fight, and now you can have it."5
It began just about straightaway. Hard to say who started the shootout. Frank McLaury was killed nearly immediately. Tom McLaury and Billy Clanton were seriously hit, dying soon afterward. Morgan Earp was wounded across the top of his back. Virgil was shot in his lower right leg and Doc was grazed over his hip. Wyatt was untouched! Ike Clanton, major instigator, escaped unharmed!!
The next day the funeral procession led the coffins of Frank and Tom McLaury, and Billy Clanton to a common grave in Boothill Cemetery. The town was divided over who was at fault.
Divisive Opinions Regarding the OK Corral Shootout
The local newspapers reflected this division. The Epitaph felt the Earps, led by Virgil as Marshal, were acting in accordance with the law. The Nugget saw the Earps as guilty of murder, needing arrest.
A three-day investigation led to City Marshal Virgil Earp's suspension. Ike Clanton filed a murder complaint against the Earps and Holliday. Wyatt and Doc were arrested. Morgan and Virgil weren't served because they were bed-ridden from their shootout wounds.
Hearings on this now infamous Shootout at the OK Corral began. Much testimony faulted the Earps and Holliday. Judge Spicer formed his opinion on November 29, 1881. He stated the killings were "a necessary act, done in the discharge of an official duty".5 A grand jury agreed.
The Nugget and The Arizona Daily Star published editorials critical of the decision. The town was still about evenly divided in their opinions. The aftermath of this OK Corral Shootout was only just beginning!
---
Some OK Corral Shootout Insight
Getting to know the players can help you understand more about where they were coming from. We have the lifetime stories. For you to know their personalities, their backgrounds and experiences. Click for some vision into their actions during this OK Corral shootout:
Have Your Say!
What do you think?
Do you believe the Cow-boys were entirely at fault? 
Do you think the Earps and Doc Holliday instigated this Tombstone wild West shootout? 
Do you think both parties had some blame? 
Do you think the law was so vague, it was just the circumstances to blame? 
Do you believe no one was really to blame – stuff happens?
Or do you have some other off-the-wall theory or belief? Please express it here! We'd like to hear what you think of this Wild West Shootout well-known as The Gunfight at the O.K. Corral!
Let us know…
New! Comments
Do you have a question? Do you have a comment? Type it into the box below. We'll respond soon!
---
References
1 Bailey, L.R. (2004). Too tough to die: The rise, fall, and resurrection of a silver camp; 1878 to 1990. Westernlore Press: Tucson, AZ. Prime reference for anything not specifically cited.
2 Daily Arizona Citizen (1880, Oct. 29). Shooting at Tombstone. P. 2. As reported in the Tombstone Epitaph, Oct. 28, 1880. Tucson, AZ.
3 Tombstone Epitaph (1880, Oct. 29). Tombstone, Arizona.
4 Virgil Earp disposition, Turner, O.K. Corral Inquest
5 Bailey, L.R. (1999). A Tale of the unkilled. The life, times, and writings of Wells W. Spicer. Tucson, AZ: Westernlore Press
---