See what an old Ghost Town looks like today
White Hills, Arizona, is now considered a "Ghost Town." It's still there to be visited, although not much remains today.
In the late 1800's and early 1900's, though, it was a different story. For a little over two decades, this was a thriving mining community with over 1,500 to 2,000 inhabitants at its peak.
Let's take a look at what got this town started, how it grew so quickly, and what led to its decline and downfall in just a few years.
How did White Hills, AZ, come to be inhabited?
This community was first known as the "Indian Secret Mining District" – the name came from that the local tribesmen knew of the presence of minerals, but kept the information from the white men. The Native Americans were using the red iron oxide to paint their bodies.
White men first learned about the minerals in this are in May, 1892, when Henry Shaffer was shown a piece of rich silver ore by a friendly Native American known as Hualapai Jeff. Jeff took Shaffer to the location and he began staking claims and working the locations.
The Hualapai valued the iron ore, but there turned out to be quite a bit of silver chloride ore, manganese and even some gold as well. Shaffer brought in John Burnett and John Sullivan, and the three men worked together to open up many valuable pay shoots. In 1894 they sent off a 19-ton shipment of ore the smelter, producing 19,000 ounces of silver and 80 ounces of gold – a small fortune then as now.
The three men sold the properties to R. T. Root and D. Moffatt of Denver, who formed the White Hills Mining Company. A 10-ton stamp mill was built on location, and coal for the mill had to be brought in from Kingman – 50 miles off. This was a difficult transportation route at a time when no real roads had been built, so to supplement the coal they would cut and dry Joshua trees and Yucca plants to fule the plant.
The White Hills' post office was established October 20, 1892 and discontinued August 15, 1914, so just it existed for a little over two decades. White Hills, Arizona, went from nothing to a town of 200 people in two weeks as silver was found. It had all the modern trappings of a small town, like electric lights, running water, and telephones. For a period of time, White Hills was the largest mining camp in Mohave county. But when the mines played out, so did the population of the town and today in 2021 there are only a few scattered remains.
---
Visit It Now!
Yes, White Hills is considered a "Ghost Town". Not much remains standing today – some mining equipment, and a few foundations. A lot of the wood from the buildings still standing was used as building material which is why not much remains now.
You can still see the historic cemetery of White Hills, some of which still remains.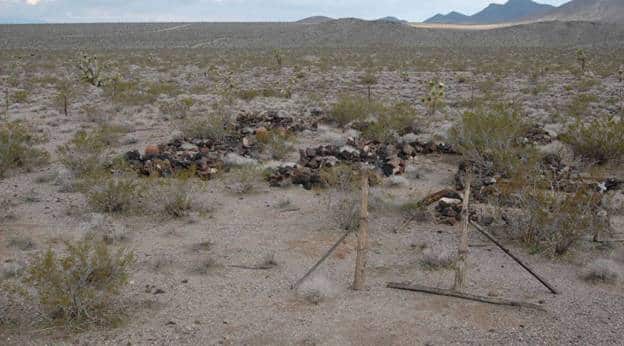 ---
Directions to White Hills Arizona
Go Highway 93 North for 43 miles
At White Hills Rd in Willow Beach, turn right
Continue for 8 miles on White Hills Rd
Take Highway 515 South/11 South for 36 miles through Boulder City
Continue on Highway 93 South for 35 miles
At White Hills Rd in Willow Beach, turn left towards White Hills
Continue for 8 miles on White Hills Rd
---