Wonder which Tombstone Arizona attractions are the most enjoyable? What Tombstone attractions match your interests? How to find Tombstone features your family, kids & teens will enjoy?!
We see people visiting town who've just missed some event or happening. They seemed unsure of the timing, of things to do in Tombstone – or where.
We think that's awful – and we feel for them! We want visitors to enjoy everything, and see the exciting things they were hoping for.
So we organized this page to help everyone – to help you! Have questions or suggestions? When thinking of your own Tombstone Arizona must see attractions – please let us know! Ask or Suggest – Click Here>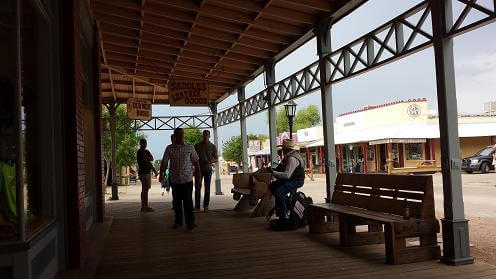 BE AWARE - Most shops & tours close at 5 pm, a few at 6 pm, occasionally on the weekend a little later. Open later: Restaurants until about 8 p.m. Bars close about 9 pm, depending on amount of customers & day of the week (later Friday & Saturday). Doc Holliday's Saloon always open latest.
---
Tombstone AZ Attractions Contents
---
Introduction to Seeing Attractions
Most Tombstone Arizona attractions are based on history in the 1880s. For an overview, of its past, we recommend taking a Tombstone Tour. Learn about the famous wild west outlaws & lawmen gunfighters, and silver mining history.
Different tour styles have different aims. We've taken most of them, and there are no bad ones!
We'll give you our take on them…
(Click Photo for More Detail on Each Tour)
---
Tombstone Arizona
On Your Drive Into Town
Before you quite get into town…
STOP!
A few Tombstone Arizona attractions you'll want to see on the way in, before parking in town. (Or as an option – on your way out.)
Boothill Graveyard – The original Old West cemetery of the town. Many famous gunfighters & lawmen are buried here! Some old time characters, as well. Located along Hwy. 80 as you enter town from Benson/St. David area, on the left. See More>
Ed Schieffelin Monument – Ed is known as the founder of Tombstone. His search for ore led to the nickname: "Town Too Tough to Die." He spent quite a while here, but eventually moved on. His attachment to the town never left. He requested to be buried in Tombstone after death. This monument marks that spot. Worth the little side tour about 2 miles before coming into town. Take Allen Street West, turning into W. Schieffelin Monument Rd. Map Here:
---
Gunfight Shows – Pretend Old West Action
Some Tombstone Arizona attractions you'll judge by the age & temperament of your kids – because they involve "gunfighting!" We don't want the little ones to get scared! But if they'd enjoy it, these Tombstone attractions are designed for kids and adults.
Gunfight at the OK Corral – The whole event includes a film about the history of Tombstone including its famous gunfight, plus a gunfight reenactment. Walk through C.S. Fly's studio (where Doc Holliday rented a room) and the Corral. Three reenactment shows scheduled daily. Allen Street entrance.
Other Tombstone Gunfighter Attractions
Gunfight Palace – Daily shows Thurs. through Mon., at 11 a.m., 12:30 & 2:30 p.m. Their passion is to give historic, yet entertaining gunfight skits! On Allen St., between 5th & 6th, North side.
Old Tombstone Wild West Park – The end of 4th Street, across Toughnut. 30 minute gunfight shows throughout the day. Other fun things to do right inside! If a theme park is your Tombstone preference (especially for your kids), a good choice!
The Tombstone Vigilantes – Street reenactments start at about noon. View them for free on the 2nd, 4th & 5th Sundays of the month along Allen Street.
Wyatt's Saloon Theatre – Next to the Bed & Breakfast on 3rd St., South of Allen. Recently began having daily shows again, between 9 am to 5 pm. Check at the theatre to see if they're on at this time.
Outlaw Zipline – Located one block off of Allen St. on 7th and Toughnut, with ample parking. Check out their website. Registration is available on line or call 520-240-1155. Great family entertainment – they encourage groups, and will open for large groups booked in advance. Also host special events such as birthday parties.
---
Get an Old West Photo Taken!
A great memory for your trip to Tombstone! Get your photo taken wearing Old West Clothing. Shops on Allen Street provide this take-home memory. They all put you in a vintage setting. Some will even set a wild western scene for you to be a part of! 
A photo that gets you in the setting of the Old West. Feel right at home on Tombstone's historic streets. Choose one of these shops. Then don't forget to show off that legendary pic in our Old Time Photos>
Madame Mustache – 455 Allen Street. Right next to Big Nose Kate's. Mostly good reviews, a bit expensive say some.
Old Time Photos – Northwest Corner of Allen & 4th. Our son has taken family photos here when he's visited us. They always come out really well, and he's never complained about the service there.
Lady L's Creations – Another place to try at 516 Allen, north side between 5th & 6th. Have your photo in hand in less than 1/2 hour! All kinds of custom settings & clothing for your "Old Timey Photo."
---
Museums of the Wild West
A variety of Tombstone Arizona attractions present Tombstone Arizona History itself. You can view a video, as a Historama of the old, Wild West, that includes the famous gunfight. They all have excellent visuals and information. Choose one or (if you have time) see all of the Tombstone Arizona Old West Museums, fantastic attractions!
Tombstone Court House – With kids along, this can be one of the most fun. It's the actual historical building. The gallows are still there! They'll probably be enthralled with that, especially if they like Westerns! It's full of wonderful history and preserved items. Our Tombstone AZ attraction suggestions have to include this! On the corner of 3rd & Toughnut.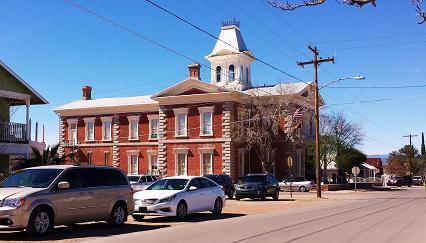 Bird Cage Theatre – The original building, one of the few in town that didn't succumb to the May 1882 fire that destroyed much of the town. It contains amazing artifacts from historical Tombstone, and it's a historical story itself. At the end of downtown Allen Street, corner of 6th. Read More>
Rose Tree Inn – Museum & Bookstore.
A unique place, as it has the largest rose bush in the world. See it to believe it!
This Tombstone Arizona attraction made the Guinness Book of World Records.
We passed it up for quite a while. When we finally went in, we were amazed!
The museum building is historic. Once home to the woman who received a rose cutting from her Scottish immigrant friend. From that, this Lady Banksia rose has grown.
It blooms every April. It's spread over a large trellis.
Located on the corner of 4th & Toughnut Streets.
Tombstone Epitaph – Learn the techniques used by Tombstone's 2nd newspaper. Published by John Clum, 1st mayor of incorporated Tombstone (3rd of the townsite). Still published today. Find it on 5th Street, just North of the Crystal Palace – that's between Allen and Fremont. One of the free attractions here in Tombstone!
Tombstone Western Heritage Museum – Fremont & 6th Streets. Specialists in Wyatt Earp memorabilia, plus one-of-a-kind items from other Earp brothers and the Cochise County Cow-Boys. Admission price is a steal and the proprietor is extremely welcoming! A must-see among Tombstone Arizona attractions for Earp history buffs! They have intermittent hours, though. Some weekends, or by appointment.
Gunfighters Historical Museum – Lots of great old Wild West historical memorabilia, including the OK Corral gunfight. On Toughnut Street, at the end of 4th Street. It's a Tombstone AZ attraction that gives you a lot, but doesn't cost much. We love roaming its displays. No hours posted, so you just have to find it open, since it's a "one-man" operation.
---
Tombstone Old West Book Shops
A good read on Tombstone's history, and the old West can be found all around town. Most have other items such as T-shirts, book-marks, etc. 
Tombstone Old West Books – 401 Allen Street
Book Nook – 121 South 4th Street. Deals in pre-owned books.
Outlaw T's, Books & More – An assortment of well-priced books, also including popular themed T-Shirts. We've purchased a few of our reference books here. Friendly service. 
---
Gift Shopping
Wild West Clothing – Probably the best known is Spur Western Wear on 414 Allen St. 
Bronco Trading is at 410 Allen St. 
The Branding Iron is on 503 Allen. 
Shady Lady's Closet at 406 Allen is more of a general women's wear shop, though it does have items with a Western flair and always a sale going on.
Wild West Mercantile Shops – Find great mercantile shops along Allen Street. Look for a variety of items – souvenirs, T-shirts, books, and more. 
Red Buffalo Trading Co., a favorite at 412 Allen. We nearly always find what we're looking for there, and they've got some bargains going on! 
T. Miller's Mercantile at 530 Allen is also a good place for unique stuff, including books, clothing (vintage too!), souvenirs & more. 
Madame Mustache at 455 Allen has lots of variety, including vintage clothing.
Tombstone Trading Post, 398 N. Hwy. 80 – Don't miss it as you're going into town, going out of town, or visiting Boothill! Consignment items, new items, curios, posters, lots of interesting gifts, books, so much of interest.
Spotted Eagle Arts – (Moving to a New Location: Will UPDATE SOON. ) Authentic Native work, owned by Dennis Nofchissey, Navajo tribal silversmith. (929)215-9591.
Arlene's is a Tombstone legend, two shops: one on each side of Allen St.  
Original Red Dirt Shirt Store at 405 Allen carries just what the name says; the dye comes from organics at volcanic red dirt areas.
Southwest Power Wear – South side of Allen St., between 5th & 6th. Custom handcrafted leather by S. Jay Connell. 
Harley-Davidson Co., well known, at 526 Allen. 
Tombstone Art Gallery  – Don't miss the original works of art, crafts and quilts, at 383 Allen. It's just West of the Visitor Center.
Antiques – TombstoneAntique Mall, on the North side of Fremont Street. A fabulous place to get all kinds of finds! Plus stop & have some coffee.
---
Adult Fun Attractions
Features That are Alcohol-Related
But note that the Crystal Palace and Big Nose Kates offer lunch & dinner and welcome families for meals. Later on in the evening, the saloons are suitable for an adults night out.
And to find any place in town to have a meal for the family –
See our Tombstone Restaurant Page
And of course, you'll remember to not drink and drive! It's easy to stay over instead. Take a look at the Special stay deals that we recommend here. We always use this secure site for booking rooms for our own vacations. It offers comparisons, deals, flexibility and lots more! It has the best rates – and that's why we use it ourselves, and recommend it.
Click your deal to choose your date(s)!
---
Old West Saloon
Some authentic Tombstone saloons are still in town today. Others use parts of what-was to recreate their own versions. Others stand in place in the buildings where all the action was – back when!
The Oriental Saloon – Milton Joyce leased rooms on the Northeast corner of 5th & Allen Streets, in the Vizina & Cook Building.
In late June of 1880 there he created a deluxe bar and restaurant
Tombstone's 1st major fire on June 22, 1881 caused total destruction of the whole building, including the saloon. Vizina & Cook rebuilt.
Tombstone was better prepared for the larger fire it faced in May 1882. Although the fire department still didn't have pressurized water they kept streaming water onto the property, forestalling most damage. Repairs were made and business continued.
The saloon business ended with prohibition. Various tenants have occupied since.
The original post '82 building stands. It's been a clothing store & gift shop.
Now reopened as Wyatt Earp's Oriental Saloon & Theater! Check out their Facebook Page.
A fantastic historic addition to town! We love it!! Cash only, but they have an ATM.
The Crystal Palace Tombstone [Click Here to Read More] is an authentic, historic saloon – in some ways. See below photo, to see what we mean..
On the corner of Allen & 5th Streets since 1879, beginning as the Golden Eagle Brewery.
On May 26, 1882 a fire spread through Tombstone & destroyed the Golden Eagle building.
Afterwards a new 2-story building was built on that same corner. The new Saloon & gaming parlor was renamed The Crystal Palace – just as it's called today.
Upstairs offices leased by Dr. Goodfellow & Virgil Earp. They're in the recreated office windows today.
Prohibition brought changes. The original bar & roulette wheels were sold, going to Naco, Mexico.
Then renovated into a theater. Had other incarnations before becoming a Saloon again.
In 1964 a remodel for historic authenticity put in a replica of the original bar. It includes historical bullet holes!
So you see, many areas of the building are original after the 1882 fire. The historic aspect of the business dates back to 1879. Read More>
We love this place and stop in there! It's the atmosphere, the history, the hospitable staff. We encourage you to stop in, take a look at the historical aspects inside. Any entertainment happening? Have a meal or drink if you're so inclined. If you see us, please say hello!
Big Nose Kate's Saloon, 417 Allen St.
This saloon area was originally in the Grand Hotel. That first opened on Sept. 9, 1880.
The Grand was a majestic hotel, taking up 2 lots. The first floor had an office, a dining room and a bar.
The Tombstone fire of May 1882 destroyed the hotel, except for the archway fronts, some floor beams & (per Big Nose Kate's) the long bar in its saloon.
The Grand's owner did not rebuild. Instead he built a new building to house three businesses, plus a basement. Half the main floor became the saloon with 4 card rooms. The basement held the Fountain Saloon with a lunch counter.
What can you do there? Take a selfie: In provided Old West duds! Or get hung in the hangman's noose! Or inside the coffin, just like was taken of the McLaury's! It's a fun place.
Entertainment afternoons, Monday thru Thursday & weekend evenings. Karaoke on Thursday night.
The Bird Cage Saloon – The original "Belly-Up Bar" is still inside the lobby today. The Bird Cage Theatre was open 24 hours every day of the year. It was known as the party place to go throughout the country in its heyday. Crafted in Pittsburgh PA, it made a long trip to Tombstone for the Bird Cage's grand opening on 12/26/1881. Now part of the Bird Cage Theater's museum.
---
Old West Bar
Today, drinking establishments in Tombstone are inspired by the old West. Some are on properties which had saloons in the past. Others are on Properties in Historic Locations.
Some serve food, suitable to bring your kids in for a meal. Others are adult honky-tonks. Here are some Old West Bars styled in those themes:
Johnny Ringo's Saloon – A little away from downtown, but walking distance. It's definitely worthwhile. Go East on Allen St. until reaching 10th, you'll see Depot Steakhouse. Turn left, the bar's right behind the restaurant.
Doc Holliday's Saloon – 517 Allen Street. Yes – they have the longest bar hours in town. Almost every evening something going on. Also light food menu.
Four Deuces Saloon – Corner of 3rd & Allen St. Lots of locals frequent the Four Deuces. The bar itself is small. There's a large patio area, and more seating outside. Often there's entertainment on Saturdays. No credit cards taken – so bring cash. There's a bar-top ATM.
Tombstone Brewing Company – The newest edition to town. A little off the main path – but if you're into craft beers and IPA, check it out. The interior has style. They're on Toughnut Street, West of the Courthouse, between 1st & 2nd Streets. Beer lovers: it's a Tombstone Arizona attraction you shouldn't pass up!
Cerveza's Cantina – Located in Old Tombstone Western Theme Park. A beer & wine bar, with on-tap beer. They do feature mixed drinks made with wine, such as Margaritas. It's a cute little outdoor bar.
For more on those other Old West Bars throughout the West – Click Here>
---
Tombstone Wine Sampling Attractions
Silver Strike Winery – 334 Allen, between 3rd & 4th Streets. A wine tasting room and winery. Presenting wine from Mediterranean grapes of vineyards in the Dragoons and in Elgin, based on the philosophy of "Do as little as needed." They produce wine based on bio-dynamics: eliminating unnatural chemicals. We've done their tasting. Excellent choices!
Cabal Cellars Wine Tasting – Cabal Cellars says that they have unique wine methodology, with high employee involvement. They embrace tradition, but include innovation. Their Wilcox AZ grape vineyards include aging that develops their special varieties. For instance try their dry Moscato or their sweet Chablis Chardonnay!
---