Lady Banks Rose?

The very famous rose of Arizona!

You likely heard of this world record-breaker – of Tombstone AZ. It's in the Guinness Book of World Records. Because it's a rose bush that's so huge, it's called a Rose Tree.

The rose's true name is Lady Banksia Rose: (R. banksiae alba-elena), but often gets shortened to Lady Banks. It blooms just after spring begins until near its end. April is when Tombstone's Rose festival is scheduled, for that reason. But sadly, 2020's was cancelled, because of COVID-19. Can't be postponed, blooms will be gone.

What's the Story?
Beginning at the Northeast corner of Toughnut & 4th, with the Vizina Mine's boarding house. Amelia Adamson was the caretaker, in time proprietor/owner. Henry & Mary Gee were early guests, while awaiting their home's construction.
When completed, Mary received a gift box: Lady Banksia rose cuttings from relatives in her native Scotland. She gave one to her friend Amelia & it loved where she planted it. Grew so well there at that corner!
By 1884, the Vizina Mine's output depleting, along with problems.
So the boarding house was sold as a hotel. Named it the Cochise Hotel. Just after 1900 the protective, decorative tin coverings you see today were installed.
Then in early 1906, name change: the Arcade.
Family's Legacy
The Macia family purchased the hotel in 1919. They changed the name to the Rose Tree Inn in 1935. Reason? The publicity from Ripley's Believe it or Not focused on how huge this "Rose Tree" had become!
It continued growing after that, still is thriving today. Ethel Macia supervised building the original trellis to support its branches.
What's the Origin?
Around 1807 it was brought to the United Kingdom from its source in China, for the Royal Horticultural Show. In the show, it was named for botanist Sir Joseph Banks's wife: the Lady Sarah Banks.
It blooms with whitish flowers just as Spring season comes in, through almost Spring's end. If you'd like to grow some yourself, the Rose Tree Inn sells cuttings. A reader sent us a photo of the cuttings he bought, and planted in his yard. See His Lady Banks Here>
Worth A Visit When You Can
The Rose Tree Inn isn't an "Inn" anymore, but is a museum. Plus you can feast your eyes on this amazing rose bush/tree!
Rose Tree Inn – Museum
This Tombstone Attraction. just didn't click with us right away. But once we finally went, we didn't regret it. If you haven't yet seen it – you may have the same experience!
What do you think? Have you been there?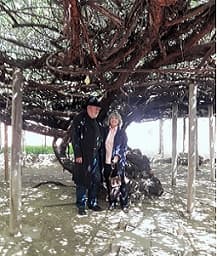 ---
Historical places & events create curiosity for facts about people who roamed the Tombstone area & the Old West. What's the true story? Can we discover the authentic history?
And we enjoy sharing what we find with you.
We hope we'll see you in town sometime, (eventually in the future!) seeing areas where they spent time – back in the 1800s.
Let us know if you'll be going to an upcoming event! Tell us how you liked any of them, or what you visited here! Just reply to this newsletter for easy input! (Let us know if we can use your comments – & how to credit you.)
---
---