Intro
Have you heard of the Clear Fork of the Brazos River, about 120 miles West of Fort Worth, Texas? The U.S. 6th Cavalry built Fort Wilson there the summer of 1867, on a plateau. Name changed soon to honor General Charles Griffin.
The Old West Frontier Town built up around it. But it had a wild reputation, too. Although known as Fort Griffin, it was also called The Flat, as well as Hide Town. Today this is just North of Albany, TX.
In 1877 Wyatt Earp, likely bored with Dodge City, looked for alternate earnings. According to Wyatt's later telling, he liked the chance to go after Dirty Dave Rudabaugh. Who'd led a gang to rob a railroad camp. (But historically, there's the possibility per timing, that he was instead tracking the Sam Bass Gang.)
Wyatt Arrived in Fort Griffin
Wyatt Earp tracked Rudabaugh to Texas in October 1877. Heard he'd been to Wyatt's friend, John Shanssey's Cattle Exchange Saloon [note: some say it was The Bee Hive Saloon] in Fort Griffin.
Wyatt checked with Shanssey at the Cattle Exchange. He discovered he'd missed Rudabaugh by a couple of days. But was told the skinny guy at the card table might know where he's headed. That guy was Doc Holliday.
Author Stuart Lake gave his input on their meeting. In his Earp biography he said Shannsey warned Wyatt of Doc's "killer" reputation. He thought he'd not like to help out a lawman. But he'd not shown his shooter hand locally. Shanssey said Doc owed him, so he'd vouch for him to help Wyatt.
Wyatt walked over to ask this guy about Rudabaugh. He introduced himself as a lawman, who was on the trail of this gang of robbers. Doc said they hadn't specified to him where they were going. But he did overhear some conversation.
Doc Holliday must have taken a liking to Wyatt Earp, as he was willing to let him in on this information. He said they'd heard they were being tracked. And they spoke of heading back to Kansas, the area of the robbery, since that would be unexpected.
A Friendship Begins
Wyatt Earp responded quickly to that important information. He must have sensed it as truthful from Doc. Wyatt sent off a telegram straight away to Ford County Kansas. Informing the Sheriff that the Rudabaugh gang may have returned. Bat Masterson in turn, was informed.
Bat trusted this info, coming from Wyatt Earp. He gathered a posse. They caught them by Lovell's ranch on the Cherokee Strip. Rudabaugh ended up in prison.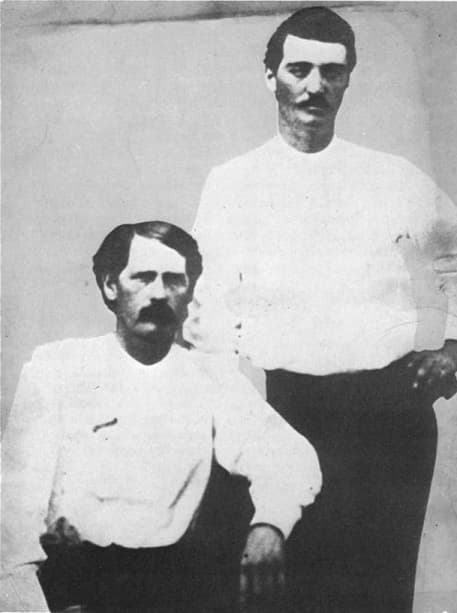 Leaving Texas
His goal accomplished, Wyatt Earp left this wild west town of Fort Griffin. He returned to Dodge City in January 1878.
Did Wyatt not find The Flat exciting enough to stay, even though he had a new-found friend in Doc Holliday? After all, the Fort Griffin History page states "Hide Town, was considered one of the West's five wildest towns with streets thronging with soldiers, buffalo hunters, drovers, gamblers, saloon girls, surveyors, outlaws, clerks, merchants and ranchers."
Or was it because he was always drawn back to the location of his family members? That being one or more of his brothers. Just as they all gathered together one year later in Tombstone AZ, late in 1879.
---
Historical places & events create curiosity for facts about people who roamed the Tombstone area & the Old West. What's the true story? Can we discover the authentic history?
And we enjoy sharing what we find with you.
We hope we'll see you in town sometime, (sigh – eventually in the future!) seeing areas where they spent time – back in the 1800s.
Let us know if you'll be going to an upcoming event! Tell us how you liked any of them, or what you visited here! Just reply to this newsletter for easy input! (Let us know if we can use your comments – & how to credit you.)
---
---