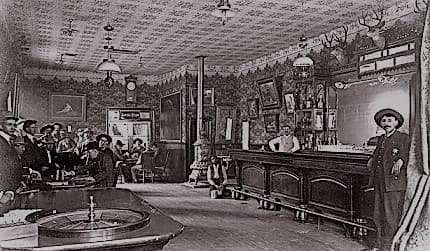 Old West Gambling Games – Were they legal? Were they popular?
As people moved into the West in the 1800s, life was hard. Most of these migrants were men: miners, soldiers, explorers, opportunists, teenaged orphans. Entrepreneurs looked for the right circumstances for a business. 
With free time, entertainment was what many were after. Proprietors were quick to supply their needs. Gambling establishments opened in old west mining camps and new towns out West. Most often inside the saloons. Let's see the Old West gambling favorites – particularly in Tombstone AZ!
Gambling's Old West Popularity
In those days, wagering was most popular between 1850 & 1910. Almost every town had at least one Old West Bar with a gambling game. Especially in the Old West, numerous saloons had gambling halls to while away free hours.2 As a Western town was populated, gaming tables went up in tents. Then as the money flowed, bar-men upgraded. They built nice lounges, like in the Crystal Palace. Regular gambling games such as Faro, Roulette and Poker were established there.
Many men gambled after their work-day. Others were professional gamblers. When Wyatt Earp came to Tombstone, he planned to earn money by gambling.1 He'd done it before! His friend, Doc Holliday, was a professional gambler.7 
---
Somewhat Respectable Sport
In the Old West, gambling was viewed as a legitimate way to make a living. Not all who ran the games were honest. Some were outright con-men. There were those who tried to give it an air of refinement. They set up gambling halls with quality decor.3 Saloons even followed suit.
In certain respects gambling was considered a fine way to have a night's entertainment. Gentlemen particularly went to a quality establishment for this type of a night out. They called it a sporting event.
Those running the games invested their own funds to start the bank. They relied on their reputations as honest dealers. The saloons promoted their dealers as running a respectable game. They knew it brought in business.
---
The Old West Gambling Town
of Tombstone AZ
Gambling halls were scattered through the Old West city of Tombstone. By 1880 there were nearly 18 choices of places to get into a good game of faro or poker – or try your luck with roulette.1
For instance, when examining the History of the Crystal Palace, notice their regular assortment of gambling games running during the Old West era. Local newspapers advertised them. An example shows one early partnership who were big on marketing: Bernhardt Wehrfritz and Julius Caesar. Advertising helped bring in people. See their ad here noting all kinds of sporting games, and also music for entertainment.
Some women gambled, and were professionals in the business, too. Their personalities were as varied as were the men's. But they didn't get the same reception because of their gender. Even with professional skill, they weren't accorded reputational respect – if it indeed called for that.
A few lesser known, but notable women who took up gambling professionally in the old west:5
Lottie Deno – Alias Carlotta J. Thompkins, ended up in Texas in the mid 1860s. Starting by running a San Antonio Hall owned by the Thurmond family. She married Frank Thurmond, and they began traveling around the state, both wagering as professionals. Finally arriving in Fort Griffin (probably where she met Doc Holliday), it's there she made her reputation. By 1882 the Thurmonds tired of that life and settled in New Mexico. She's buried in Deming.
Kitty Leroy – Dallas TX is where she first dealt Faro, gaining excellent wagering skills. She had a quick temper and often wore men's style clothing. Married five times, she shot one husband. Not known for being faithful! In Deadwood she was most financially successful, opening a saloon. But at age 27 that ended when she was shot and killed by her 5th husband.
---
Gambling Games & Halls of the Old West
Faro – A Popular Game
Faro was well liked. It had 18th century French origin, going through Europe, finally getting to the U.S.4 In the Old Western days of gambling, it was probably the most common, popular game around.1 Gamblers referred to the gaming hall as a Faro Bank. But technically that meant the dealer's stake in the game. Cash they supplied to run the game.3
It was easy to learn. Not slow, hands went by quickly. Plus players' odds were best of all! It was the most favored game in the 1800s.4 Original card decks had a Bengal Tiger illustration on the back-side. Therefore the nickname: Bucking the Tiger. Sometimes a tiger picture was in a window announcing a game.8 
After a while problems surfaced because of the odds. Dealers began all sorts of cheating systems. Equipment manufacturers got involved. They made cheat dealing boxes. In return, players began to cheat also.8 
A well known Faro "Shark" was Bat Masterson. He'd talk a good tale to the dealer during games, for distraction. On the next round, the absorbed dealer would forget to shuffle. Bat then remembered the prior card turns, and won the plays. In Tombstone Bat witnessed his two friends, Luke Short and Charlie Storms, in a gunfight over a faro game at the Oriental Saloon.8 
Legitimate gaming sponsors warned players that virtually all Faro games were dishonest. Cheating dealers were prosecuted. Cases even went to the Supreme Court. By the end of WWII, only a few games could still be found – in Nevada. By the 1980s, there were no more, even there.2 It wasn't worth it to the gaming houses. 
How to Play Faro – the Basics
Place your chip(s) on the card(s) on the Faro board, that you're betting on to win
You can also bet to lose by placing a penny (copper) on top of your chips
Dealer draws a card from the deck that loses – if your chip is on that card to win, you lose the bet.
If you bet it to lose, though – you win the bet.
Dealer draws a card from the deck that wins – if your chip is on that card to win, you win the bet.
If you bet it to lose, though – you lose the bet.
Cards already played are tracked with a case-keeper – so you can judge the chances of a card coming up.
There are ways for multiple cards to be bet on the Faro board.
Finally, there are 3 cards left in the deck. It's time for "Calling the Turn."
Each player guesses the order of the card draw – get it right to win 4 times the stake
Today, some people play it for fun only – no money involved! You'll find people who instruct this game in many Old West towns formerly known as an old west gambling draw.
In Tombstone the Oriental Saloon has a regular Faro instructor. 
In the small community of Cochise Arizona, the historic Cochise Hotel is owned by an expert in Faro instruction. We bought our own Faro board from him. He has a room on-site that's like an Old West Faro gambling museum! If you go there for a stay, ask to see it.
There's a regular Faro night at the Tombstone Monument Guest Ranch. 
At our house, we've played once a week with friends. When we do this, it's a good time!
---
Record Poker Game!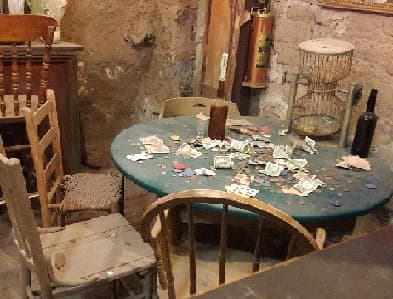 Tombstone's Bird Cage Theatre, in the Old West, was among other things, a place for gambling. The exclusive game was in the basement. It was high stakes poker. $1000 needed to start to play: to get in the game!
A record setter as the longest Poker Game in the Old Wild West was there. Continuously ongoing, it lasted 8 years, 5 months and 3 days. Bat Masterson, George Randolph Hurst and Diamond Jim Brady were regular players. Players would get in and out – but the game itself, continued on.
---
Keno
Another popular option was the game of Keno. In Tombstone, the local gaming halls publicized Keno spots by employing a sort of "Town Crier" who roamed the main streets. One observer found it amusingly odd, saying he heard a "sonorous voice proclaim… that a keno game is about to commence, and ring a large bell as though he were calling… to a free dinner, or an auction…."1 
The game originated with Chinese immigrants who came to work on the transcontinental railroad. The Chinese government since former times sponsored a game called baige piao to raise money. It was a popular lottery game that the Chinese brought with them.6
In the Old West, Americans they interacted with couldn't quite pronounce those Chinese words. The slurring pronunciation turned into something more like Keno. In the early 1900s it was made an official game and the name "Keno" became its signature form.6
---
Frontier Gambling
Bisbee, AZ
Bisbee Arizona, a copper mining town, about 23 miles Southeast of Tombstone. Brewery Gulch was the booming Old West saloon and gambling area. Another saloon strip was along Main Street, and that's where the Orient Saloon was. It opened March 11, 1902.15
The National Archives photo above was taken by C.S. Fly. It shows John Murphy dealing. Others known, left to right:
Tony Downs, part owner of the Orient, wearing a derby. He's standing.
Doyle is a concert hall singer, sporting a derby hat. He's sitting at the table's corner.
The Dutch Kid stands behind Doyle
Sleepy Dick is the Orient's porter. He's toward the right, behind the man with his head down. He's wearing a light felt hat.
Charlie Bassett with the soft felt hat, stands in the rear by the wall
Smiley Lewis sits, placing his bets, wearing the silk top-hat.
Prescott Arizona
The local newspaper in Old West Prescott even viewed their own gambling halls as rivals for Tombstone. From the clip above, you can see they promoted a Poker Rivalry!
Talk about long Poker Games, with high stakes! Looks like they were saying, think again Tombstone:
Who Has the Longest Games?!! 
Who has the highest stakes??
North Platte Nebraska
Along railroad construction routes, many towns sprung up, just as gold and silver mining generated new towns in the Old West. Similar to those mining towns, young railroad workers looked for excitement in their off-hours. Entrepreneurs included those Gambling Professionals.
North Platte was a prime example. In the mid 1860s, it sprung up with a slew of unmarried men with railroad earnings. A newspaper reporter noted "every known game under the sun is played. Every house is a saloon and every saloon is a gambling den."3
Cheyenne Wyoming
The railroad reached Cheyenne in the late 1860s. With it came gambling houses. Professionals ran in every saloon, which a newly arrived preacher was dismayed to note was almost every house in town!3
One of note was the Cheyenne Club. Those who made the big bucks in town: the railroad, and particularly the cattle barons, became members there. A private men's club, constructed in 1881, at 17th St. and Warren Ave.9 
One of those exclusive venues with deluxe amenities. A gorgeous, covered wrap-around porch, a billiards room, a library, and exquisite dining. Card rooms were appointed with luxuries10 – but seek out the high stakes games if you were up for it!11 It was torn down in 1936.9 
---
Gambling Comes to an End
In the early 1800s, religious groups began opposing gambling per their morality. Their ire was aimed at lotteries prevalent in the Northeast.13 Government officials in the Old West were influenced by what was happening back East regarding gambling. They had their eyes on any gaming around. States started to enact laws banning wagers.12
A Globe Arizona newspaper, published an interview with one gambler's viewpoint, when all this gambling opposition began. When Arizona became a state in 1912, gambling was officially outlawed.12
Gambling Laws today
The laws have gone back and forth until today. Now each state has varied regulations about gaming. To each their own! Plus sovereign Native American Nations also regulate their own gambling laws.13
Currently in Arizona, gambling can be done in Tribal casinos, at a dog track or horse track (choose one per day!) and in the state lottery. Yet there is Class II gaming that's allowed. They call it Bingo rules games. There must be at least two players who play against each other – not against a bank or house.14
This law covers the poker games like you'll find in Tombstone. Check out the Poker Game at Doc Holliday's on Allen Street.
---
References
 1 Bailey, L.R. (2004). Too tough to die: The rise, fall and resurrection of a silver camp; 1878 to 1990. Tucson AZ: Westernlore Press.
2 Thompson, C. (2016, Dec. 1). Ask Clay: What is 'coppering a bet' and faro? The Republic/azcentral.com. Retrieved from azcentral.com/story/opinion/op-ed/claythompson/2016/12/01/ask-clay-what-coppering-bet-and-faro/94631726/
3 Williamson, G.R. (2018). Gambling in the Old West. Kerrville, TX: Indian Head Publishing.
4 Benford, S. (May 1, 2010). Faro stacked old west with winners, cheats. The Arizona Republic. Retrieved from pressreader.com/
5 Sumner, L. (March 13, 2017). Outrageous Gambling Women of the Old West. Cool Cat Casino. Retrieved from coolcat-casino.com/articles/outrageous-gambling-women-of-the-old-west.php
6 Applegate, E. (June 16, 2017). What Is Keno. Cool Cat Casino. Retrieved from coolcat-casino.com/articles/what-is-keno.php
7 Traywick, B. (Oct. 1977). Doc Holliday. Wild West. Retrieved from historynet.com/doc-holliday
8 Sanders, J.R. (Oct. 1996). Faro: Favorite gambling game of the frontier. Wild West. Retrieved from historynet.com/faro-favorite-gambling-game-of-the-frontier.htm
9 Funk, J. (June 30, 2017). Opera House, Cheyenne Club, more, failed to last test of time. Wyoming Tribune Eagle. Retrieved from wyomingnews.com/opera-house-cheyenne-club-more-failed-to-last-test-of/article_3d6711aa-5a93-11e7-8aee-4f5524b3dc7d.html
10 Greater Cheyenne Chamber of Commerce (2018). About Cheyenne. Retrieved from cheyennechamber.org/about-cheyenne-wyoming
11 Branigan, J. (May 11, 2011). The Cheyenne Club. Nagle Warren Mansion Bed & Breakfast: Enjoy the life of a cattle baron, at least for a few minutes. Retrieved from naglewarrenmansion.wordpress.com/2011/05/11/the-cheyenne-club/
12 Rose, I.N. (1997). Gambling and the law: Pivotal dates. Whittier Law School. Retrieved from pbs.org/wgbh/pages/frontline/shows/gamble/etc/cron.html
13 HG.org (1996-2019). A history of American gaming laws. Legal Resources. Retrieved from hg.org/legal-articles/a-history-of-american-gaming-laws-31222
14 FindLaw Team (2019). Arizona gambling laws. Thomson Reuters. Retrieved from statelaws.findlaw.com/arizona-law/arizona-gambling-laws.html
15 Bisbee Daily Review (March 12, 1902) Orient opening. Pg. 1, Bisbee, Arizona. Retrieved from www.newspapers.com/image/40677005
---