Billy Stiles Had a Good Start
William Larkin Stiles was born in Casa Grande Arizona. About mid-state, half-way between Tucson & Phoenix. Mostly flat area, lots of cotton fields. Raised there, he learned mining & ranching.
He drew newsworthy attention with a good copper ore strike in June 1896 at 24 years old. Later that year he was deputized onto a posse which ventured as far as Cochise County.
By the middle of 1897 he partnered in the Saloon business with Ben Bible. They built an adobe building on a corner lot in Florence AZ.
Law Career in Cochise County

On the posse he worked under Texas John Slaughter. Through that connection Billy was offered a deputized law position around 1898. He then met Burt Alvord who also worked for Slaughter.

Was Billy Stiles heading to the wrong side of the law?

Stiles & Alvord Tricksters Together
Earnings from their deputy law positions weren't consistent or much of a living wage. Pay was a % of collecting license & business taxes & fees, inmate transport, jail oversite, etc. They took what they saw as an "easy route" to extra earnings.
Recruiting 2 others, they planned a train robbery. They anticipated a train on its way to Willcox, carrying the Pearce Arizona miners' payroll. At the Cochise Train Station stop, in Sept. 1899 they blew up the safe, making off with the cash.
Then these "lawmen" formed a posse to hunt down the train robbers! They didn't track them down!! Couldn't locate them – hmmm! You can imagine why not!
2 more train hold-ups occurred in Southern Arizona in Feb. 1900. 1st in Red Rock, 33 miles north of Tucson. Small unsuccessful incident.
2nd at Fairbank, more shocking! A shoot-out ended with a Wells Fargo Agent injured. Plus gang members "Three Fingered Jack" Dunlop, Bravo Juan Yaos & John Milton injured. 5 were said involved: All but 1 arrested & in Tombstone jail by Feb. 25.
Alvord's Name Surfaces
In early March, Wells Fargo Detective Thacker arrested Burt Alvord & W.F. Down. Three Fingered Jack "fingered" them before dying in Tombstone's lock-up. Alvord as the boss.
A Tombstone court hearing a few days later brought confessional testimony from Mayhew who was to be in on a planned Benson train hold-up. He implicated Billy Stiles in that plan. Mayhew was subsequently out of the gang, & the Benson plan was ditched. Allen English was the defense counsel.
Tombstone Jail Deputy Shot! Prisoners Escape!!
Stiles was brought in. But volunteered what he knew, turning state's evidence. Plan: save himself. A smooth talker, Stiles schooled Thacker on his lawman history, convincing him to have shifts as Prisoner Guard.
Stiles arrived at the Jail confronting Deputy Sheriff George Bravin, requesting release of the prisoners. Bravin went for the gun & Stiles fired, got him in the foot & calf.
Billy Stiles set 2 of his cohorts free, invited the others out. But the rest stayed put.
Stiles, Alvord & Bravo Juan headed for the Dragoons, but then apparently went West, then North & South. They stole 3 horses for their travels.
In early July 1900, Billy publicly appeared & was legally grabbed. He reminded them with his slippery wording that he was state's evidence for a scheduled trial. They sent him to Yuma prison for "safe-keeping." By early 1901, the trial completed, he was officially freed from legal charges.
Spring 1901, Billy's on SE Arizona posse work & mining again. Alvord & Bravo Juan were on the run, until capture in Mexico Feb. 1902.
Yes, Lawfully Back – But??
Billy Stiles worked basically undercover helping Arizona Ranger B.C. Mossman capture notorious bandit Augustine Chacon. Then Billy helped Burt Alvord surrender himself in Tucson in Sept. 1902. The following July a Grand Jury heard testimony for indicting Alvord. Billy testified, which brought charges for himself also! He quickly made his escape – over the border! But recaptured coming back to visit his wife. Sent to jail at Tombstone.
Then Dec. 15th he & Alvord broke out! They dug right through the cell wall. A reward of $500 each was issued by Cochise County Sheriff Lewis.
Silver-tongued devil that he was, he tried negotiating for the reward $$$ if he gave himself up! But Billy stayed hiding over the border. Rumors of his whereabouts (including gone to China), his death & his sightings were had over the years: 1904, 1905, 1906, 1907. Until toward the End of 1908 – Credible Info:
Billy had found his way to Northern Nevada. Using his winning rationality & his law experience, he secured a position as a law officer. He worked his way up, becoming detective at one point.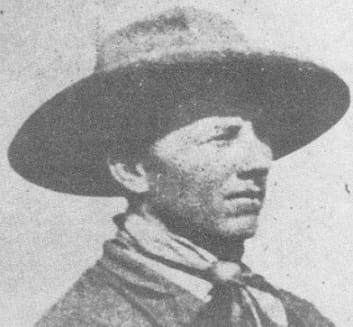 Then was a Special Deputy Sheriff, when killed in the line of duty. Known there as William Larkin or Billie.
They buried him there in Winnemucca, in the old cemetery. It's now a park, graves were moved. Nowhere is he or his grave currently documented.
However, he is documented in a Memorial dedicated to those Police Officers who Lost Their Lives on Duty.
He was survived by his mother & his wife. He was only 37 when he was killed. So what do you think? Was he a good guy, or a bad guy? Or something in between?
---
Historical places & events create curiosity for facts about people who roamed the Tombstone area & the Old West. What's the true story? And what happened to them – do we even know? Can we discover the authentic history?
And we enjoy sharing what we find with you.
We hope we'll see you in town sometime, (eventually in the future!) seeing areas where they spent time – back in the 1800s.
Let us know if you'll be going to an upcoming event! Tell us how you liked any of them, or what you visited here! Just reply to this newsletter for easy input! (Let us know if we can use your comments – & how to credit you.)
---
---