Tombstone Lodging Arizona is what we've prepared for you to get a great place to stay. You may not always want a little motel or hotel room  that is comfortable – but has the minimum at-home amenities (although we'll Direct You There, if you'd like!). We show you places here that are more like a home away from home. Often with the best value for their rates, too! Plus where you can meet some local extra friendly faces, and feel even more welcome to town.
Types Of Tombstone Lodging 
Arizona Styles To Consider
So we're putting the typical motel or hotel room aside. Instead, we're going to think about Tombstone AZ lodging stays in or nearby Tombstone that will give you more convenience. Maybe more easy on your budget, or better suitable for families with children, perhaps more romantic for a couple. How about Tips For You, when making your choices. But what are your choices?
---
Thinking of a Tombstone Bed and Breakfast?
Tombstone Monument Guest Ranch – We've stayed at this terrific B & B! Loved it! A unique Western atmosphere with plenty to keep you entertained. Love to feel like you're truly in the Old Wild West? This standout lodging in Tombstone AZ is the place for you!
Choose among 18 different rooms in standard, deluxe, junior or premium suites. All kinds of modern amenities available to you. Specials & packages available, too!
With vintage decor, as well as entries designed as if you're going into the Tombstone Epitaph, the Old Bordello (!), the Mining or the  Sheriff's Office, etc. Walk along the old west style boardwalk to arrive at your room.
Check it out, and Arrange Your Stay>
---
Virgil's Corner B & B – Historic corner of Hwy. 80 & 3rd Street, on the right just as you enter Tombstone. This lodging is the Arizona Earp history you'll be reliving when you stay here!
Four different rooms available, with vintage era features, all on one level, all rooms with private bath.
Mattie's room is wheel-chair accessible, Queen-size bed; Morgan & Lou's room, two Queen beds; James & Bessie's room, two Queen beds; Virgil & Allie's room, King-sized bed.
Get your Favorite Dates Reserved>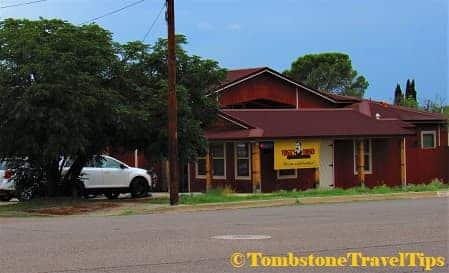 ---
Tombstone Bordello Bed & Breakfast – This historic home was actually a house of ill-repute in Tombstone's legally cordoned red light district in Tombstone 1882. Formerly located where the old school property is now, is was relocated in the 1920s.
Rooms are on two floors: three on the first floor, and six on the second floor. All with private bathrooms. One upstairs room has its own private balcony. We stayed here a long time ago on an upper floor – nice stay, great breakfast. Can't comment on it recently, but it has good reviews.
It's been known to have some ghostly sightings to those sensitive to that sort of thing – quite benevolent, though. When you stay, if it happens to you – be sure to let us know, we'd love to Hear Your Experience>
They serve a wonderful breakfast to their guests. Plus if you have particular needs, let them know – they can make some adjustments.
Don't wait, Choose Your Room>
---
Stampede Bed & Breakfast – The Stampede RV Park has some small Mobile Units it uses and advertises as its version of a Bed & Breakfast. They're set up for you to stay, and then go into their restaurant for your breakfast. A variety of reviews have a wide range, from terrible to not bad. With very friendly service & a great breakfast. The cozy cabin featured on their film may be just one of the mobile units, but apparently they're all older units & don't all look like cabins. But here's their advert film:
If you want to give it a try, maybe you could call to try bargaining the rate. Or Just Book It Here>
---
Some More Details & Tombstone Bed & Breakfast Choices>
---
Where can you find
a Tombstone area vacation rental?
Mountain View Efficiency – We've stayed here & enjoyed it. Wonderful views of the town, close enough to everything, yet private and quiet. Walking distance if you like exercise! It's not quite 1/2 mile to town, but up the hill.
It is an efficiency unit, a separate building with a carport. One room contains living area, bedroom, kitchen. Separate bathroom/shower. 
Kitchen has sink, fridge & all-in-one cook-plate toaster-oven. You could make a very simple meal with it. Has a coffee maker too. Simple eating utensils are there.
Queen-size bed. They'll add an additional bed for 1 child if you ask.
We recommend it, reasonably priced – Pick Your Dates To Reserve Now>
---
Tombstone Miners Cabins – Brand new, close to town. Three cabins with back deck views of Tombstone's Gulch and the Tombstone Hills where Historic Mining happened. Great rates for these fabulous units!
Choose the room with two full beds or a room with queen-size bed
All have pillow-top mattresses and foam memory pillows. Plus full private baths.
Line up Your Chosen Calendar Spot>
---
The Bunkhouse – Feel like one of the cowboys or cowgirls in this adobe style charmer. Almost like home and close to everything. 
Can sleep up to 5 people, with one Queen bed and one King bed for amazing comfort.
Easy parking, kitchen, two bathrooms, living room.
Excellent reviews all around.
Get your best availability, don't lose out. Book It Now>
---
Katie's Cozy Cabins – Right on Allen Street, a short walk into town. Cute, rustic cabins, yet still great comfort amenities.
Sleeps up to six: a loft double bed, a 2-kid bunk bed, and living room sofa opens to a double bed.
All you need for any in-house meals.
Good reviews, so get in now! Book Your Dates Today>
---
T. Millers Tombstone Mercantile Hotel – Billed as a no-frills hotel. No pets allowed, and no-smoking. All rooms are upstairs through a rear entrance, with a private parking area. No TV in the rooms. What makes it kinda like a vacation rental tombstone lodging is that it has a guest common room. That's where you'll find all the conveniences of home. Nice, comfortable enough for the convenient location and good price.
Two rooms have a shared bath, so these are good if you're in a family group: Ranch Hand Room with a Queen bed ($89/night) & Cowboy Room with Queen bed ($89/night).
Two rooms each have their own private bath & two Queen beds. The Oriental Room (we've stayed here) & the Madame's Room.
The common room has the television & living area, and a kitchen. From here there's access to a large balcony with views of the Tombstone Hills and Allen Street.
Minimum of 3 night Stay on Event weekends. For further information or reservations, call between 10am and 5pm (520) 457-2405 or email: [email protected]
---
Some More Details & Tombstone Vacation Rentals>
---
Lodging Near Tombstone AZ
A Bit Farther Drive, But Worth It
Hummingbird Ranch – In Pearce Arizona. Stunning mountain views all around, and wonderful night skies at this 25 acre private ranch.
Three decks bird-watchers will adore, with feeders (for hummingbirds, too) & bird-baths. View the Sandhill Crane migration in autumn! A friendly roadrunner comes right by on his route. Amateur astronomers will love the observatory option.
Single level ranch home: 2 bedrooms, 2 baths. Sleeps up to 4.
Adults, no children under 13 years of age. No smoking/vaping in home or on property. No campfires or hunting on ranch grounds. 
Contract required, two night minimum. Property not suitable for entertaining visitors, having gatherings or events.
For further details, Request Your Dates Here>
---
Zen Retreat Guest Home, With Views – Need a fabulous lodging near it all in Tombstone Arizona, yet out of town. To maybe host a special Family Reunion? Or a Deluxe Retreat for Inviting some Outstanding People? Staging a celebrating reception for distinguished guests? This is the place!
Approximately mid-way between Tombstone & Bisbee, it's an off-grid, eco-friendly, yet fun lodging retreat with gorgeous outdoor areas and views.
Pet-friendly, privacy galore!
Three bedrooms, flexibly sleeps up to ten.
Events, parties, large gatherings considered with prior homeowner approval. Please include related  questions or requests when booking.
---
Tips for Choosing
Your Tombstone Arizona Lodging
Owners or managers of these types of lodging facilities often have a more personalized interest. They may live in the same building, or in an adjacent residence. They'll be quite invested in your stay's comfort and happiness. They're usually friendly, people-personalities, who'll enjoy meeting you, ensuring you get off to a satisfying start. Yet they'll be aware of your sensibilities, as well. Not to overdo, so as to cause you discomfort, letting you alone when you desire.
When thinking about lodging you'll want to choose in Tombstone, imagine certain questions. We've itemized them under headings, but it may be wise to peruse them all. Some can be applicable to all categories, depending on you.
---
Do You Want Historic Tombstone Lodging?
Arizona is quite a Historic State, with many preserved, vintage buildings used for lodging. Consider asking:
Are there elevators? And if not, how many floors must be traversed to the rooms? Are there any rooms on the first floor (if that's a need for you)?
Similarly, is this building (or any rooms within) handicap accessible? If that's a need for you.
If it's Tombstone lodging, Arizona summers especially will have need for good air conditioning. Especially if you're sensitive to heat. (See our Page on Choosing When to Visit>) Also Tombstone does get cold winter days. So consider if you have sensitivity to cold. If these are concerns, ask about the cooling and heating systems for the room.
Some antiquated homes-turned-lodging may not have individual bathrooms for every bedroom. Which means using shared bathrooms. If that's important to you, ask if the room you'll have will have its own private ensuite.
---
Traveling With Your Pet
Are you traveling with a pet? Definitely plan to see if they allow your 4-legged family member. They may, but charge extra. But again, they may not. Allergies are the main concern among the general population using their lodging facility, for their disallowing pets. Particularly when they're a smaller site.
On the Other Hand: Some lodgings have their own resident furry friend. A friendly greeter who loves meeting you. Will you love meeting them? Another thing to consider, if you're the one with an allergy, or distaste for the tailed clans.
For now, here's our Pet Friendly Stay List>
---
Bed and Breakfast Tips
Bed and breakfast lodging is often more specialized and unique in their particulars. It's often good to know some quirks ahead of time. Keep some of these questions in mind. Ask ahead if they apply:
Even young children aren't welcome in some bed and breakfast lodging. They're just not suited for the younger set, generally that means kids under 12 years of age.
Are you worried about keeping in touch via WiFi, or having good evening entertainment on television? Ask ahead about such electronics. Many may not have up-to-date technology available.
Do you have meal quirks? Gluten-free? Vegetarian? Many food styles can be accommodated within their breakfast service. But if not, and you ask ahead, then you may be offered options. Or know to get a reservation elsewhere.
Remember to inquire about arrival and departure times. A bed and breakfast isn't always as 24-hour available with that, as are motels and hotels.
---
Vacation Rental Tips
When we travel, this is one of our favorite methods of lodging stays. You essentially get an entire apartment unit, even sometimes a little house or cabin, for less cost than hotels or motels. With all the comforts and conveniences of home. Plus even more savings by eating some meals at your "home away from home."
We usually have breakfast in our vacation rental unit's kitchen. Then we'll have dinner out. Sometimes we'll fix a picnic lunch there to take out with us. It's almost just like being at home. What tips should you keep in mind when looking for Tombstone lodging via Arizona vacation rentals?
First of all, read reviews. Maybe they're 1 or 2 disgruntled people, as you can never please everyone. But if the overwhelming majority loved it, then it should be good to go. If the likes stated what you would've liked, all the better. Ideally look for a minimum of six good reviews. 
But if you see THE ideal place to stay with no reviews yet, then call the owner with some very detailed questions before booking. (Who knows, they may offer you a discount for being one of the first to book!)
Be sure to read all the details about the unit carefully, to know what to expect. For instance: are the bedrooms separate, or is the bedroom incorporated into the living room and kitchen? You may want to know, especially if you have children along.
Know the check-in procedures and times, since they're going to be more exacting than at hotels and motels. You may have a self-check-in with a digital lock. Or you may have to meet the manager at some unfamiliar spot. Be sure you know how to contact the right person, in case of a difficulty.
Preview photos, so you have familiarity with the surroundings and the lodging.
Know the rules of the lodging. They all have specific rules to follow.
When you arrive at the lodging unit, inform the host right away of any damage seen, or anything not working. It's important to communicate quickly, rather than take possible blame for something not your doing.
Now relax, enjoy your trip & your Tombstone lodging, Arizona style!
---