Arizona travel is a unique experience! Why will it be Most Memorable?
Throughout the world there are places that have scenery full of awe. View the sights, and you gaze in astonishment! You've seen travel shows on TV – right? With wonderful photography! That leaves inspiring, lasting impressions!
Right here in the U.S. – explore Arizona for sights to dazzle your eyes! It's a unique region. We live here. Find your best travel in Arizona!!
If you're thinking of Tombstone Arizona travel – we know you may be!! Well, while you're here, do you want to see some more of this breath-taking state?
Arizona has incomparably diverse plant and animal life. It's like nowhere else in the US…  because it is its own unique environment! We have mountains that give us almost every available climate! We have impressive cities and towns – each with unique character!
What is your own interest? Keep moving below to find all kinds of options, or choose exactly what you'd want from these choices:
Our State Song Shows Arizona Travels
Come see for yourself!! It's convenient for most anyone in the US to organize a visit and have this experience. And it's accessible to those world-wide to come have that encounter.
Take a look at our Arizona travel photos and experiences. Try it out online to see what you think! View all that Arizona travel has to offer with its tremendous variety. Get the insider action from us – as locals who will let you in on the best here. Yes, come on in…
5 Reasons You Should be Talking About
Arizona Travel!
Now let's not just talk about Arizona Travel. How about making your own plan for Arizona Travel? Let's take it further.
---
Arizona Attractions
Some people think of one of those Wonders of the World – the Grand Canyon – and don't realize that it's in Arizona! Well, yes, it is! We're the Grand Canyon State, after all. But we have many other attractions. Think about these other Arizona travel wonders:
Unique Places to Visit in Arizona
Kartchner Caverns State Park – Only discovered in 1974 by amateur cavers. These immense caverns were made into a state park in 1999. When first opened, visitors had to get on a waiting list to see it! South of Tucson on I-10, in Benson, take Exit 302 for Hwy. 90, turn right.
Meteor Crater Natural Landmark – A little East of Flagstaff. This meteor crash site is amazing! A meteor hit earth here about 50,000 years ago! Talk about Arizona travel!! Take Exit 233 off I-40. (800) 289-5898.
Saguaro National Park – The giant Saguaro cactus are a unique feature. This park has plenty of them. Go exploring cactus forests. A beautiful Sonoran Desert area just outside the city of Tucson. With two sections, both unique with their own Arizona travel advantages. The West Park has extraordinary beauty: take I-10 to Ina Rd. exit. Make a Left & follow the signs. For the Eastern Unit, take Broadway Blvd. East until you access Old Spanish Trail. Follow this until its end, where you'll find the entrance.
Why not stay awhile in Tucson – to enjoy this beautiful area: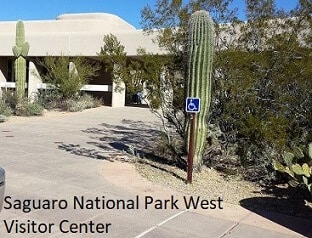 Canyon de Chelly National Monument – On the Navajo Nation, it holds ancient ruins of the Anasazi people. A stunning ancient pueblo. Travel Arizona in the very Northeast corner? Then you can take I-40 to State Hwy. 191 North, exit at Chinle, Hwy. 7. (928) 674-5500.
The Petrified Forest & Painted Desert – Travel to Northeastern Arizona. These areas hold a National Park, and colorful badlands with petrified wood. The entire area is over 150 square miles. The Petrified Forest is a bit East of Holbrook off I-40, take Exit 311. For details call (928) 524-6228. The Painted Desert is North of Holbrook along Rt. 77, and in the Northern areas of the Petrified forest. All the areas in the vicinity are considered parts of the Painted Desert.
Sunset Crater Volcano National Monument – The trail takes you through lava fields of this old volcano just North of Flagstaff. The first lunar astronauts even did some training here! Travel Arizona Hwy. 89 out of town. At Hwy. 395 make a right, it takes you right to the Monument.
Oak Creek Canyon – The creek winds through Sedona and then Northward, with the scenic drive meandering alongside. It's considered one of the 10 best drives in the whole country! That's Arizona travel for you! The beautiful trees contrast with the red cliffs along the way. At it's Northern end, drive up the switchbacks to the wonderful overlook. We've traveled it numerous times. It never gets old! Take Hwy. 89A North out of Uptown Sedona.
McDowell Mountain Regional Park – A unique setting not far outside the city of Phoenix, yet world's away! In fact, go there at night to look up at the stars! It's considered a place for a "star party." So wonderful is the night sky experience here. See the details and history: Click Here>
Bridge to Nowhere – An unusual Arizona travel site near Yuma. Built in 1929 over the Gila River. Named for the only Yuma Arizona Ranger: McPhaul Bridge. No river under it now, the bridge is closed to traffic. But it's an oddity still kept around. Take I-8 exit 12, Fortuna Rd. to go North (S. 11 Ave. E.). It ends on Hwy. 95, go right. After passing E. Madonna Rd., cross a canal, then watch for an unmarked left turn that goes by a small breakfast/lunch restaurant (From the Farm Yuma). Just past this is the bridge.
---
Things to Do in Arizona
By the Month – Lots of things to do in Arizona, whenever you'd like to travel. Find your climate for every season, pick & choose when & where you want to go. Some different and quite interesting things to do on this Unique Timed Arizona Travel List!
Take an Off-Road 4×4 Scenic or Adventure Tour – Throughout Arizona discover very captivating areas. Travel these Arizona back roads by 4-wheel drive tours! You'll get to see wonders where you'd not normally go! For more details on these places Click Here>
Titan Missile Museum – Visit an actual complex with one of these decommissioned missiles in Green Valley. On alert during the cold war years, between 1963 to 1982! We took this tour, it was quite different! Take I-19 South from Tucson to the Duval Mine Rd. Exit. 
Pima Air & Space Museum – See approximately 300 aircraft, vintage to modern. Go through air travel history, including space travel. We've been here a few times. Seems whenever relatives travel Arizona, and come to town, some like to visit this museum. We always see something new & interesting. Near Tucson's airplane boneyard. You can schedule a tour of that here also. Take Valencia Rd. Exit East off I-10, South of downtown Tucson.
Kitt Peak – Southwest of Tucson, they offer Day & Night programs. At nearly 7000 ft. elevation, this Arizona road travels switchbacks to the top. The Visitor Center is on Tohono O'odham Nation land. To get there, travel AZ Hwy. 86 West. Watch for the left turn. A Border Patrol Check Point is along the route. Visiting from outside the US? Bring your passport with you to avoid problems. Tour the facility, get involved in night-time stargazing, roam the visitor center, visit the gift shop. Lots to see & do! We always love a trip here.
Tumacacori National Historic Park – Visit preserved ruins of three Spanish missions in three subsequent centuries: 1600s, 1700s & 1800s. Located about 1/2 hour South of Tucson. Take I-19, to Exit 34. Cross under the freeway taking the Frontage Road South. It's just down the road. The history you'll see here is awesome. A wonderful day!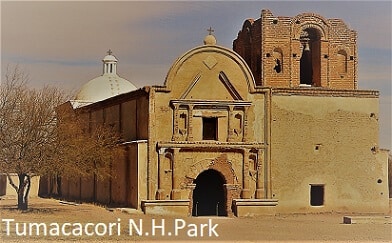 Desert Caballeros Western Museum – Artifacts and artwork from the Old West. Especially focusing on Wickenburg, where it's located, but also on Arizona. Travel from Wickenburg's center, at the traffic circle, follow Hwy. 60 just a few blocks, where it becomes W. Wickenburg Way to the corner of Frontier St. There's also an area for kids.
Children's Museum of Phoenix – Learning, but fun activities for kids up to 10 years old. It's said to be in the top three U.S. Children's museums. There's approximately 300 activities with age recommendations. 215 N 7th Street, corner of East Van Buren. (602) 253-0501.
Lowell Observatory – Founded by Percival Lowell in 1894, in Flagstaff. Both day and evening programs, plus a visitor center area. On Rt. 66, where it makes the bend in downtown, go off onto W. Santa Fe Ave. Signs direct you. (928) 774-3358.
Wupatki National Monument – An old pueblo of Sinagua peoples found along a driving trail North of Flagstaff. Take an entire day to view these fantastic ruins. One of them even has an amazing ventilation system! Take Hwy. 395, from Hwy. 89 out of Flagstaff. Find the first turn-off to 395, pass by Sunset Crater until you reach Wupatki.
Grand Canyon Railway – Out of Williams Arizona, off I-40, West of Flagstaff. This Arizona travel railway was built in 1901. It's on the U.S. Register of Historic Places. Take it to the Grand Canyon via a scenic 2-1/4 hour ride with entertainment!
London Bridge – What?! In Arizona? Yes! The city of London decided their historic bridge wasn't fitting of modern times and traffic, plus sinking into the river bed. It went up for sale. Lake Havasu City founder Robert McCulloch bid for it, and won. It was disassembled, and reassembled in Lake Havasu City, over Bridewater Channel. We've walked the area. There are interesting shops, as well. A nice place to visit, when traveling Arizona, for sure!
---
Arizona Deserts
We love taking Arizona traveling trips. We love the experiences and panoramas right outside our doorstep. We always have our own desert adventures, so we gather tips to help you! We suggest taking a tip to an Arizona Desert. We have four types of deserts in Arizona:
Chihuahuan Desert: We've lived there: Read More>
Sonoran Desert: It's the best! We've lived there too – for many years.
Mojave Desert: Some very unique features.
Great Basin: Fantastic scenery in this high desert.
Have you always thought of deserts as barren places? Rolling sand hills with little water, just an oasis off in the distance…
If you even make it to that beckoning oasis!!
Maybe true of some deserts. But think again, when you think of Arizona travel! Arizona has deserts with phenomenal plant and animal life. A sight for your eyes… and your camera! Learn more about each of these, and try a visit to each desert region…
Chihuahuan       Sonoran       Mojave       Great Basin
---
Arizona Mountains
Two essential styles of mountains are found when you travel Arizona. The high country ranges, and then there are the sky islands. Both beckon to you, for their cool, clear air. Their delightful camping and hiking opportunities. Their change of pace in your Arizona travels, contrasting from the desert. Arizona desert dwellers always love these get-aways! Think you'll love them too!!
First let's look at the high country ranges:
Mogollon Rim – A geological lift cutting East to West across central Arizona, about 200 miles in length. It's a kind of cliff, but with a gentler slope rising to about 8000 feet. On top of the rim are Ponderosa pine forests. You'll find the towns of Payson, Pine, Oak Creek, Strawberry and Sedona along the rim. 
White Mountains – A high country mountainous area in the central Eastern part of Arizona, bordering New Mexico. It forms the mountains above the Eastern section of the Mogollon Rim. The Fort Apache Reservation is located there. Mount Baldy is the highest summit at 11,400 ft. Pine Top-Lakeside, Greer, Springerville, Heber-Overgaard and Whiteriver are all notable towns there.
Bradshaw Mountains – In central Arizona, south of Prescott between the Agua Fria River and the Hassayampa River, covering about 1000 square miles. Not extending as high as the other ranges, and going quite a bit lower, into desert grasslands. The highest peak is Mount Union at 7,979 feet. Quite a few Ghost Towns throughout this range, including Bumble Bee and Crown King.
San Francisco Peaks – This range North of Flagstaff has Arizona's highest mountain: Mount Humphrey's, at 12,633 ft. Arizona Snowbowl, a ski recreation area, is located here. Four climate zones are within: Ponderosa pine forest, mixed conifer forest, subalpine conifer forest, and alpine tundra.
All the wondrous Sky Islands: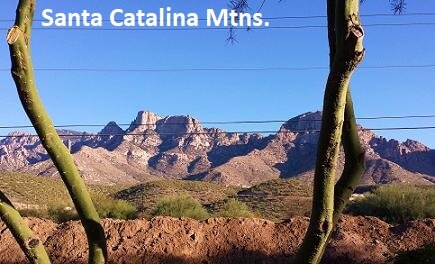 Catalina Mountains – Officially the Santa Catalina Mountains. They edge the North and Northeast side of Tucson. A gorgeous backdrop to this city! The highest point, and a popular desert heat escape, is Mount Lemmon. At 9,157 feet there can be as much as a 30 degree temperature drop from the desert floor below! The village at the top is Summerhaven, year-round population about 40. Nearby is the Southernmost ski area in the U.S. mainland: Mount Lemmon Ski Valley.
Santa Rita Mountains – About 40 miles Southeast of Tucson, almost a 2 hour drive from Tombstone Arizona. The highest peak is Mount Wrightson, a popular hiking challenge at 9,453 feet. Drive part-way up: trail-heads at Bog Springs Campground, Madera Picnic Area, or the Madera Ampitheatre. Make it a loop part of the way also, and option for 13 mile hike or a 10.
Huachuca Mountains – Within the Coronado National Forest, they border the Western edge of Sierra Vista and Hereford. About a 40 minute drive from Tombstone. The highest mountain is Miller Peak, at 9,466 feet. About 20% of the mountains are on Fort Huachuca military property. The highest elevations have Ponderosa and Apache pine forest. There are many hiking, camping and birding opportunities there. Ramsey Canyon is especially known for hummingbird migration.
Chiricahua Mountains – In the most Southeastern part of the state. Other localized mountain ranges are attached/ nearby: Pedregosa Mountains, Swisshelm Mountains, and the Dos Cabezas Mountains. Fort Bowie National Historic Site is located here. Many indigenous cultures lived in the area over centuries past, including Chiricahua Apaches, for who it's named. The highest point is Chiricahua Peak at 9,759 feet. You'll find many hiking and camping possibilities. The area goes from desert grasslands up to Ponderosa pine and Douglas fir.
Pinaleño Mountains – This amazing range adjacent to Safford takes you through climate zones as if you're traveling not only Arizona, but as if from Mexico to Canada! Via an almost continuously paved roadway, make your way almost to the top. Quite a trip! Get some stunning views along the way. The high point, Mount Graham is 10,720 feet. 
Rincon Mountains – This range borders the Eastern edge of Tucson, making another beautiful scenic city background. Much of the area is within Saguaro National Park East. That park's entrance has a driving loop and visitor center. But the majority of the mountain range is wilderness area with primitive camping and hiking. It's also encompassed by Coronado National Forest.
Galiuro Mountains – Adjacent to the gorgeous wilderness containing Aravaipa Valley and Aravaipa Creek. Drive North out of Tucson on Oracle Road, approaching San Manuel. View this range ahead: awesome in the distance. Bassett Peak is the highest in this range, at 7,663 feet. 
A hike takes you to the Power Cabin: the family involved in the infamous shootout.
Granite Mountain – In the wilderness of the same name within Prescott National Forest. Part of the small Sierra Prietta range, West of Prescott.
Mingus Mountain – In the Black Hills Mountains, it separates Cottonwood and Jerome from Prescott Valley and Prescott. Elevation of 7,818 feet. Just probably the most well-known. But not the tallest mountain in the Black Hills. Woodchute Mountain, four miles to the North, is  7,844 feet.
Cerbat Mountains – A small range North of Kingman. The highest point is Mount Tipton at 7,148 feet. A rugged area, with not many designated trails. But it's the highest range in that area. Some old mining roads and washes can be followed to access the peak.
Baboquivari Mountains – 50 miles Southwest of Tucson, a wilderness area bordering the Eastern edge of the Tohono O'odham Nation. Baboquivari Peak is very sacred to the Tohono O'odham people. It's the birth-place and residence of the creator, I'itoi. It's also the highest peak, very distinctive in appearance, at 7,730 feet.
---
Arizona Bird Watching
Some reasons that Arizona has exciting, first-rate birding opportunities:
Ideal habitat and climate make great conditions for the migration timing of hummingbirds
Superior geological habitat and limited human population for some endangered birds
Exacting micro-climate and micro-habitats needed by specific bird species
Arizona has the most bird-sighting opportunities within a state, with the exception of those by an ocean. There's a list of about 550 birds that live here at least part of the year. An occasional visit by birds from Mexico, add an additional 5 or 10 more.
Here are areas you'd want to travel Arizona to focus on bird watching:
Chiricahua Mountains – Many elevations and climates give lots of birding options. Try areas such as Cave Creek Canyon, Onion Saddle, Rustler Park, or Barfoot Park. An excellent spot is…
Portal: Try surrounding areas, an exquisite place to see in itself. The easiest way to get there from I-10 is to go into New Mexico and take the Stein's exit, Number 5, get Hwy. 80 South. At Rodeo, take Hwy. 533 West, and into Arizona get Portal Rd. In the desert-like scrub areas watch for Gambel's Quail, Lesser Nighthawk, Ladder-backed Woodpecker, Black Phoebe, Brown-crested Flycatcher, Bell's Vireo, Bridled Titmouse, Verdin, Curve-billed Thrasher, Phainopepla, Lucy's Warbler, Cassin's Sparrow, and Black-throated Sparrow.
San Pedro Riparian National Conservation Area – Various spots along 40 miles of the river as it flows through Cochise County.
San Pedro House: Off Hwy. 90, a good spot to try. Get tips from volunteers inside, when it's open (Call for details – (520) 508-4445). A river trail begins here: the Sky Island Traverse. Take Rt. 90 out of Sierra Vista, toward Hereford. The turn-off is on the right, before the bridge over the river. Watch for Gambel's Quail, Gray Hawk, Green Kingfisher, Gila Woodpecker, Black Phoebe, Vermilion Flycatcher, Cassin's Kingbird, Curve-billed Thrasher, Lucy's Warbler, Yellow Warbler, Abert's Towhee, Blue Grosbeak, and Lesser Goldfinch.
Huachuca Mountains – Incredibly well-known because of the chance to see so many varieties of hummingbirds. Plus the rarely sighted Elegant Trogon, Eared Quetzal or Flame-colored Tanager.
Ramsey Canyon Preserve: Owned by the Nature Conservancy, has trails for some serious birding.
Miller Canyon: Beatty's Guest Ranch is privately owned. A small fee is charged to enter. Feeders are scattered through the property to invite all hummingbirds who are delighted to visit and have a meal. It's famed as perhaps the best hummingbird sighting area in the entire country. You may see up to 14 different species! It's on Miller Canyon Rd. off Hwy. 92 in Hereford. Best idea is to call for essential details: (520) 378-2728. They do have rental cabins: email them for details: [email protected]
Tucson Area – A few places surrounding the city attract birds. For instance the main city park, Reid Park, attracts wintering waterfowl. On the far Northeast side, the pond in Agua Caliente Park does the same. Here's another spectacular birding place…
Sweetwater Wetlands Park: Marshy impoundment ponds of recovered waste-water attract ducks and wading birds. Insects like the area, so birds like flycatchers, swallows and nighthawks follow. Others seen are grebes, cormorants, Harris's Hawk, Gila Woodpecker, Ladder-backed Woodpecker, Verdin, Marsh Wren, Curve-billed Thrasher, Abert's Towhee, Yellow-headed Blackbird, Virginia Rail and Sora. Open sunrise to sunset. A west entrance to the Sweetwater Wetlands is open from the paved bicycle path along the east bank of the Santa Cruz River.
California Condors in Arizona
Northern Arizona – The California Condor was introduced here as part of the recovery process. It's on the Endangered Species list, and has been the most precarious bird, with only 22 birds in existence in 1982. That's when a program of reintroduction began, by captive breeding. First began in California in 1992, and in Arizona in 1996. It's been successful, so that the population has grown to a total of 369, seventy-four of which live in Arizona. You may get a sighting of them in two areas…
Vermilion Cliffs: Out of Flagstaff, take Hwy. 89 North. At Bitter Springs, switch to Hwy. 89A. At Marble Canyon cross over the Colorado River. Just before getting into Grand Canyon Nation Park take a right onto (BLM Road 1065) House Rock Rd. (about 40 miles from the turn onto 89A). In about two to three miles, you'll arrive at the Condor Viewing area.
Canyons: In winter months, condors like the Colorado River area near Marble Canyon. In the summer months, condors are often seen at the South Rim of the Grand Canyon.
SAVE THE CONDOR – AND OTHER BIRDS!
AVOID LEAD BULLETS – PLEASE!
Read More about the California Condor
and the Importance of its Preservation/Conservation
Click Here for Free Download of
The Arizona Game & Fish California Condors in Arizona & Utah Brochure
---
We Love Arizona Travel!
And We Love to Travel the Western States!
Since we live in Arizona, it's fairly easy to plan a nice road trip through the Western states. There's a lot of fantastic scenery through the West. Plus a lot of interesting Old West history.
---