Arizona antique malls attract people with an interest in the old west, and in that history. We have that interest for sure. So when we visit any, we like to let you know about them. Tell you about them, and let you know what we found. Maybe you'd like to take a trip to check them out yourself! Here's some we've found that particularly have a vintage relationship with the old west.
---
Tombstone Antique Mall
We finally visited this Arizona antique mall right in historic Tombstone AZ. And what a great place! We highly recommend you stop in. It's right on Hwy. 80, coming into town: 720 East Fremont Street.
They have so many, just oodles of vendors. Each one with lots of wide-reaching, fabulous selections: true antiques and collectibles. But that's not all!
You'll find an eclectic assortment of decor, art, jewelry, furniture – we could go on and on.  So much more you just have to just see it for yourselves!
So come on in! Step inside…
Roam around and you're sure to discover something of interest. The variety is eye-catching! First your eye goes this way, then that way, then the other. You might want to take notes to backtrack to items you'd like to look over again when making final selections.
---
Tombstone's Man Cave
While at the Tombstone Antique Mall, go outdoors, through the side door to see their "Man Cave" – which is always being expanded with the latest cool gear!
If you're a woman who's going on the rounds of Arizona Antique Malls, and your husband is along for the ride – this is a perfect place for him to browse! He might find plenty of fascinating items there to keep him busy, while you check on the antiques and vintage buys. In fact, anyone can find some useful, captivating pieces out in that "Man Cave" because they certainly allow women and children to look around in there, too!
---
Ethan's Coffee Corner
After you've found your Tombstone Antique Mall treasure, be sure to take a break at Ethan's Coffee Corner. It's towards the back end of the main floor in this enticing indoor antique mall.
Refresh with a cup of coffee, or tea or a smoothie. Add a yummy dessert, or snack. They have some quite healthy choices. Get a loaf of their wonderful freshly baked bread to take home with you. Nothing like home baked bread, don't you think?
When we were there, they had a Loyalty Rewards Card! If you'll be a regular there, often enough, go ahead and ask for that.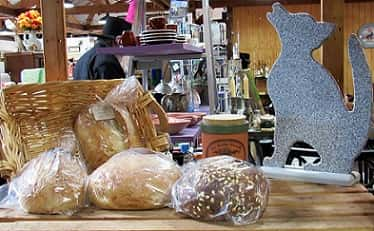 Check their site at TombstoneAntiqueMall.com for any other details.
Here's an idea: know others who also love antiques? While at this special Arizona antique mall, ask about their Gift Certificate.
When getting there, it's very easy to park along the street out front. Or right across the street. In front of the old high school grounds. On either side there is Street Parking.
---
More Arizona Antique Malls
Cochise County
TOMBSTONE
Vintage Cowgirls of Tombstone – Open daily 10am to 5pm. But opens at Noon on Sundays. We've purchase several items here on quite a few occasions. It's a great place to get those old-timey Western wear duds that will suit you right out when walking the streets where Wyatt and Doc walked! And at the right price!
Right on Allen Street in historic Tombstone Arizona, this Arizona antique mall focuses directly on the Old West atmosphere.  A great place for western styling antiques, collectibles, vintage clothing and Western decor.
Located at 510 East Allen St., North side, between 5th & 6th. Call for info: (520) 678-2516
SIERRA VISTA
Hidden Treasure Mall – Open daily, 10am to 5pm – except closed Sunday. 
Actually a bit South of Sierra Vista, right on South Hwy 92 in Hereford. On the West side of the highway, number 6164. Between Ramsey Canyon and Carr Canyon Road.
Over 40 vendors who regularly rotate items, you'll find lots of interesting articles. Of course antiques & vintage, but collectibles, art, jewelry, pottery, furniture, memorabilia & much more.
Need more details? Call (520) 559-6817
BISBEE
Miners and Merchants Antique Center – Locally known as "Floyd's Store" for its owner, it  occupies an old bank building in town.
They have three floors and over 15 vendors. They're always looking To Buy more stuff – if you've got anything they may be interested in!
Generally open 11 to 6 Saturday, 11 to 5 Sunday and 12 to 5 weekdays. But Floyd says "I am old and get tired easily, sometimes I do close early just letting you know." So if you're coming specifically to shop, you may want to call him (520) 432-4009 – so he'll stay open for you!
Located at 7 Main Street, Bisbee, AZ. That's in the old town of Bisbee.
WILLCOX
Bear's Vintage & Bear's Vintage Thrift – Associated with an auction house, for one thing, in the historic Willcox ranching area – keeps this Arizona antiques mall invested in the western ambience. It seems like you won't go in and come out with nothing in your hands!
Bear's Vintage is located at 180 North Railroad Ave. You'll love the vintage farmhouse and ranch decor to be found here. Lots of signs, too. Open Friday & Saturday, 9am to 5pm. Or by appointment. More details: (602) 380-2860 OR [email protected]
Bear's Vintage Thrift is right around the corner, at 233 North Haskell Ave. Here's the spot for collectibles, vintage clothing, memorabilia, Western & farmhouse decor. Lots more! They'll wonder what they might buy from you also! Email them a pic for evaluation:  bears[email protected] OR call for more details: (520) 709-8738
---
Greenlee County
DUNCAN ARIZONA
Germaine's Emporium – Hours are Monday through Saturday, 9am to 6pm
With country store ambience, this Arizona antique mall has that old west feel. With antiques and collectibles, Western memorabilia, country primitives, plus vintage tack, oddities, guns & ammo. And custom leatherwork. In almost 9,000 square feet. What better location than the old west Highway!
More details? Call (928)359-2621. Find them at 419 SE Old West Hwy.
---
Pima County
TUCSON AZ
American Antique Mall – Open Tuesday through Saturday, 10am to 5pm. At 3130 East Grant Rd., at Country Club: Southeast corner. Contact info: (520)326-3070 OR  [email protected]
For your interest: Mining lamps & relics, vintage postcards/photos, Victorian jewelry, motorcycle collectibles, folk art, Western mementos: spurs & other cowboy stuff. Native American & turquoise items. Much, much more.
Midtown Mercantile Merchants – Hours: Monday through Saturday, 10am to 6pm; Sunday 10am to 5pm. Location: 4443 East Speedway Boulevard, between Columbus & Swan. (520)777-7275
This Arizona antique mall has over 100 merchants offering tons of multitudinous, interesting items. Of course including farm stylin', plus cowboy & cowgirl bling! Much more!!
---