Have you watched the legendary film Tombstone? What was your favorite part of the movie? You probably heard the iconic phrase "you're a daisy if you do" from Doc Holliday's character. What an iconic line from a legendary man!
So, what does Doc Holliday mean when he calls someone a daisy? We've got you covered on this one! In this article, we are going to delve deeper into the meaning behind what people in the 1800's meant when they were talking about daisies.
You'd better take some notes though, for we are going to let you in on the meaning of that legendary phrase.
"You're a Daisy" tattoos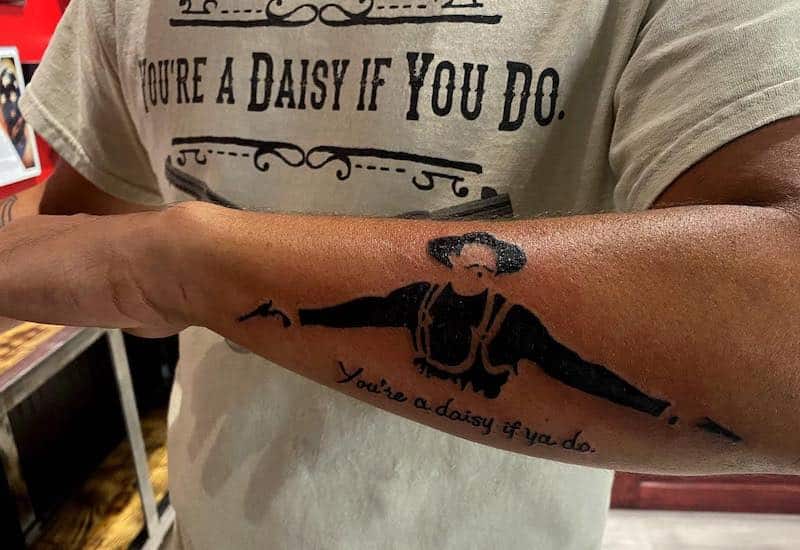 Tattoo by Heart and Soul Tattoo, Ft Worth, Texas.
This is another of the Tombstone quotes that work well as tattoos.
---
So, What Does Doc Holliday Means When He Said "You're a Daisy If You Do"?
In understanding the meaning of the phrase "you're a daisy if ya do", it is significant to understand its context. This phrase was born from the iconic film Tombstone in 1993 which people love to quote. So, what does this phrase actually mean? Let us delve deeper into this.
In context, this phrase means "you're the best if you do". So, the word daisy means simply the best or marvelous! If we channel it on the phrase "you're a daisy if you do", it's like saying "please do." Doc Holliday is simply being his own sarcastic self when uttering that phrase.
It's like when Clint Eastwood taunts his opponent with "Go ahead, make my day" in the 1983 movie Sudden Impact. It's meant to scare the guy you're facing off against.
Another meaning that could be associated with the phrase is "you're dead if you do." Another widely used phrase during Doc Holliday's time is the phrase "he's pushing up daisies" which meant a person is six feet under, or dead. So, if Doc Holliday is calling someone a daisy, he actually means "you're dead if you do". It's like if you try to do something towards him, your life is at risk. This interpretation makes less sense in the context of the movie.
Over time, this phrase has become a form of idiomatic expression. It's like a play of words that signify another meaning when you peel them back. So, in understanding the meaning of the phrase, it is important to understand the context of the phrase first. Know why Doc Holliday uttered those words, and re-watch the film, Tombstone!
---
You're no daisy. No daisy at all.
When Holliday says that his opponent is no daisy at all, it kind of shows that he's being sarcastic all along. He's just saying it to be flippant.
T-shirts with "You're a daisy if you do" motive
Doc Holliday's Tombstone
Doc Holliday is an icon of the American West. An infamous gunslinger who with his friend Wyatt Earp become famous for their part in the legendary battle in the West – the shootout at O.K. Corral. This iconic story has been revamped into the film, Tombstone, starred by Val Kilmer as Doc Holliday and Kurt Russell as Wyatt Earp.
Tombstone is regarded as a visually and emotionally pleasing fantasy about men facing meaningful deaths during a period of wars between outlaws and authorities set in Tombstone, Arizona. There is random violence and the threat of action occurring at every moment.
In the film, you probably heard the phrase uttered by Doc Holliday, saying one of the cowboys is "a daisy if you do" as he's attempting to shoot Holliday. It is this unforgettable line that cemented the reputation of the film, Tombstone. If you've watched the film, you'll be engrossed in the witty and charming lines of Doc Holliday. Truly, he is a man both of words and of action.
Doc Holliday is a charismatic character. This charisma has been channeled into many pithy phrases – some of which have survived as idioms that echo through time.
Origin of the Phrase "You're A Daisy"
Doc Holliday's phrase "you're a daisy if you do" has Victorian roots, both in meaning and interpretation. In the late 1870s, using the word daisy in a conversation is the norm. Daisy connotes a figurative meaning and adds a sense of idiomatic expression in a dialogue.
If you try to search or even look at newspapers and articles released in the 1870s, you'll likely come across the word daisy used in many featured articles or conversations. Back then, if people are described as daisies, it means that those people are doing something good and wonderful.
The Victorian period in England has many people using flower language. AndEvery flower has a symbolic meaning and interpretation.
Daisies represent purity, innocence, and magnificence.
So, if you've received a bouquet of daisies from someone, it means that they highly regard you as both magnificent and pure. Simply, daisies are associated with all of the good things and traits of a person.
---
Historical evidence of Doc using the "Daisy" phrase
same instant Doc Holliday shot at him, both balls taking effect, either of which would have proved fatal, as one struck him in the right temple and the other in the left breast. As he started across the street, however, he pulled his gun down on Holliday saying, "I've got you now." "Blaze away! Your'e a daisy if you have," replied Doc. This shot of McLowry's passed through Holliday's pistol pocket, just grazing the skin. While this was going on
A newspaper reporting on the blow by blow of the gunfight at the OK Corral mentions Doc Holliday telling Frank McLaury (misspelled as McLowry) that he's a daisy if he has.
---
Final thoughts
Doc Holliday's iconic phrase  continues to leave its mark in the hearts of many people. Indeed, an iconic line from an iconic man! This time, you already have an idea of the meaning of the phrase "you're a daisy if you do." And, it further expands your interpretation of the film, Tombstone.
Just like how a picture speaks a thousand words, so do words and phrases too! In the phrase "you're a daisy if ya do", Doc Holliday intends to bring us along with his character and his intent in uttering those lines. Now, we have unraveled the meaning behind those memorable lines. It is high time to re-watch the film again!
What Do You Think?
Go ahead and let us know if you think we're wrong about the origins or meaning of "You're a daisy if you do". Comment below!
New! Comments
Do you have a question? Do you have a comment? Type it into the box below. We'll respond soon!