Arizona Jeep Tours are some of the best ways to see the most striking AZ scenes. Go places not readily or easily accessible on your own. Be led by knowledgeable guides – those who know the area, the best routes, the best places. They also can give an overview of geography, history, and answer your specific questions.
Let's see what's available for touring the different types of terrain in Arizona by Jeep! We'll start with the area where we live – Southern Arizona!
---
Jeep Tours in Southern Arizona
Tombstone Arizona Jeep Tours
Which Tombstone Arizona Jeep Tour might interest you? To plan ahead, see what each of them offer.
Legend of the West Humvee Tours – Two options for your individual taste
Into the West Jeep Tour – Have three varieties of specialty tours
For All The Details: CLICK HERE>
---
LAVENDER JEEP TOURS – Based in Bisbee AZ, just 1/2 hour Southeast of Tombstone. Yes! An open air Lavender Jeep to see the Bisbee sights. But as you'll learn on their tour, Lavender isn't just about the color. All their Arizona jeep tours leave from the Copper Queen Hotel in Old Town Bisbee, where they have a desk/office in the lobby.
Mix of Eight Different Tours
1)Historic Bisbee, 2)J.A. Jance/Sheriff Joanna Brady, 3) Greater Bisbee, 4) The Mile-High City, 5) Mining Landscape, 6) Sky Island/Sunset, 7) Ghost Town, 8) Slaughter Ranch
Plus optional add-ons: Greater Bisbee or Mining Landscape
More details, and/or scheduling your tour, call: (520) 432-5369
---
Where Else For Arizona Jeep Tours?
CLICK ON CHOICE:
GO DIRECTLY TO SEDONA ARIZONA JEEP TOUR CHOICES
---
Jeep Tours in Sedona AZ
Sedona Jeep Tour Overview
General Helpful Info
Sedona is a majestic, unique area. We travel here lots and love it. We highly endorse it for your travel "bucket list." On your first day, we recommend a Jeep Tour to get an appreciation of Sedona Arizona's beauty. We've taken some of them. There are choices among them. There's also a Trolley Tour. We suggest that, too. We've taken it, and it's well worth it for a Sedona overview.
Another thing Sedona is famous for is the Vortex experience. If you've heard of that, or have that interest – you'd surely like to see those areas, right? Well, that's a great idea! We love to go to Vortex areas ourselves. Bill, especially, feels their power! Me? I more-so feel the serenity of them. Anyway, I think all of these tours have a Vortex centered trip. Many reviewers seem disappointed with their vortex tour. Our suggestion is if you want to really experience a Vortex, get a Vortex Guide Book. There are some really good ones. They'll direct you to the right spot, give you helpful hints, etc. That's the best way to do it, really! Don't take a tour, do it yourself!
For starters, just go to Bell Rock. The whole hill is a Vortex. Take the trail around it, then find a place to begin climbing its ledges. There are pretty easy step-up areas. Find a nice place to sit, enjoy the views, soak up the energy and see how it works for you!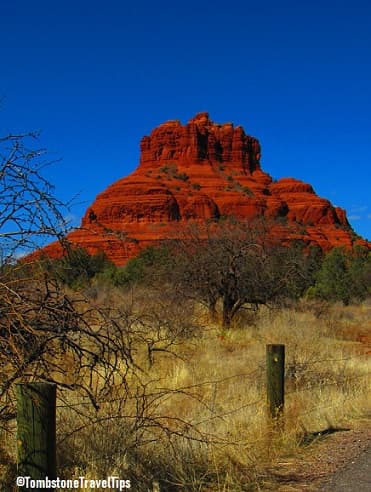 Remember that each Sedona Arizona Jeep Tour is permitted by the Forest Service to only go in certain areas. So the environment is not overtaxed. It's sooo gorgeous, soooo awesomely beautiful an environment, that it must be protected. Even while allowing visitors to see and enjoy it.
Also know that if you try to book with the most popular tours, they may squeeze you in. Kind of like overbooking on airlines, because they anticipate cancellations.
But what happens if no one cancels, and you're the last to reserve? They transfer you to another Sedona Arizona Jeep Tours. One with an available spot similar to what you'd ordered. You'll find out when you check in, so don't be late! And don't forget to search for discount coupons in local Sedona visitor papers or on the internet.
Sedona Road Conditions & Travel Complaints
Also remember: Some of these 4×4 trip routes take very rough roads! If you have back or neck problems, etc., anything that will make you uncomfortable while bouncing around on a rough road, then maybe this type of tour isn't for you! Ask about the roughness of the tour. Ask about the road conditions.
We've never done any of the most extreme routes, such as Schnebley Hill. That's an example of one of these rough roads, so we've heard.
Most complaints we see in reviews concern the bumpiness of roads, and/or scariness of going over rocks and steep grades. Having to hang on tight, etc. So that's a puzzlement to us. As it's taking an Arizona jeep tour! It is off-road, 4-wheel drive characteristics, after all.
f that concerns you, or you have medical conditions that should rule this out, ask before you order a jeep tour. Then instead, choose a tour that takes you on gentle roads. Or take a Self-Drive type of tour on paved roads. There are Sedona roads that are easy driving, scenic roads with some pull-outs and great vistas! Or visit a park, get a Guide Book for suggestions, etc.
Sedona Jeep Tour Choices
PINK JEEP TOURS – They're by far the most well-known and most popular. Maybe since they've always been right in uptown Sedona. They have the most available Forest Service permit routes. We've taken their tours, and we've had good experiences each time. 
13 tour choices from 1-1/2 to 4 hours long, minimum age 18 months. Only closed December 25. 
Pick-ups available from local hotels, with timely reservation.
Guides get thorough 4×4 training, plus Smith System Safety & Compliance training for road safety, are CPR & First Aid Certified.
See website for pricing & route conditions. Lower child rates apply to ages 12 years old & under.
Details call (800) 873-3662 or email: [email protected]
ARIZONA SAFARI JEEP TOURS – Probably the next well known, but not even close to Pink. 97% of Trip Advisor reviews are decent to excellent ratings. Their newer 4×4 Jeeps are custom built & specialized, with quality off-road suspension & wheels.
Open year-round. Bottled water included. 15% auto gratuity applied to groups of 8 or more
Child pricing for ages 12 & under. Not recommended for children under 1 year old. Bring a child-seat for under 5 years old.
12 choices, 3 quite different from those at Pink Jeep:

Custom Private Tour – They create a Sedona Arizona Jeep tour experience just for you: you name it, they do it. 2 hours to all day!
Outlaw Trail + Horseback Ride – Jeep ride through the western canyons and red rocks arriving at a historic working ranch. Then saddle up for your cowboy experience! We did this tour years ago, before wineries (mentioned now) were in the area. We loved it! 
Wine Tour – Sample wine tastings at 3 Verde Valley wineries. Or choose an off-road Jeep trek to one winery for a tasting.

Details and/or reservation call (928) 282-3012 or email: [email protected]
RED ROCK JEEP TOURS – They've been in Sedona Arizona for over 30 years, one of the more popular. But again not quite as well known as the Pink company. 98% of Trip Advisor raters give them decent to excellent reviews.
Eight different Jeep tours, including one area where they have an exclusive permit. Many have historic themes. They also have custom Romantic & Private Tours.
Only close Christmas Day. Minimum age 3. Child rates up to 12 years old. Car seats available from them requested in advance.
Jeeps well maintained with first-rate mechanics and their own Jeep maintenance center.
A percentage of each tour donated to U.S.F.S. for preservation, administration & public information
They follow all Forest Service safety protocol including having public liability insurance, CPR/First Aid certification, Fire extinguishers & first aid kits on board, regular vehicle inspections, and trail monitoring/maintenance.
Info/order a tour, call (928) 282-6667 or (800) 848-7728. Or email them: [email protected]
A DAY IN THE WEST JEEP TOURS – Owned by Sedona rancher with a diverse program. Not only Jeep Tours, but also Horseback Riding & Specialty Tours. Plus a tour at Out of Africa Wildlife Park. Their tours can get very involved with upgrades on the ranch. 96% of Trip Advisor raters give them decent to excellent reviews. Ask about seasonal specials.
Their Jeep Tour choices include the Diamondback (heart-racing Western Canyons), the Lil Rattler (less extreme than D-back), Lil Outlaw (breathtaking Western Canyon views), Red Rock West (Dry Creek Basin: sunset & Sedona's past), Mogollon Rim (to 7500′ on old wagon road).
Also take your Jeep Tour, then include a trail ride, finally go to a winery for a tasting.
There's the Out of Africa Wildlife Park Jeep Tour. The basic takes you to the park environment & for rock climbing. You can add a horseback ride, + if desired a meal & entertainment. Another option is adding a ticket into the Animal Park. Or tour the African Park environment & then go to the winery tasting. And there's a zip-line or helicopter add-on options!
Custom options include a Jeep Tour & fishing trip, a Jeep Tour + a night out, a history Jeep Tour, & a Spiritual Tour focusing on Vortexes. And there's more!
Open every day, all year. Minimum age: 1-1/2 years old for Jeep Tours, & 6 years old for horseback rides. Child pricing: aged 12 or less. A booster/5 point harness seat provided, no-charge, for kids 5/under.
To discuss all options, what may be right for you, call them: (928) 282-4320 or (800) 973-3662.
SEDONA OFFROAD ADVENTURES – They don't offer much background about their company. They have Hummer vehicle tours as an option, some people love them, but some sure don't! 96% of Trip Advisor raters give them decent to excellent reviews. But a lot fewer people tried them & reviewed them: 535 as compared to 8,485 for the Pink Tour and 1,337 for the Red Rock.
Choose from 8 different Jeep Tours. One has an add-on to make a total of 9 options. They also have 6 different Hummer tours.
Other options allow you to extend the time of some tours. All of them run from 1 to 4 hours, depending on your choice. Be sure to ask about their Tour Specials. Some are good deals!
Bring your own child safety/booster seat for children under 7. Hotel pick up available from Uptown Sedona & West Sedona.
Check their website for more details (sedonajeeptours.com) & email them for questions: [email protected]
Be sure to mention the web price when you call to reserve: (928) 282-6656
---
Jeep Tours in Tucson Arizona
PLUMB CRAZY WRANGLER RIDES – They say their Tucson Arizona Jeep Tour is a Mission by Design. You choose how you want your Jeep configured: doors or not, top off or on, soft or hard top, etc. Then choose your trip (mission!)
Which Mission? Romantic Ride to Mt. Lemmon/Star-lit Ride Down, Mt. Lemmon Mission, Backside of Mt. Lemmon, Redington Pass Mission, Wine & Chocolate Mission, Brewery Mission, Tombstone Mission, Bisbee/Coronado National Monument, Jeep Missions by Design (customize your own).
Pricing depending on chosen Mission. Missions take about 3 hours.
Details or to book your tour, call (520) 833-7325
HUMMER TOURS OF TUCSON – Take a climate-controlled, 4 wheel drive, Hummer H1, or Hummer H3 adventure in the Sonoran Desert. Their tours run from easy trails to quite challenging off-road experiences!
Open 8am to 5pm every day
Choose from 4 to 6 hour tours: Backside of Mt. Lemmon, Bull Springs Rd. (at the Santa Rita Mts.), Bull Springs Rd. with Arizona Winery, Bull Springs Rd. with Casino, Redington Pass
Cash, travelers check, or credit card accepted. 
Details & to reserve a trip call: (520) 977-6615 or email: [email protected]
TRAIL DUST OFF-ROAD TOURS – Tour the Arizona Sonoran Desert in a 4 wheel drive Jeep with their knowledgeable, entertaining wrangler guides.
Try a 3-1/2 to 4 hour Desert Ecology Tour or a Sunset Tour.
Offered 7 days a week.
For more information, call them at (520) 747-0323
---
Jeep Tours in the Phoenix Area
APACHE TRAIL TOURS – Jeep tours take you 4-wheeling on the iconic Apache trail and Superstition Mountain area. View the beautiful Sonoran Desert terrain alongside the lakes created from the Salt River.
Choose from 4×4 Adventures, Apache Trail, Gold Panning, or a Combination Jeep Tour
Ages 2 years & older. Bottled water included.
Experienced tour guides inform you about the area, letting you in on all its secrets! Jeeps fit 8 people.
Prices & timing varies per chosen trip. Received "Best of Apache Junction Award" 3 years; 2016 Tripadvisor Certificate of Excellence
Details & reservations call (480) 982-7661 or email: [email protected]
ARIZONA DESERT MOUNTAIN JEEP TOURS – Specialize in the Sonoran Desert surrounding the Scottsdale area.
Choose: Sonoran Desert Tour, Southwestern Cookout, or a Sunset Tour.
About a 3 hour 4×4 ride in their Cowboy guided open-air jeeps. Team-building groups encouraged.
Price varies according to type of tour and trail chosen
Call or email for details: (800) 567-3619 or [email protected] 
DESERT MONSTERS TOURS – Not exactly jeeps! But 4-wheel drive, unique ATV/UTV off-road 2-seaters that you drive yourself!
2 to 2-1/2 Hour long guided tour from the trail-head takes you through 30 to 40 miles of fantastic Tonto National Forest scenery
Start at 9 am or 12 noon, or sunset tour at designated time. Snack & bottled water included. Closed Sundays.
Automatic late model CAN-AM Maverick Trail 800 ATV/UTV vehicles. Easy to drive, they instruct.
Must be a (valid) licensed driver to drive it. Minimum age recommended to go: 5 years old.
Contributes 1% of sales to Natural Restorations, local group removing trash & graffiti from AZ National Forest & Wilderness areas. 2018 Trip Advisor Certificate of Excellence
For more info, call (866) 777-1950 or email: [email protected]
---
Jeep Tours in the Arizona Mountains
ANTELOPE CANYON & HORSESHOE BEND TOUR – From Grand Canyon Adventures out of Flagstaff, AZ. Pick-up at your Flagstaff hotel. Day spent in a comfortable jeep-style vehicle touring these quintessential Arizona geographical features.
1st visit Antelope Canyon, a magnificent slot canyon. Next the Glen Canyon Visitor Center, for picnic lunch with great views of Lake Powell. Afterwards on to Horseshoe Bend overlook, with views of the Colorado River that can't be beat!
Pick-up about 8 am, trip returns you about 6 pm. All included: entrance fees, transportation, lunch, refreshments, snack, guided tour.
Hikes of 1/4 mile and 3/4 mile are involved. For more details & to book your trip, call (928) 440-5079 7am to 7pm or email: [email protected]
FOUR PEAKS ADVENTURE – From Carefree Jeep Tours. Bordering Gila & Maricopa Counties, venture into the Mazatzal Mountains. Along the way experience scenery range of five climate zones, with stops for breaks and photo shoots. Finally you reach over 6000 feet in elevation, with views of the peaks that are as high as 7,657′!
Tours guided by proficient, experienced locals who explain area traditions, history of local Native Americans & related archival aspects. Help you identify endemic plants and animals
They use commercially insured jeeps and custom off-road vehicles. They're a Tonto National Forest permit holder.
Soft drinks and bottled water included. Customized tours available: dream the tour by your design and specifications.
For more details, pricing & to book a trip, call (480) 488-2466
Arizona White Mountains
WHITE MOUNTAINS ATV OR SXS RENTALS – An option for touring the beautiful White Mountains on your own is to rent a 4×4 Off-Highway Vehicle. One provider is in Show Low, called Show Low Motor Sports. An ideal spot to take your rental is to the Maverick Trail. Here's what you need to know:
Show Low Motor Sports is at 1000 N Auto Mall Parkway, Show Low, AZ 85901. Call them at (928) 532-7433
Closed Sunday & Monday. Opens 8 am. Closes 6 pm weekdays, 5 pm Saturdays.
Their insurance purchase required with rental. $1,000/unit deposit required on major credit card. Refunded on return with no unit damage
Consider the pre-rental time-frame: Minimum 1 hour to fill in rental agreements, releases, view safety video, learn the machine
Helmets & goggles included in rental fee. 24 hour trailer rentals available.
Only valid licensed drivers, minimum 18 years old with a credit card
4 hour (10am – 2pm) & 24 hour rentals. $50/hour late fee.
Maverick off-Road Trail
The Maverick Trail – a motorized vehicle trail. 
Used by motorized trail bikes, ATVs & OHVs in summer, & snowmobiles & OHVs in winter
Most of the approximately 60 mile long trail can accommodate machines less than 50 inches wide.
Route between Clay Springs & Pinetop-Lakeside. Five trail-heads available, to vary your trip: Sky-Hi, Timber Mesa, Panorama Trailhead, Burton & Clay Springs. Download a map & more Forest Service Help: CLICK HERE>
The trail is marked with orange diamond-shaped markers, but the color is changing to brown.
SAN FRANCISCO PEAKS LOOP – The tallest mountain in Arizona is among these peaks, Humphrey's Peak. Its elevation is 12,635 ft. Take a scenic loop drive circling these peaks. Although there's no Arizona Jeep Tour that takes you here, it's very easy to do it yourself. Here are some helpful details…
Begin by driving out of Flagstaff, to the Northeast. Total driving time takes about 2 hours. But there's plenty of places to stop along the way.
The scenes are open meadows, pine forest, aspen groves, rustic ranches & homesteads, much more!
If you're into camping, you can make it an extended trip. Take hikes, explore side roads, set up a primitive camp site along the way.
Forest Road 418 & 151 are gravel roads. Some areas are rough and rocky, where you need a high clearance vehicle. A 4-wheel drive isn't essential, though. 
The season opens in early May, closing again when winter weather begins.
Get all the details on this scenic drive: see the Coconino National Forest "Around the Peaks Loop" Page – Click Here>
If you're more comfortable taking this Arizona Loop Tour in a Jeep or 4×4, there are rentals in Northern AZ

Make Your Expedition Jeep Rentals, Sedona, AZ. Call (928) 451-2401
Check for Jeep or 4×4 car rentals via the Flagstaff Airport
---
Jeep Tours for the Colorado River/Grand Canyon
GRAND CANYON JEEP TOURS BY COBALT ESCAPES – Choose from 2 options: Inner Canyon or Sunset Safari. For further details & reservations call (888) 362-7580 or email: [email protected]
Starts from Williams Arizona at 8:45 am or Flagstaff hotel pick-up approx. 8 am
Ages 4 & older, scenic drive on Rt. 66 & then dirt road descending 4000′ feet into Grand Canyon to Colorado River
Picnic lunch at riverside included. Available March 1 thru Nov. 30, Monday thru Saturday.
Painted Sky at Sunset Jeep Safari Tour:
Jeep guide pick-up at any Tusayan hotel at appropriate afternoon appointed time
Ride along a scenic road on the South rim with views into the Canyon, of the Colorado River, & of wildlife for 2-1/2 to 3 hours
Get to the best sunset viewing spot at the canyon, then return to the Tusayan & Lodge areas
JEEP LAKE POWELL – An Arizona Jeep Tour out of Page AZ. Mark is your guide experienced with Grand Staircase Escalante National Monument and Glen Canyon National Recreation Area.
Mountain Top Tour is the most popular: 3 hours on an exclusive scenic trail. 
See unique toadstool rock formations and view from over 2000′ above Lake Powell
They go places where other tours don't, scenic trails without crowds. Small group sizes.
They also own the Trip-Advisor 5-star rated Lake Powell Motel, for an easy stay while you tour
Closed December through February
For more info & reservations, call (480) 452-9895 or email: [email protected]
---
 Native People of Arizona
Jeep Tours in Canyon de Chelly
ARIZONA CANYON JEEP TOURS – Owned by Navajo (Diné), Deswood Yazzie, who grew up in Canyon de Chelly. The Canyon, called TSÉYI (pronounded sayYEE) by Native Peoples, means a place within a rock or canyon.
Three hour, Four hour, Six hour or Deluxe Tours available
Their terrific tour guides give you up-close, educational, interactive experiences, taking you to the Canyon floor.
Their outstanding trip helps you learn about Chelly's geology, history and ancient cultures through the present day.
Pay by Cash, Credit Card or Travelers Checks
Get picked up via certain motels/campground or come to their location
For all details (or text Deswood at these numbers) or to reserve a tour call (928) 675-6126 or (928) 781-2113
TSÉYI JEEP TOURS – Bobby Vanwinkle grew up in Canyon de Chelly. So he's a very experienced (Diné) Guide who will personalize the area for you!
Choose a three-hour tour or a five-hour tour
Or tours can be customized to your own interests, with all kinds of options available
Vehicles used are flexible according to weather: open-top, enclosed, even Suburbans
For more details, to arrange/schedule your tour, call Bobby: (928) 674-3262 or (928) 313-4052 or email: [email protected]
---