Historical fires are noted throughout time because they impact lives and property. The materials used for building were for convenience and ease of construction. Not for fire prevention. Thus after a fire of historical dimensions, rebuilding techniques didn't change.
Living conditions contributed to fire starting. Primitive lighting and heating, cramped housing, carelessness with incendiary items, etc. Plus uncontrollable circumstances such as weather: lightning, dry conditions, wind, etc.
All those circumstances instigated Tombstone's Fires>
Some Old West historical fires have become quite memorable. For instance:
St. Louis – May 17, 1849: Started on Mississippi River steamboats. Spread to 23 others, plus varied vessels. Then to land: 430 structures destroyed. 2 persons, plus the fire captain killed.5
Chicago – October 9, 1871: 18,000 buildings destroyed, 100,000 left homeless, almost 300 died.1
Bakersfield, California – July 7, 1889: 196 buildings burnt down, one man killed, 1500 people homeless.10
San Francisco – 

May 3, 1851: 2000 structures burned, uncounted people died. Many fires prior, but this was called the "Great Fire."8
April 18, 1906: Began with the earthquake, but surprisingly much, if not most damage was from fires. Over 30, over 3 days!4

Vancouver, B.C., Canada – June 13, 1886: A land-clearing brush fire started it, only a few buildings escaped! "12 persons fell victim… a vast number were burned."9
---
What Led to Tombstone's Historical Fires
Fires were dangerous in Tombstone's history. Especially in The 1800s. New arrivals used easily available construction materials: wood-frame and canvas.
In the springtime, windy conditions dominate, blowing up to 40 MPH. Generated from weather systems through North of Arizona, from West to East. Causing further humidity decrease. When a fire occurs, these winds spread the flames.
Usually very little, if any rain in Arizona's Spring season. Summer rains usually don't begin until July. In Springtime, when we hear fire engine sirens, it makes us a little nervous! Or when looking out the window seeing smoke curling up from distant mountains. 
Imagine the scare we get when our cell phones get that alarm message! It's happened!! Emergency Alert Text! Thank goodness it wasn't as bad as it seemed, not needing to evacuate. Phew!
But two major historical fires in Tombstone had severe downtown effects. One resulted in vast devastation. We'll review the fires that affected the history of Tombstone.
---
Water Needed
Tombstone Arizona is high desert: the Chihuahuan Desert. Hardwoods as building material weren't readily available. Nearby mountains had timber, but access wasn't easy.
Rainfall totals and climate also affect the type of Mountain Trees that grew.
Water wasn't abundant. As a new miner entering Tombstone in 1879, you'd have a few concerns:
Where to get water!
How to get/make a permanent shelter or home
A few natural spring sources were near. Exploitative men ruled over the best one, charging outrageous prices for water. Although officially named Watervale, Miners nicknamed the place "Gouge-Eye."6 Two other water wells were nearby, but unreliable.
Tombstone Becomes an Arizona City
Tombstone First Settled6
The first settled area of Tombstone, 1879 was Gird Camp, often called Upper Town. (Today locals still call town: "Uptown.") Folks coming in first pitched a tent or built a rustic lean-to. Few built adobe houses.
The first merchant, John Allen, opened a wood-framed/tent-like store and boarding-house. Restaurants and saloons quickly opened. Earliest construction from canvas with wood framing:
Mt. Hood Saloon opened in a canvas tent on Allen Street, between 4th & 5th. Sylvester Comstock and Charles Brown began this enterprise in early 1879.
Two other tent saloons started in 1879: Bank Exchange Saloon and Doling's Saloon
---
Yell Fire! Historic Structure Fires
Tombstone Fires6
Tombstone's historical fires ranged from limited to some that damaged the entire town!
With many canvas and wood framed structures, seems amazing there weren't more devastating historical fires! But consider other contributing fire danger factors :
No water piping system
No fire-fighting equipment
Careless work methods
Crowded-in conditions
While living in Tombstone, the Earp women,
including Mattie Earp, earned money by sewing these canvas homes.
These details contributed to fire-starting possibilities on any given day. Add in more troublesome circumstances:
The well-known Arizona weather: "dry heat" – very low humidity increases fire danger
Spring-time weather patterns mentioned already, producing typically windy days
In Tombstone's early history, three fires sprung up before the water company and Fire Departments were well equipped:
June 22, 1881: Biggest Tombstone historical fire. Started in front of the Arcade Saloon on Allen Street, just East of the Oriental.
In Tombstone of 1882, the town's population swelled. On May 16, 1882, a fire happened. Kind of the Big One's Precursor! Began in a home/boarding house on Toughnut St., between 2nd & 3rd…
Mrs. Morton rented out rooms in her home. She was elderly, in ill-health. That evening walking to her kitchen, she tripped. Dropping her coal-oil lamp, which burst into flames. 
She wobbled toward her front door yelling for help. Local lawyer, Mr. Webster Street, was across the street on his porch. He helped get her outside, as the house burnt down.
The fire department arrived, but couldn't contain the spread to six other buildings. Mr. & Mrs. Grant's American Lodging House was destroyed. They'd only just paid off their mortgage! Very sad!
---
The Worst Fire in Tombstone History
May 1882 Fire6,11
May 26, 1882: Tivoli Gardens, a saloon on the North side of Allen Street, between 4th & 5th. Behind there a fire started and quickly spread to a canvas roof. Quickly that whole block was up in flames. Then it jumped South extending to Toughnut. It's the infamous fire of Tombstone Arizona history.
It spread north of Fremont. Blocks of downtown was burning! The fire department brought in water trucks and bucket brigades. The city water system was being built, but not yet online. Fire hydrants not available.
Some buildings escaped. Milton Joyce successfully preserved the Oriental, rebuilt after last year's fire. Schieffelin Hall and the Epitaph on Fremont were saved. Mollie Fly fought and saved her boardinghouse in the end. Nellie Cashman organized her own bucket brigade, saving her American Hotel. The Russ House also escaped.
The deluxe hotels along Allen Street: Browns, the Cosmopolitan, the Grand, were all destroyed. None rebuilt. The Occidental, Alhambra, Campbell & Hatch, and Hafford's Saloons all burned. The Golden Eagle Brewery went up. Later rebuilt as the Crystal Palace.
The County Recorder's office fell in flames. That's where the historic City Hall now stands.
One person was found dead in the charred rubble. 
More details on the two Major Historical Tombstone Fires>
The Photo Below
Looking Northwest from Corner of 5th & Allen
Golden Eagle Rubble is at the Center Bottom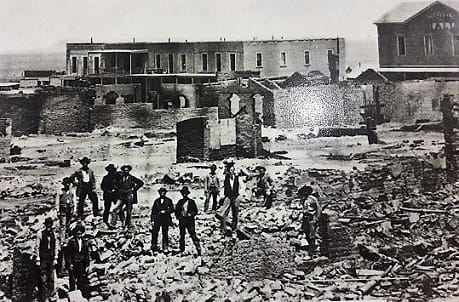 Each time Tombstone rebuilt. Towns-people invested great energy into their home!
Today its an empty lot where the Cosmopolitan Hotel had been! A new building replaced the Grand Hotel, with sections for tenants. Outside wall arches are parts that remain. View them today on the front walls of businesses along the South side of Allen Street.
---
Fire & Water
Water to Town
The Sycamore Water Company started delivering water to Tombstone in April 1880. By autumn they had water mains and fire hydrants at intersections.6
The Tombstone Water, Mill and Lumber Company launched on June 15, 1881, supplying water. Sycamore Water balked about competition. They stopped placing hydrants and giving free water for the town's needs.6
The Huachuca Water Company formed in late 1880, completing water projects the summer of 1882. Their test fire hydrant was ready on Allen and 6th. The Fire Company connected a fire-hose.6 It passed: "water pressure met expectations."7
They installed more water mains, completing all Tombstone streets. On June 26, 1882 city fire hydrants were successfully tested. City water was here! A month too late for May's devastating fire.6
Fire Protection
On September 1, 1880 volunteer firefighters organized Tombstone Engine Company No.1. They elected officers. Well-known names of the first election were Wyatt Earp as Secretary, James Vogan as Treasurer, and Milton Joyce as Assistant Foreman.6
With the June 22nd fire they went into action. Water wagons were filled from hydrants. Engine Company No. 1's bucket brigades fought fiercely. Lack of fire equipment exposed the Engine Company's weakness.6 They couldn't contain the burn.
Motivation surged to form the Rescue Hook and Ladder Company on June 26, 1881. They bought a used horse-drawn fire engine from San Francisco for $300.6
Meanwhile, Engine Company No. 1 built their firehouse. Completed August 1881. This historic fire fighting building is there, on Toughnut St. By Thanksgiving 1881, they had an engine, plus two fire-hose carts.6
Both volunteer firefighters had uniforms. Importantly, with two water companies in town they had high pressure water systems to effectively fight fires!
---
More Fires in Tombstone History
July 20, 1882 – Scary Historical Fire!
Most people were asleep July 20th when the fire whistle sounded! Fire seared through the New Orleans Restaurant on the Southeast corner of Toughnut & 4th.
Next door was a truck-house for the new Hook & Ladder Company building. Up in flames! People ran out into the street in panic.
Now the fire company had access to quick water with pressure. The fire was out in 20 minutes. One man, Billy Fee, suffered serious burns.
Over-all, though, everyone gave a sigh of relief!
---
Historical Tombstone Mining Fires
Many local historical mines suffered production equipment fires:11
The Grand Central saw destructive fire on May 26, 1886. Flames lit into the mine's shaft and pump hoist housing. So hot, metal parts melted and twisted. All that could burn – did. For days noxious gas seeped from the mine. Areas caved in.
The Contention mine and all supporting buildings were destroyed in a December 21, 1891 fire.
The Tranquility Mine lit up on January 11, 1906; wiping out its hoist and frame-work. 
Happening again on March 7, 1948! 
The Lucky Cuss had a similar fire November 28, 1907. Took eight months to get back on-line.
The Silver-Thread mine shaft burned on February 11, 1934. 
Another mine shaft, the Oregon/Stonewall, burned on May 7, 1967. 
The Toughnut Mine shaft burned January 13, 1957. Possibly started by adolescents, quick firefighter action saved it from spreading a wildfire.
---
More Fires Through the Years
More Historical Fires Through The Years11
September 14, 1888: The Occidental Hotel, Northeast corner of 4th & Allen, burned down. Built 5 years earlier, after the major city fire. Started by an overturned oil lamp. Charred remains stayed there for years.
July 2, 1915: With prohibition, many Tombstone structures fell into disrepair. The historic Fly Boardinghouse & Photo Gallery caught fire. No hope for saving! Many early Tombstone and Arizona photos were lost. A resident was badly burned.6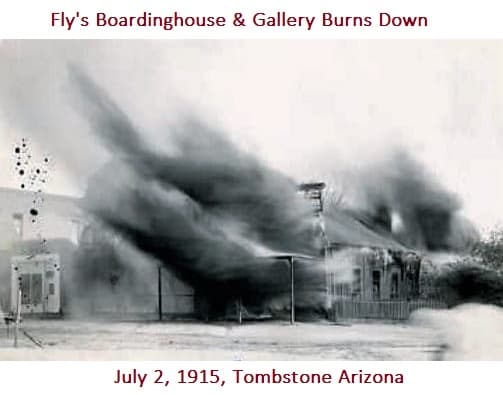 A fire hit one of Tombstone's historical newspapers: The Prospector, on July 26, 1917. Caused by lightning. They still published by pulling an old hand press from storage.
On September 10, 1917, the home of Dr. Randolph was gone. On the hillside across Tombstone gulch. The oldest, nicest home now ashes. 
May 7, 1919 the Sunnyside Hotel burned down.
March 23, 1921: A large Tombstone conflagration, possibly from train sparks. Blinn Lumber, McPherson's ice storage, Sheriff Hood's property, all gone.
May 20, 1924: Biggest fire since 1882. From the corner of 5th & Allen, traveled West along the South side of Allen Street to 4th. Some buildings there were saved.
May 26, 1942: Fire took the Southeast corner of 5th & Allen Street. Down went the historic Owl Cafe (Tombstone's History saloon, the former Bucket of Blood) & Tourist Hotel, plus adjacent bowling alley.
Loma de Plata burns on October 9, 1953. Built in 1902 on Empire Hill above town, by Grand Central mining engineer E.B. Gage.
Another major business district fire consumed part of Allen Street on May 23, 1957. Began in the Cattleman & Miners Bar, zoomed through attics and almost got the Crystal Palace. But was stopped there. Three businesses gone.
A Russ House fire took its insides on January 20, 1959. Outer walls remained.
Scattered fires were set around town during Helldorado 1995. The Marshal commented: there isn't an arson problem but "there are a lot of crazies out there."
June 6, 1998: Another historical fire destroyed Virgil Earp's Home. 
Virgil's Home and Property was on the Southwest corner of 1st and Fremont Streets.
---
---
Notable History Furthers More Historical Fires
In 1914 Arizona prohibition ended all local saloon businesses. The town was suffering financially. Owners in default on property taxes tore off building roofs, exempting them from taxes! Some places burnt down.6
For Tombstone's 50-year anniversary, the council decided on the festival "Helldorado" for October 1929. About 6,400 attendees came over!6 Most were joyful and hopeful…
Until the news later…
It was Thursday, October 24, 1929 – Black Thursday
The Day the American Stock Market Crashed
By 1932's summer 150 miners were at work. A few mines reopened, and in 1939 the government supported silver again. The price was set about 71 cents an ounce for two years, with possible renewal. Town stability at hand. But then two fires at two different Tombstone mine claims made further set-back.6
World War II began. A few Tombstone buildings of significant historical note burned down. Lead was needed by the war effort. Locally mined in three areas:6
Nearby town of Charleston
Five miles South of Tombstone off Charleston Road
East of Tombstone at the Extension Mine in Emerald Gulch. 
At war's end, the Federal Government had a program for mining exploration and ore purchase for five years. But six more fires plagued mine claims during those years.6
---
Fires are a terrible thing. They destroy works that people have created and put labor into. Often they bring financial crunches, even ruin. But Tombstone has recovered again and again, from some devastating fires. This is just one of the reasons it has that well-known nickname –
The Town Too Tough to Die! 
---
References
1 Rayfield, J.A. (1997). Tragedy in the Chicago fire and triumph in the architectural response. Northern Illinois University Libraries funded by the Illinois State Library. Retrieved from lib.niu.edu/1997/iht419734.html
2 Tobriner, S. (April 18th, 2006) What really happened in San Francisco in the earthquake of 1906. Conference. Retrieved from www.1906eqconf.org/plenarySessions.htm
3 Parsons, George W. (1996). A tenderfoot in Tombstone. The private journal of George Whitwell Parsons: The turbulent years, 1880-82. p 72, Westernlore Press, Tucson AZ.
4 Scawthorn, C., Eidinger, J., & Schiff, A., eds. (2005). Fire following earthquake. Reston, Virginia: ASCE, NFPA. ISBN 9780784407394. Archived from the original on September 28, 2013 & July 10, 2019.
5 City of St. Louis (2011-2019). The great fire of 1849. Fire Department History. Retrieved from stlouis-mo.gov/government/departments/public-safety/fire/fire-department-history.cfm
6 Bailey, L.R. (2004). Tombstone, Arizona: "Too tough to die" The rise, fall, and resurrection of a silver camp; 1878 to 1990. Westernlore Press, Tucson, Arizona. A prime general resource.
7 Daily Epitaph, June 28, 1882.
8 SFMuseum (n.d.) Early history of the San Francisco Fire Department. Virtual Museum of the City of San Francisco. Retrieved from sfmuseum.net/hist1/fire.html
9 Roper, E. (1857-1891). By track and trail: A journey through Canada: With numerous original sketches by the author. London & Calcutta: W.H. Allen & Co. 1891.
10  Maynard, J. (1997). Bakersfield: A centennial portrait. Encino, California: Cherbo Publishing Group. ISBN 1-882933-19-2.
11 Newspaper clippings thanks to our subscription at: Search at https://www.newspapers.com/
---